Easy homemade Mathri recipe with Achari (pickle) flavoured masala stuffed in it. A perfect dry snack with your evening tea.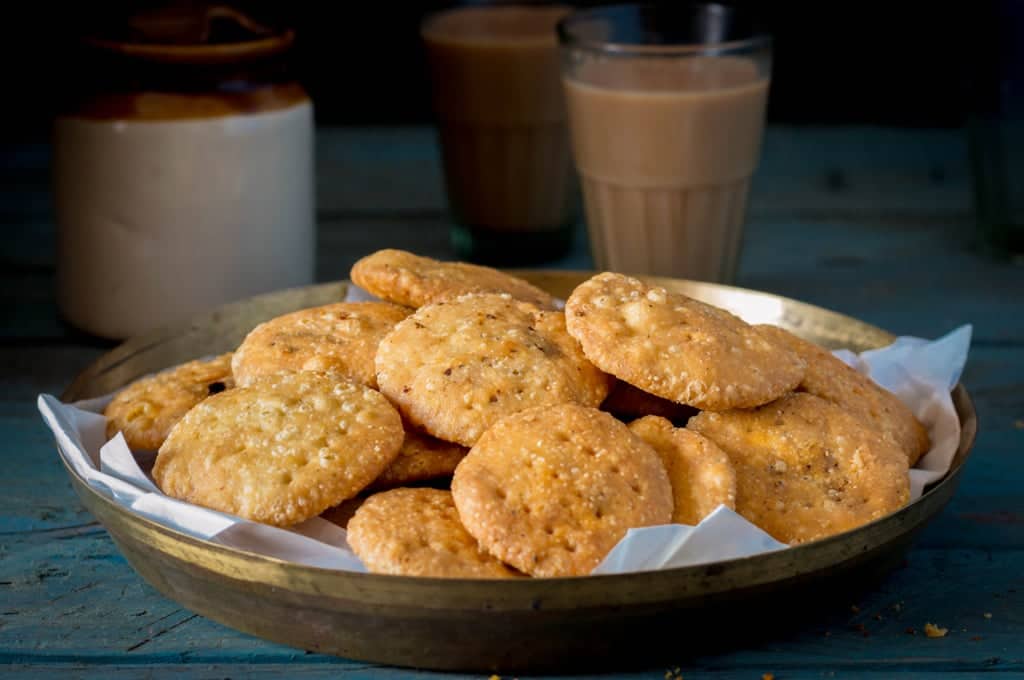 Mathri or Mathari or Mathiya
Visit any sweet shop in the north of India and you would come across 'Mathris'. A dry Indian snack that looks like a flaky biscuit and tastes of pastry with flavours of various seeds or spices in it often.
Mathris look uneven on the surface and will also have some spices or seeds visible on the top layer. They can be stuffed with plain dry masala and taste very good. I prefer stuffed mathris over plain ones.
They are also not perfectly round and can be a bit uneven in their shapes so do not fret over getting perfectly shaped discs for all the mathris.
Dry snacks like this are very popular since they can be stored for many days and go well with beverages like tea. This mathri recipe is very easy to make and can be customized as per your choice of savory flavour too.
Nimki or Nimkin
Nimki / Nimkin / Namakpare is very similar to mathri and is available in the south and east of India. It too is a savory snack like mathri. It is usually shaped like diamonds or squares but mathris are disc-shaped.
I had been making and eating nimki's since my childhood. These are the favorite snacks of almost every kid in India. These are often made during religious festivals and are made in bulk to last for days.
Nimkis are usually plain and not stuffed like mathris. I got my first taste of mathris during a photography assignment.
We really liked them and the next thing I wanted to do was to give them a try at home. The spicy and tangy Achari masala stuffing gives a nice little twist to it.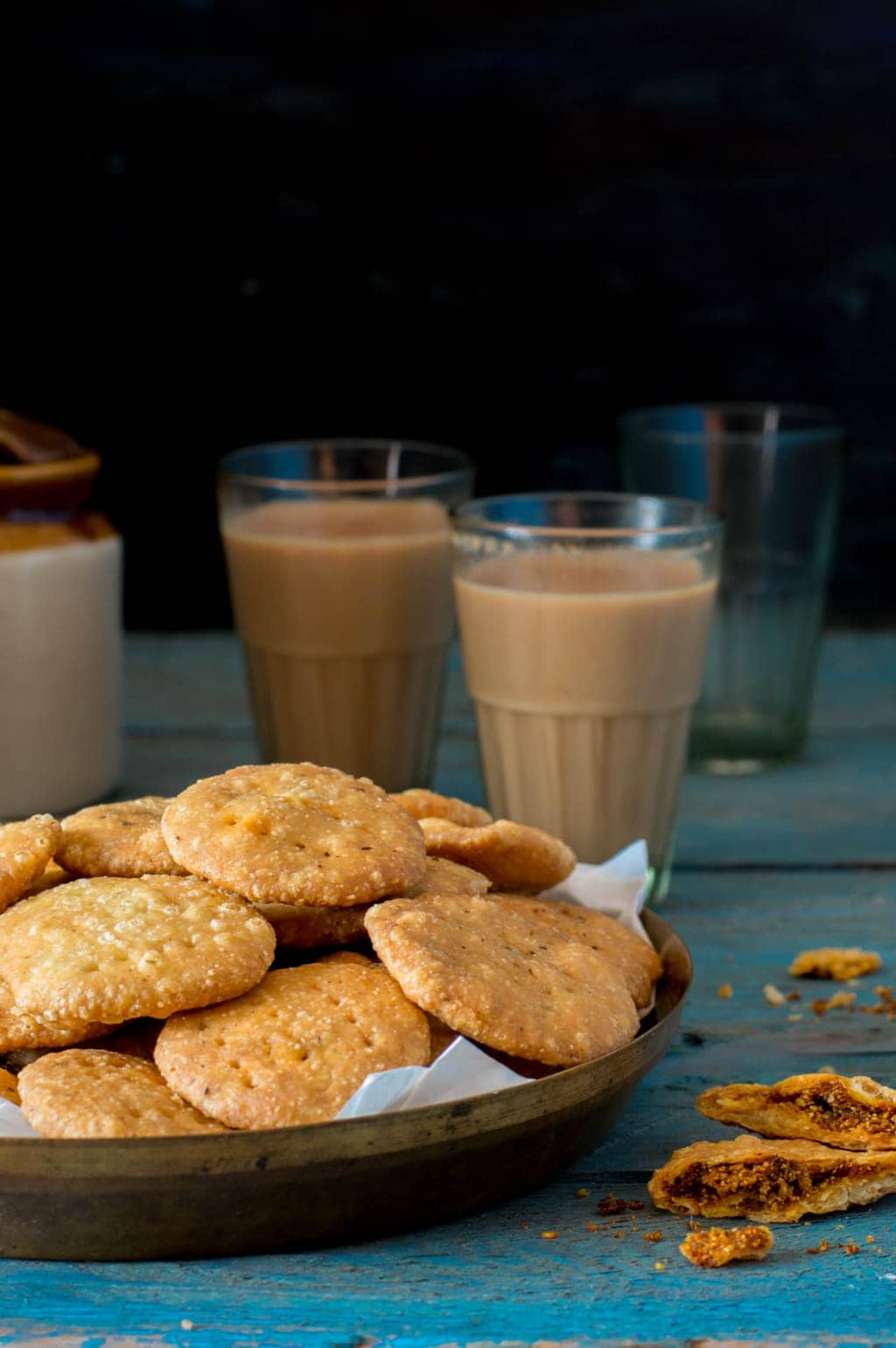 Different flavors of Mathri
There are two varieties of mathris made - plain or masala types. Masala mathris is made with spices or herbs added to make it more flavourful and savory.
In addition, the spices can be mixed with the dough to get a more uniform taste throughout each bite of the mathris or the masala can be stuffed.
I like both varieties and have made and presented stuffed mathri here. For the spice flavour, I have gone with Achari (Pickle) flavour in my Mathri recipe. It has bought a very nice flavour for the masala and I have loved it and hope so will you.
Other variations of the mathri recipe can be made with methi (Fenugreek), ajwain (carom), Jeera (cumin), or even a mix of various spices.
Ingredients
Achari Masala
Pickle - I have used mango pickle in this achari variation. You can opt for mixed pickle, ginger or garlic pickles too.
Dry Mango powder (Amchur) - 'Am' stands for Aam (mango) and chur means to crush/powder. It provides a tanginess to the masala and keeps it dry.
Cumin - Cumin is a popular spice used for its digestive properties and flavour.
Mustard - Roasting them releases a nice peppery flavour.
Kalonji onion seed - Used as a flavouring agent as the oil in them is aromatic when toasted and released.
Asafoetida (Hing) - a staple ingredient used in savory dishes in indian cooking.
Coriander seed - Common indian spice that play very well along with other spices.
Red chilli (Optional) - to add some heat
For Mathri
Maida (All purpose flour)
Sooji (Semolina flour) - Adds crispiness to the mathri.
Ajwain (Carom seeds) - commonly used for its health benfits and gives a nice thyme-like flavour to the mathri pastry.
Ground black pepper - Adds some kick and heat to the mathri pastry and very good for digestion.
Water - to dampen the dough to make it malleable and easier to shape. A little is enough for the dough.
Oil or Ghee - I have made these in Oil. Ghee also is a good option.
Salt
Steps to make Mathri
Prepare Masala
Dry roast the spices (cumin, mustard and coriander) until they lose they turn aromatic.
Grind to a powder
Add pickle
Mix to a slightly damp mixture.
Make Mathri
Mix well Maida and all the spices in a bowl.
Add water little by little to bind the dough but keep it on the dry side. Knead it for a minute.
Pinch small balls out of the dough. Using your finger make a hole in the middle of each ball to stuff the masala in them.
Press all sides of the ball to cover the masala and flatten it to a disc using your palms.
Prick each mathri disc with a fork couple of times.
In a pan (kadhai) with hot oil, slide 5 mathris at a time and fry them till golden brown on both sides.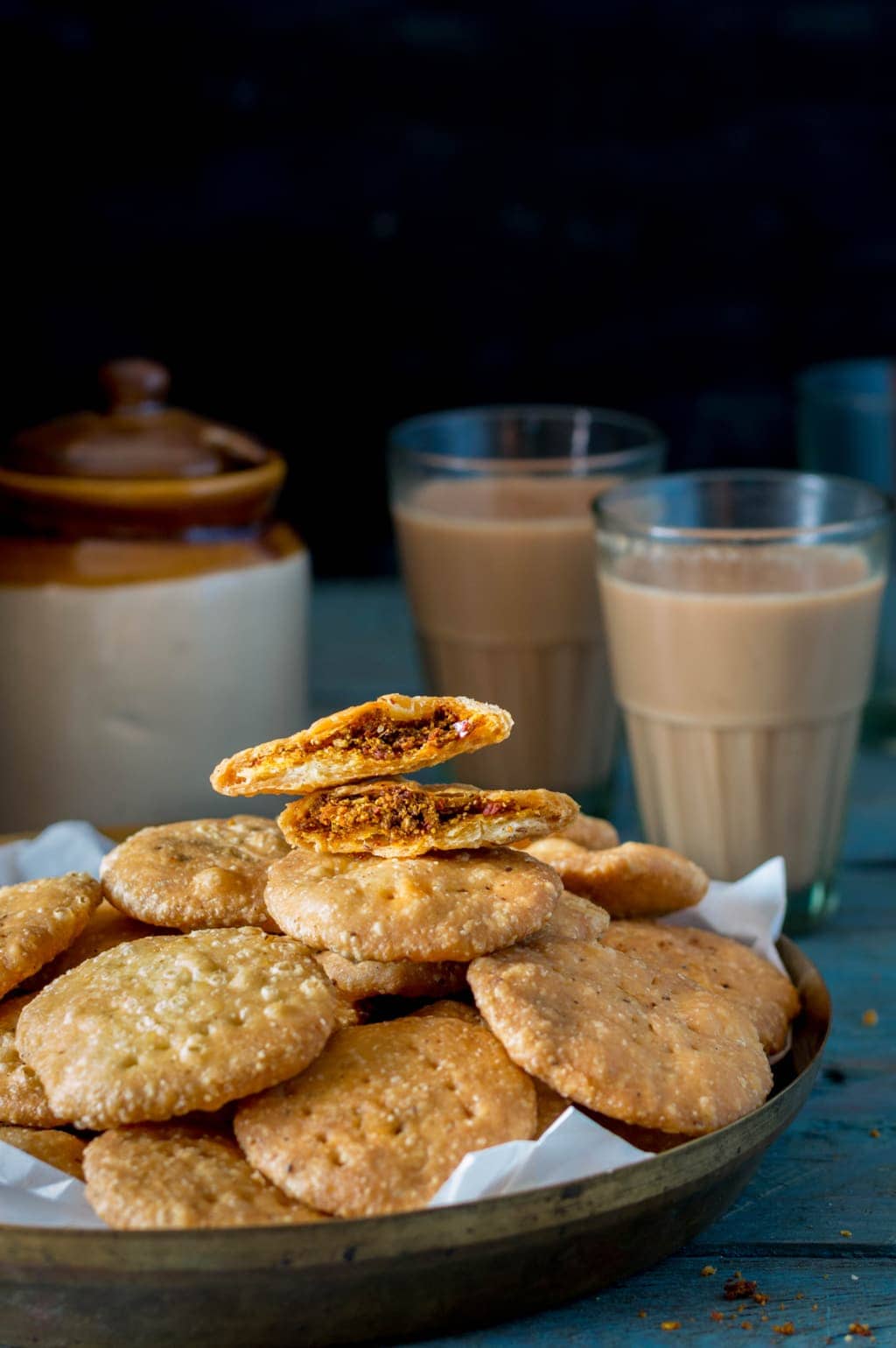 Top Tips
Recommend to dry roast all spices and not add them directly while making the masala. Spices like cumin, mustard and coriander seeds release oils inside them which gives out a wonderful aroma while roasting.
Add water slowly and knead the dough. You can add it little by little. We need to make the dough soft and but still a touch dry. It should not appear too wet.
Dont knead the dough too much like while you make roti. It should be gently kneaded for not more than a minute.
It is easier to pluck some balls from the dough and make it into a bowl shape using your hands. Also flatten it between your palms.
You can also use a cookie cutter to cut some from the dough to make small balls.
Take care in not over stuffing the mathris. Overstuffed mathris break out and the masala comes out while frying.
Once the oil becomes hot, reduce flame to low. Keep frying on a low flame. This ensures the mathris are cooked evenly through the inside too.
High flame just burns out the outside of the mathris but does not cook the inside.
Serve with
This is best served with tea. Tea made with milk is a traditional accompaniment of mathris. Or this could be the other way round.
The sweetness of the tea pairs wonderfully with the savory of the mathris. Mathris do not need any chutney. This is supposed to be had as a dry snack to complement your beverage.
Storage Instructions
Mathris were made to be dry snacks so that they could be stored for a long time without worry. These are ideal accompaniments to your long journeys. These can be stored in a jar for at least a couple of weeks only if you can wait that long and not finish them sooner 🙂
Other Indian Recipes
Get some more Indian special recipes here
📖 Recipe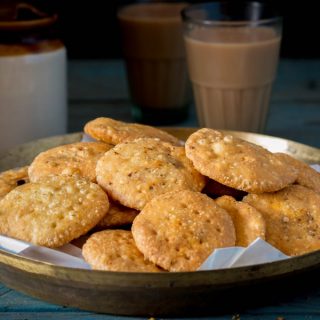 Achari Mathri
Homemade easy mathri with Achari (pickle) flavour stuffed in it. A perfect dry snack with your evening tea.
Print
Pin
Rate
Ingredients
For Achari Masala
5 - 6

red chilli

Dry

1

tspn

Coriander seed

¼

teaspoon

Kalonji onion Seeds

/

1

tspn

Mustard seeds

2

tspns

Cumin seeds

pinch

Asafoetida

a big

1

teaspoon

Mango powder Amchur

Dry /

½

tspns

salt

1

teaspoon

Pickle masala

Readymade along with oil ( I used the garlic pickle )
For Mathris
1.5

cups

All purpose flour

Maids /

2

tablespoon

Fine Sooji

(Semolina)

½

tspn

seeds

Carom

½

tspns

black pepper

ground

½

cup

water

to taste

Salt
Instructions
For Preparing Masala:

Dry roast all spices except Pickle masala in a pan on low heat till aromatic. Grind to a slightly coarse powder. Add ready-made pickle masala. Mix well. The mixture has to be just damp.

Make Mathri:

In a big bowl add maida, sooji, ajwain, black pepper powder, salt. Mix well. Then add ghee/oil. Rub the mixture using both hands. The mixture should look like a crumble.

Slowly start adding water. The dough should be tight and on a little bit on the dry side. Let it rest covered for 15-20 minutes.

In a deep pan heat enough oil.

Knead the dough again for a minute. Pinch small balls out of the dough. Make a small space in the middle using your finger. Fill ¼ teaspoon of achari masala. Press in between your palms to flatten the balls to ¼ inch thickness.

Mathris can be a bit uneven in their thickness and round shapes. Do not fret on getting them perfect and even in size and shape.

Using a fork, prick the flattened puris 2-3 times. Repeat the same step with the rest of the dough balls.

Once the oil is medium hot, slowly slide 4-5 puris at a time into the hot oil. Reduce flame to low. Deep fry them, flipping them in between till both sides turn golden brown.

Once done, drain excess oil and place them on tissue paper. Let it cool on a plate and then place in an air-tight container.
Notes
Note:
Don't overfill the mathris, else while frying the stuffing might come out.
While preparing the dough no need of kneading the dough for too long. We don't want smooth dough here.
The surface of the mathri will be a bit uneven which is fine.
Mathris can be any shape too. Plain mathris can be square or triangular in shape. For stuffed mathris, a round shape is convenient to stuff the masala.
Nutrition
Serving:
15
serving
|
Calories:
900
kcal
|
Carbohydrates:
189
g
|
Protein:
30
g
|
Fat:
5
g
|
Saturated Fat:
1
g
|
Polyunsaturated Fat:
2
g
|
Monounsaturated Fat:
1
g
|
Sodium:
252
mg
|
Potassium:
1857
mg
|
Fiber:
13
g
|
Sugar:
27
g
|
Vitamin A:
4741
IU
|
Vitamin C:
712
mg
|
Calcium:
132
mg
|
Iron:
15
mg