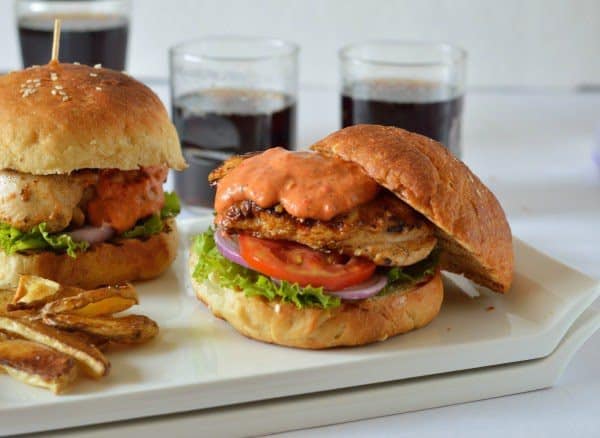 Doing something from scratch always excites happy. You will always be assured of the quality if the thing is home made. And if its bread that you are making then I would say itstherapeutic. I just love baking bread myself. All that kneading,playing with the dough,waiting time in between will be worth once you see a freshly baked bread coming out of the oven
This bread is kind of easy to do.A well behaved dough always makes it easy to handle.I adapted this recipe fromannies eats-honey wheat sandwich buns
Turned these buns in to yummy chicken burger topped with roasted tomato Mayo. Again burger is incomplete without some French fries.I went for a healthier option and did oven roasted potato wedges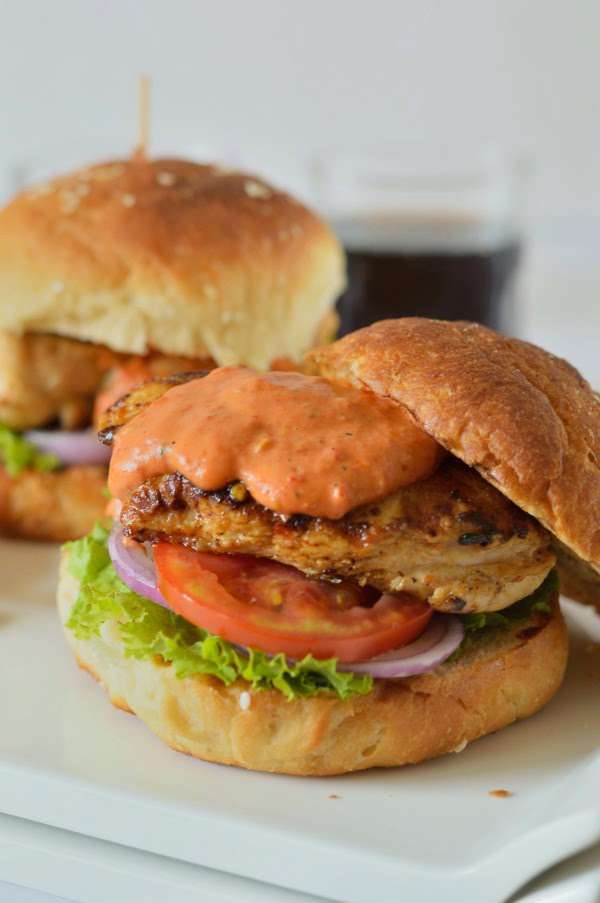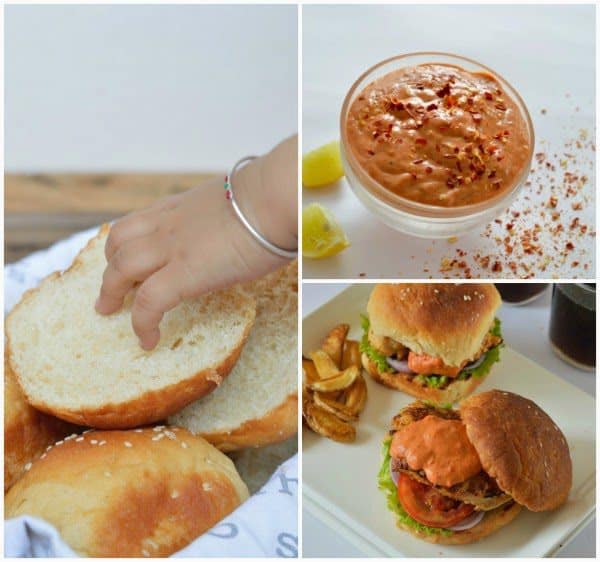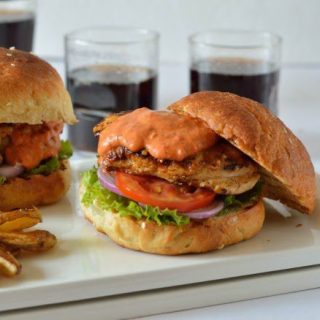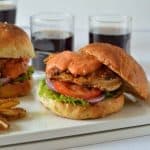 Print Recipe
Chicken burger (honey wheat buns) with roasted tomato garlic mayo & oven roasted potato wedges
Doing something from scratch always excites happy. You will always be assured of the quality if the thing is home made. And if its bread that you are making then I would say itstherapeutic. I just love baking bread myself. All that kneading,playing with the dough,waiting time in between will be wort
Ingredients
For Burger buns
1 1/4

cups

milk

, warmed

2 1/4

tsps

active dry yeast

.

1/2

tsp

sugar

2

cups

bread flour

(plus more for adjusting as needed)

1

cup

whole wheat flour

1/2

tsp

salt

.

1

egg

, at room temperature

1/4

cup

honey

+ 1 - 2 tbsps

2

tbsps

butter

, melted .

Sesame seeds

(optional)
For Roasted tomato Mayo:
3

tomatoes

medium

4 - 5

pods

garlic

1

tbsp

olive oil

3

tbsps

mayonnaise

1

tbsp

cream

dash

lemon

pinch

sugar

1/2

tsp

red chilli

flakes

salt pepper

and to season
For potato wedges
3

potatoes

(cut into wedges)

salt pepper

,

chilli

flakes for seasoning
For assembling the burger
/

roasted chicken

your breastfavourite patties

tomato

onion

slices

lettuce leaves
Instructions
For Burger buns:.

Take 1.4 cup of milk in a medium bowl,mix sugar. Add the yeast and let it stand for 5-10 mins to proof.Thisstep is only to make sure that the yeast is still active.

In a big bowl mix together all the flours,salt. Pour in the milk yeast mixture,rest of the milk,egg,honey,give it a stir. If using stand mixer or food processor knead the dough until it starts leaving the side of the bowl.If.

kneading by hand then knead on a lightly floured surface for 10 mins. The final dough should be smooth,elastic and tacky but notsticky. If you find it sticky try adding 1 tsp of flour at a time,till you get the desired consistency.

Keep the dough in a well oiled bowl,cover with a wet kitchen towel/plastic wrap and let it rise for 1- 1.5 hours until it doubles in volume.

Once the rising period ends,take the dough and deflate it. Gently knead for couple of time to let the air release.

Divide the dough into 8-9 equal parts.Form a smooth round ball. Arrange the shaped dough balls in a parchment lined baking tray,cover with a plastic wrap.Let it rise for another 1 hour and let it double in size.

At the end of the rising period,pre-heat the oven to 170 degree Celsius. Mix.Mix melted butter and honey.

Brush top of the balls with the mixture and sprinkle sesame seeds.

Bake for 15-20 minute, rotating the pan halfway through baking, until the crust is golden brown in color.

let the buns rest in tray for 5 minutes before taking out.

For roasted tomato Mayo:.

Cut tomatoes into quarters. In.In a bowl season tomatoes with salt and mix with olive oil.

Arrange tomatoes in a baking tray with skin on bottom.Bake at 180 degree Celsius till the tomatoes looks roasted and charred. After 15 minutes of baking throw in the unpeeled garlic pods.

Let the tomatoes cool down.Peel the garlics.Then add tomatoes,garlic and rest of the ingredients into the blender and blend it smooth.

For Oven roasted potato wedges:.

Cut potatoes into wedges.Soak the wedges in Ice cold water for 20 minutes.

pre-heat oven to 200 degree Celsius. arrange the wedges in single layer without overlapping each other. bake for 20 minutes.

Potatoes are done when they look roasted and golden brown in colour. Then season it with salt.

Forassemblingthe burger cut the buns horizontally to half.toast them in a griddle pan. Place lettuce,onion rings and tomato rings.Place.

Roasted chicken patties/breast piece. Top it with Mayo. ENJOY with some drinks.