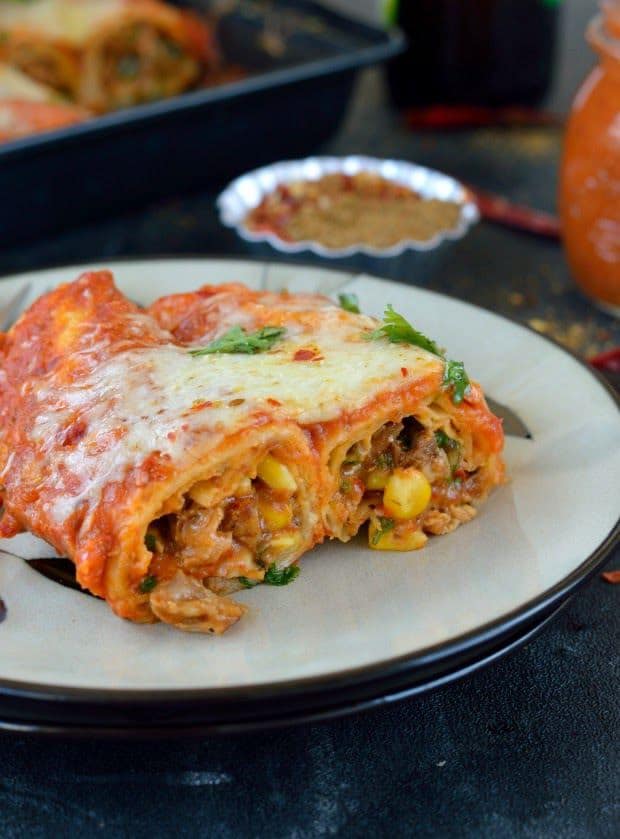 Another Mexican recipe !! Yes by now you might have known my love for Mexican food. Chicken enchiladas are nothing but tortillas rolls stuffed with chicken, baked into a casserole with loads of delicious enchiladas sauce and cheese. It can be easily made ahead and baked to perfection just before serving. I tweaked the recipe as per our preference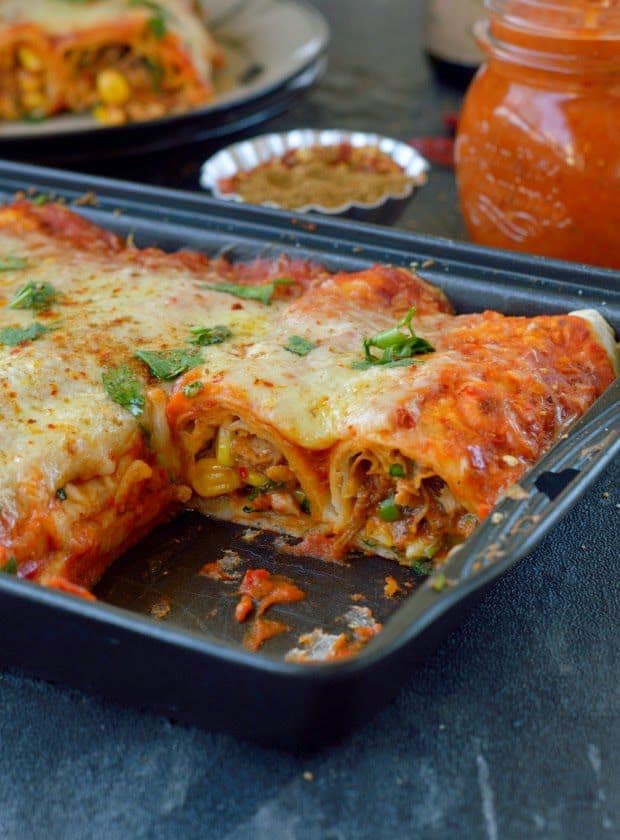 Another Mexican recipe !! Yes by now you might have known my love for Mexican food. Chicken enchiladas are nothing but tortillas rolls stuffed with chicken, baked into a casserole with loads of delicious enchiladas sauce and cheese. It can be easily made ahead and baked to perfection just before ser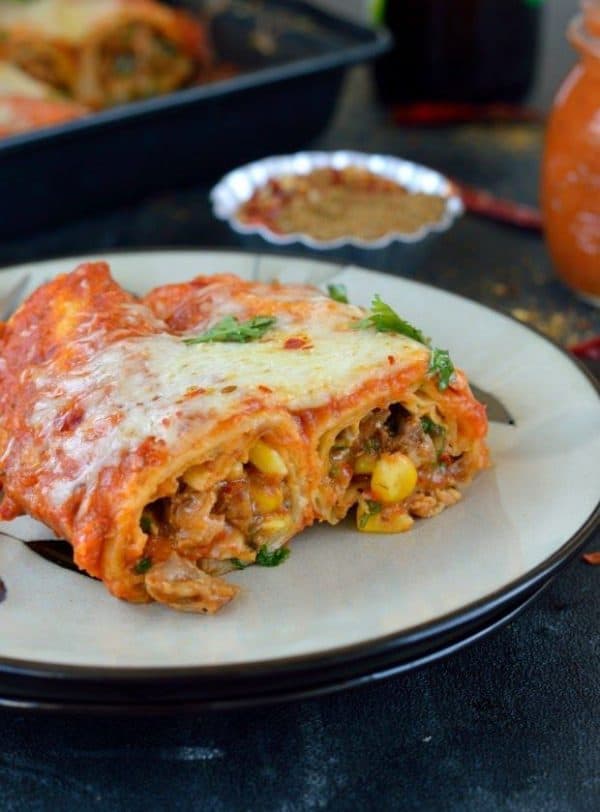 | | |
| --- | --- |
| | |
In a pan add one tbsp oil,once oil is hot put minced garlic,sautxe9for a minute.Addchoppedonion.Sautxe9till onion is cooked throughandslightly brown incolour.Let the mixture cool. grind to aslightly coarse paste.

In the same pan add rest 2 tbsp oil,add the flour. stir continuously till the flour is aromatic but not brown in colour.

Pour in the fresh tomato purxe9e,tomato paste,onion and garlic paste,cumin powder,chilli flakes,oregano,brown sugar and season with salt.

Bring the mixture to a boil,simmer and let it thicken slightly(coat back of the spoon).Let it cool.

Marinate Chicken breast with Cajun spice,cumin powder and salt for 30minutes. Grill the fillets on a griddle pan till it is cookedthoroughly.

and outside is nicely charred.(cook in a really hot pan,to get that charred crust).Let it rest and cool down. Then shred the fillets to small pieces using two forks.

In a big mixing bowl add shredded chicken,corn kernels,enchiladas sauce,cheese,coriander,green chillies,salt,Cajun spice. Mix well.

Take a rectangular baking pan(I used 9X13),spread 1/2 cups of sauce.

Take one tortilla,spoon the stuffing (divide the stuffing to six equal parts),roll the tortillas to make a cylinder.Arrange stuffed tortillas.

lengthwise. Spread 1 - 1.5 cups sauce,shredded cheese. Cover the top with a aluminium foil. Bake covered in a pre-heated oven at 200 degree Celsius for 15 mins. Remove foil,bake again for 5 - 10 mins till the cheese starts bubbling.

Sprinkle fresh coriander,some jalapexf1os on top. Server immediately.
Note:.
If you have corn tortilla.its better to use for more flavour.
The amount of chilli powder I used is as per my taste,as we like it bit spicy.So use accordingly.
Use a blend of cheese like Cheddar and Monterey jack cheese for more authentic taste.
Sugar used here is to balance the acidity. Adjust the amount of sugar as per the acidity of tomatoes used.
You can also spread some refried beans on top before spreading sauce.
There might be some leftover sauce which can be used in sandwiches,quesadillas and even you can add some Italian herbs and use in pasta.
Careful adding the salt to chicken stuffing.as the sauce has already salt in it.