Chicken stuffed baked peppers
This post may include affiliate links that earn us a small commission.
This baked version of stuffed chilli pepper is delicious, with chicken stuffing and cheese, and cornmeal adding a nice twist to the crust.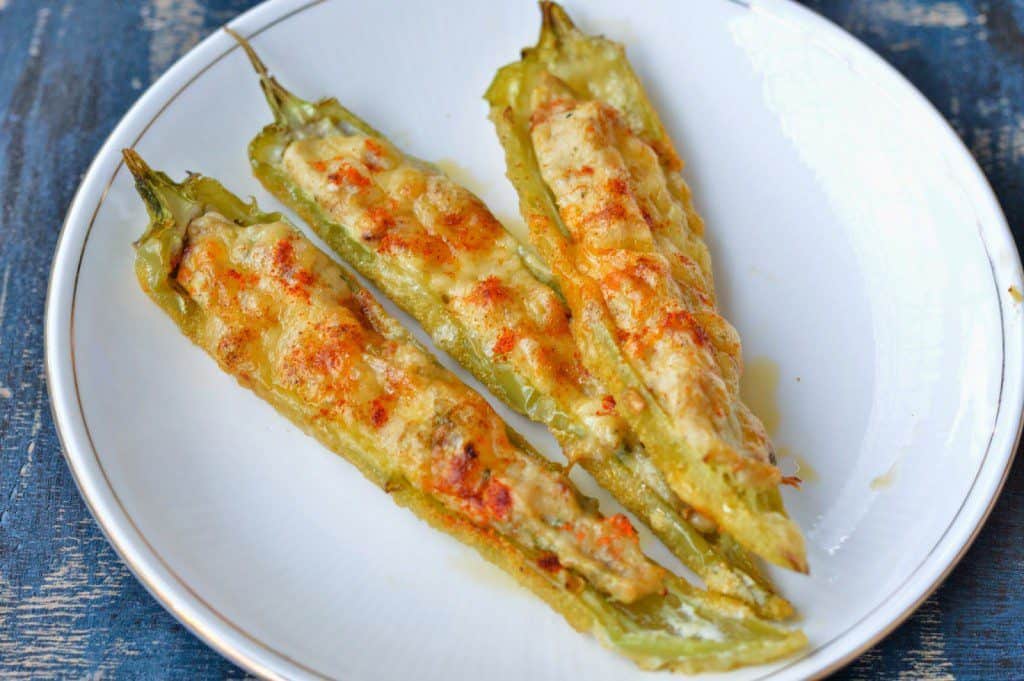 There is a type of Indian fritters made with this kind of chile. Also known as Ooty chilli or Milagai chilli, these chiles are widely used for fitters.
Flavours In Your Inbox
Subscribe for recipes straight to your inbox
Nonetheless, I find it impossible to resist purchasing these chilli peppers, especially when they are in season. I gave it some thought and came up with this baked chilli recipe. They are nowhere close to fried fritters, yet are undoubtedly delectable.
Stuffed the chiles with chicken and top with cheese. The stuffing is so adaptable, you can prepare the chicken stuffing with several spice combinations. Very little is mandatory, not even cheese. The cornmeal gives a nice crust with a great twist.
Can I rightfully claim that they are far healthier than and a great variation to deep-fried fritters? I definitely think so.
We had these Harissa ketchup. Once more, harissa ketchup is a tasty alternative to conventional ketchup. I used to utilize Harrisa at a number of locations. The recipe is available here – Harissa roasted baby potatoes. Ketchup and a tablespoon of harissa together yield a completely distinct dipping sauce.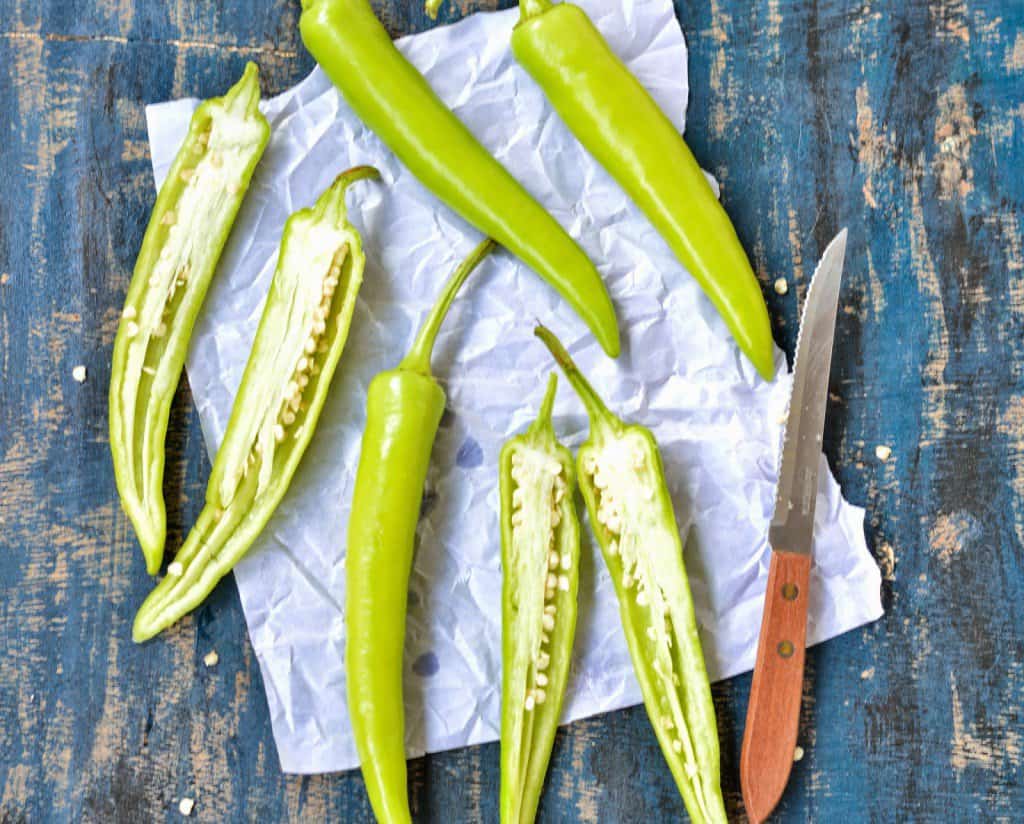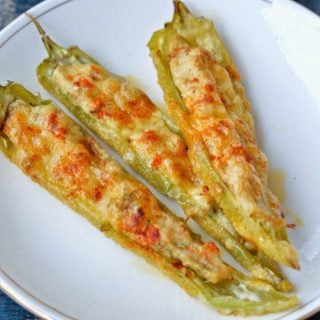 Chicken stuffed baked chilli peppers
This baked version of stuffed chilli pepper is delicious, with chicken stuffing and cheese, and cornmeal adding a nice twist to the crust.
Equipment
1 Oven To bake chili peppers
1 Tray To mix and make the cornmeal crust
Ingredients
5 - 6 Chillis (light green and big ones)
¾ cup chicken minced
1 tsp garam masala (I used chicken masala)
1 tbsp coriander heaped chopped
1 green chilli finely chopped
½ tbsp tomato paste
3 cloves garlic minced
to taste salt
½ u2013 ¾ cups cheddar cheese grated
For coating chillies
2 tbsps cornmeal (not cornflour)
1 tbsp all purpose flour
½ tsp salt
½ tsp chilli powder
1 egg lightly beaten
paprika to dust on top
Instructions
Preheat oven to 200 degrees c. Generously grease a baking tray.

Slit green chilies lengthwise, remove seeds, and keep aside. Mix the rest of the ingredients except cheese for chicken stuffing.

In a tray mix cornmeal,flour,salt and chilli powder.

In another container (should be wide enough to dip chilies lengthwise) put the beaten egg.

Dip each chili (only the outer side) into the egg and coat nicely with cornmeal mixture and arrange on the prepared tray with cavity side up.

After all the chillies are dipped and coated mix the remaining egg to the chicken stuffing mixture. Yes, I don't want to waste the leftover egg. Moreover, we need a binding agent for the stuffing.

Fill the chicken mixture into the cavities.

Bake for 15- 20 minutes. Remove from oven, top chilies with grated cheese, and dust paprika on top of it.

Grill/broil again for 5 -8 minutes at 250 degree c.
Notes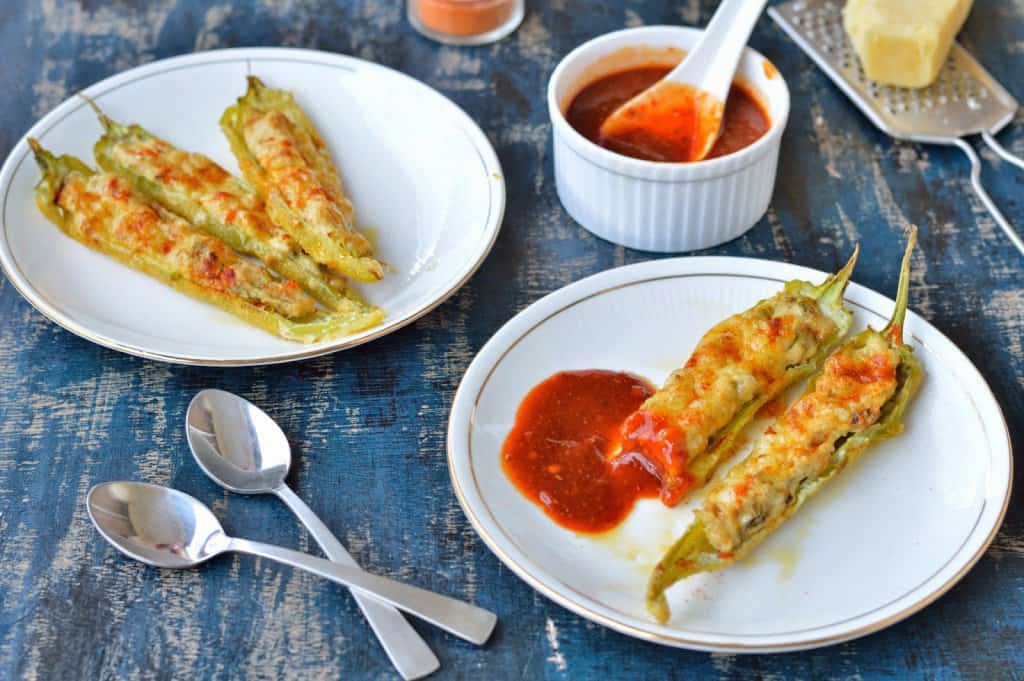 Notes:
The chillies were not spicy enough so I added extra chilli to the stuffing.You can skip adding them.
Use your imagination and try variations in the stuffing.