Chocolate Chip Cherry Breakfast Muffins
This post may include affiliate links that earn us a small commission.
These whole wheat, refined Sugar-free Chocolate Chip Cherry Muffins are soft and moist. Include these healthy and wholesome muffins in your breakfast menu.
I baked these super moist muffins to use up probably the last box of cherries I had bought. The cheery season is almost over and will give their appearance only next year. This year have used cherries in almost everything.  I have made Cheery Red Wine compote (which works very well as a dessert topping), and smoothies, and have added them to salads, and muffins. But still, I can never have enough of them.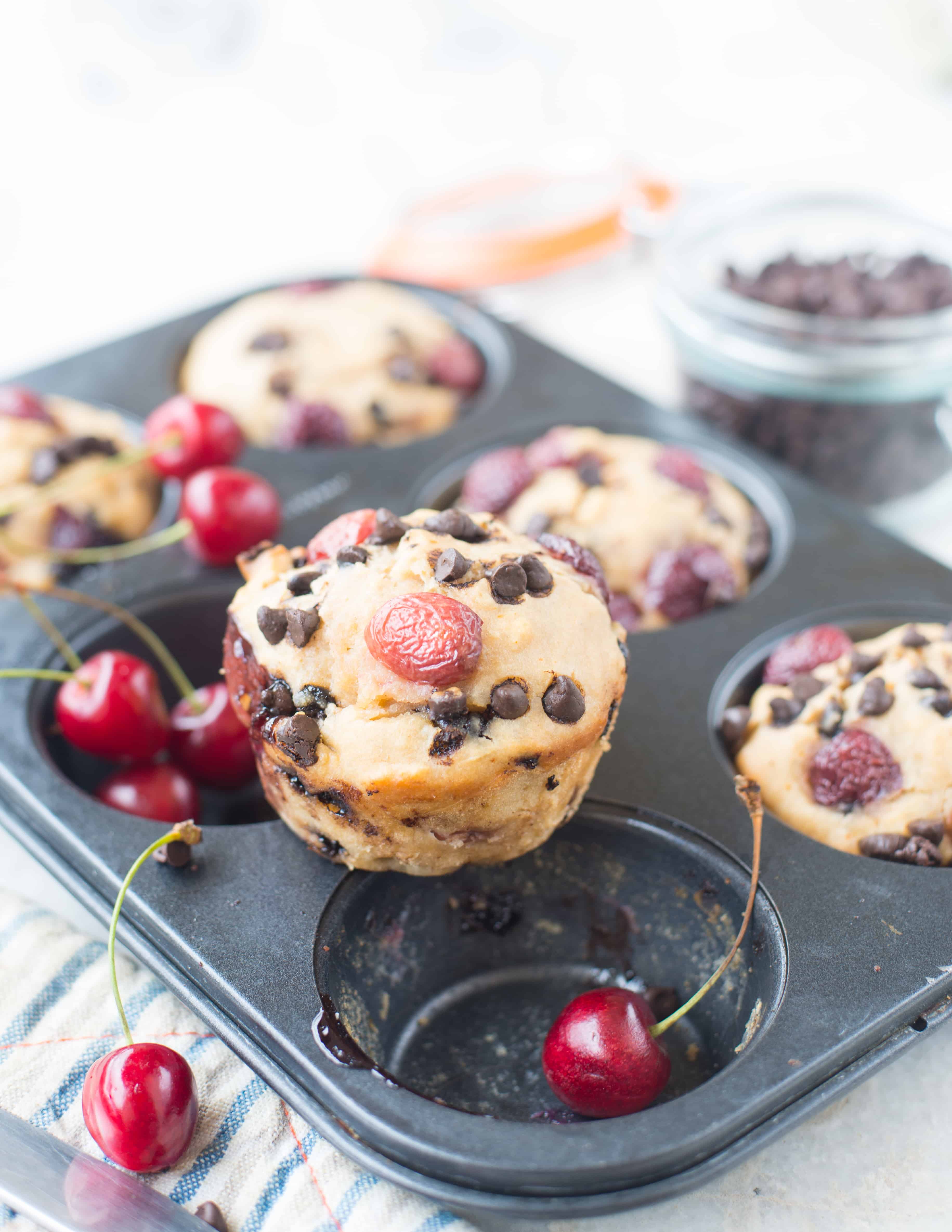 First time I made these muffins with only all purpose flour. The texture was light and fluffy. My daughter just loved them and why not it was soft, loaded with cherries and chocolate chips. The next time when I did them, replaced half of the flour with Whole wheat flour. And believe me the difference was hard to notice.
Flavours In Your Inbox
Subscribe for recipes straight to your inbox
Muffins are always quick and easy to bake. No blender or no creaming of butter and sugar required. Just mix dry ingredients and wet ingredients separately. Pour wet mixer to the dry ingredients, mix and bake. To be honest i like my muffins a bit dense, not cake like. But  if the mixing goes wrong then they might turn more dense and heavy. So never ever over mix the batter.
The other thing that is good about muffins are you can add different fruits, dry fruits to it and make a wholesome breakfast. I will try substituting cherries with Apple next time, I am sure it will not disappoint me.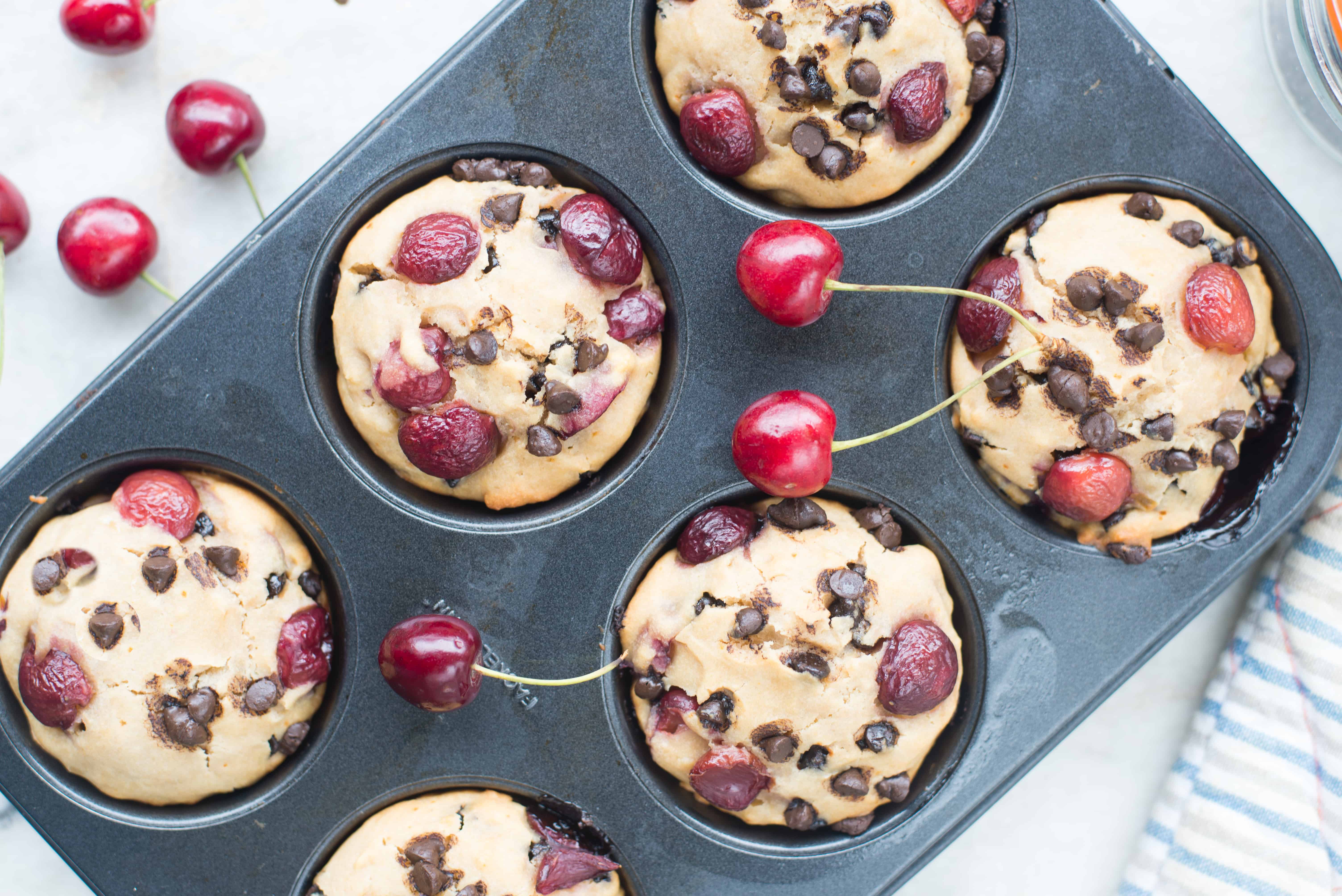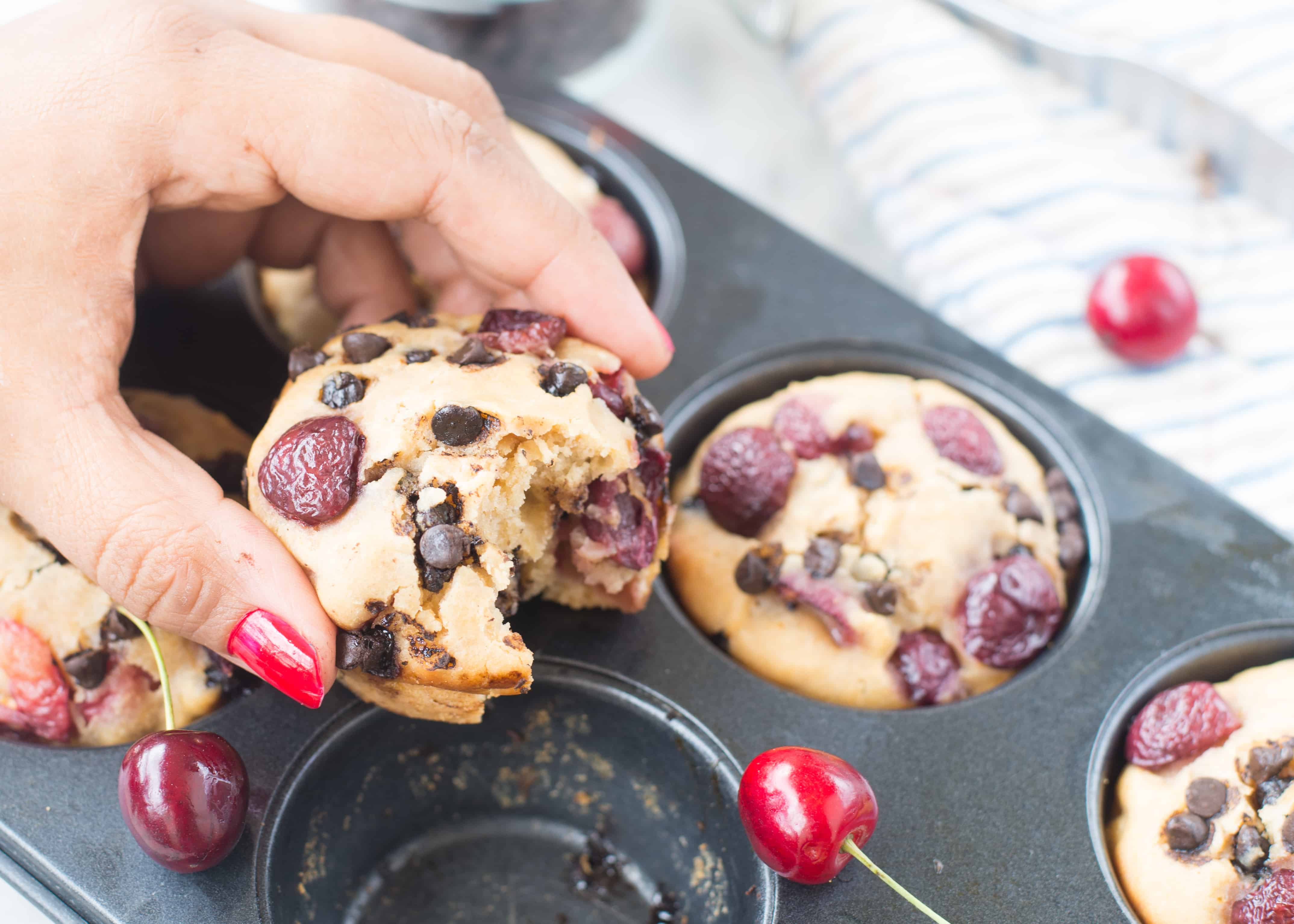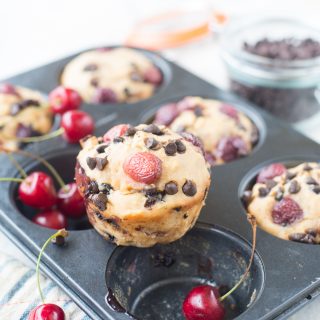 Chocolate Chip Cherry Breakfast Muffin
These Chocolate Chip Cheery Breakfast Muffin is made up of whole wheat flour and there is refined Sugar free. Perfect for breakfast or for a guilt free indulgence.
Ingredients
Dry Ingridents
½ cup all purpose flour + 2 TBSP extra
½ cup whole wheat flour
⅛ tspn baking powder
⅛ tspn baking soda
⅛ tspn salt
Wet Ingredients
1 tbsp unsalted butter Melted, cooled
1 small egg
⅓ cup honey
¼ cup yoghurt
Other Ingridents
½ cup Fresh Cherries pitted and halved
¼ cup Dark Chocolate Chip
Instructions
In a big mixing bowl add all the dry ingredients. Whisk well.

In another bowl mix all wet ingredients until well incorporated.

Slowly add the wet mixture to the dry ingredients. Fold with a spatula until all the liquid is mixed well. Don't over mix.

Fold in cherries and chocolate chip. Reserve few cherries and chocolate chip to sprinkle on top.

Grease or line a Muffin tray. Divide the batter equally. The muffins are not going to rise much so you can fill the batter up to the rim.

Bake in a pre-heated oven at 180 degree Celsius for 20 mins or until the tooth pick comes out clean.

It is best to consume the muffins on the same day it is baked.