Chocolate Gingerbread Truffle
This post may include affiliate links that earn us a small commission.
These Chocolate Gingerbread Truffles are made of gingerbread cookies. These truffles are perfect as Christmas gift or on your holiday cookies basket.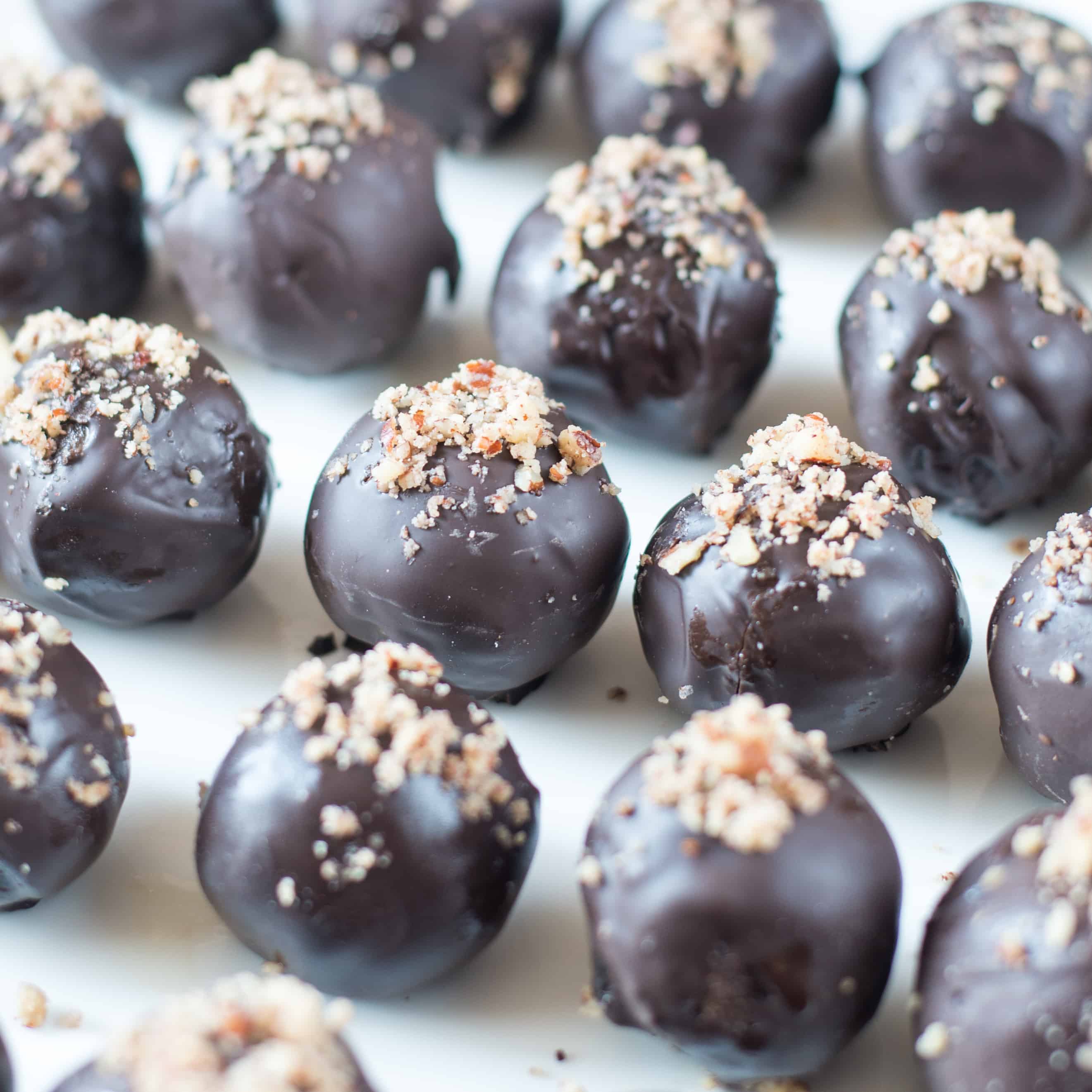 Flavours In Your Inbox
Subscribe for recipes straight to your inbox
Warm spices like Ginger, cinnamon, nutmeg are the flavours of this festive season.  I am using these spices like in everything. In my cookies, cakes, hot chocolate, even in my espresso. These spices give you the real feel of the winter.
These Chocolate Gingerbread Truffles has the warmth of the spices and it's chocolatey too.  I have been having these with my evening black coffee since the last couple of days.  Strong bitter coffee with ginger overloaded truffles is the best.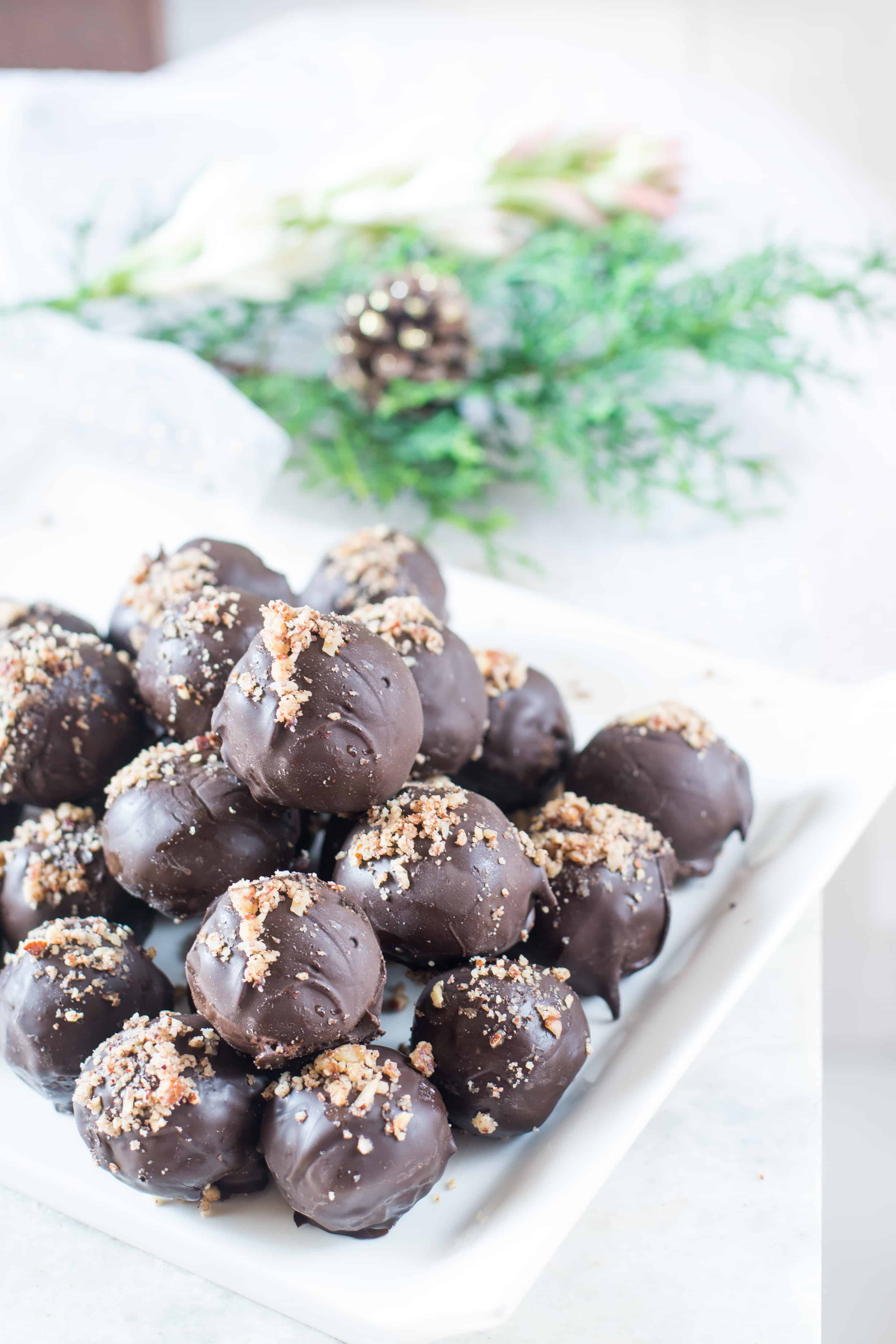 Have you started with the countdown?  The year is almost coming to an end. Time for celebration, partying with friends and family. And this is the time of the year when we share hugs and gifts with our loved ones.
When I was working, during this time of the year I used to carry cupcakes, brownies, and cookies to my office. It always makes me happy when I see my food being enjoyed by my friends.
Do you agree edible gifts are the best thing to give to your loved ones? They can feel the love and passion with which you would have made it. And I am sure it would put a smile on their face.
This year certainly I will not be able to bake anything for my colleagues.  But when my husband tasted these truffles, he insisted to make a second batch for his office.  So I am making these truffles again this weekend to his office.
I also sending some truffles to my daughter's school Christmas party, but I will not be using gingersnap cookies. Though my daughter loved these truffles, I am not sure whether kids would like the ginger flavor or not. So will be substitute gingersnap with regular digestive cookies.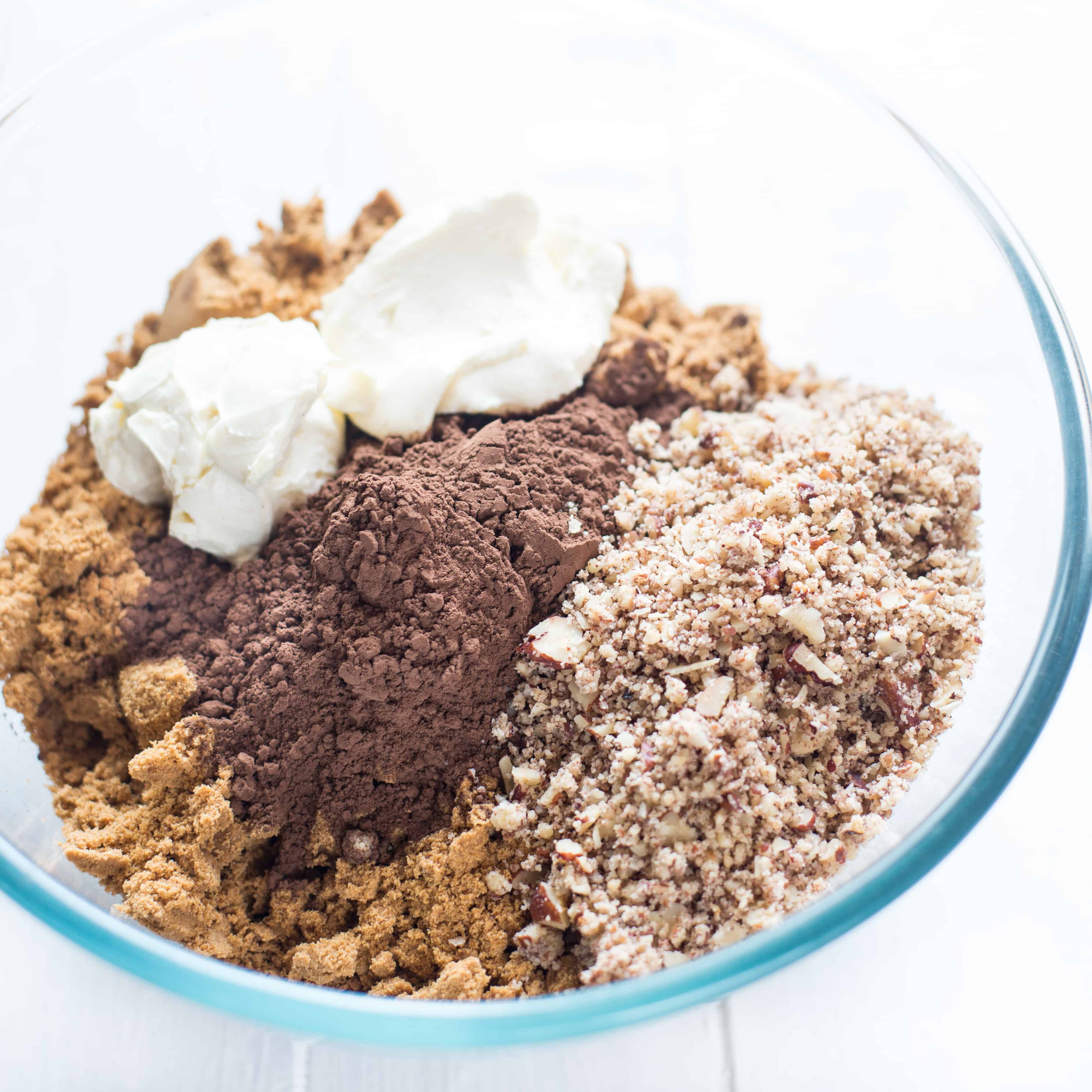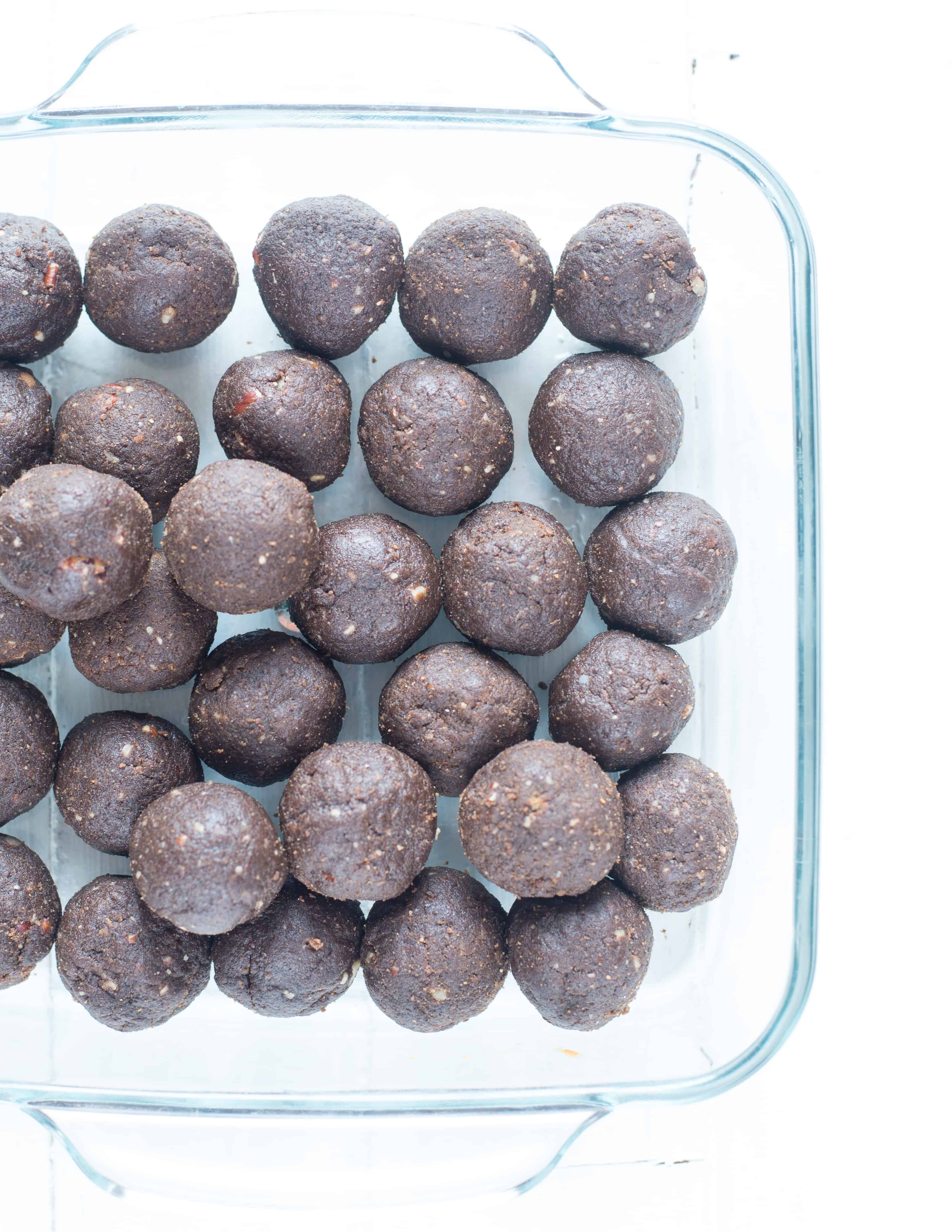 These Chocolate Gingerbread Truffles do also have crushed toasted pecan in it.  Toasted pecans add a lovely nuttiness and crunch to the overall experience.  You can substitute pecan with walnut or almonds. Nevertheless, these truffles are the best. So if you are a procrastinator like me, then these truffles would come to a rescue for you.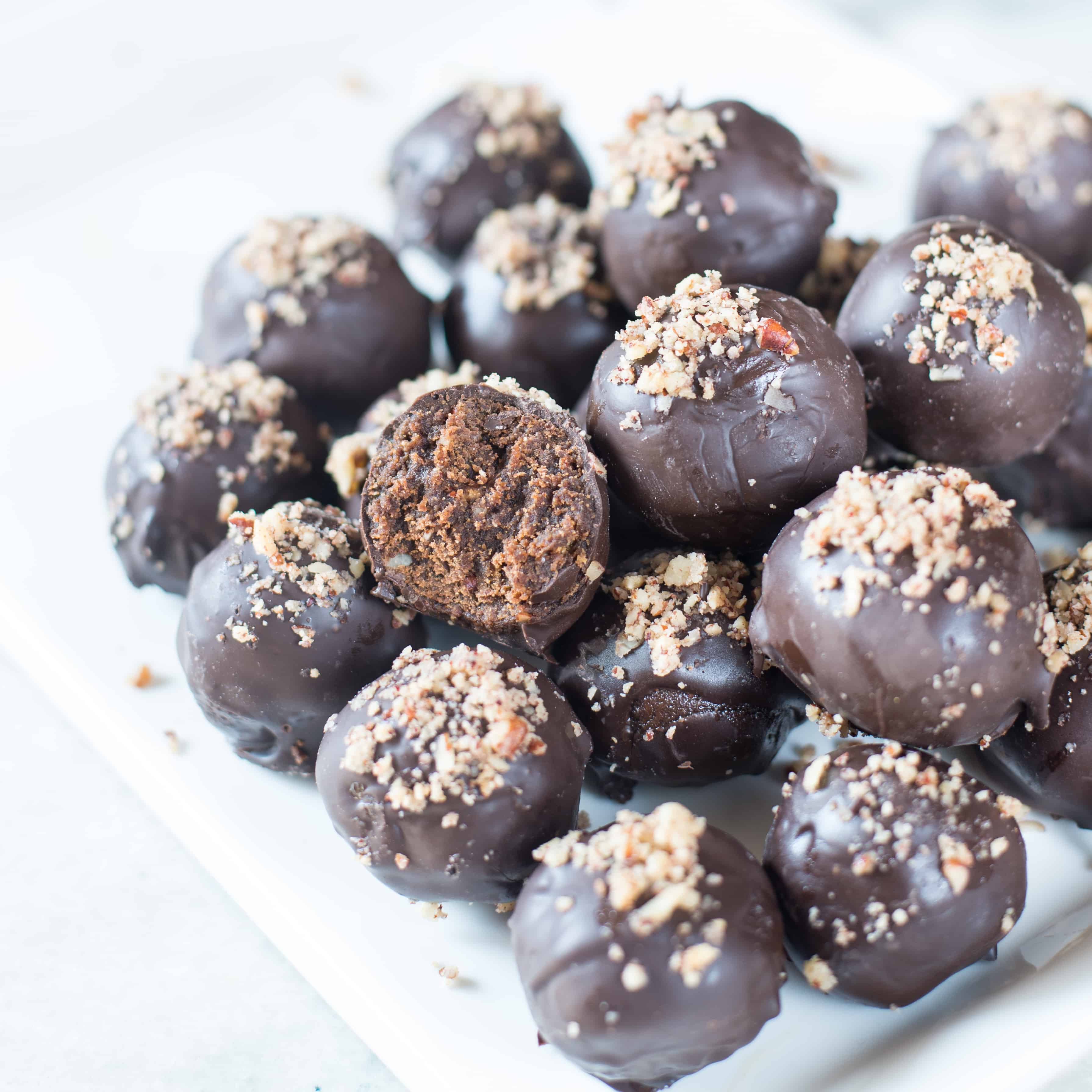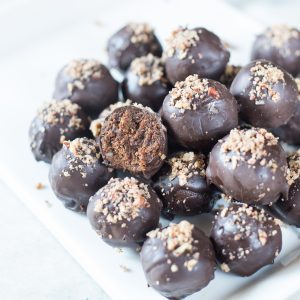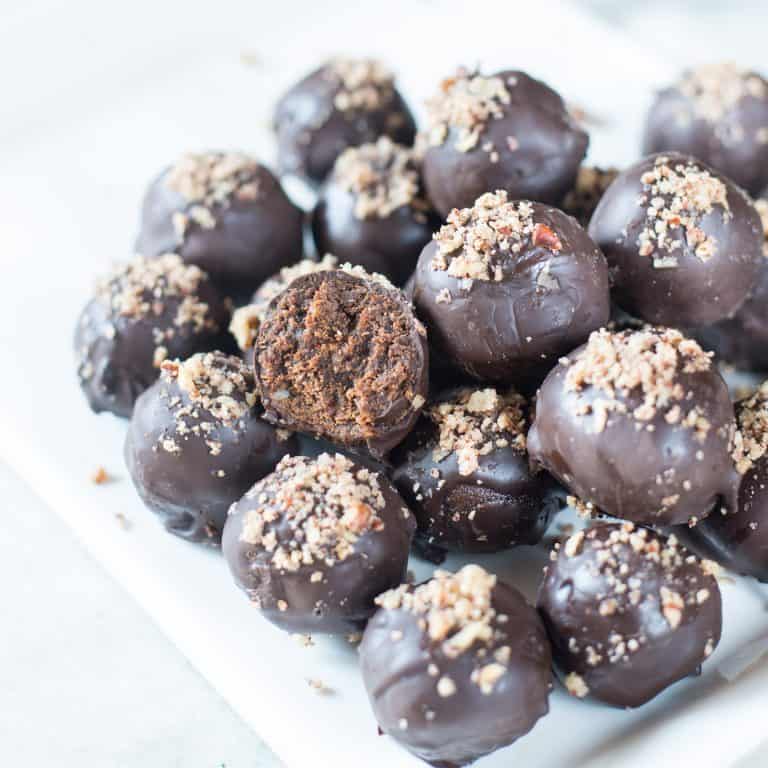 Chocolate Gingerbread Truffle
These Chocolate Gingerbread Truffles are made of gingerbread cookies. These truffles are perfect as Christmas gift or on your holiday cookies basket.
Ingredients
For Gingerbread truffle
500 grams Gingersnap Cookies
½ cup Cocoa powder
½ cup pecan Roughly crushed ( reserved more for garnishing)
.5 Tablespoon Ginger powder
1 Teaspoon Instant Coffee powder
⅓ cup Creame Chesse (see notes)
Big Pinch of salt
For Chocolate Coating
150 gms good quality dark chocolate
Instructions
Mix everything mentioned under Gingerbread truffle. When you pinch the mixture in between your finger if it comes together, then it is the right consistency.

Scoop a tablespoon of mixture and make a smooth tight ball. Repeat with the rest of the mixture.

Rest the shaped balls in the refrigerator for 1-2 hours.

And the end of the resting period, chop chocolate into small chunks. Using a double boiler or microwave melt the chocolate.

Remove the shaped balls from the refrigerator. While still cold dip each ball in melting chocolate using a slotted spoon. Shake off extra chocolate and place on a parchment paper.

Sprinkle remaining crushed pecan on the top, when still wet.

Store in an airtight container.
Notes
Start with 1/4th cup cream cheese and increase a tablespoon each until you reach the desired consistency.  The amount of cream cheese required depends on the type of cookies you use.
These truffles were of right sweetness for us, so I didn't add any sweetener.  If you want you can add honey or sugar.
Nutrition
Serving: 100g | Calories: 154kcal | Carbohydrates: 20g | Protein: 2g | Fat: 7g | Saturated Fat: 2g | Cholesterol: 3mg | Sodium: 116mg | Potassium: 162mg | Fiber: 1g | Sugar: 5g | Vitamin A: 45IU | Calcium: 27mg | Iron: 2.4mg