Curried Almond Cauliflower Soup
This post may include affiliate links that earn us a small commission.
Curried cauliflower soup is creamy and delicious. It has a mild curry flavour from curry powder, perfect soup to indulge in winter.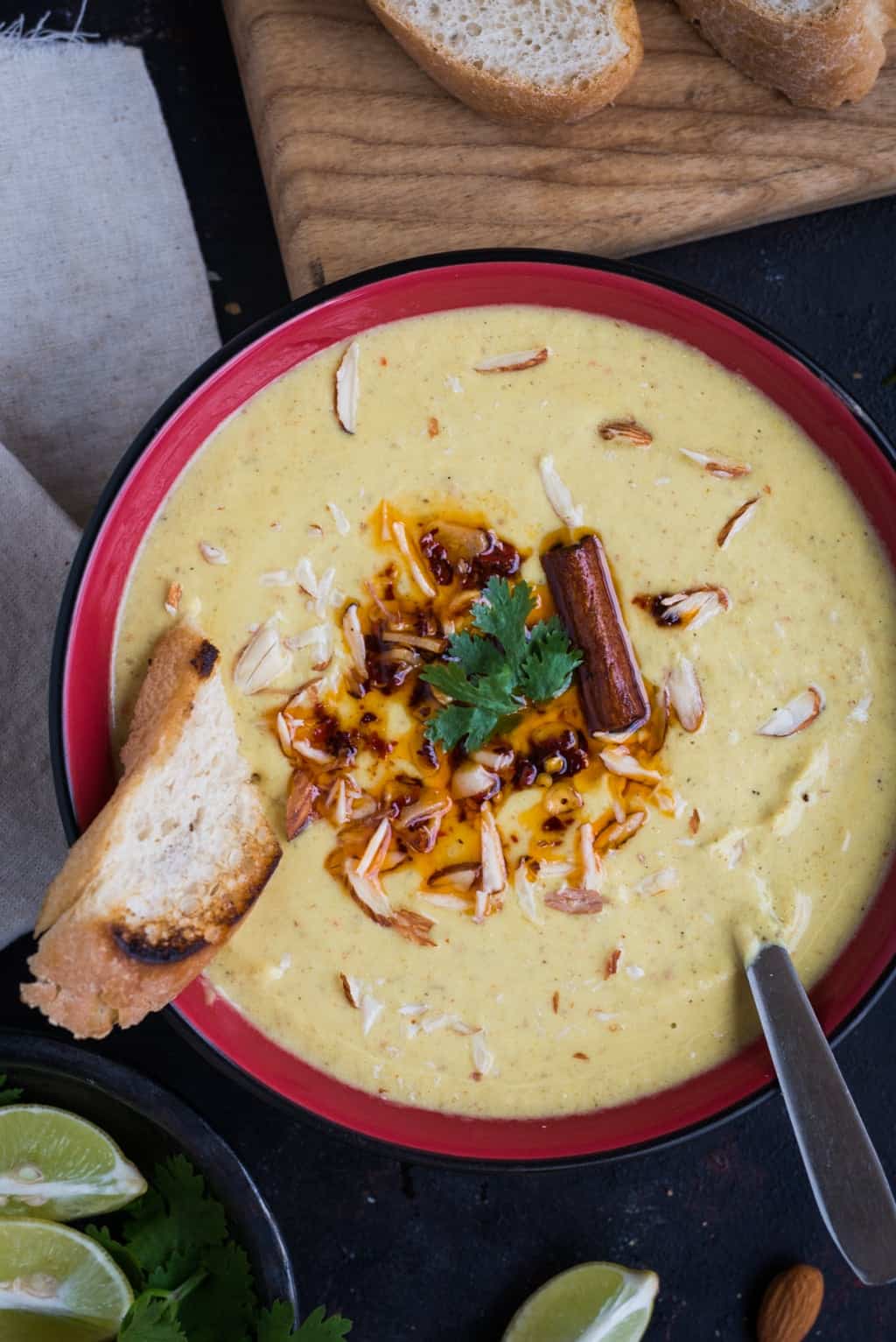 Creamy luscious soup with the goodness of almond and of course my favourite Cauliflower. What else would I need when I am down with a cold and have a soar throat. Cauliflower is a vegetable that you would find always in my refrigerator. Quick stir fry or gravy is what we love and have been having this since childhood.
But a soup, I never thought of making with Cauliflower. I had come across numerous recipes of soup but just never made up my mind to make one. Since the past couple of days, I was having a sore throat and barely able to talk. And then out of nowhere the idea of making a soup came into my mind. And with no pre-planning this soup happened.
Flavours In Your Inbox
Subscribe for recipes straight to your inbox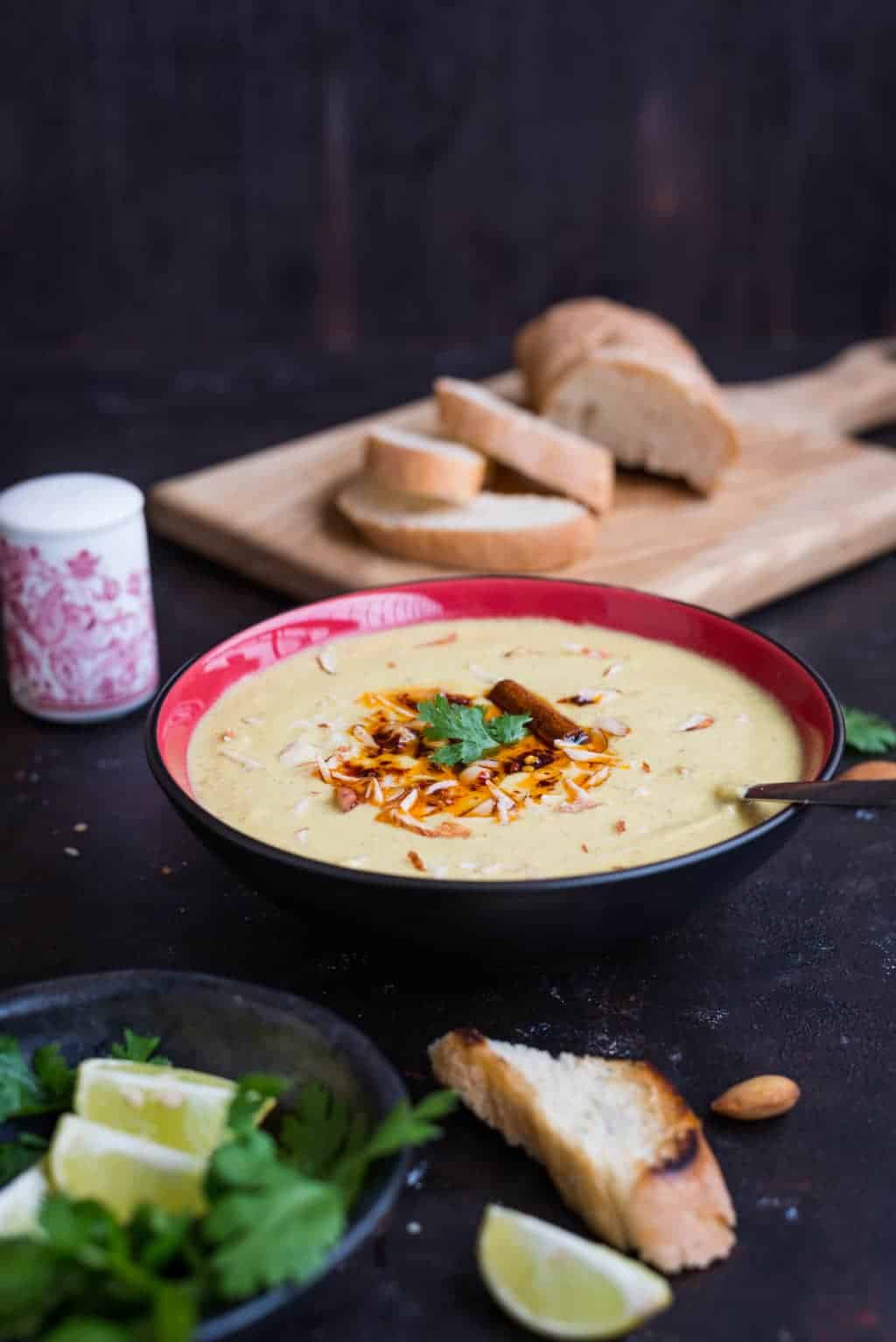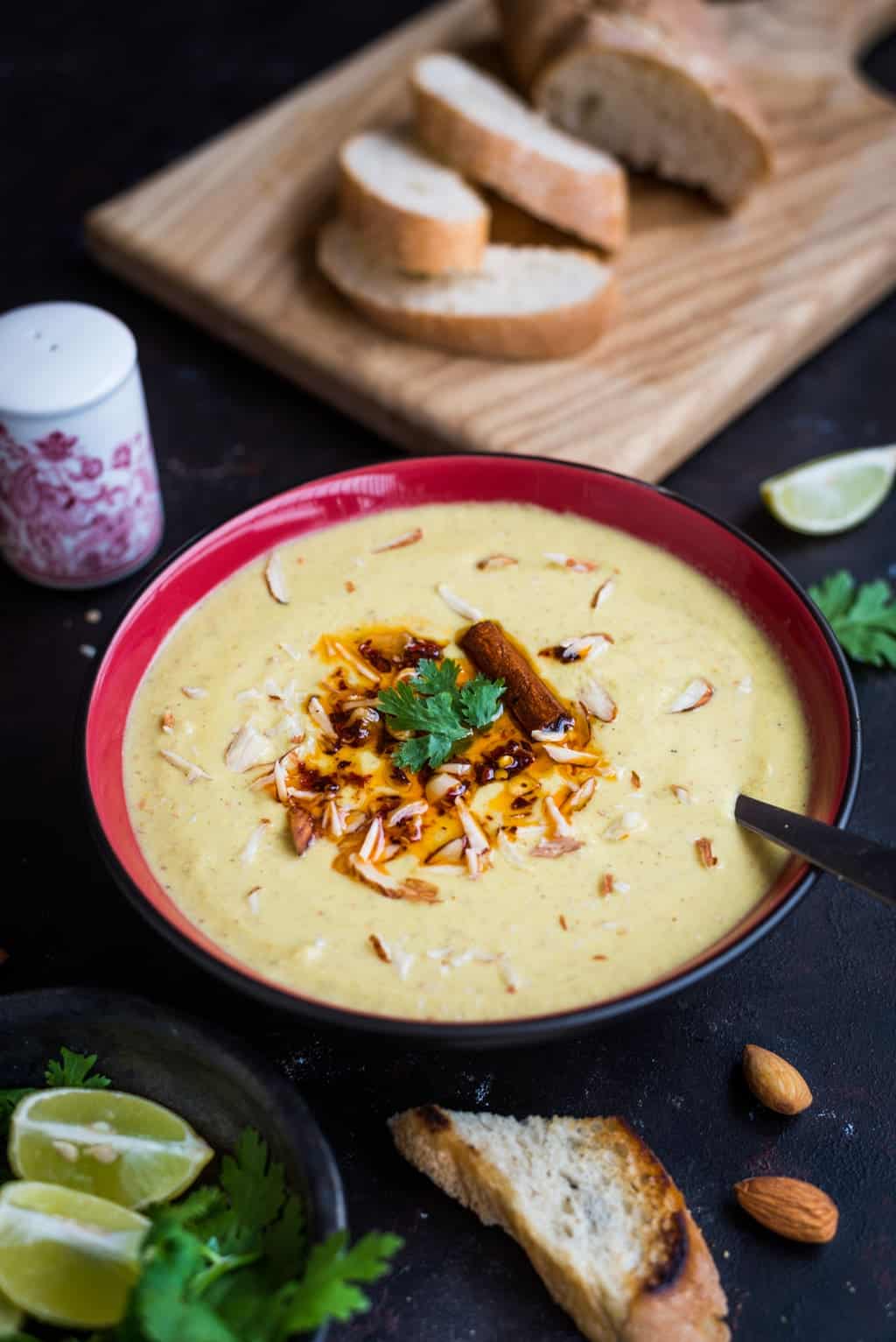 Curried Almond Cauliflower Soup
 Creamy curried Almond Cauliflower Soup. It is heathy and full of flavours too.
Ingredients
1 Medium Cauliflower cut into florets
⅓ cup Almond
1.5 tbsps olive oil
½ cup Onion Chopped
½ tablespoon minced garlic
1 bay Leaf
½ teaspoon cumin powder
1 teaspoon Curry powder (I used mild Curry powder)
½ tspn turmeric powder
1 tspn paprika
4 cups Vegetable broth or
Salt as per taste
coriander leaves Sliced and fresh for garnishing
Instructions
Soak almond in warm water for 30 minutes. Then peel the skin and keep aside.

Cut cauliflower into florets, clean and keep aside.

In a pan heat oil, add bay leaf, chopped onion and minced garlic. Saute for 5 minutes until the raw smell is gone.

Add cauliflower florets, turmeric powder, cumin powder, curry powder, paprika , salt and pepper.

Saute for 5-8 mins until the cauliflower has softened.

Let the cauliflower mixture cooled down a bit.

Then put cauliflower mixture, peeled almond to a blender. Add 2 cups of stock. Blend to a smooth consistency.

Empty the content to the blender and