Egg tadka is a comforting dish made from protein-rich dal (lentil stew) with scrambled eggs (egg bhurji). This popular Indian main course has smoky flavourful dal (lentils), and egg bhurji with a good amount of green chilies, and coriander leaves.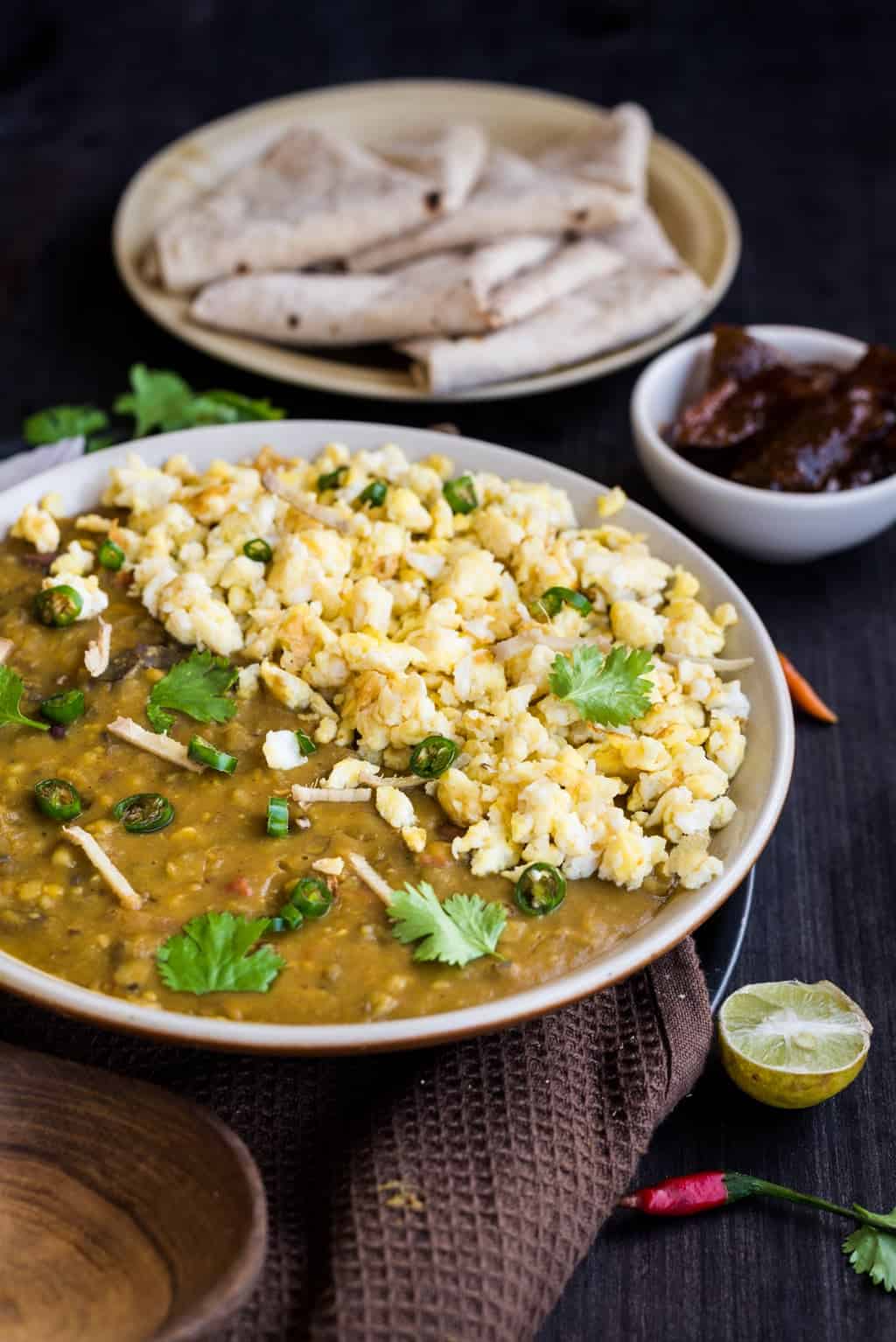 Egg Tadka Dhaba Style
This is an Indian variation of lentil stew that is popularly known as Anda Tadka or Egg Tadka in many parts of India. It also goes by other names like Dimer Tarka (Bengal), Anda Tarka (Punjab) in various states of India.
Dal Tadka or Dal Tarka is made of an assortment of dal cooked with spices, green chilies, onions, and tomatoes. Dal is 'lentil' and Tadka is 'tempering'. Add scrambled eggs to it and it becomes Egg Tadka.
Tadka (tempering) is an age-old Indian technique of bringing the best flavours out of spices. Heating whole or ground spices in hot oil or ghee releases the oils inside the spices.
These secreted essential oils impart flavour to the whole mixture and carry this aroma to the dish. Tadka can be prepared in any container and is most often prepared in a pan called 'tadka' in Indian restaurants.
Anda Dal Tadka is very popular in dhabas (i.e. highway eateries) throughout India and more so in the northern parts of the country. Quite commonly served in eateries of my home state of Odisha, this is something I have grown up on.
I love dhabas and the kind of rustic flavourful dishes they offer. I remember those days in college when traveling home for vacations, the buses used to stop near dhabas for dinner.
Dhaba egg curry, Channa masala, Dal fry, Anda tadka used to be part of the routine order every time. Even now at home, we make this at least once a week.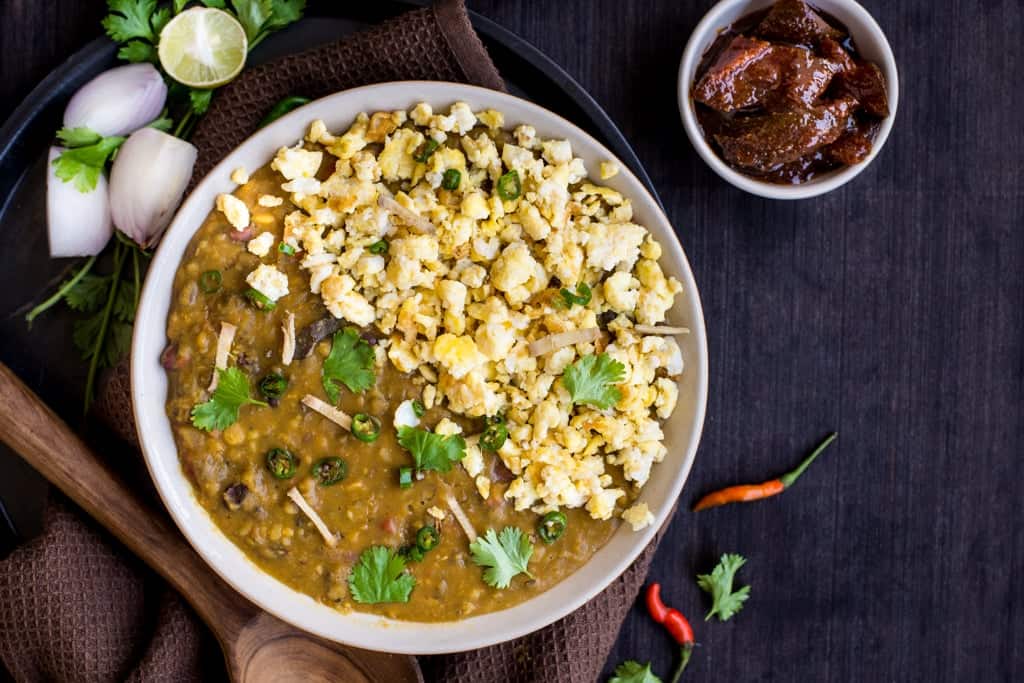 Ingredients
This recipe calls for different varieties of dal. Most of the time due to the shortage of one or another kind of dal, I used to make them with whatever is available at home. It still comes out delicious.
Dal (Lentil) is the primary ingredient here. I have used a combination of Tuvar (Toor), Channa dal, Rajma (Kidney beans), Urad dal, and Moong dal.

Now coming to the recipe it is really up to you what kind of dals (lentils) and in what ratio you use them. Though I prefer Tuvar dal it usually is not used often. Chana dal or Green moong dal are commonly used everywhere.

Eggs are scrambled and added to this recipe.
Coriander leaves
Onion, Tomatoes, and Ginger-garlic paste
Chilis
Common Indian spices - Bayleaf, cumin powder, coriander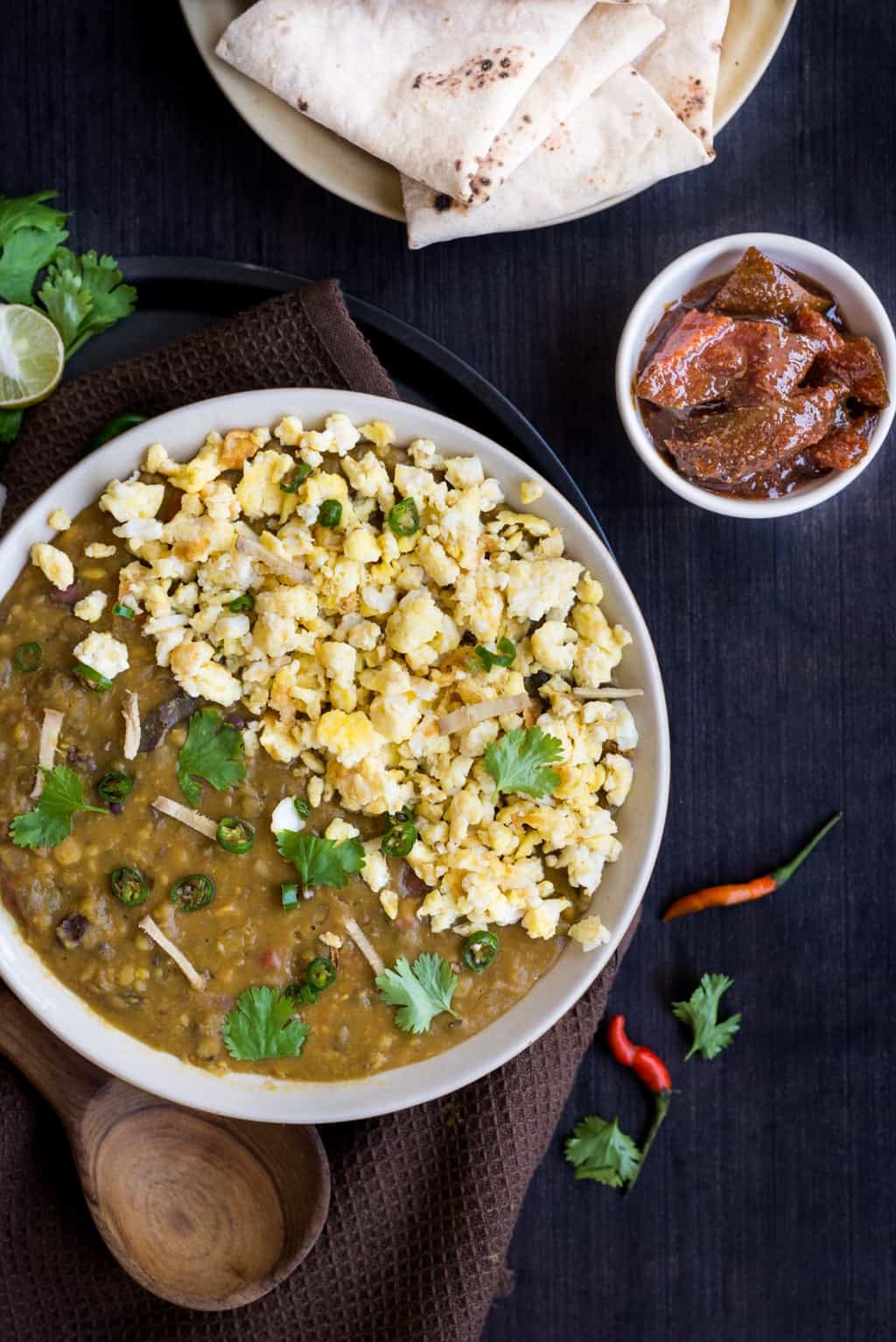 How to make Egg Tadka
Soak your dal - The dal (lentils) need to be soaked much earlier than your planned cooking time. Different types of lentils call for different soaking durations.
Green moong dal or Rajma needs to be soaked overnight ideally. Channa dal and Urad dal will do with an hour of soaking.
Pressure cook the dal in a pressure cooker till they are done. Add turmeric, cinnamon sticks and bayleaf for flavour.
Preparing Tadka (Tempering) - cook the spices in hot oil. This is done by adding onions, tomatoes, ginger-garlic paste and all the spices until the gravy is done.
Add Dal to tadka - Add cooked dal, Kasturi methi, and garam masala to the pan. Add water and let it boil and reduce to the required consistency.
Prepare scrambled eggs - In a separate pan, heat oil and break eggs onto it with salt as seasoning.
Mix everything. You can mix the scrambled eggs with the dal tadka or choose to just serve the egg on top of the tadka. Garnish with coriander leaves and lemon.
What to serve with Egg Tadka
This recipe makes about 6-8 servings. You can half the recipe as per your need.
Anda tadka is usually had with hot Rotis or Parathas. It goes very well with white or brown rice too if you are in the mood for that.
Since this dish is lentil heavy along with eggs, it is quite a fulsome meal. Having parathas with this is satiating for me.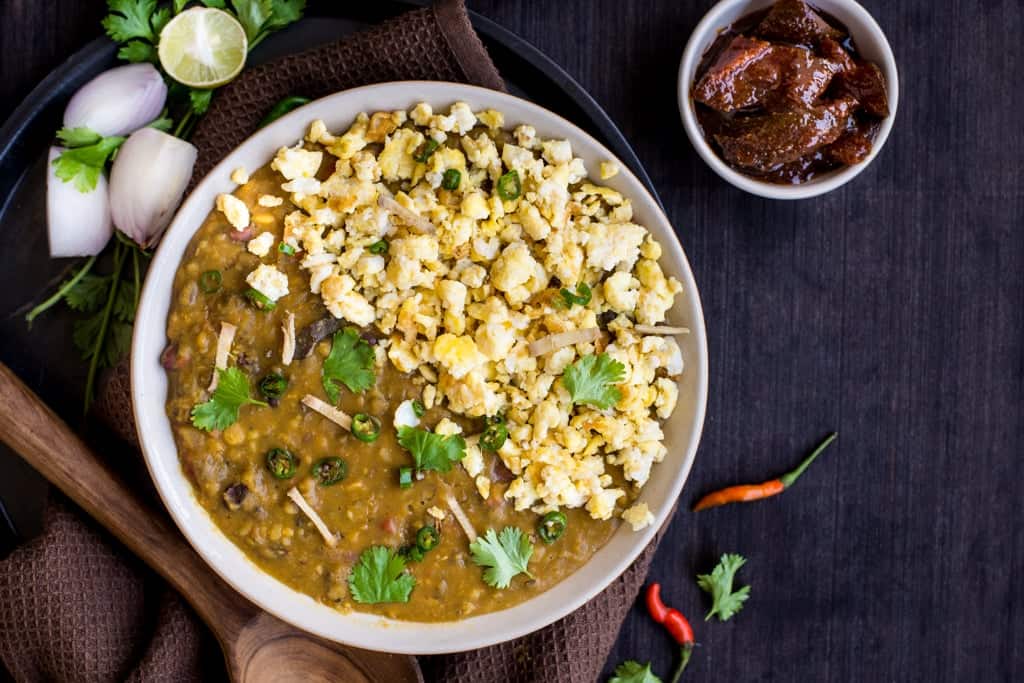 Other Indian dishes you can try
📖 Recipe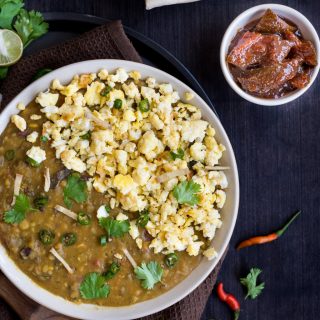 Egg Tadka
A delectable Indian dish called Egg tadka or Anda tadka. Made as a rich and flavourful dish from Lentil stew (Dal) and scrambled eggs with classic indian tempering of spices.
Print
Pin
Rate
Ingredients
⅓

cup

chana dal

⅓

cups

moong dal

whole green

¼

cup

dal

Tuvar/Arhar (optional)

¼

cup

rajma

(red kidney beans)

¼

cup

urad dal

whole

1

tej bay leaf

patta/

cinnamon

small stick of

1

onion

large

1

tablespoon

ginger garlic

paste

2

tomatoes

medium

½

teaspoon

turmeric

powder

½

teaspoon

red chilli

powder

1

teaspoon

cumin

powder

1

teaspoon

coriander

powder

1

teaspoon

garam masala

to taste

salt

2

tsps

kasuri methi

dry

2 - 3

green chillies

chopped or cut lengthwise

½

tablespoon

ginger

juliennes(thin long strips of )

coriander leaves

fresh

3 - 4

eggs
Instructions
Soak whole green moong dal, rajma overnight or at least 6 hours.

Soak chana dal and urad dal for one hour.

In a pressure cooker add tuvar dal and rest of the dal. Add pinch of turmeric, tej patta,cinnamon stick. Cook till done.

In a big pan add 2 tablespoon oil. Let it heat. Add chopped onion.Fry till light brown in colour.

Add ginger garlic paste. Fry till raw smell goes off.

Add chopped tomatoes. Cook till tomatoes are done and cooked through.

Add cumin powder,coriander powder, turmeric powder and chilli powder. Fry till the oil starts to separate from onion tomato mixture.

Add cooked dal. Add garam masala. Add water as per the consistency needed. Bring everything to a boil.

Just before switching off the gas crush kasuri methi in between your both the palms,sprinkle over dal. Stir in julienned ginger and chopped green chillies.

Switch off the gas and keep aside.

In another pan heat 1 tablespoon oil. In a bowl crack 3-4 eggs . season with salt and . add to the pan. let it cook for a minute. then scramble the eggs and break any bigger pieces. (As the dal already contains spices I keep scrambled egg simple).You can customize this as per you preference too).

Add scrambled egg on top of dal before serving. Garnish with chopped coriander leave.
Notes
This post is sponsored by the biggest online store Big Basket