Healthy Taco Salad with Cauliflower is your answer for a low carb taco salad recipe. It is easy and comes together in 20 minutes. Perfect for a potluck.
A classic Taco Salad has ground beef or ground turkey in it and loaded with crunchy tortilla chips. Taco salad is one of the most popular salad for potlucks because it is easy to make and have layers of textures and flavours.
Pin
Now don't kill me for using cauliflower instead of beef or any other protein.
It was one of those meatless Mondays when I avoided any kind of meat and tried to include plant-based ingredients.  It was a hot summer afternoon and I wanted a quick-fix lunch.
I ended up making this Healthy Taco Salad with Cauliflower.
This Taco salad with cauliflower is a vegetarian option. Meaty Cauliflower makes a great substitute for ground beef.
Except for ground beef rest of the taco-salad ingredients are totally unchanged. It has the same flavour and texture.
Seasoned Cauliflower, fresh lettuce, crunchy veggies along with cheese, sour cream, this salad is surely going to impress everyone.

 Ingredients
The most important thing while making a salad is to use fresh ingredients. Using fresh ingredients not only makes the salad healthy but also gives the needed crunch and texture. So make sure you put the freshest ingredients into this healthy taco salad.
The taco seasoning I used to season the cauliflower is homemade, but you can definitely use your favourite Taco seasoning to save time.
This Easy Taco Salad is not loaded with store-bought dressings. When mixed, sour cream, cheese, and juicy tomatoes work as a dressing and bring all the flavour together.
I would not be worried about these Taco Salad Calories.  If you are on a low carb or keto, this salad totally perfect.
If you are looking to add extra crunch and make it a little indulgent, then you know what you need to add. Doritos, it is.  Add your favourite Dorito and Dorito Taco Salad is ready.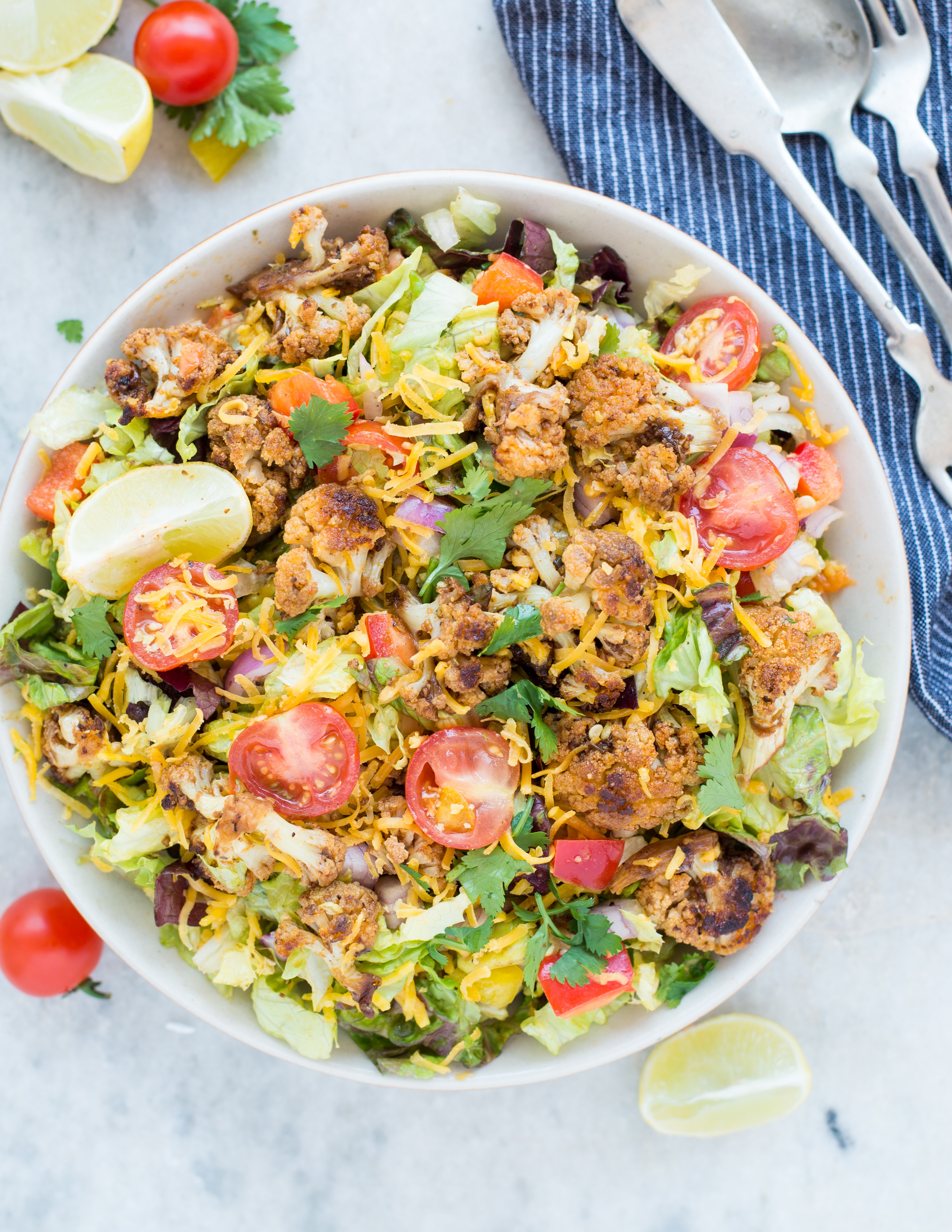 Pin
Instructions
It takes barely 20 minutes to put this Healthy Taco Salad together.
Start with seasoning cleaned cauliflower florets with oil, garlic, chilli powder and taco seasoning.
Arrange seasoned cauliflower on a lined baking sheet and bake. Alternatively, you can cook the cauliflower in a skillet.  Grease the skillet. Add cauliflower florets. Cook until the cauliflower florets are almost done. Finally, add all the seasoning and cook further till the florets are done and look crunchy around the edges.
Let the cauliflower florets cool down a little bit before mixing with other ingredients.
In a big salad bowl add lettuce, onion, pepper, avocados, tomatoes. Add Cauliflower florets and cheese. Mix everything well.
Top it with sour cream, salsa and Doritos if required.
If salads are your favourite meal throughout the summer, then I am sure you are going to like these two easy and refreshing salad recipes.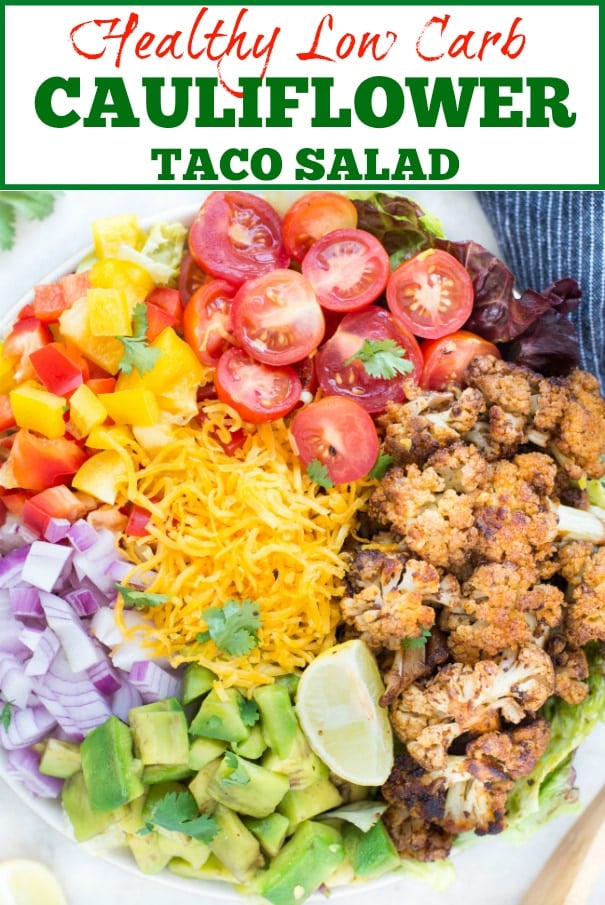 Pin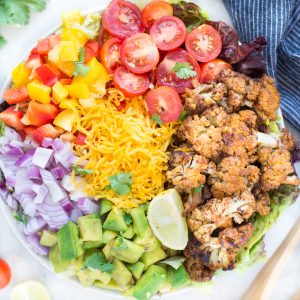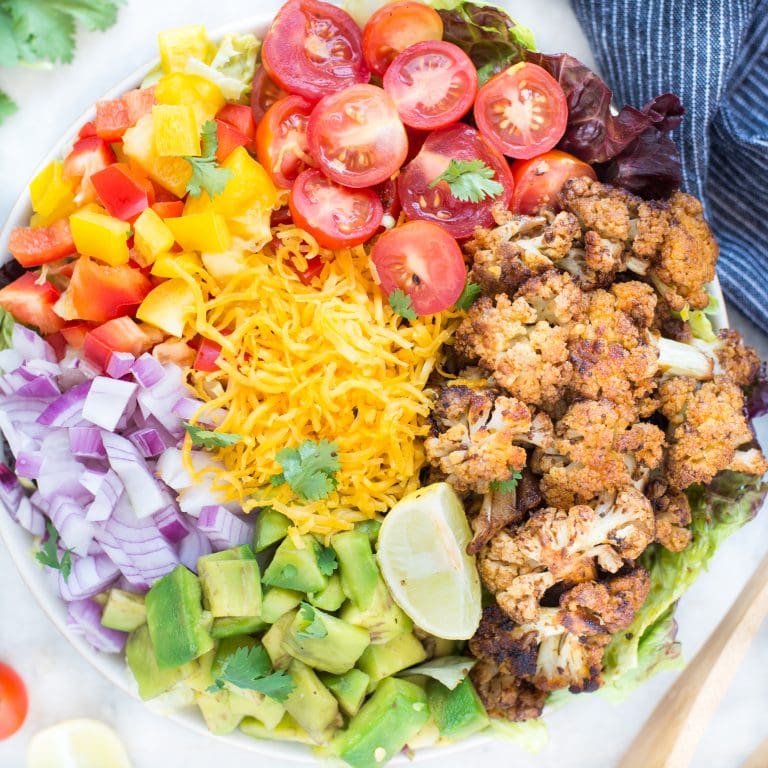 Healthy Taco Salad with Cauliflower - Low Carb
Refreshing Cauliflower Taco Salad with lots of flavour and texture perfect for potluck or summer meal. It is low carb and healthy too.
Print
Pin
Rate
Ingredients
For Taco Cauliflower Florets
1

medium

cauliflower

cut into florets

1.5

tablespoon

taco seasoning

1

tsp

garlic powder

1

teaspoon

chili powder

(optional)

salt

as per taste

2

tablespoon

olive oil

1

tspn

fresh lemon juice
For Salad
2

cups

mixed salad leaves or lettuce

1

medium

onion

chopped

1

cup

assorted pepper

chopped

1

avocado

chopped

1

cup

cherry tomatoes

1

cup

shredded cheddar cheese

fresh coriander leave for garnishing

sour cream

for serving
Instructions
In a bowl mix Olive Oil, Taco Seasoning, Garlic Powder, Chili Powder, salt. Add Cauliflower Florets. Mix everything well.

Arrange seasoned cauliflower florets in a lined baking sheet. Bake in a pre-heated oven at 200 Celcius for 20 minutes. Stir in between for even cooking.

While the baked cauliflower florets are cooling down, in a big salad bowl add all the vegetables.

Add cauliflower florets, shredded cheese, coriander leaves. Mix everything well. Serve immediately.

(Optional) Top with sour cream and Tortilla Chips while serving.