This One Pot Spicy Tomato Basil Chicken With Orzo is spicy, creamy and loaded with flavor. A quick and easy dinner that everyone will love.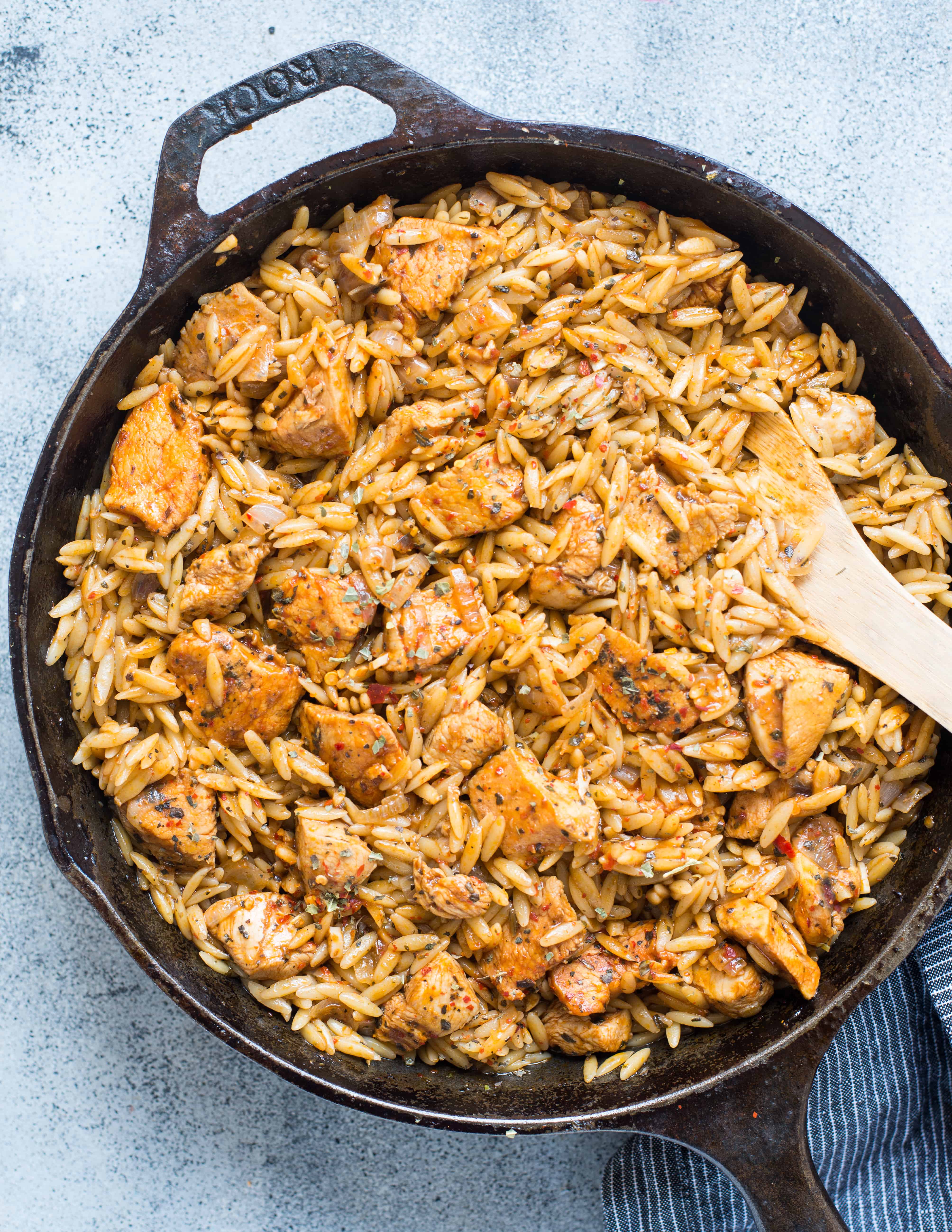 Aren't one pan recipes best?? When there is a time crunch or too tired to cook an elaborate meal, all you need is a one-pan recipe.  I usually end up making one pot flavored rice a lot. This is the first time I got orzo. If you are not aware, Orzo is also a kind of pasta.Because its shape resembles a lot to rice, I wanted to do something similar to my usual rice preparation. Tomato rice is an absolute favorite and this Spicy Tomato Basil Chicken with Orzo is an Italian variation to the same. Garlic, onion and Italian herbs make this delicious.
With only a few ingredients, this one pot meal is very satisfying. Best thing is you can go as creative as you can in this case. Chicken, shrimp or mushroom, It is up to you what you pair with Orzo. I was planning to add some parmesan, but it was already creamy enough, so skipped the parmesan. But I am sure parmesan will make it even more delicious.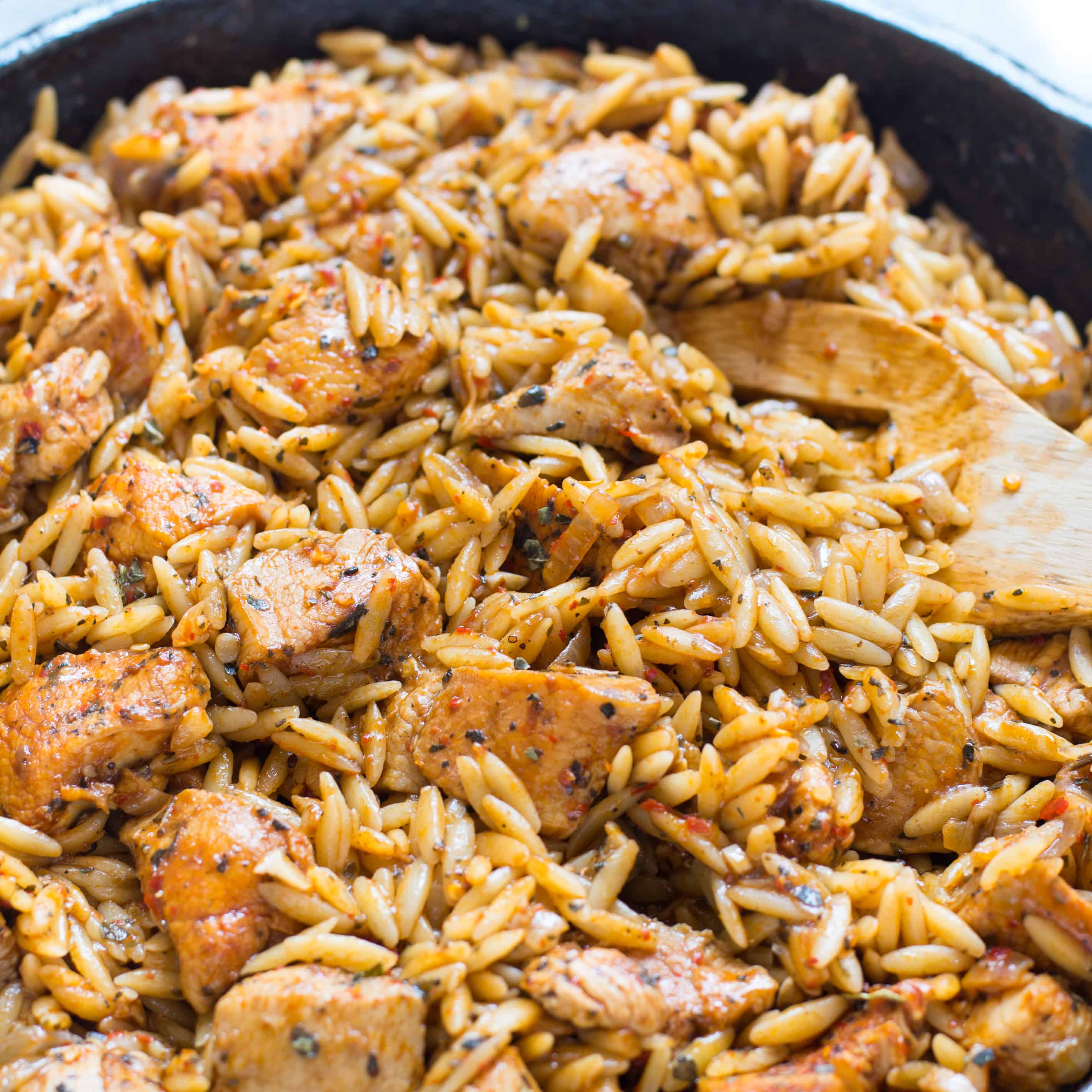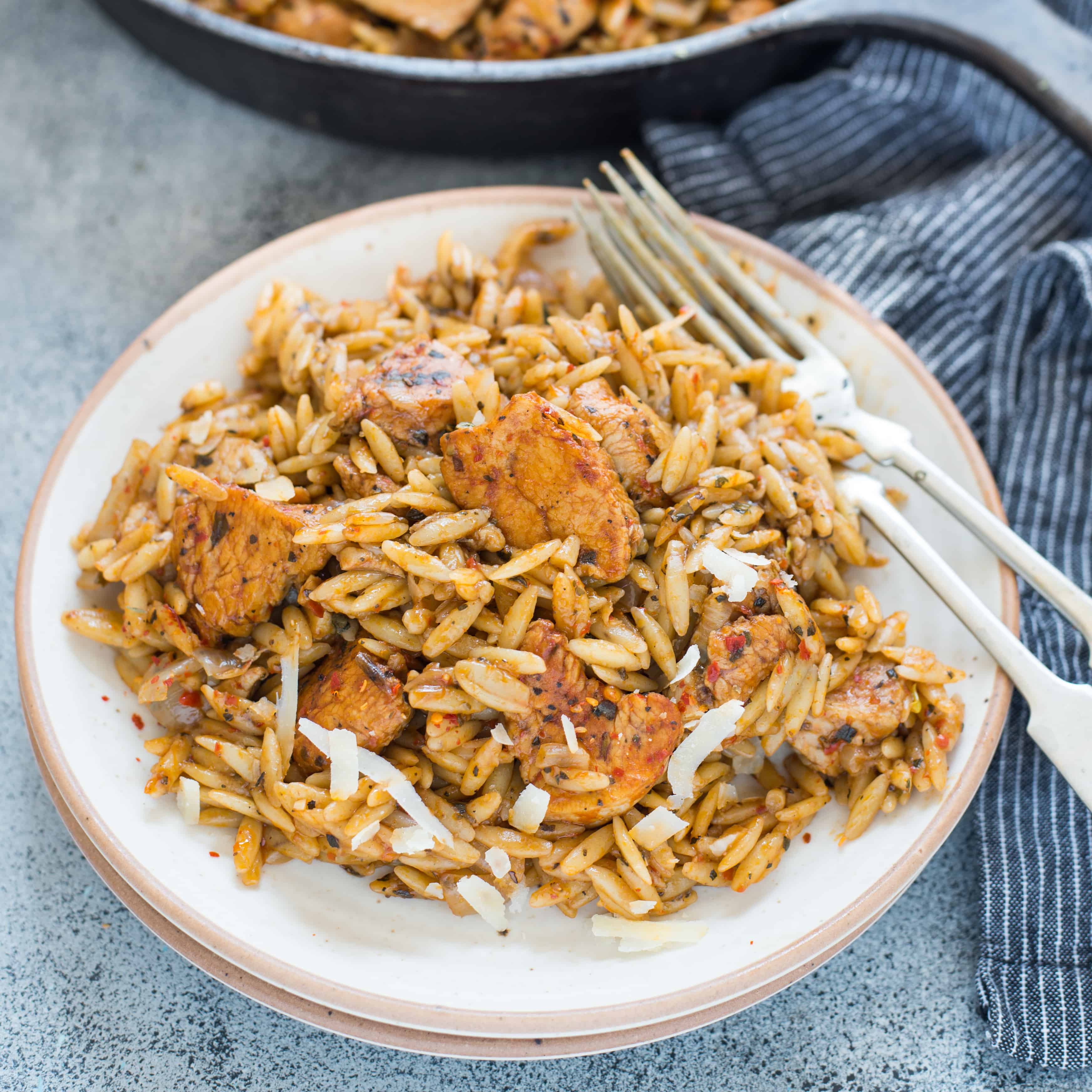 There are a couple of things you need to take care while cooking Orzo. First cooking it just until it is done and the second one is the amount of stock you add while cooking. Anyone one of this goes wrong and you will end with a pot of mushy Orzo. When there is still little liquid in the pan switch off the flame. It might look saucy but once it slightly cools down Orzo will soak up all the liquid.
Another thing that you need to take care is, not to stir frequently while it is getting cooked. Frequent stirring results in starchy and mushy Orzo. After you add the stock, let it boil. Once it starts to boil, lower the flame and let it cook on low heat.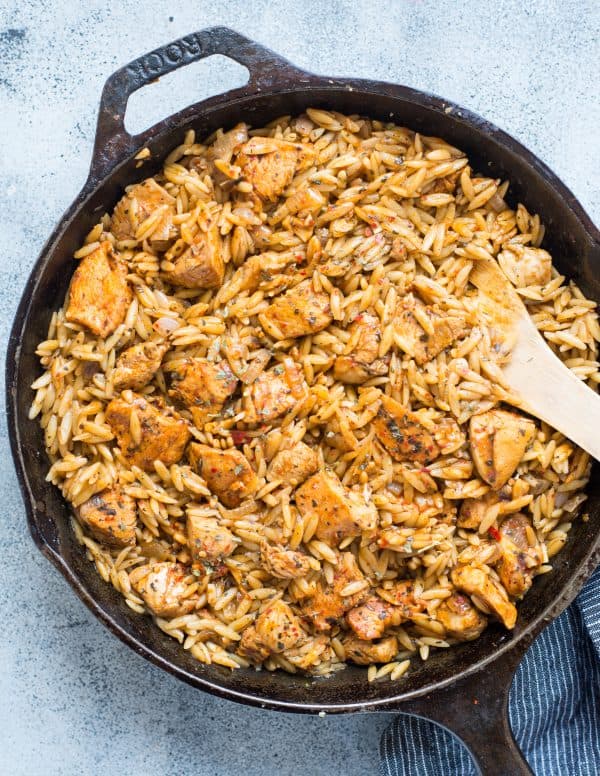 | | |
| --- | --- |
| | |
Heat a pan.Add butter and few drops of oil. once hot add chopped Onion.

When Onion is soft and looks transparent add minced garlic. fry for 30 seconds.

Add cubed chicken. Cook for 2 minutes on medium-high heat.

Add tomato puree, herbs, chili flakes. mix everything well.

Add Orzo and warm chicken stock. Season with salt.

Once it starts to boil, lower the flame and let it cook slowly.

When almost all the water has been evaporated but still it looks little sauce, switch-off the flame.

At this point, if you want you can add shredded parmesan and give everything a good mix. Else while serving sprinkle some cheese on top.
Always add warm stock to the mixture. Adding cold/room temperature stock will make the chicken cubes tougher.
Try to serve this immediately after cooking. Keeping it for too long, Orzo would soak all the sauce.
You can also add fresh basil leave to the end.