Grilled Shrimp with Corn Avocado Salad is a refreshing salad for warm summer days. Spicy grilled shrimp paired with grilled corn, avocado and other veggies takes only 15 minutes of your time.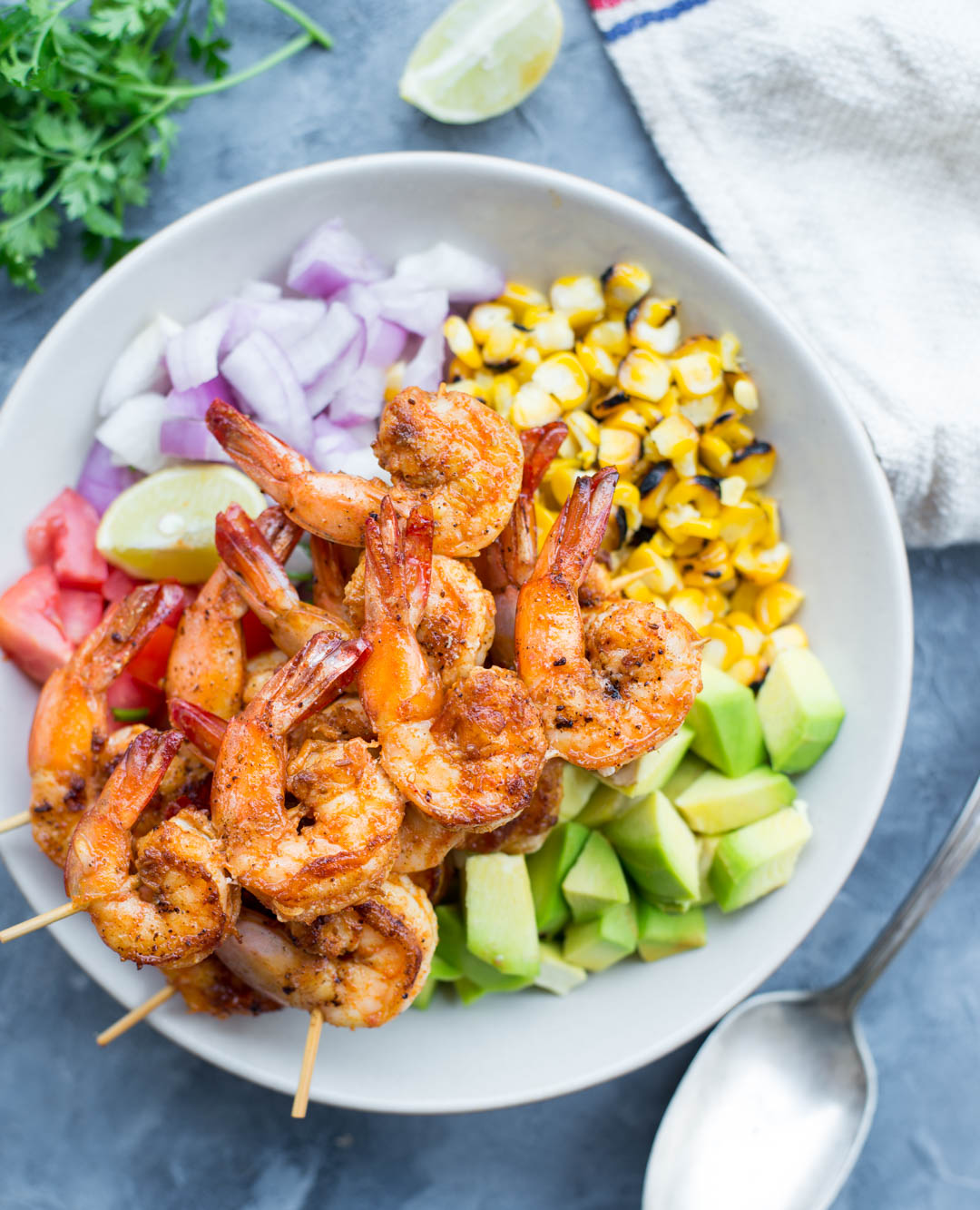 According to you what qualifies as a perfect summer dinner? For me it has to be light, refreshing with a good balance of nutrition.  This Grilled Shrimp with Corn Avocado Salad tick all the boxes. A no-fuss salad which is perfect for summer dinner or BBQ parties.
Planning for an outdoor grilling party, then this Grilled Shrimp Salad is going to be a crowd pleasure and will disappear in no time.  Fire up the grill, make these Easy Grilled Shrimps followed by grilling the corn. In the meantime prepare the veggies.  Then toss everything, add a good squeeze of fresh lemon juice and Tadaaa!! the salad is ready.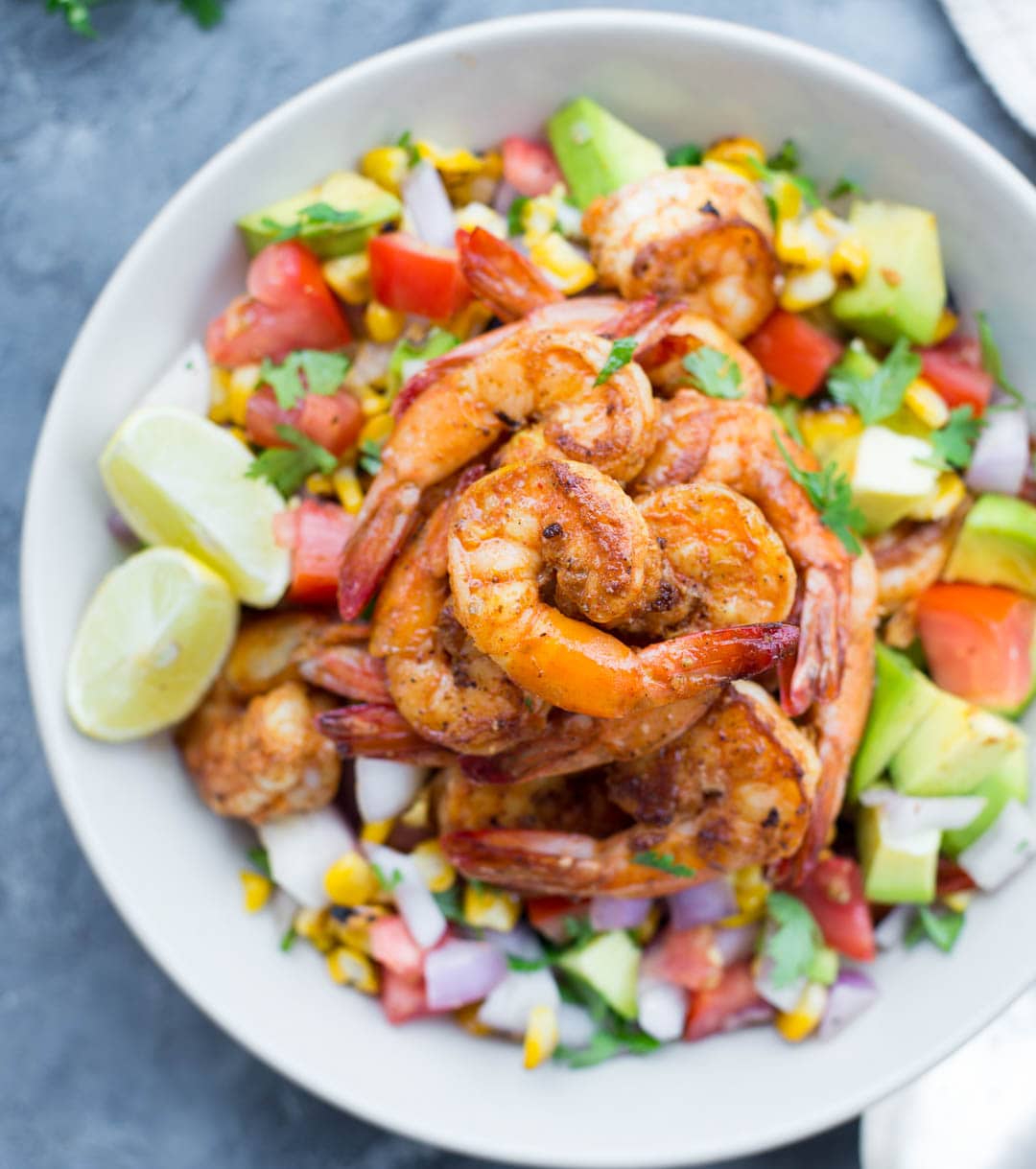 First, let's talk about the Marinade for Grilled Shrimp. You can be as creative as you want with the marinade. I like to keep it simple so that the Shrimp flavour stands out. This Grilled Shrimp Marinade has garlic, roasted Cumin powder, chilli powder, lemon Juice and salt. With Just 5 ingredients, this marinade ad so much flavour.  If you would like to be creative with the marinade, then check this VIETNAMESE GRILLED SHRIMPS
HOW TO GRILL SHRIMP?
Grilling Shrimp is easy and quick. At the same time, it can be tricky too.  Shrimp requires fast cooking. 2-3 minutes of grilling on each side is good enough.  Heat the grill very hot. If Shrimps are small, there are chances of them falling into the grill. So the best way to grill shrimp is to use skewers.
Once the Shrimps are skewered, place on the grill on direct heat. The shrimp marinade has already oil in it. So there are fewer chances of shrimps sticking to the grill. Grill each side not more than 4 minutes depending on the size of the shrimp. Flip the Shrimp Skewers when the underside is just beginning to turn pink.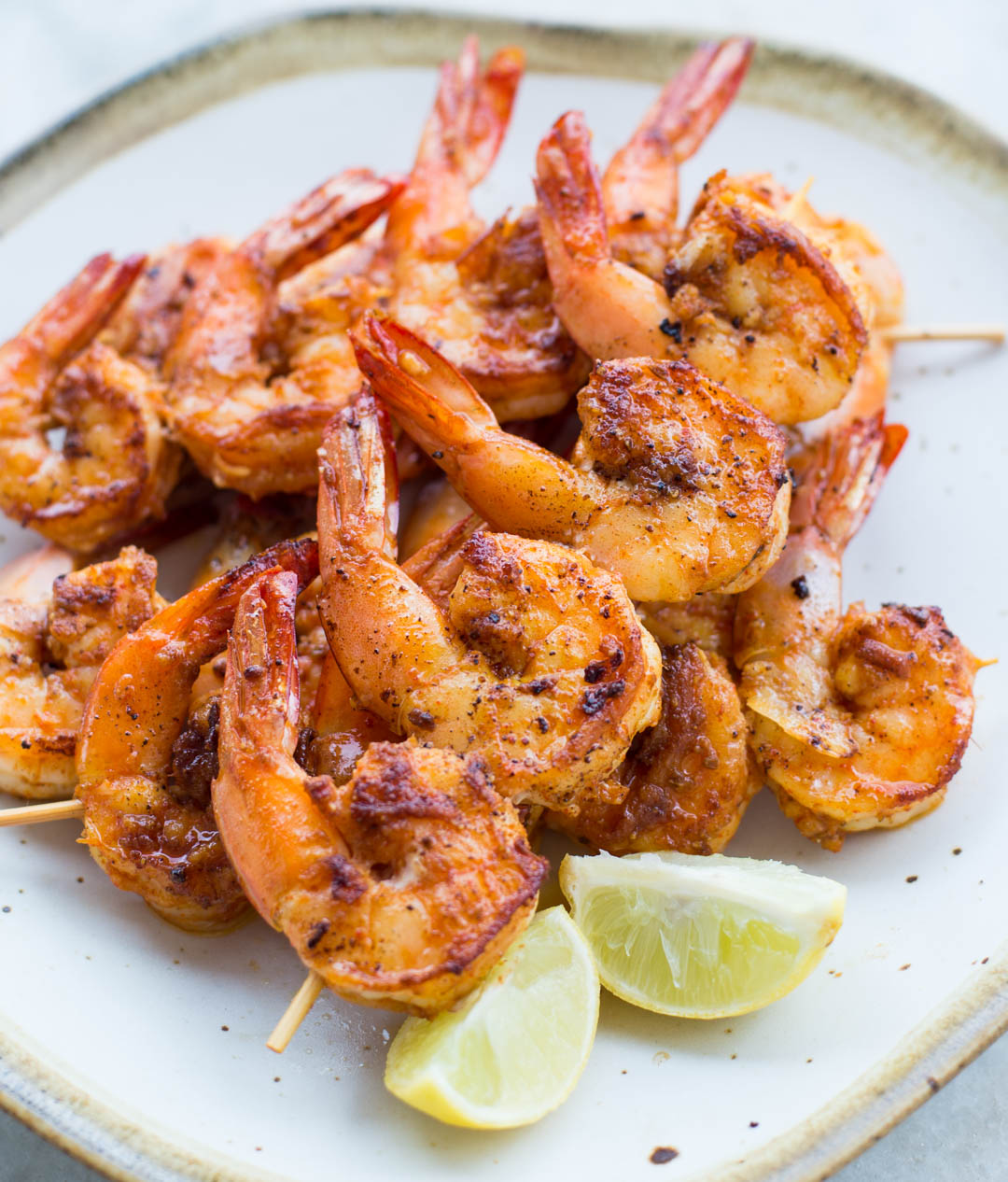 HOW TO GRILL SHRIMP ON THE STOVE?
Shrimps can easily be grilled on the stove. Use a grilled pan, preferably cast Iron one. Grease the pan lightly. Place marinated Shrimp Skweres. Cook on medium-high heat, undisturbed for 2-3 minutes. Flip and cook for another 1-2 minutes.
CORN AVOCADO SALAD RECIPE.
Spicy Grilled Shrimps goes very well with the refreshing Corn Avocado Salad. Sweet Corn Kernels, creamy avocado and other crunchy veggies make this salad super healthy.
Charred corn kernels ads so much flavour to the salad. Grilling corn is very easy.  Clean corn cobs, remove silk. Brush corn lightly with oil and sprinkle some salt. Then grill over direct heat until you see charred edges. It should take around 15 minutes.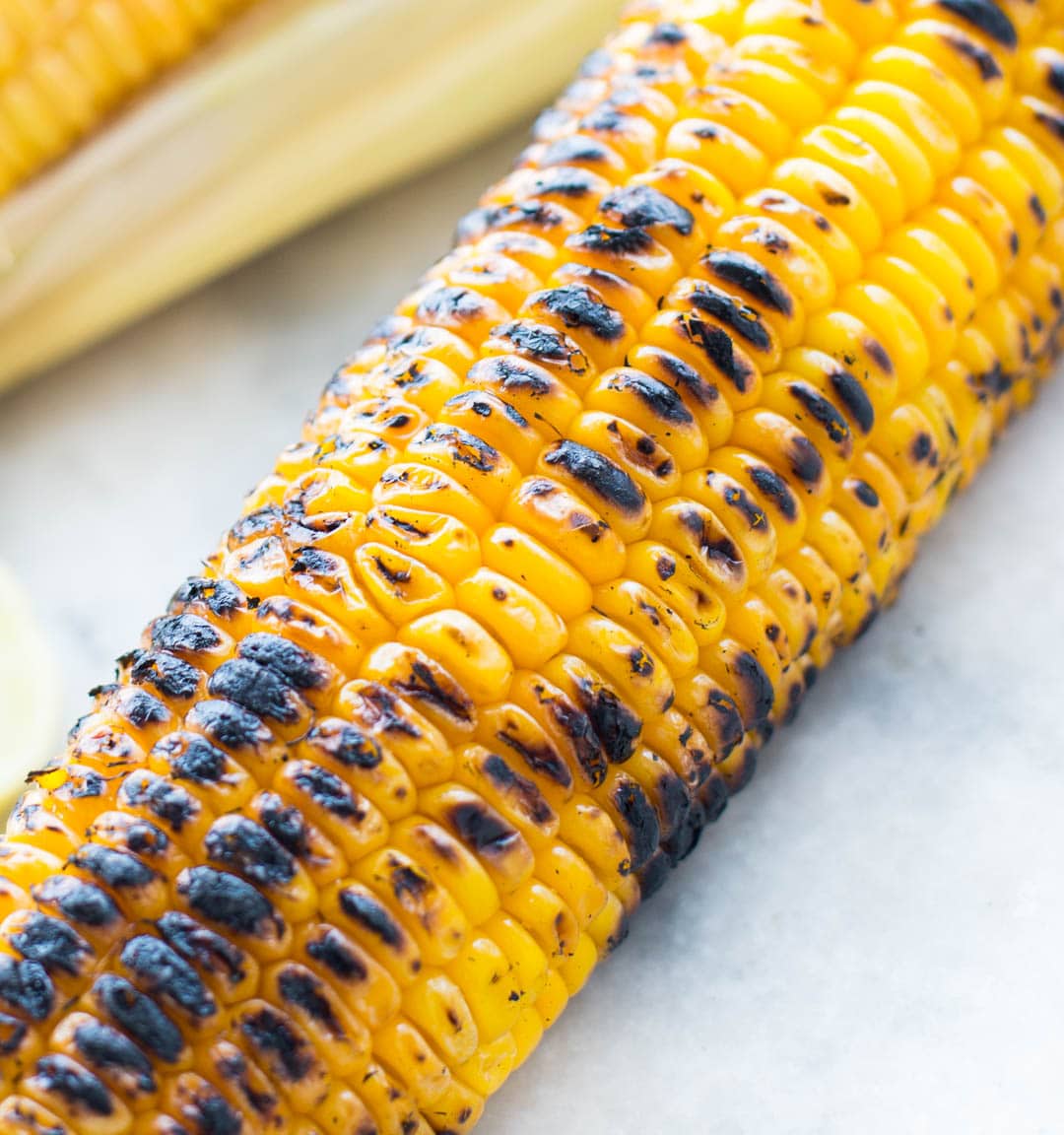 If you don't want to take the extra effort of grilling corn, you can also steam it. But I would recommend grilling the corn for extra flavour.
Once Corn is grilled let it cool down completely. Then with a sharp knife, remove the kernels. In a separate mixing bowl add chopped red onion, ripe avocado and chopped tomatoes. Chopped red pepper is also a great addition to the salad.  There is no special salad dressing for this salad. When the salad is tossed with grilled Shrimps, you don't need any more salad dressing.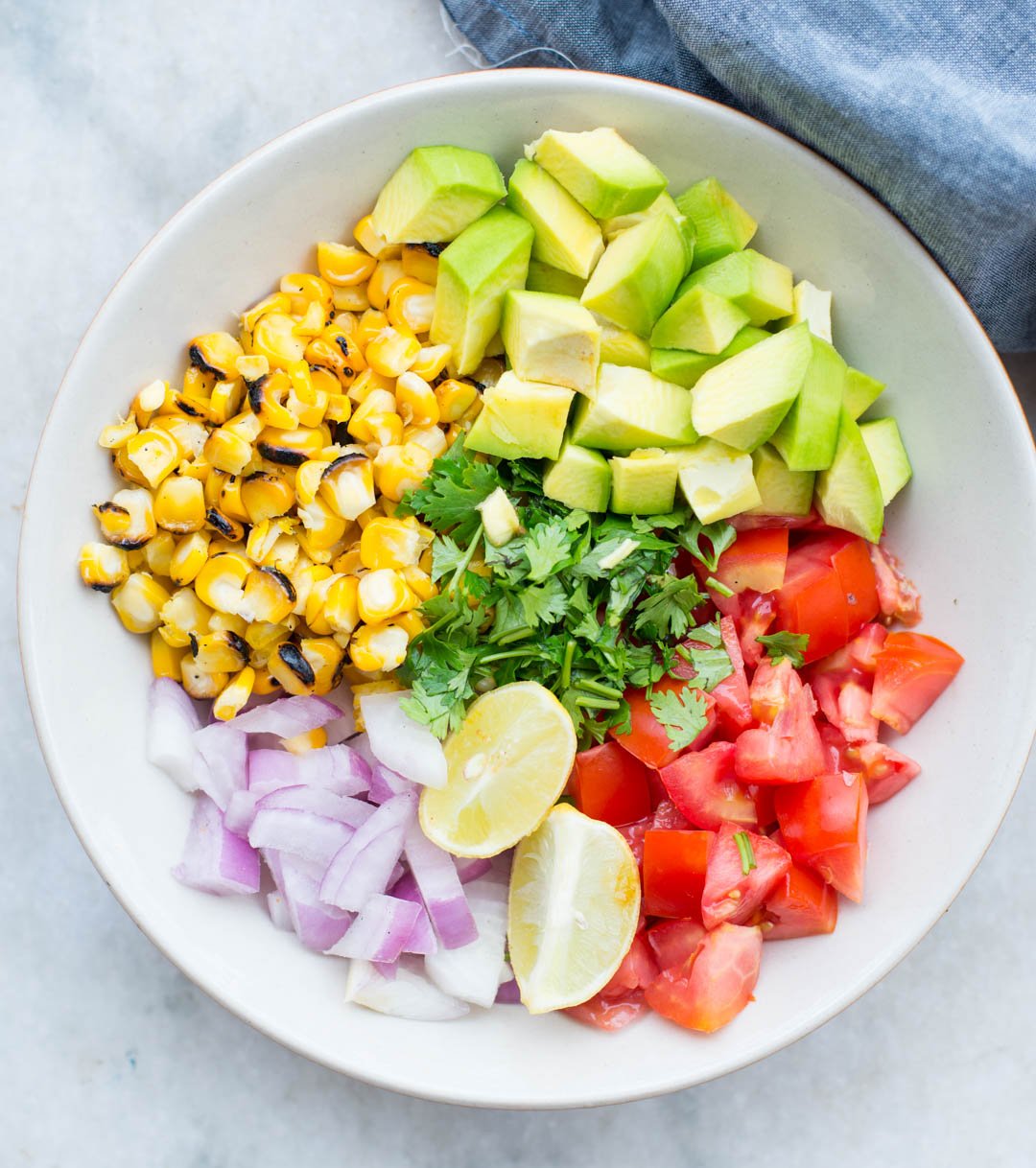 This Grilled Shrimp with Corn Avocado Salad is an excellent dish for picnic or BBQ parties.  If you are not grilling the shrimps outdoor, then take grilled shrimp and salad ingredient separately. Mix everything just before serving.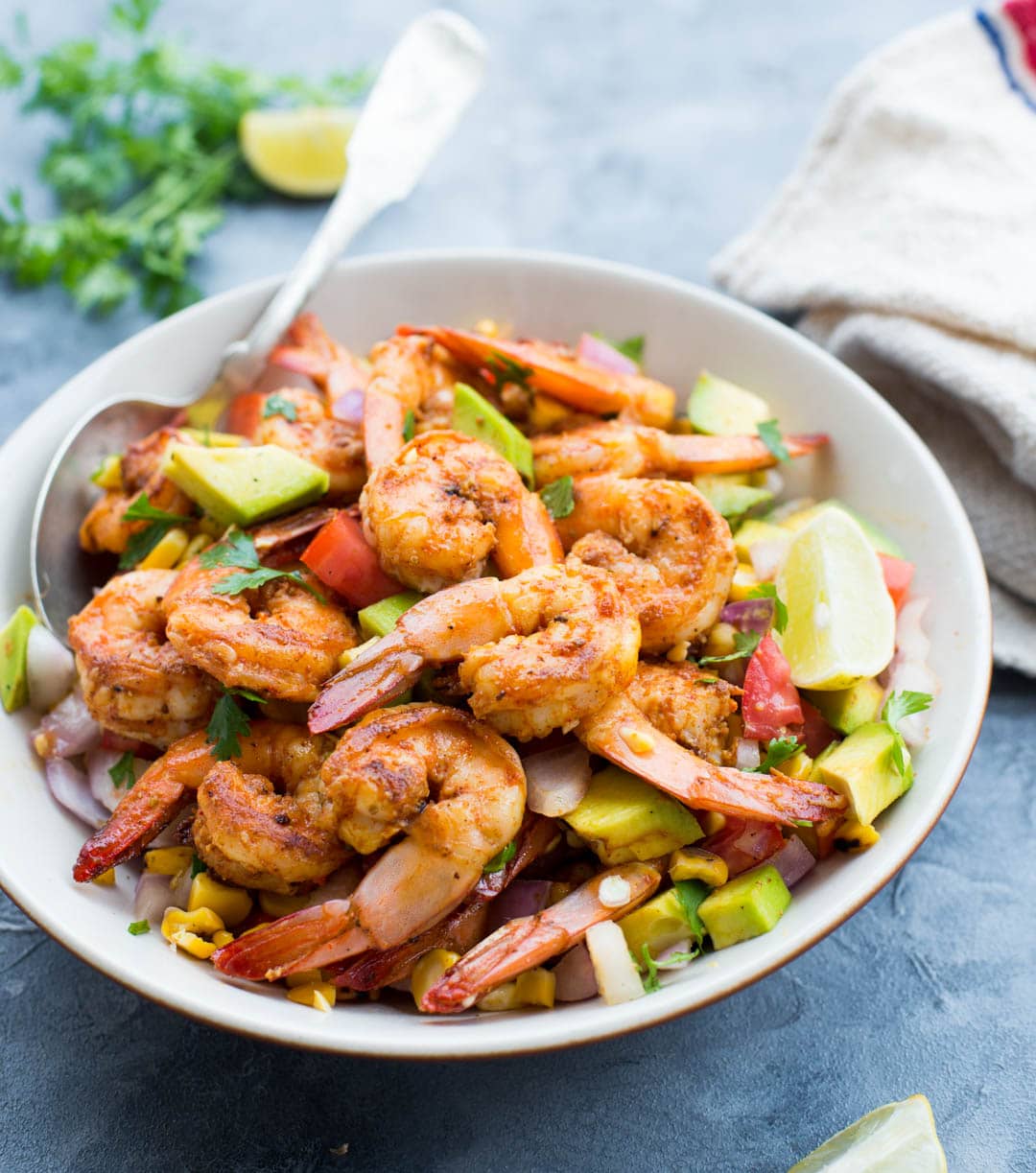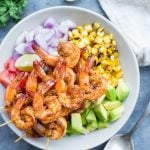 GRILLED SHRIMP WITH CORN AVOCADO SALAD
Grilled Shrimp with Corn Avocado Salad is a refreshing salad for warm summer days. Spicy grilled shrimp paired with grilled corn, avocado and other veggies takes only 15 minutes of your time.
Keyword:
Corn Salad, Shrimp Salad
Ingredients
For Grilled Shrimp
300

grams

Shrimp

tail on and deviened

1

tbsp

olive oil

1

tspn

fresh minced garlic

1.5

tspn

Roasted Cumin powder

1

tspn

Red Chilli powder / Paprika

Juice of a small lemon

Salt and Pepper as per taste

Wooden Skewres
For Corn Avocado Salad
1

corn on the cob

1

ripe Avocado

1

large

red onion

1

large

tomato

1-2

Lemon Wedges

1/3

cups

chopped fresh cilantro leaves
Instructions
Marinate Shrimps with all the ingredients mentioned under marinade, for 15 minutes.

Meanwhile, heat an oven or cast iron grilling pan.

Skwe marinated shrimps. And grill 2-3 minutes each side. Let the shrimp skewers rest while the salad is getting ready.

Clean husk and the silk of Corn. Brush little oil all over. Then sprinkle some salt.

Grill corn on the grill under direct heat. Keep turning corn to avoid burning. Once small charred blisters start to appear, remove it from the grill and let it rest.

In a big mixing bowl add grilled corn kernels, chopped Onion,tomateos, Avocado and cilantro leaf.

Add cooled down Grilled shrimp to the bowl. Season with salt and pepper if required. Squeeze half a lemon if prefered.

Mix everything well. Serve immediately
Nutrition Facts
GRILLED SHRIMP WITH CORN AVOCADO SALAD
Amount Per Serving (100 g)
Calories 433
Calories from Fat 216
% Daily Value*
Fat 24g37%
Cholesterol 378mg126%
Sodium 1182mg51%
Potassium 835mg24%
Carbohydrates 23g8%
Protein 34g68%
Vitamin A 345IU7%
Vitamin C 49.7mg60%
Calcium 251mg25%
Iron 4.8mg27%
* Percent Daily Values are based on a 2000 calorie diet.