Slow Cooker Coconut Chicken Curry with amazing flavours is rich and creamy. This Indian Chicken Curry can be served over rice or naan bread.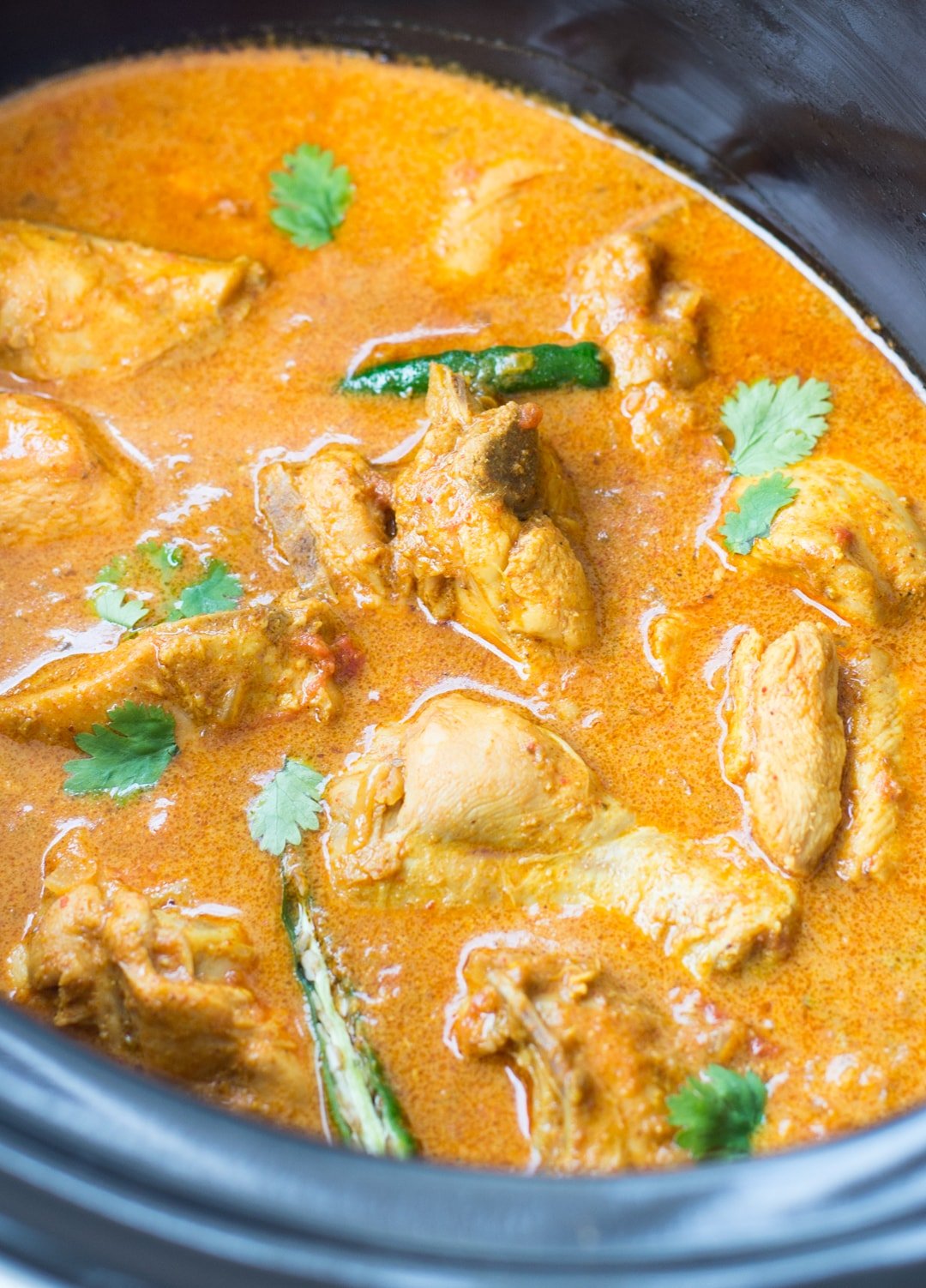 Coconut Chicken Curry is made with bone-in chicken pieces sauteed in onion, ginger garlic paste, tomato, spices and slow cooked. Adding coconut milk makes the gravy silky smooth and rich.  This Chicken Curry With Coconut Milk is made with freshly ground spices for authentic flavours. Slow cooking the chicken ensures the Chicken pieces remain Juicy and tender.
 Chicken Curry appears very often in our menu. This Chicken Curry is one of my go-to recipes.  It is not very spicy. The gravy is creamy and rich with a subtle flavour from coconut milk. If you ask me to pick rice or naan, my answer would be rice. Because I am a little biased when it comes to choosing between rice and roti. But this curry goes very well with roti/Indian Flatbreads.
Slow cooker Chicken curry is my go-to Indian Chicken Curry recipe made in a slow cooker. You can certainly make this on the stove top. But I am going to share few tips to make the best Indian Curry in the slow cooker.
Slow cooker recipes are supposed to be 'Dump & Forget' method of cooking. While this method might work for most of the recipes but for a delicious Indian curry you need to follow certain steps.  These steps might seem like an extra work, but believe me, it is worth the effort.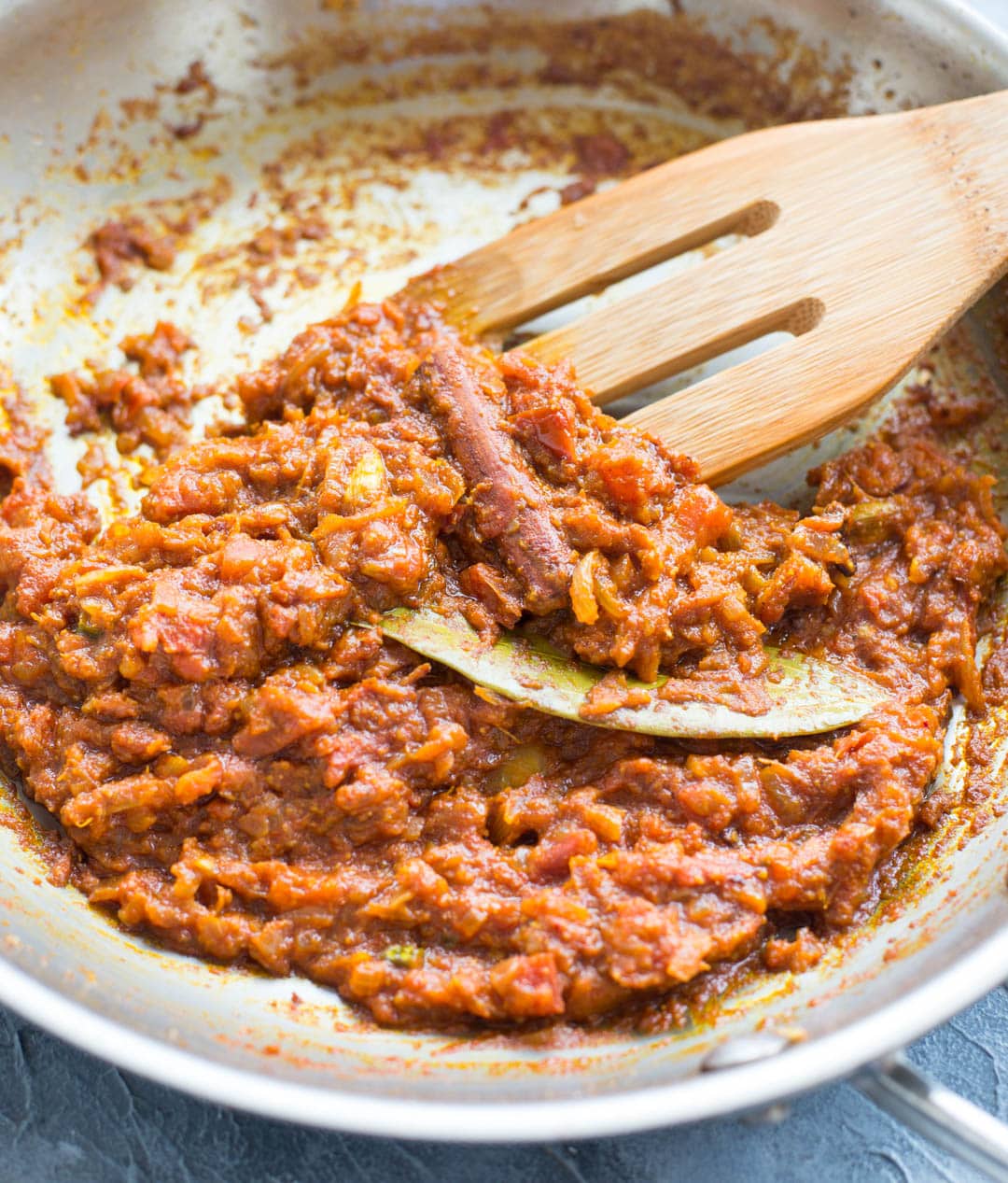 TIPS FOR MAKING BEST INDIAN CHICKEN CURRY
While you can use boneless chicken breast or thigh pieces, I prefer bone-in chicken for my curry. Chicken remains tender and juicy. It also adds extra flavour to the gravy.
To save time packaged spice powders are good.  But for the extra flavour use homemade spices powder. I make small batches of spice powder and use them while making curries.  While making your own spice powder, roast the spice slightly and then grind it.
Next Important step in making a good curry is to make a perfect curry base. This process is called 'Bhuno'. Sauteing onion. ginger garlic paste, tomato and spice in oil is the key to a good curry.  And there is no shortcut to it. Onion, Tomato mixture needs to be cooked in low heat until the oil separates. The caramelized bits bring the depth of flavour. So even the curry is made in a slow cooker, this step shouldn't be missed.                                                                                                                                                                                         Instead of dumping everything directly to the slow cooker, first, cook the curry base in a pan. Then add chicken, cooked curry base and other ingredients to the Slow Cooker and let it cook slowly.

TO MAKE CHICKEN CURRY ON STOVE TOP
Making Chicken Curry With Coconut on the stove top is petty much similar to any other chicken curry. Once the Onion tomato curry base is cooked, add chicken pieces to the pan. Cook on high for 5 minutes. Then add coconut milk and cook on low covered for 12-15 minutes more.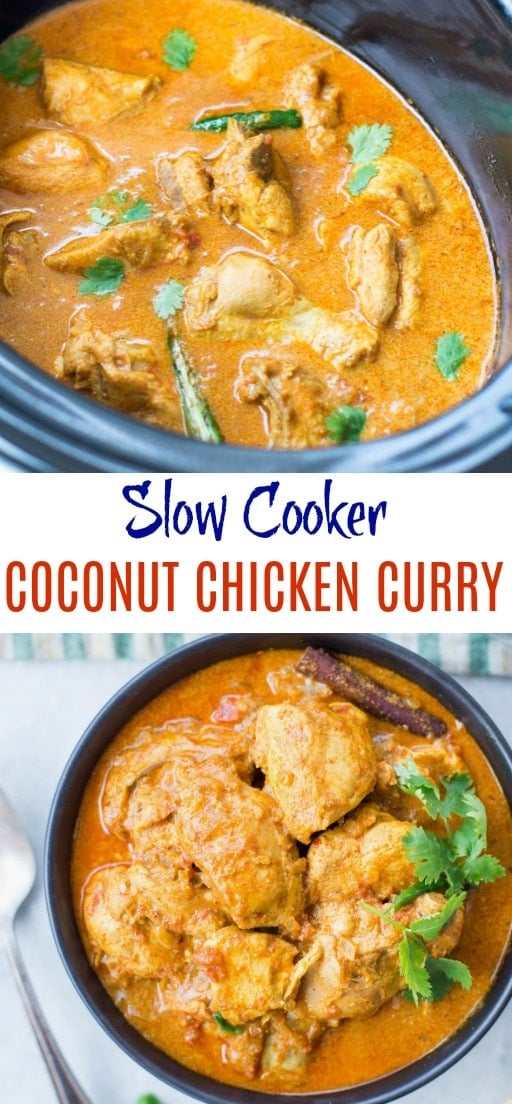 Few more Indian Curries You might like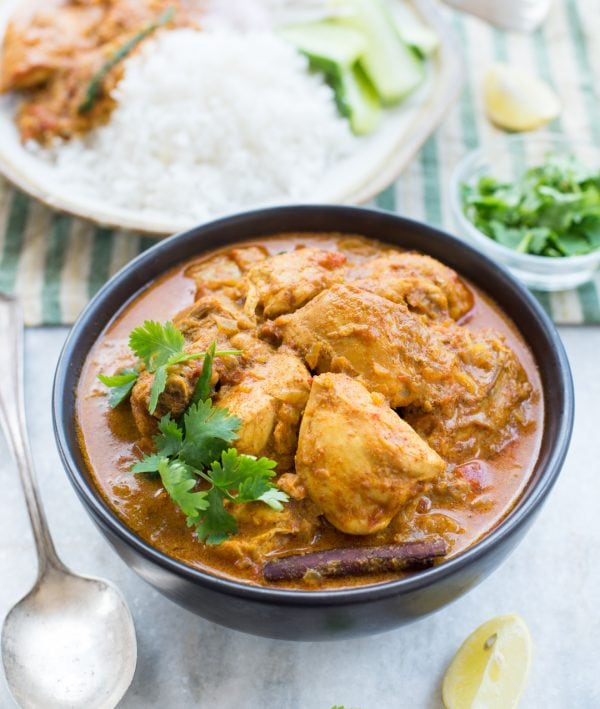 | | |
| --- | --- |
| | |
Start with the curry base. To make the curry base heat oil in a pan.

When Oil s medium-hot, Add whole spices Cardamom, cinnamon, cloves, bay leaf to the pan.

When the whole spices start to splutter, Add finely chopped Onion to the pan. Cook on medium flame until the onion starts to brown.

Then add a heaping table spoon of ginger garlic paste. Mix well and let it cook for 1 minutes.

Add fresh chopped tomatoes along with its juicies. Let it cook.

Mean while take a small bowl. Add all the spices mentioned above. Add water and make a smooth paste.

When toamtoes start to soften, add above spice paste. Cook eveything on low heat, until oil start to ooze out.

Add chicken pieces to the pan and mix everythin well.
To make in slow cooker while you do the above steps, pre-heat the slow cooker.

Add chicken with the Curry base to the slow cooker. Deglaze the pan with little water and add it to the slow coker.

Add coconut milk. Mix well.

Cook on high for 2.5 hours - 3 hours / on low for 4-5 hours.

While serving, add slitted green chilli (if using) and fresh cilantro leaves.
Steps are pretty much similar. To make this chicken curry on the stove top the steps are same.

Once the onion tomato curry base is ready, add chicken to the pan. Cook/sear on high for 2-3 minutes..

Add coconut milk. Cover and let it cook on low heat until done or for 15- 20 minutes.

While serving, add slitted green chilli (if using) and fresh cilantro leaves.