Tawa paneer pulao or paneer Tawa pulao is a famous street food in Mumbai. The unique flavor comes in the pulao from the Pav Bhaji masala. Unlike the regular pulao here the rice is cooked separately and then tossed on a big flat tawa along with spices,vegetables.
This tawa paneer pulao is a great lunch box choice. When ever I have any left over rice I go with such quick stir fry recipes. At home leftover rice from lunch always gets a makeover for dinner. There re so many options available when it comes to using the leftover rice but my most favorite is Indo-chinese egg fried rice. Yes I am little biased towards egg fried rice.
Growing up I have seen my mom making delicious flavored rice varieties with the leftover. Tomato rice ,Lemon rice ,Coconut mint rice ,Tamarind rice are just few of them that I remember. So you see the options are unlimited. Even my husband loves any form of flavored rice.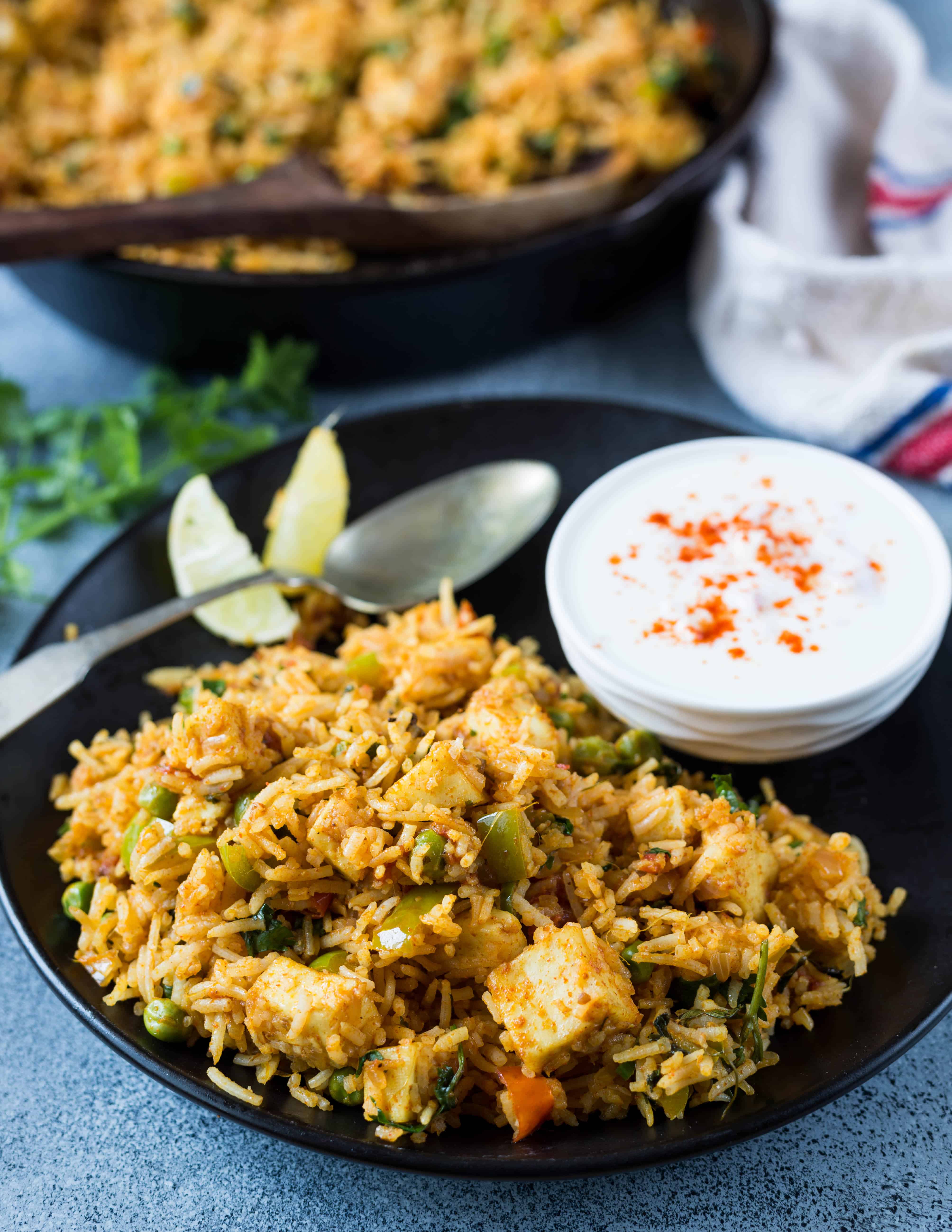 When you toss rice on a iron tawa it gets a nice smokey flavor to it. Sometime I add some grated paneer or even grated Amul cheese on top of it (remeber those Bombay sandwich loaded with shredded Amul cheese If you like pav bhaji then I am sure you would love this too.
I am also sharing a details video recipe here. You can certainly make out how easy and quick it is to make this pulao.
Save
Save
Save
Save
Save
Save
Save
Save
Save
Save
Save
Save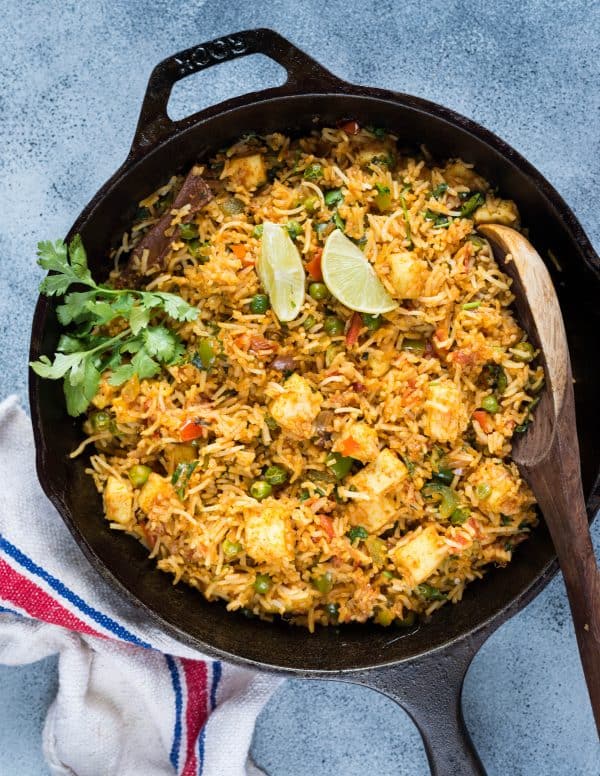 | | |
| --- | --- |
| | |
Add paneer cubes to lightly salted warm water and let it rest for 15 minutes. Then drain and keep it aside. (This step is to soften the paneer cubes)

Heat a pan/tawa . Add butter followed by vegetable oil.

When butter starts to bubble add whole masala (cardamom, cinnamon ,bay leaf) . Fry until it is aromatic and fragrant.

Add chopped onion. Saute till onion is soften and transparent.

Add ginger garlic paste. Fry until raw smell is gone.

Add chopped tomatoes. Cook till it softens.

Add chopped capsicum and green peas. Fry for 2-3 minutes.

Add Pav bhaji masala,turmeric powder,chili powder, coriander powder. Mix well and cook for a minute.

Add paneer cubes. Toss paneer cubes carefully along with onion tomato mixture. Mix everything gently making sure the paneer cubes doesn't break. Fry for 2-3 minutes.

Add crushed kashuri methi and salt. Mix everything well. Cook for 5 minutes.

Add cooked rice. Mix everything gently. Add lemon juice and chopped fresh coriander.

Serve hot with onion raita.
I have used freshly cooked basmati rice here. If you are using fresh rice make sure it is cooled completely.
Rice should not be cooked too soft. Else the pulao will turn mushy.
You can also fry the paneer till light golden brown in color before adding to the pulao.