This Lemon Herb Chicken, Asparagus, & Mushroom Skillet is fresh, healthy and low carb dinner made in one pan in under 30 minutes. The buttery lemon herb sauce is flavourful and delicious.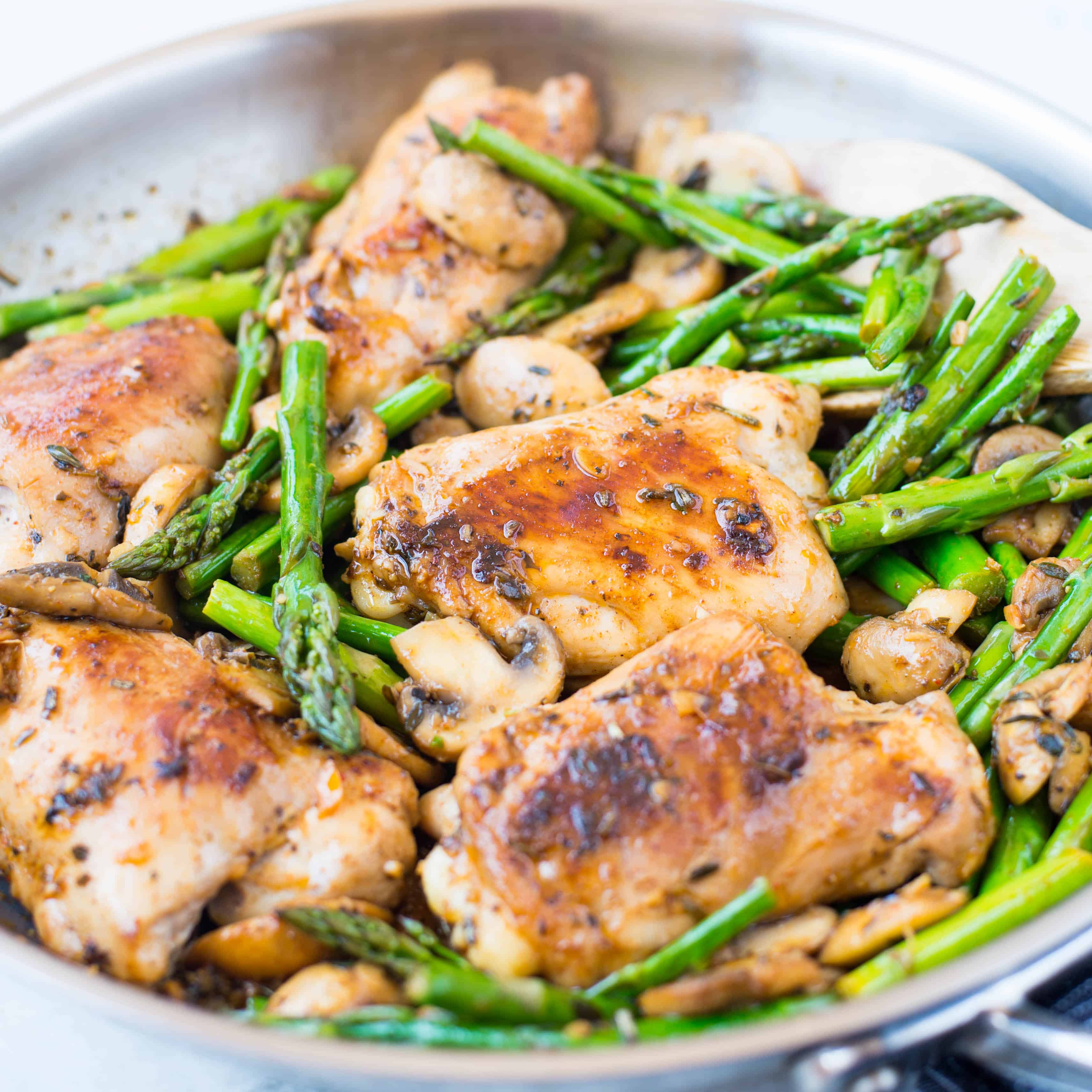 Let's talk about this fresh and vibrant looking one pan recipe today. If you want me to pick one favourite thing about this dish, trust me I can't. I mean this dish has everything that one would need for a perfect dinner. It is one pan, so easy to clean up. It has the right balance of protein, fat and carbs. You will not miss your veggies as well. And the sauce is to die for. I would pair it with some rice or noodles, for a complete meal.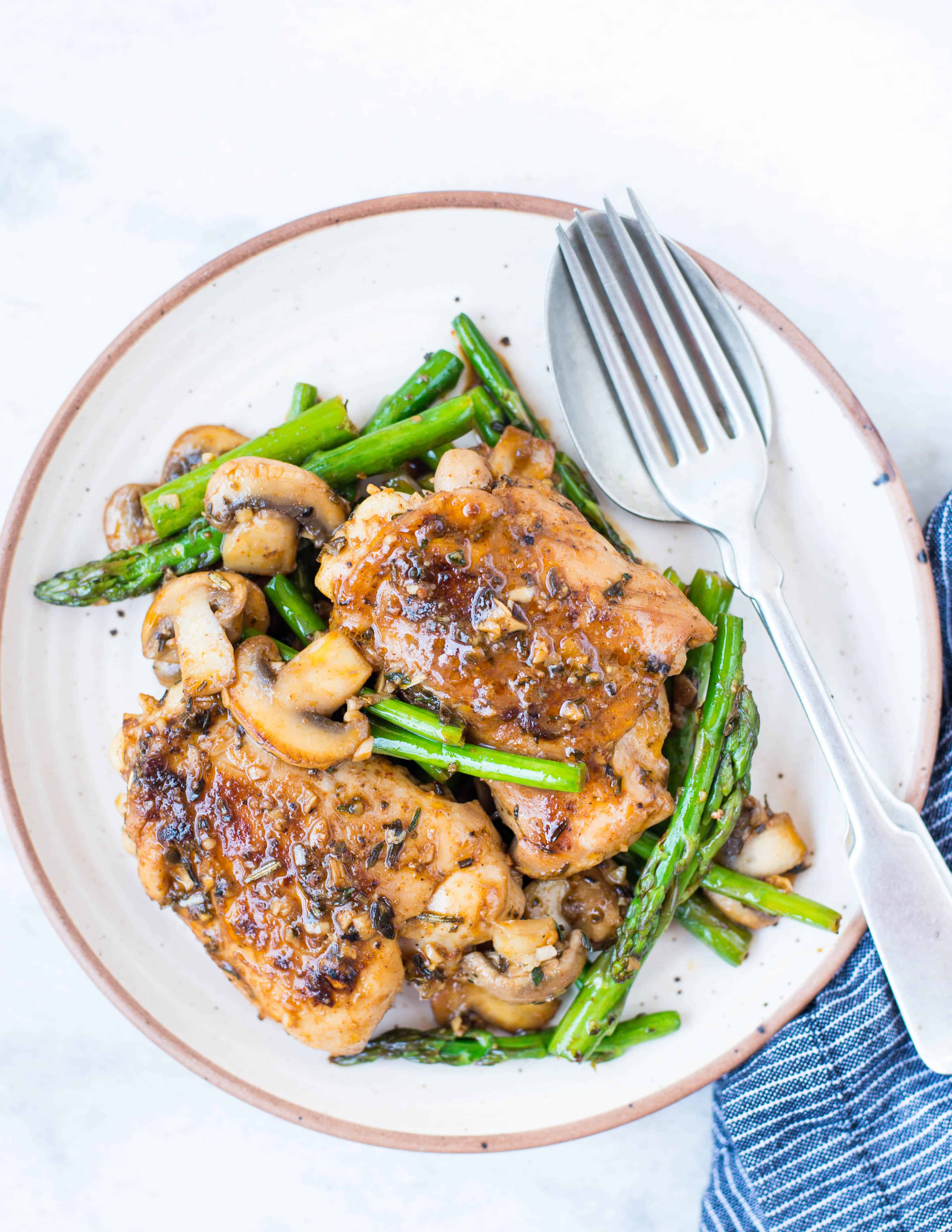 Are you a team boneless chicken breast or chicken thigh? Honestly, I love both of them. I mean if know the right way of cooking it, both taste great. Many might disagree with me and tell chicken thigh is always better. It is absolutely true, but with a good marination and right cooking time, chicken breast can also be juicy and tender. My preference differs, depending on the recipe.
Coming to this Lemon Herb Chicken, Asparagus, & Mushroom Skillet, both chicken breast and thighs will work here. All you have to do is adjust the cooking time. You can also bake the chicken one you have seared the meat. All that juice released from the chicken will make a delicious butter herb sauce.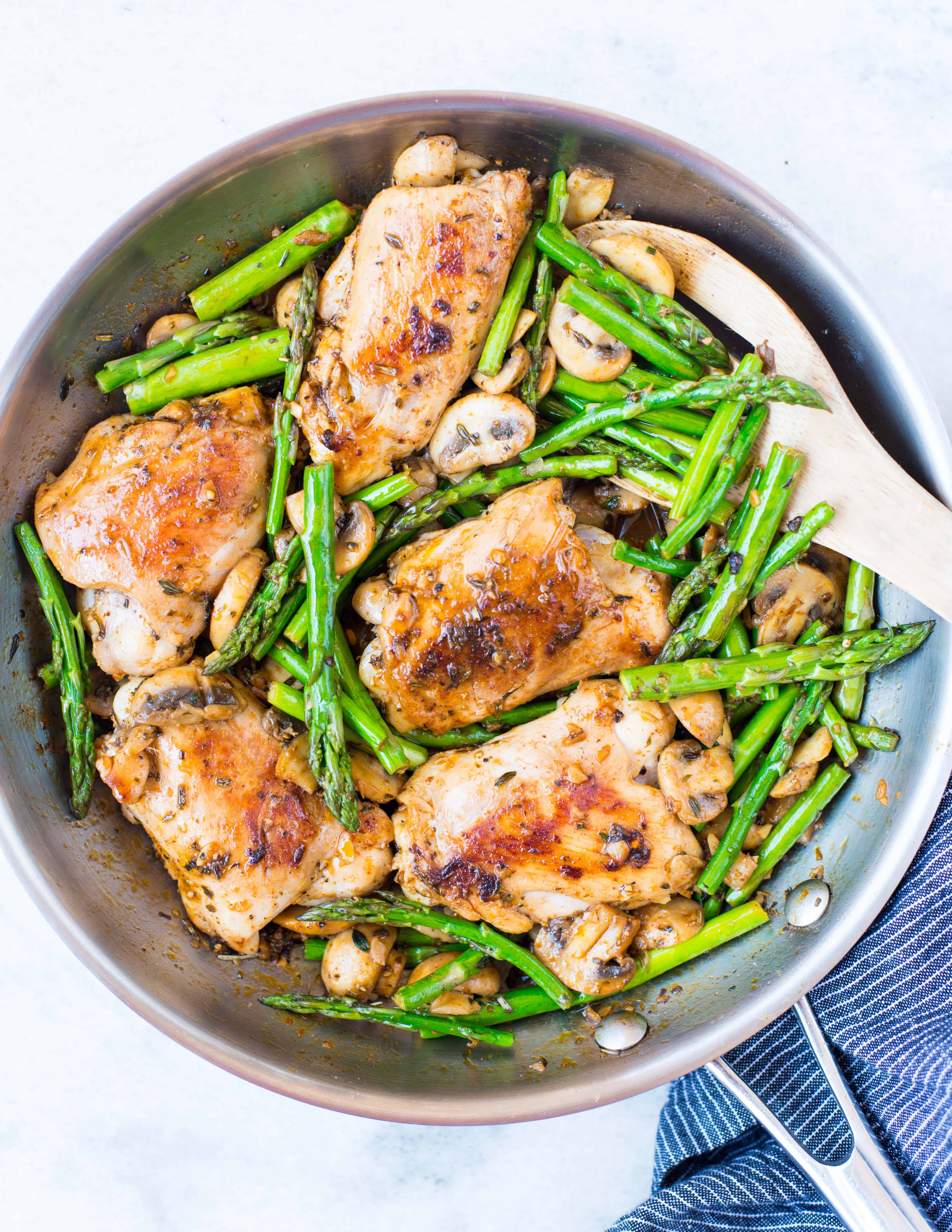 With spring around the corner, Asparagus is going to be soon in season now. Asparagus tastes best when it is still crunchy and the seasoning is not overdone. The lemony herb butter sauce goes well with asparagus by retaining its natural taste. Not only Asparagus is a delicious vegetable, it is high in fibre and loaded with nutrients too.
When we are talking about asparagus, you must check Chicken Asparagus Stir-fry Noodle recipe. This noodle stir-fry has lovely Asian sauce, Gluten-free rice noodles and crunchy Asparagus.
Here is a step by step recipe for Lemon Herb Chicken, Asparagus, & Mushroom Skillet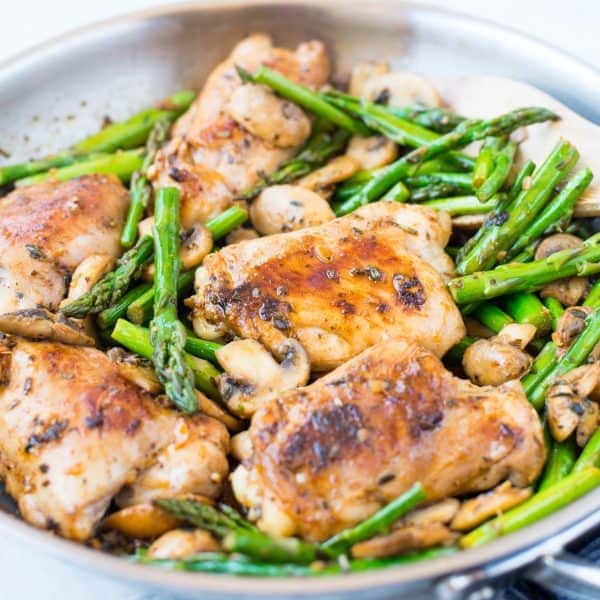 | | |
| --- | --- |
| | |
Season chicken with salt and pepper. Keep aside.

In a pan add half table spoon of butter. Add sliced mushrooms. Cook till mushroom is cooked and looks golden brown in color. Remove and keep it aside.

In the same pan add 1 tbsp butter. Add minced garlic. Stir and cook till aromatic.

Add minced herb and stir well.

Add chicken thighs. Coat it well with herbed butter. Let it cook for 5 minutes.

Add Lemon Juice and Paprika. Coat chicken pieces well. Let it cook both the sides. Add little water if it starts to burn.

Add Sauted mushroom and asparagus. Toss everything well. Let it cook for another 5 minutes.

Serve warm with hot steamed rice or have as it it.