NO-BAKE LEMON CHEESECAKE JARS – Low Carb
This post may include affiliate links that earn us a small commission.
A smooth, creamy No-Bake Lemon Cheesecake Jars with is Low carb without any compromise with the taste.  A perfect low carb dessert for the summer with light, airy filling and real lemon flavor.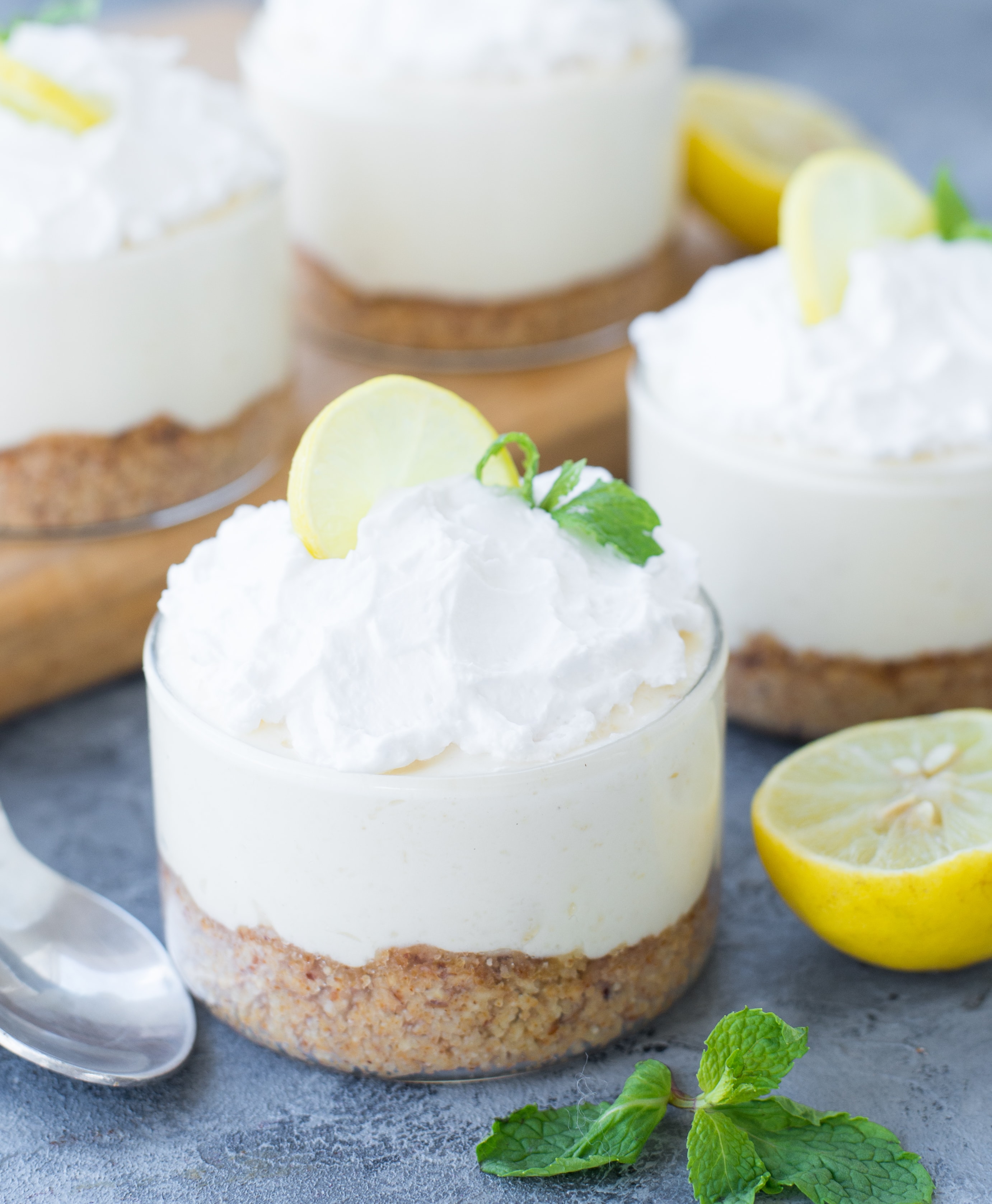 This creamy, tart and sweet Lemon cheesecake are no-bake and very quick to put together. When it is really hot outside, you can't possibly think of entering the kitchen. Forget about switching on the oven to bake a Classic Lemon Cheesecake. For outdoor grilling or a summer potluck, this easy No-Bake Lemon Cheesecake Jar is just perfect.  
Flavours In Your Inbox
Subscribe for recipes straight to your inbox
But this No-Bake Lemon Cheesecake Jar is as good as the classic one, without any compromise with taste. There is fresh lemon juice, lemon zest, to give that kick to your palate. The lemon cheesecake filling is light, airy and fluffy. It is so good and refreshing, that I can have it throughout the summer. If you think low carb desserts cannot be as good as the regular one, then you gotta make this soon.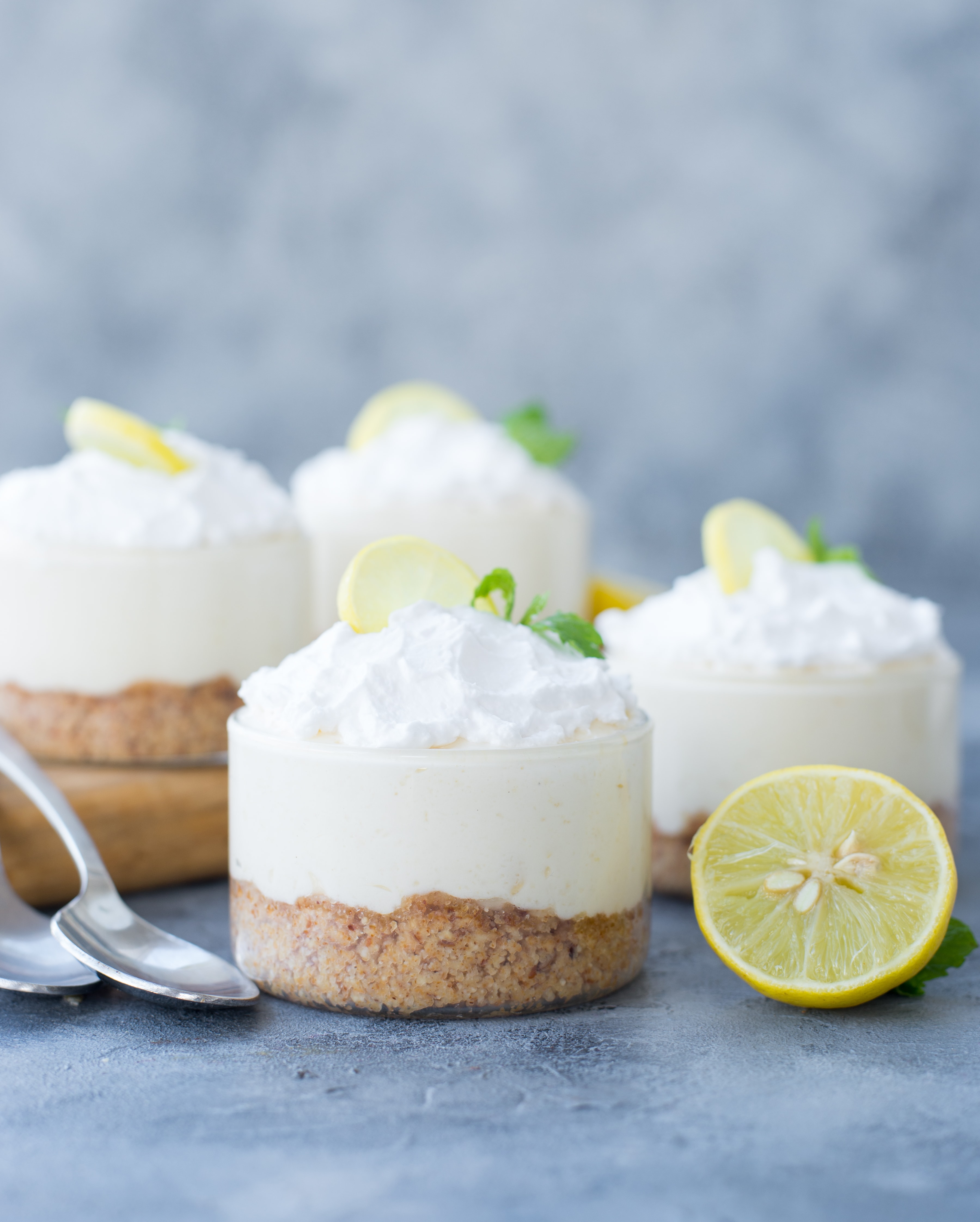 I am not much into baking cheesecakes. We have some really good cheesecakes here in the local cafe. Whenever there is craving we end up having a slice there.  But now that I have almost quit sugar, I find it difficult to get hold of low carb desserts outside. Making desserts healthy, low carb and at the same time delicious is challenging. I love creating new recipes with limited ingredients. I am happy with the way this No-bake Lemon Cheesecake turned out.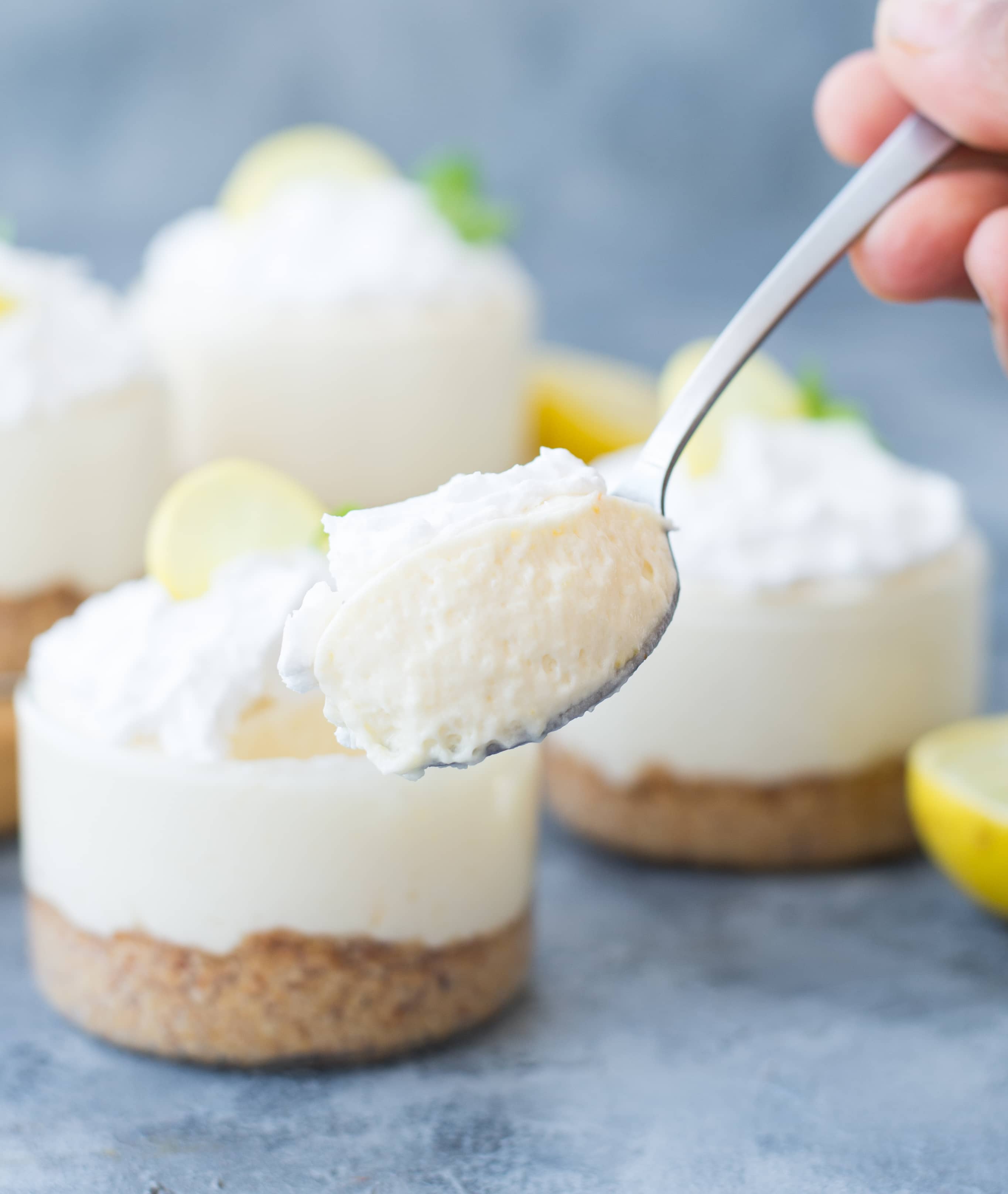 STEPS TO MAKE NO-BAKE LEMON CHEESECAKE JARS
Instead of Classic Graham Cracker Crust, the crust is made up of almond meal and coconut flour. Start with toasting almond meal, coconut flour in butter. Toasting almond meal and coconut flour give it a nutty flavour. Then added low carb sweetener(I have used Erythritol) to the mixture.
Note: If you don't have almond meal, just put some almond in a coffee grinder and make a fine powder. Be careful while grinding the almonds. If you over process the almonds, it will turn into almond butter.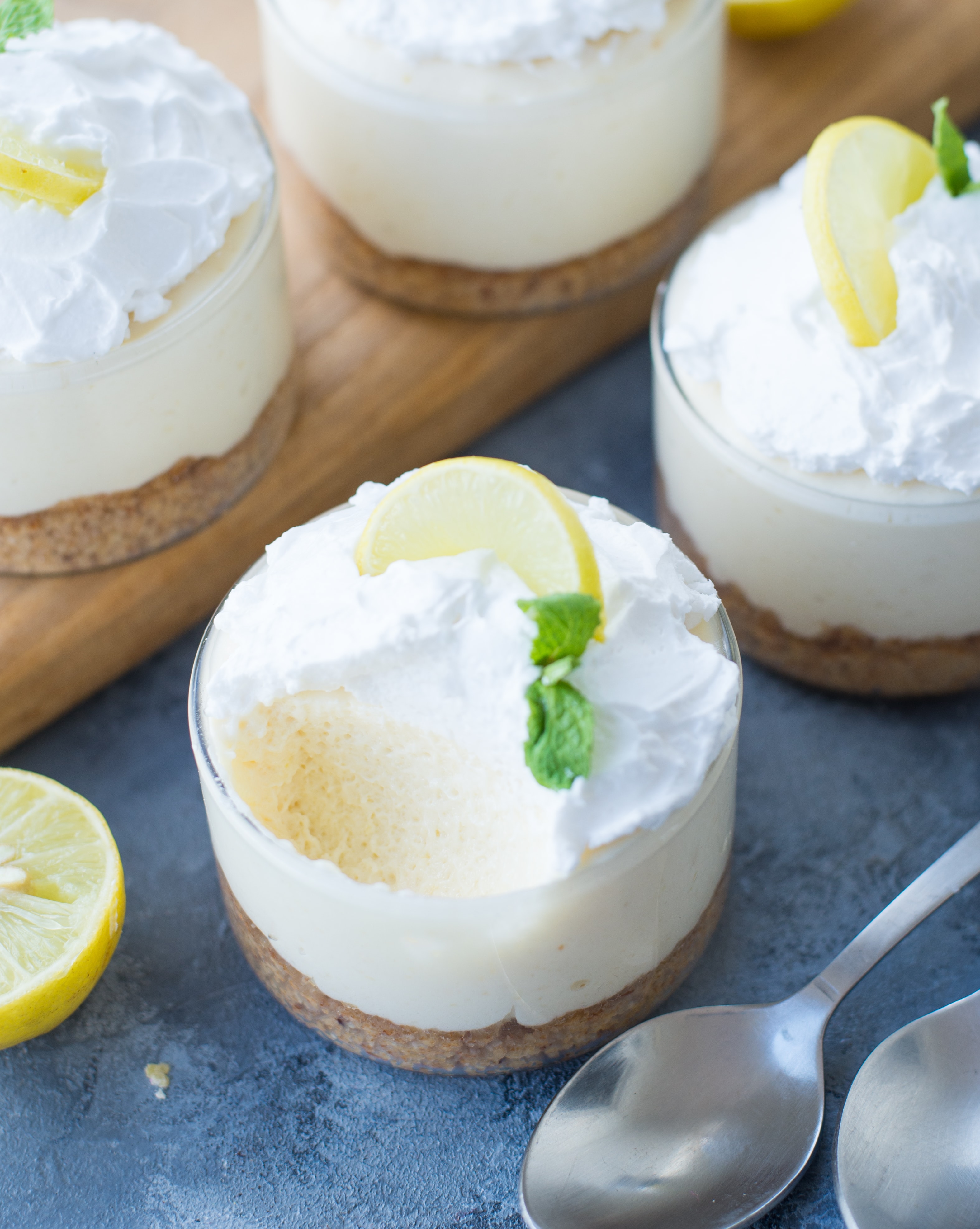 The Lemony filling is also low carb. The silky smooth filling is made up of cream cheese and whipping cream. I have not used any artificial lemon flavour here. A mixture of lemon juice and gelatin is used to stabilize the cheesecake filling. Fresh lemon zest gives that refreshing flavour. Once you assemble the jars, it needs at least 4-6 hours of refrigeration.
I have topped this delicious No-Bake Low Carb dessert with some Low Carb Whipped cream. This is optional, you can alternately serve with some berries on top.
Enjoy!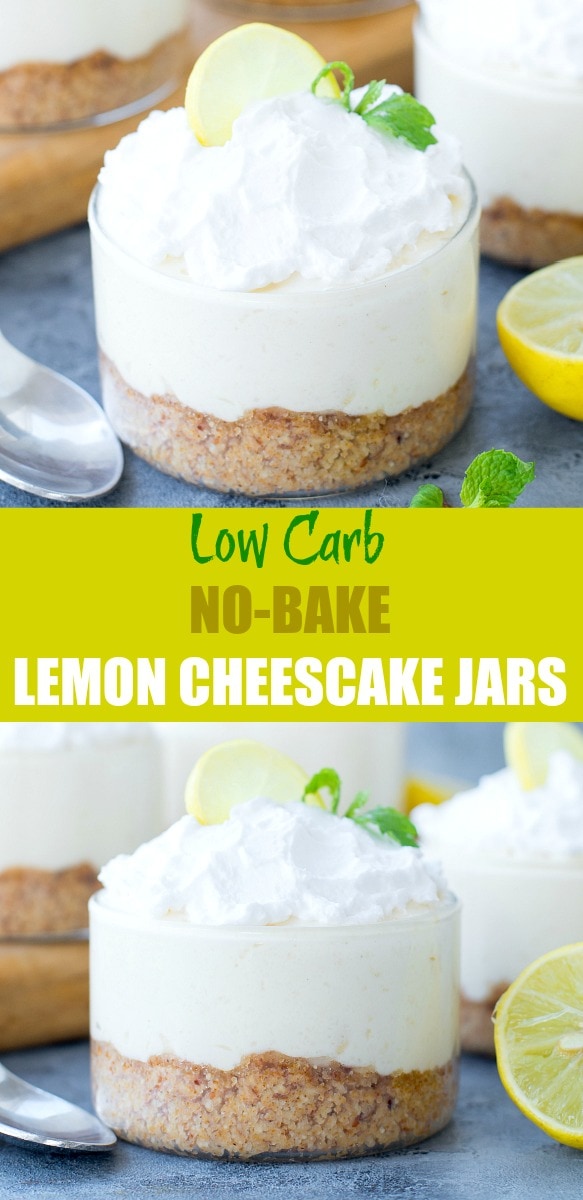 Few more low carb desserts perfect for summer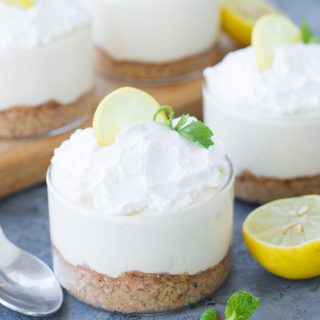 NO-BAKE LEMON CHEESECAKE JARS - Low Carb
A smooth, creamy No-Bake Lemon Cheesecake Jars with is Low carb without any compromise with flavours.  A perfect summer dessert with light, airy filling and real lemon flavour
Ingredients
For Cheesecake base
½ cup almond flour
¼ cup Coconut Flour
1.5 tbsp butter
2-3 tspn low carb sweetener
For Lemon Cheesecake filling
¼ cup Fresh Lemon Juice
2 tspn unflavored gelatin
200 gm cream cheese (at room temperature)
1.2 cup whipping cream (not whipped)
1 tbsp Fresh Lemon zest
½ cup low carb sweetener (or more as per taste)( I used Erythritol)
½ tspn Pure Vanilla Extract
Whipped cream and lemon wedges to serve
Instructions
Start with making the cheesecake crust. In a pan add butter. Once it melts, add coconut flour and almond flour.

Toast it on low heat until you get a nice nutty aroma. Stir continuously to avoid buring. Remove and let it cool down.

Once it is cold, add sweetner. Mix well.

Divide the crust mixture equally among the serving dessert jars.

For Cheesecake filling start with blooming the gelatin. In a small microwave-safe bowl add fresh lemon juice and gelatin. Mix and let the gelatin bloom.

Meanwhile, in a big mixing bowl add cream cheese. Using a hand blender whip for 30-40 seconds.

Microwave bloomed gelatin for 30 seconds. let it cool down a little bit.

Add whipping cream, lemon zest, lemon-gelatin mixture, vanilla essence, sweetener to the cream cheese.

Using a hand blender mix everything until well incorporated(for about 1-2 minutes). Scarp the bottom of the bowl with a spatula.

Divide the cheesecake filling equally among the dessert jars.

Tap the jar lightly to release any air bubble. level the top with the back of a spatula.

Lightly cover with a cling wrap and refrigerate for at least 4-5 hours or overnight.

Top with whipped cream, lemon wedges while serving.
Notes
I have used 120ml dessert jars here. I got 4 dessert jars from this recipe.