This is my 3rd bread recipe in a span of 1 month. Since the last couple of months, I am only thinking of trying different kind of bread. This might be because the desire was suppressed (or ignored) for quite a long time and now it's bursting out. Baking your own bread always gives you immense satisfaction. One more thing that I love about baking bread is you can bake a bread anytime with a few common pantry staples. The first thing you need is a good quality and reliable yeast. I have been using Gloripan Yeast from past 4 years and it has never disappointed me. Next is a good quality flour. You might come across terms like Unbleached, High-gluten etc. Unfortunately here in India we don't have a lot of options. I have been safely replacing these special flours with our regular flour (Maida). Unless a particular kind of flour is used for a specific purpose, you might not find a big difference in the end product (apart from texture). And a basic bread can be baked with only 3 ingredients flour, water and yeast. Rest it all depends on how you knead the dough. A right kneading technique is as essential as right ingredients. But nowadays with all fancy dough kneaders, this step is made easy.
I know I am sounding like baking bread is as simple as baking anything ordinary, but believe me, it is. Once you get hold of it, you will fall in love with baking your own bread. I have tempted you enough now and I am sure after reading this you will go and bake at least a simple bread.
Now coming to this bread it happened without any pre-planning. Stumbled upon a recipe on Pinterest. The potato bread looked too good to not to bake. I have baked a batch and the moment D saw them, he packed and took them to the office. I didn't have the chance to take even pictures. Then I baked again the next day and even the second batch disappeared in no time.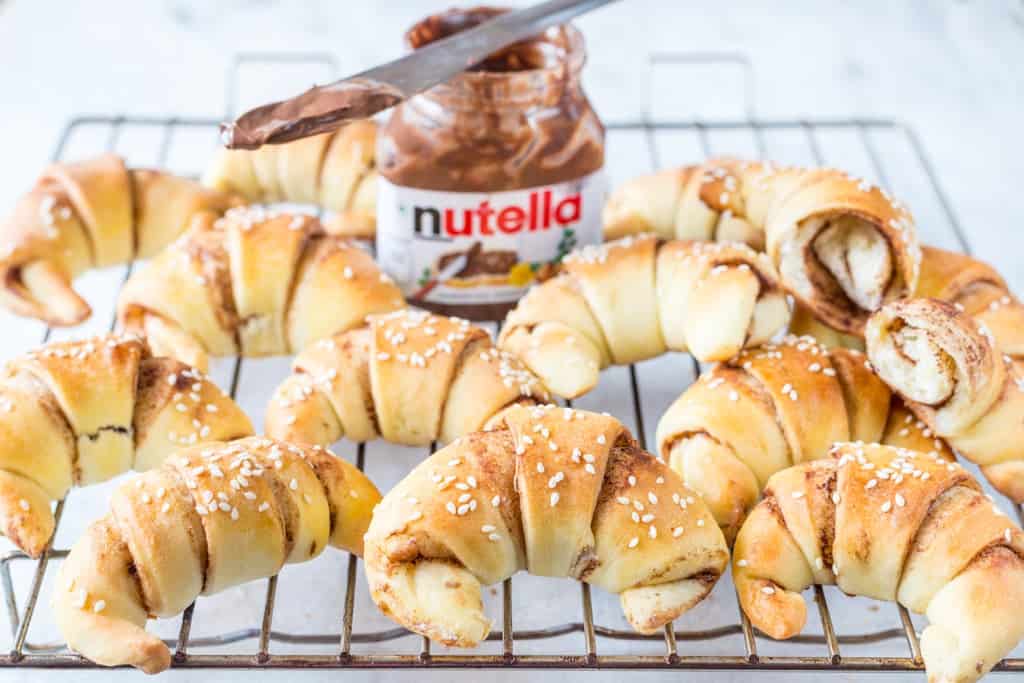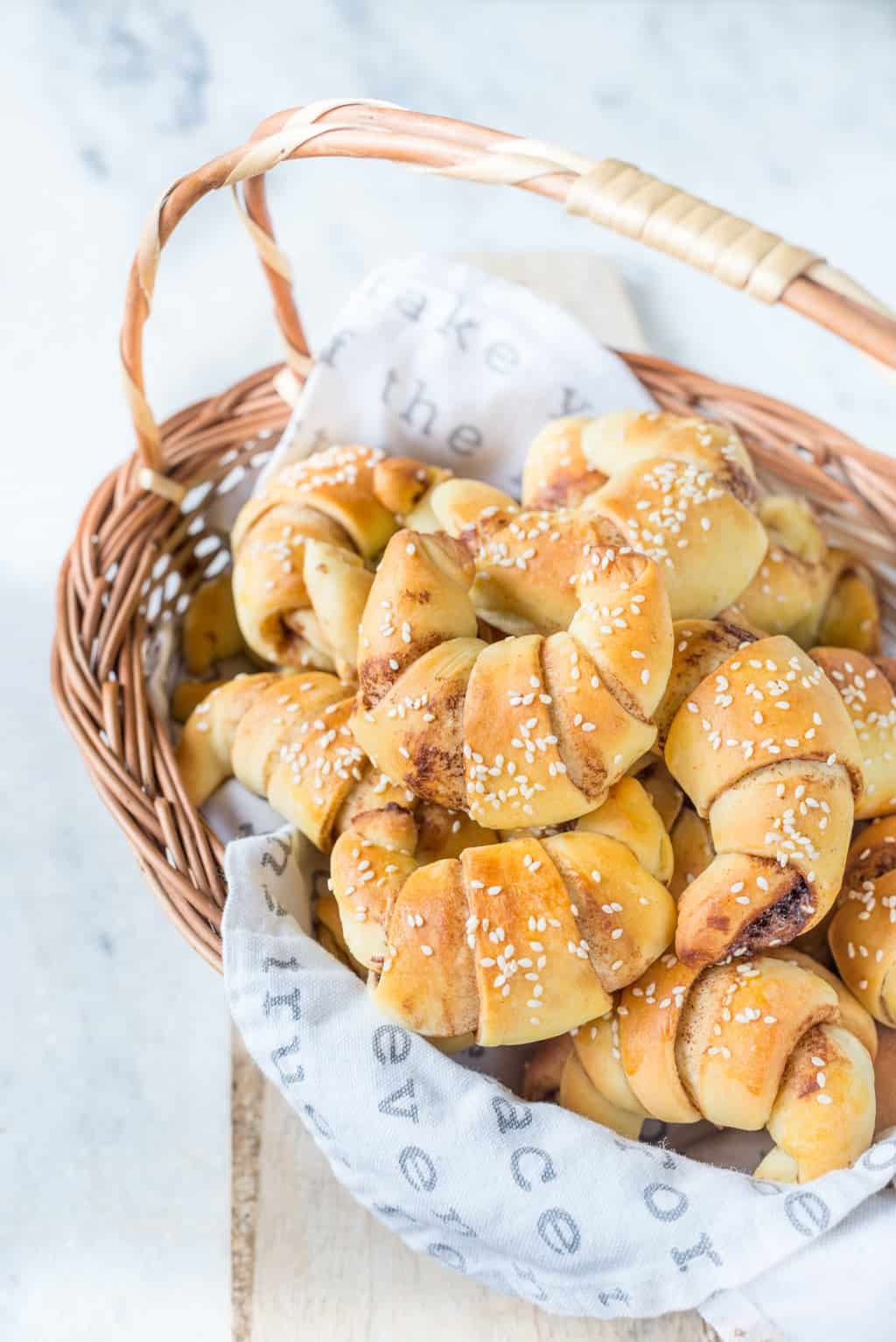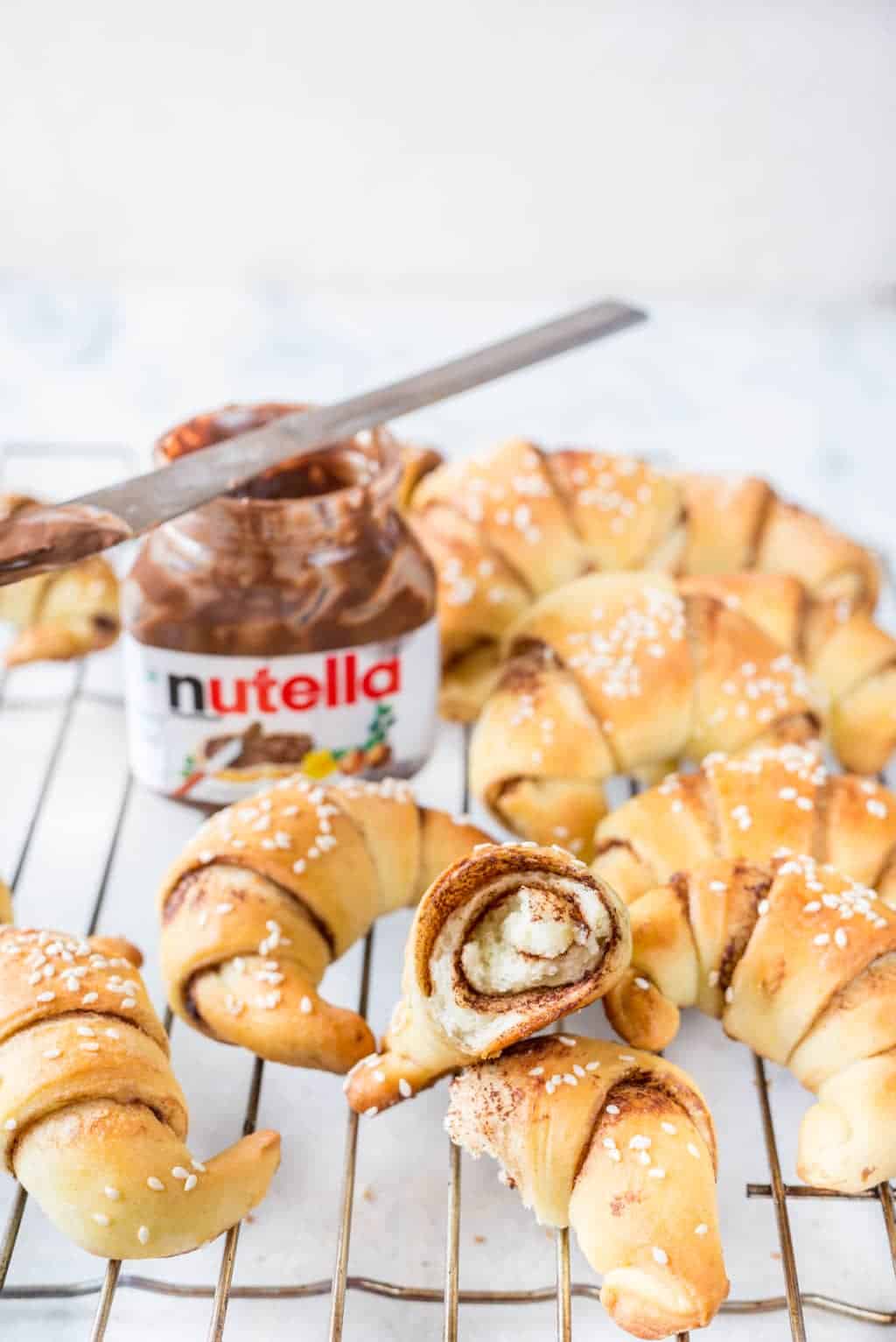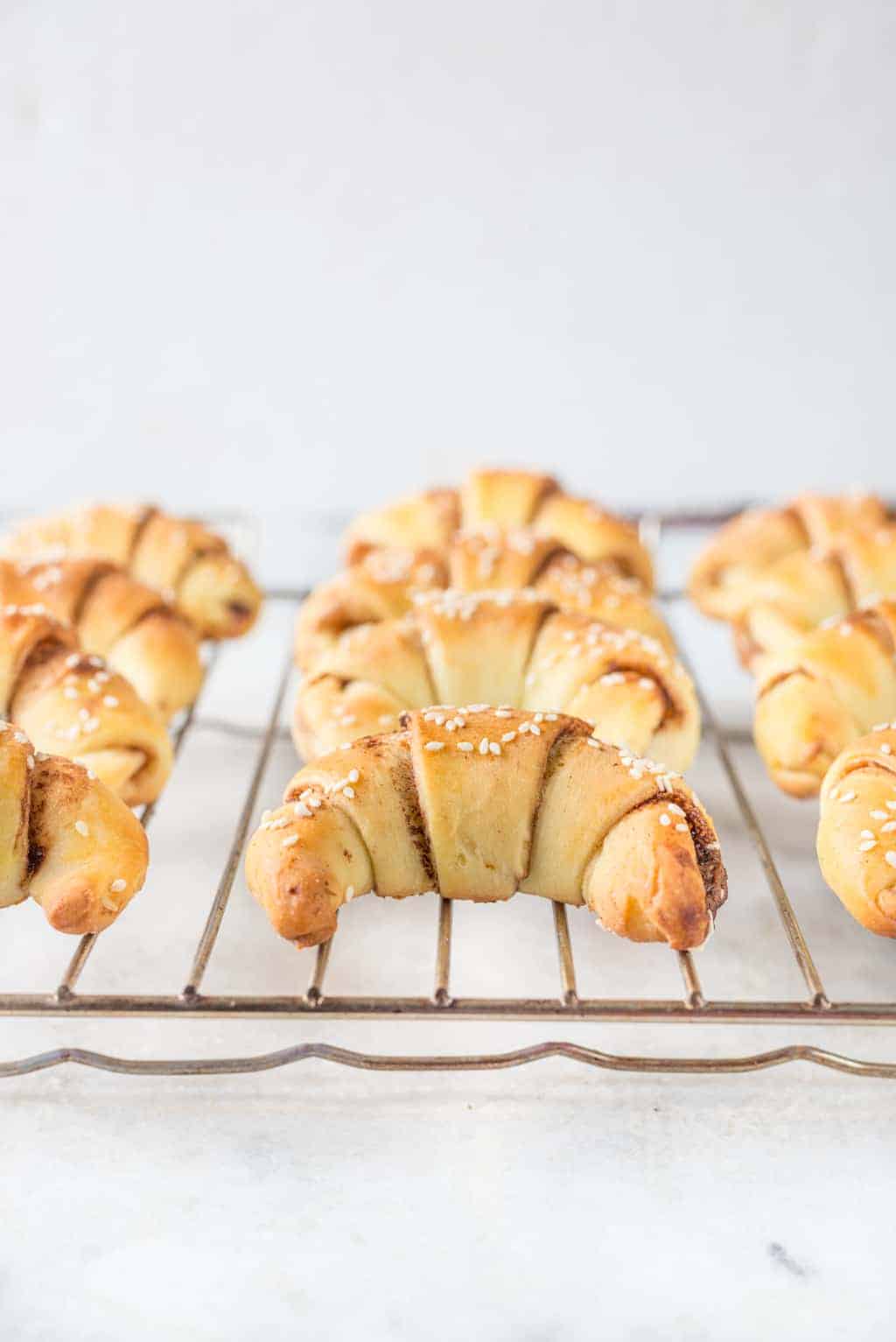 I have adapted the recipe from The Best Potato Bread. I exactly halved the recipe. Instead of instant potato mash, I used 1 large boiled potato. I baked this bread with bread flour and with normal all-purpose flour too. Though the ones baked using bread flour were buttery soft,rich and moist, the ones I baked using all-purpose flour were pretty good too. So I don't mind baking them again with APF.
I was in a mood to experiment and wanted to try something new, so I went for crescent rolls. You can make the regualr loaf, bread rolls even little spiral rolls(just like Cinnamon roles). The dough is pretty easy to work with. The bread itself is sweet and buttery, so you can even skip the Nutella part.
In the below recipe the quantities mentioned in the bracket is half of the original amount. I have added for the convenience.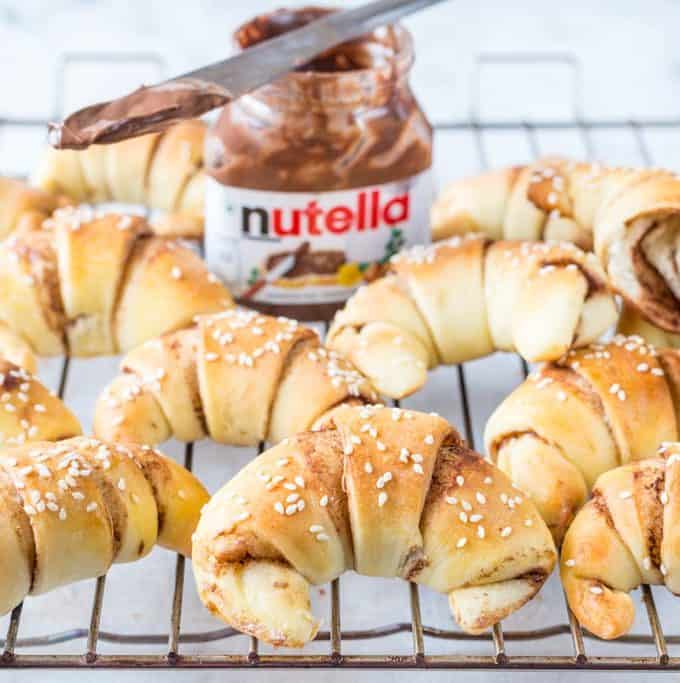 NUTELLA STUFFED POTATO CRESCENT BREAD ROLLS
Best Potato stuffed crescent bread rolls stuffed with Nutella. It is buttery,rich and super soft.
Print
Pin
Rate
Ingredients
1 xbd

cups

potatoes

prepared instant mashed (1 large boiled potato)

3

eggs

, lightly beaten ( 2 beaten - 1tbsp)

xbe

cup

butter

soft (⅜ cups at room temperatue)

xbe

cup

sugar

(⅜ cup )

1 xbd

tsps

salt

(¾ tsp )

1 xbd

Tbsps

active dry yeast

Rapid Rise/Quick rise (¾ tbsp Yeast)

xbe

cup

milk

(⅜ cup )

6xbd

cups

bread flour

(about), more for dusting work surface( 3-¼ cups)

Nutella chocolate spread

½ cup / any
For Egg Wash :
1

egg

2

tbsps

milk / cream

¼

cup

sesame seed

to sprinkle on top
Instructions
In the bowl of a stand mixer fitted with paddle attachment or a big microwave safe mixing bowl(if using handled mixture) mix mashed potato,eggs and butter.

Then add sugar and milk, mix until fully incorporated.

Warm the mixture in microwave until the mixture reaches about 120 degrees.( using stand mixer mixing bowl ). Starting with a 30-second interval,warm the mixture for 90 minutes. (Every 30 seconds remove the bowl,stir and warm again. If you keep the mixture at a stretch for 1 minutes, you will end up cooking the eggs).

Pour the mixture back into stand mixer bowl if using else continue with step 5 with the same bowl.

In a separate bowl mix flour,salt,yeast and dough enhancer(if using) . Using a wooden spatula ( if using stand mixer replace the paddle attachment with the dough hook ) slowly add flour mixture to the warm egg mixture and mix til the dough comes together.

If the dough feels very sticky, then add 1 tablespoons flour at a time till you get a smooth dough that isn't sticky anymore.

Shift the dough to the floor and Knead for about 10-12 minutes using with hand( for about 8 minutes if using a stand mixer). Gently press your finger into the dough. If it 'bounces back' a bit and doesn't stick to your finger, it's done.

Cover the dough with a clean wet kitchen towel/plastic wrap and let it rest for 15 minutes. This allows the gluten to relax and makes it easy to handle the dough. Meanwhile, lightly grease a rectangular baking tray ( a loaf pan if you are making a loaf).

Remove the dough onto a lightly floured surface. Knead by hand for a few seconds until it comes together. Using a dough bench scraper divide the dough into two equal halves. While working with one-half , keep the other half of dough covered with a plastic wrap.

Lightly flour the working surface and roll the dough to a 12 - 13-inch circle using a rolling pin.Using a spatula spread 2-3 tbsp of Nutella spread evenly on the dough.(Don't overdo with Nutella else it will ooze out while shaping)

Using a pizza cutter cut the circle into 12 equal triangular wedges.Roll up the wedges starting with the wide end. Place rolls with pointed end down on a greased baking sheet.

Repeat step 11 and 12 for another half of the dough.

Let the Shaped crescent roll rise for 45 minutes to 1 hour.

At the end of rising period preheat oven to 180-degree celsius.

Before putting the rolls in the oven, brush them with egg wash and sprinkle sesame seeds if required.

Bake for 20-25 minutes, until they look light golden brown in colour.

After they are baked and still warm , brush them with some melted butter to get more tender crust. (Optional)

Let them cool and store in an airtight container.