This post may include affiliate links that earn us a small commission.
 These Dry Moong Dal Samosas has a flaky crust. The Dry Moong Dal stuffing is sweet, spicy and loaded with dry fruits.

Samosa, a favorite tea time snacks and though it's fried you can never resist yourself from having these. Though the authentic Punjabi Samosas with spicy potato filling is loved by everyone, these mini samosas with dry moong dal(lentil) filling are equally good. The best part is these can be stored upto a week. So it is ideal to make it well ahead of time during Diwali or any festival.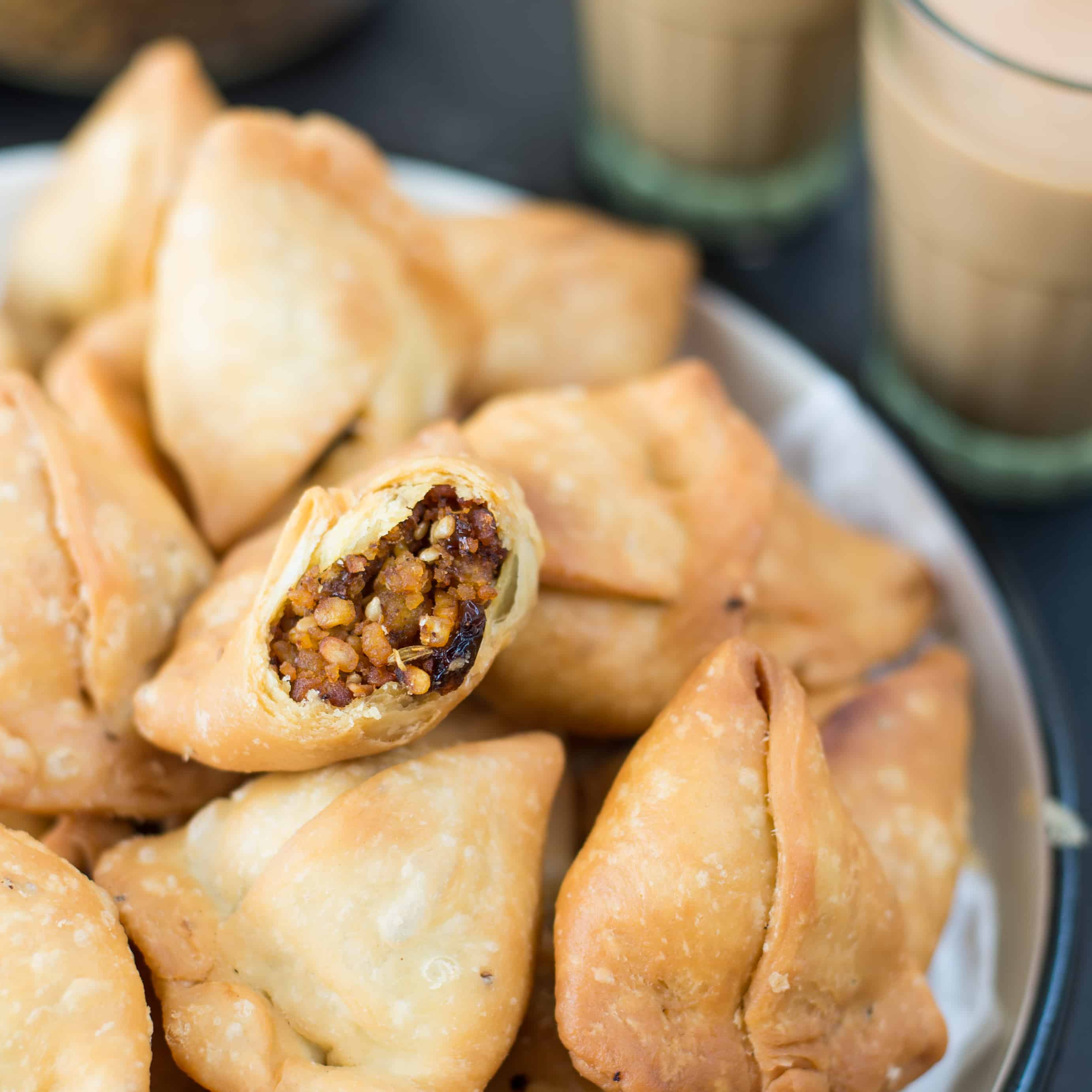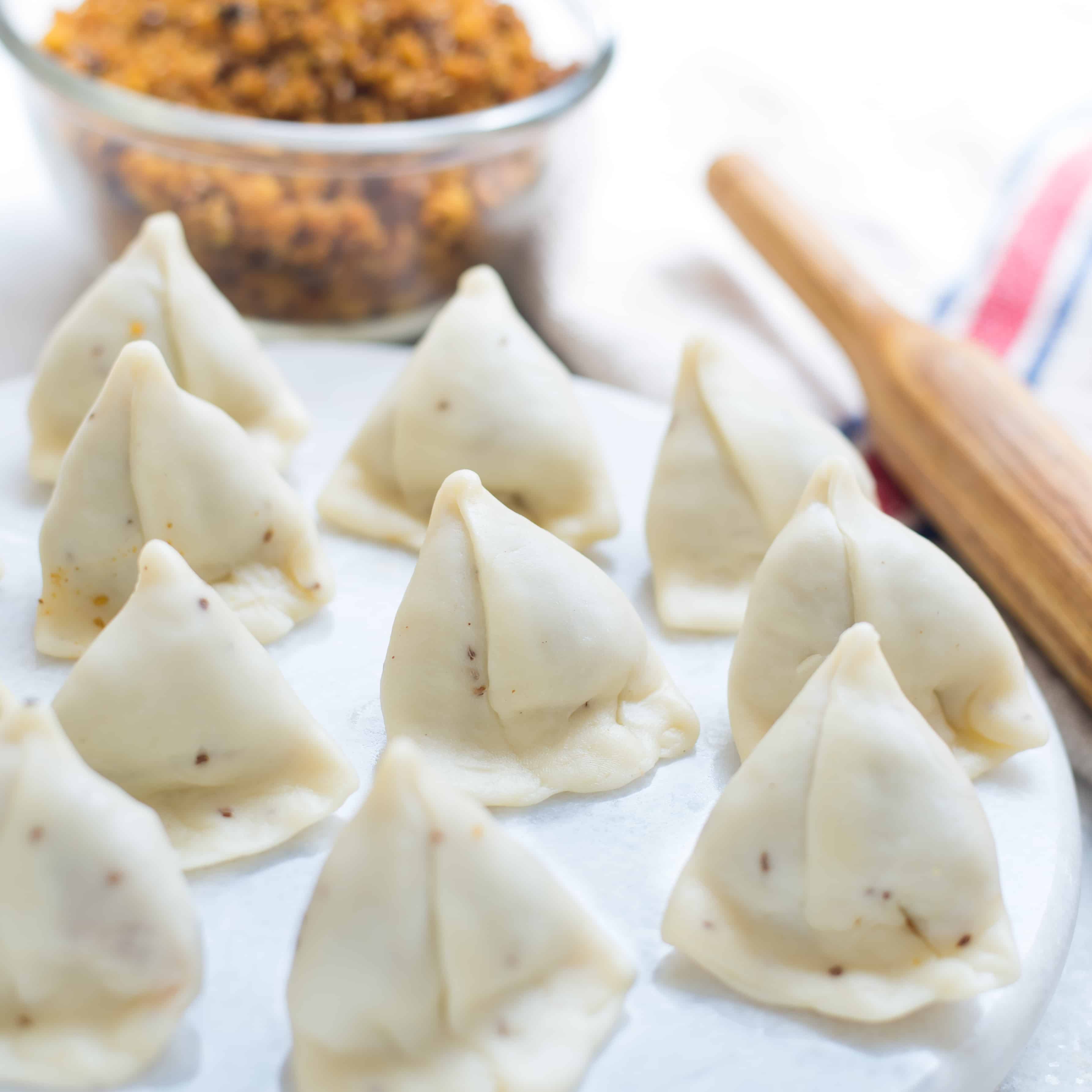 Flavours In Your Inbox
Subscribe for recipes straight to your inbox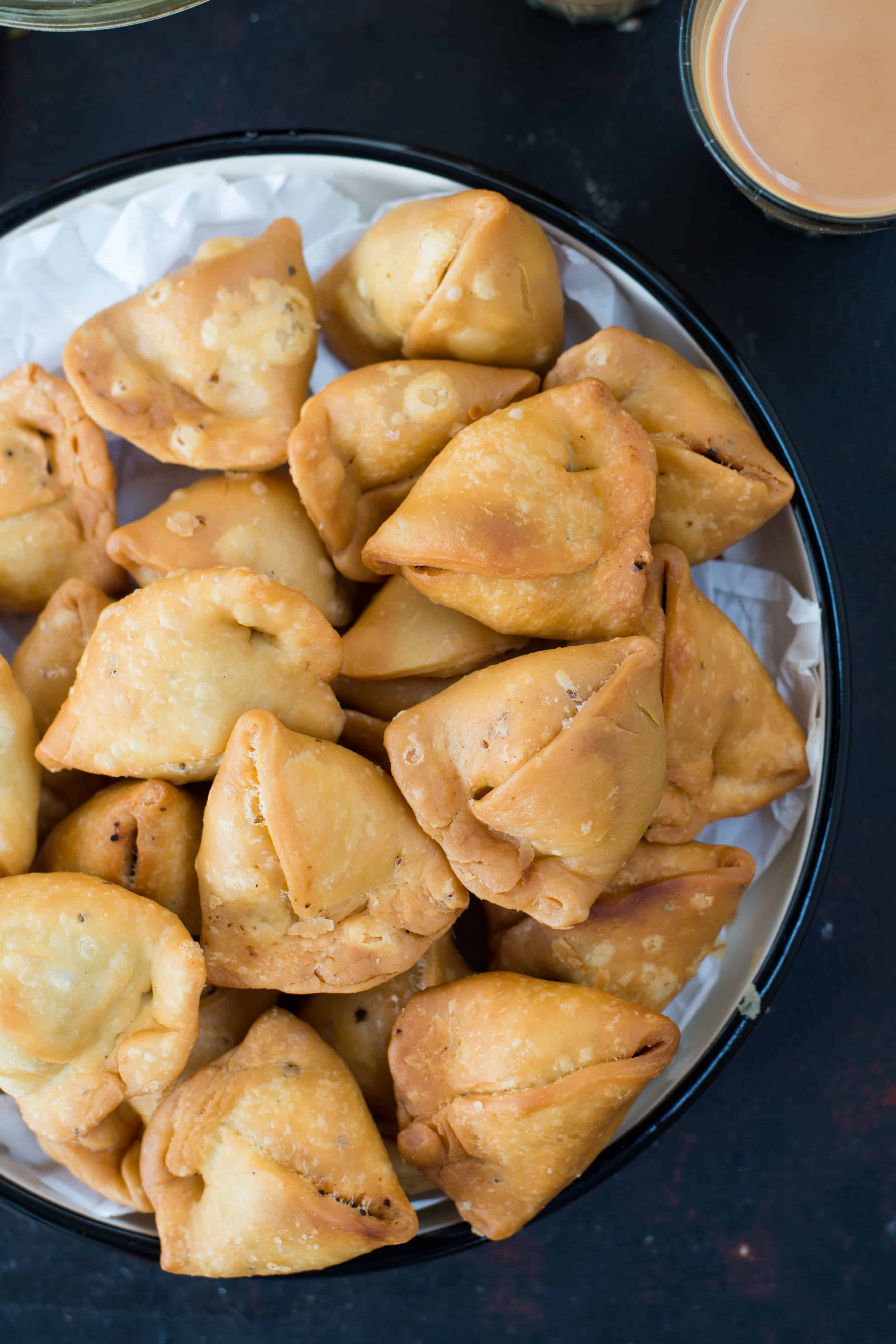 I have been eating samosas since my childhood and have always thought shaping Samosa is a tough task. Long back I had tried them but didn't get the perfect triangular shape. But this time when I got almost perfectly shaped Samosa, I was really very happy.So it is rightly said "Practice makes a man(here woman 😉 ) perfect"
Few tricks that yield perfect samosa are the amount of fat (_moyen)_in the pastry dough, not over working with the dough and right temperature while deep frying.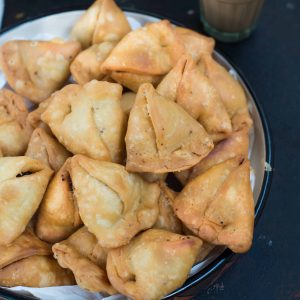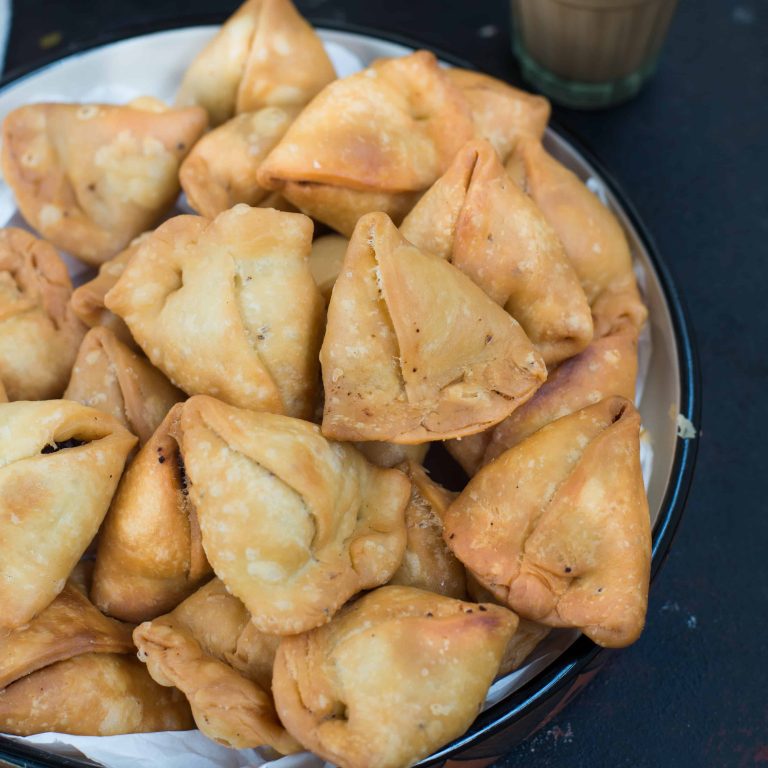 Samosa with dry moong dal stuffing (fried triangular pastry with dry lentil stuffing)
Samosa, a favorite tea time snacks and though its fried you can never resist yourself from having these. Though the ones with spicy potato filling are loved by everyone,this mini samosa with dry moon g dal(lentil) filling is equally good. Best part is these can be stored for a week or so I have b
Ingredients
¾ cups moong dal yellow
1.5 tbsps Coriander Seeds whole
1.5 tbsps saunf (fennel seeds)
¼ cups raisins chopped
¼ cups cashew chopped
¼ tsp turmeric
1 tsp red chilli mild powder(if hot reduce to 1/2 tsp)
1 tsp curry powder (or 1/2 tsp garam masala)
3 tsps sugar
⅕ tsp masala chat
to taste salt
For Samosa pastry cover
2.5 Cups all purpose flour
3 tbsps ghee /oil
¾ tsp salt
½ tsp Ajwain seeds or Nigella seeds (Carom) (optional)
water Enough to knead the dough
Instructions
In a wide bowl add flour,salt and the fat(ghee/oil). Rub the mixture using both the hand till the mixture look crumbly and the fat is evenly distributed. Add carom seeds and give it a mix.

Add water,1 tbsp each time. Knead the dough to a little firm consistency by adding little water each time. Cover dough with a kitchen towel for 30 min. Meanwhile prepare the stuffing.

Note:.Once the dough rests for sometime,it will become little more soft,so add water accordingly.

Don't over work with the dough.Knead until it come together. Over kneading dough will develop gluten and the pastry (samosa cover) will be chewy.

Soak moong dalat leastfor 4 to 5 hours or overnight.

Add Soaked moong Dal to slightly salted boiling water. Cook it for 10 Minutes on medium heat. Darin in a colander till all the water is drained. SPread dal on a clean kitchen towel and let it dry for 30 minutes.

Once the moong dal has cooled down and almost dry, put in a blender. Pulse a couple of times to make a croase mixture. There should be some whole moong dal in the mixture.

In a frying pan add oil. Once oil is hot, Crush lightly coriander seeds and fennel seeds using mortar and pestle. Add to the oil. Add raisins,cashew,turmeric powder,red chilli powder,garam masala,asafoetida,sugar. Fry for couple of minutes till everything is mixed properly.

Add well coarse dal mixture to the pan. Fry dal on low heat till all the water is evaporated from the dal and the mixture looks dry.

Add chat masala to the mixture and mix well.

Divide the dough into equal sized balls. Roll in your balls to make smooth ball.

Roll it with a rolling pin keeping the thickness neither thin nor thick.

Cut with knife and make two semi circles. Shape the samosa with the prepared stuffing. seal the edges carefully so that the stuffing doesn't come out during frying.

Heat oil in a deep and wide pan.

When the oil is medium hot slide in the shaped samosas one by one but giving enough space to fry.

Fry Samosa's in low- medium heat till it looks light golden brown in colour.
Notes
How to shape samosa .
Note: frying in hot oil results in small bubbles on the pastry and undercooked pastry. So reducing the temperature is crucial here.
Switch on the gas to medium flame. Let the samosas cook on low-medium flame till nice golden in color, turning over in between.
Continue frying the rest of the shaped samosa in batches.
Note: Leftover stuffing can be used to stuff pooris and paranthas.