SLOW COOKER ORANGE GINGER CHICKEN
This post may include affiliate links that earn us a small commission.
This Slow Cooker Orange Ginger Chicken is sweet and spicy with lovely Asian flavors. Slowly cooked chicken thighs are juicy and succulent.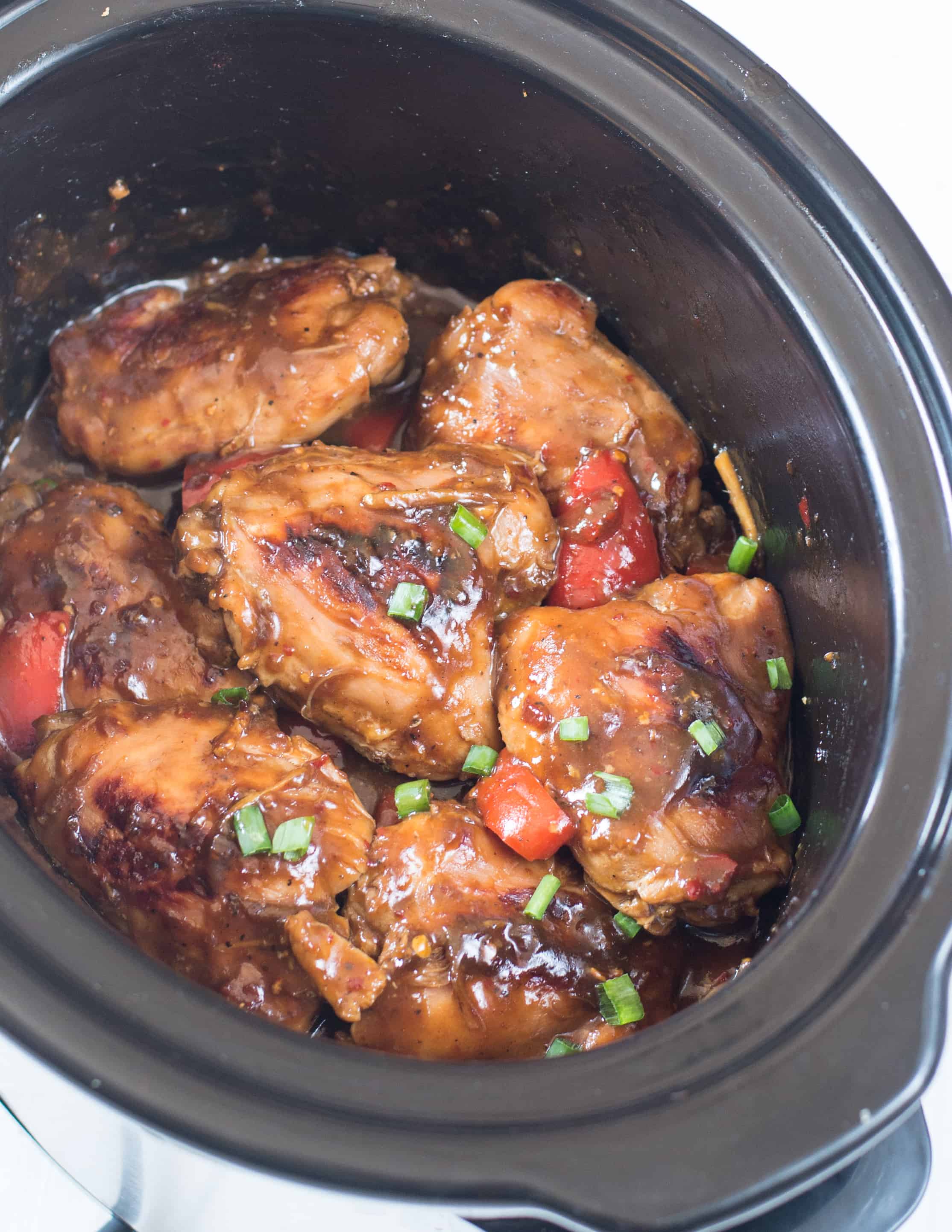 I am little obsessed with the slow cooker ever since I got one. With loads of work at home and little time to cook this slow cooker is a real savior. In the last couple of weeks, I have done lots of meal prep too. I had made a big batch of this Orange Ginger Chicken and was on our menu for a couple of days. I paired it with some steamed white rice and veggies.  It even paired well with some boiled noodles. It really depends on you how you are going to pair it but the real deal is the sauce. It is sweet, spicy and there is a kick of tang from the orange.
Flavours In Your Inbox
Subscribe for recipes straight to your inbox
Orange juice works as a tenderizer. So it doesn't matter which part of the chicken you are using, the meat is going to be tender and moist for sure.  Though I really recommend chicken thigh, drumsticks or breast would also work in this recipe.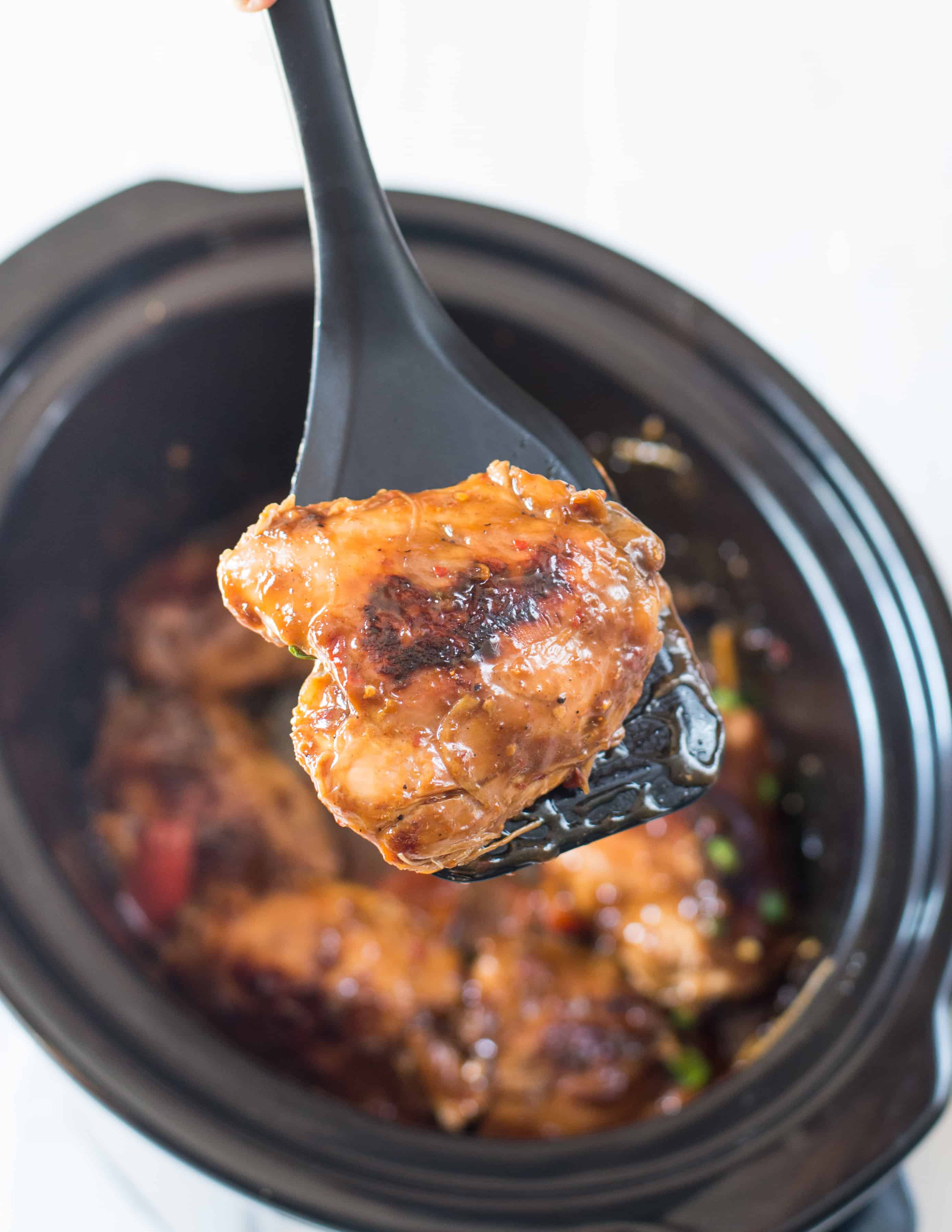 I can't stress enough about the sauce you know. It was so freaking good. Slow caramelization of orange juice, ginger juliennes, and other spices is the secret here. I have taken an extra effort and seared the chicken before putting in the slow cooker. You can certainly dump the chicken along with rest of the ingredients here.  But I find it more flavourful when I sear the meat. It might be because, In Indian way of cooking, most of the recipe involves the above step. In Indian curries, Meat is usually cooked along with spices on high for 3-4 minutes before letting it cook on low heat.
I have added only red bell peppers here. You can add blanched broccoli, Zucchini or Snow peas to make a meal out of it.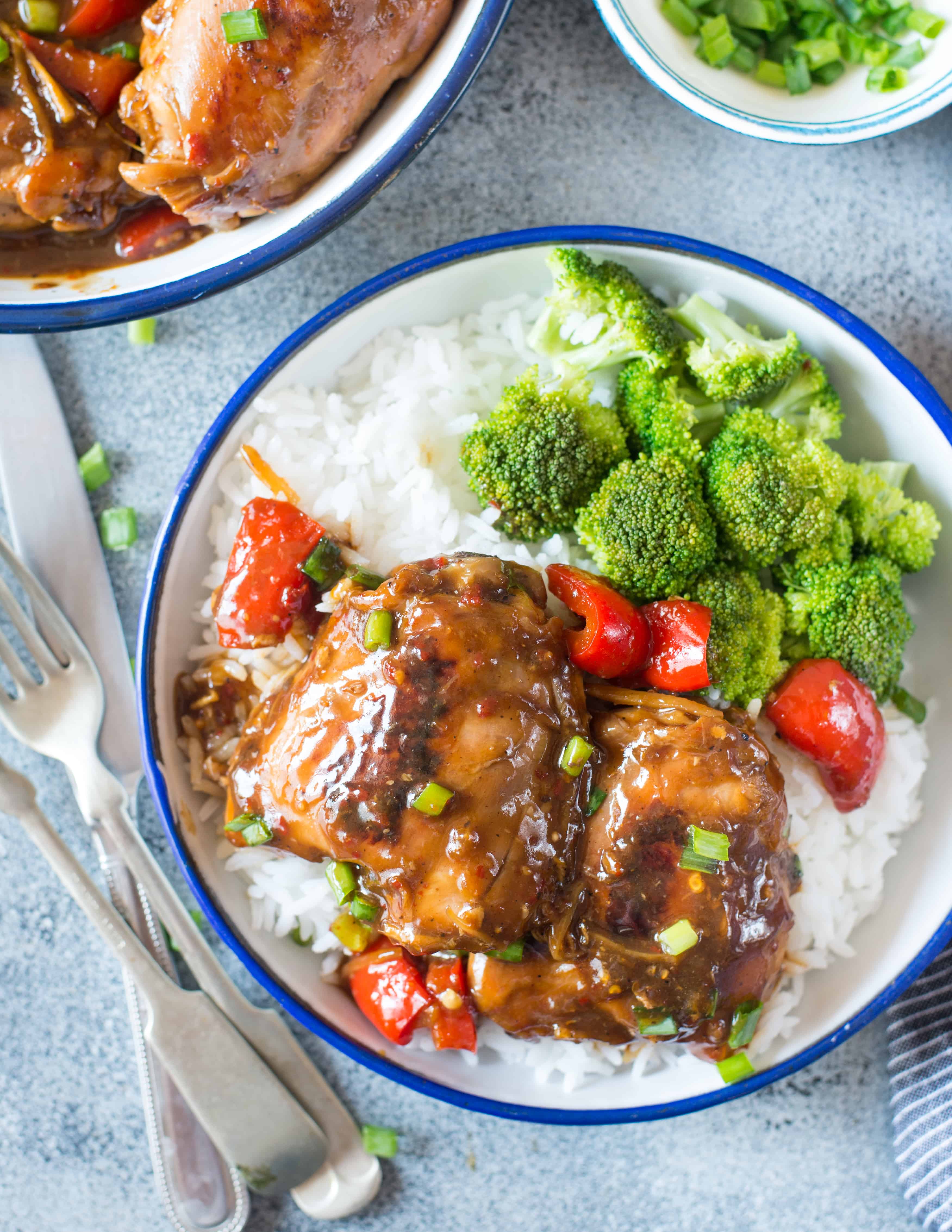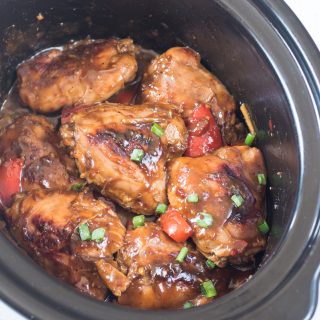 SLOW COOKER ORANGE GINGER CHICKEN
This Slow Cooker Orange Ginger Chicken is sweet and spicy with lovely Asian flavors. Slowly cooked chicken thighs are juicy and succulent.
Ingredients
2 pounds chicken thigh with bone , w/ skin
½ cup fresh orange Juice
1.5 tbsp fresh gigner cut into thin julienne
2 tbsp brown sugar
1 tbsp Dark soy sauce
1 tspn Red chili flakes
Salt and Pepper as per taste
1 cup red bell pepper Cut
2 tspn corn starch
¼ cup water
Instructions
In a non-stick pan heat 1 tablespoon oil. Cook the chicken thigh on medium-high heat for 4-5 minutes on each side.

Mix Fresh Orange juice, ginger, sugar, soy sauce, red chili flakes, salt, and pepper.

Pre-heat the slow cooker on high heat for 20 minutes. Then add chicken thigh and orange juice mixture.

Cover and cook on high for about 2 hours. Stir a couple of times in between, to make sure the juice is evenly soaked by all the chicken thighs.

At the end of 2 hours, make a mixture of cornstarch and water. Pour it into the slow cooker. Mix well with a spatula.

Then add chopped red bell pepper. Give everything a good stir and cook on high for another 45 minutes to 1 hour.

While serving garnish with chopped green onions.
Notes
1/2 cup orange juice might seem less but the chicken releases a lot of liquid. So 1/2 cup orange juice is good to start with.
As I used fresh orange juice, I had to add little more sugar than mentioned in the recipe. So you can always adjust the quantity of sugar as per preference.
The cooking time might vary from device to device. So you can adjust the time accordingly.
Just in case if are left with a lot of liquid at the end, spoon out all the juice in a pan and cook on high for 4-5 minutes. The sauce would thicken up.