Stuffed Peppers with Spicy Lamb and Brown Rice
This post may include affiliate links that earn us a small commission.
Colourful stuffed peppers with Indian spiced lamb and brown rice filling. Did I say this flavourful filling has cheese too? A delicious and easy stuffed pepper recipe which can be prepared ahead and baked just before serving.
This recipe was on my to-do list for a long time. But then I was so confused with the stuffing. I could of think of so many variations to the filling. It was tough for me to decide on one. Last weekend got some colourful vibrant bell peppers and I knew what I am going to do with them. I started gathering ingredients on my kitchen counter from whatever available. As it was for the Sunday lunch, the dish had to be a complete meal in itself. Prepared the lamb mince usual way, added some cooked brown rice to it and to make it look complete topped it with some cheese while baking.
Flavours In Your Inbox
Subscribe for recipes straight to your inbox
Everyone just loved it. The slight crunch from the peppers and once you dig in a flavourful filling of nutty brown rice and minced lamb. All the flavours and textures blended so well.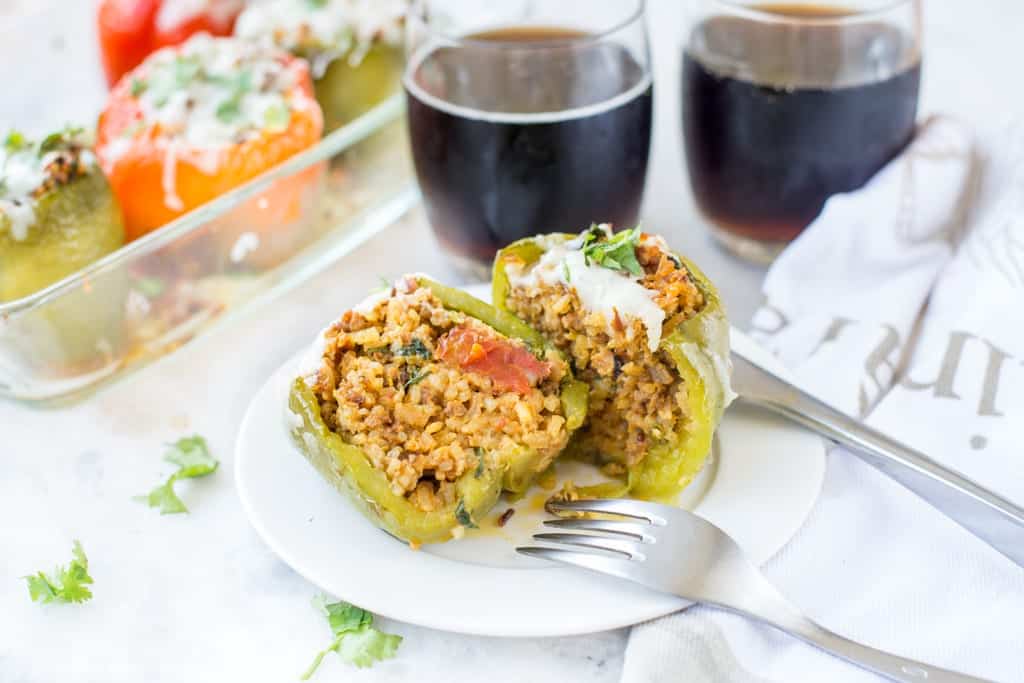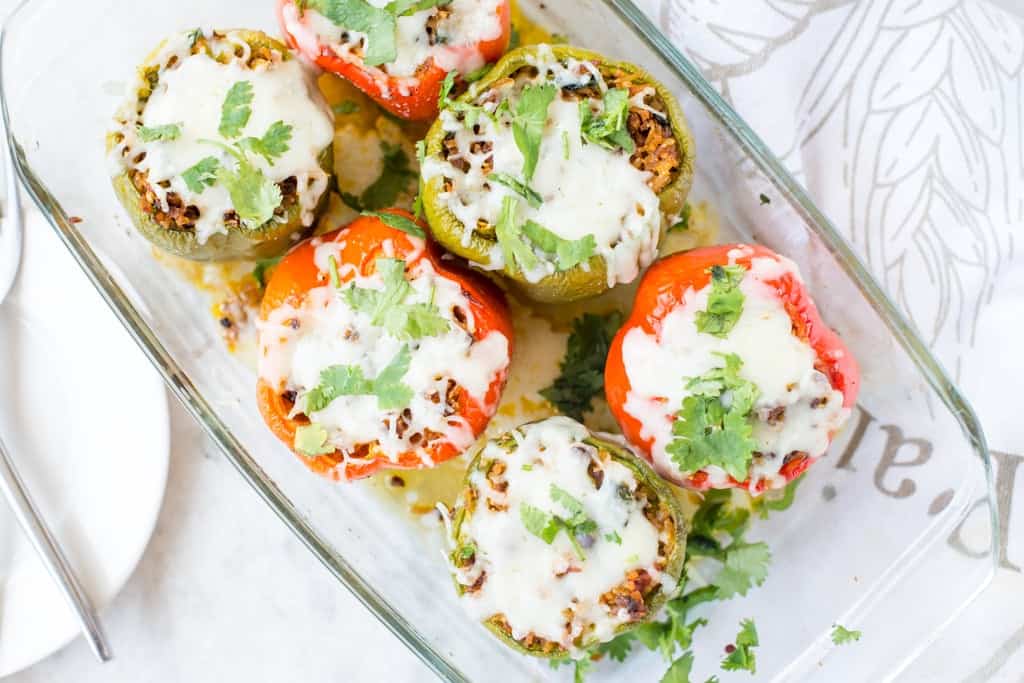 You can make the filling ahead,stuff the peppers and keep in the refrigerator. Bake them just before serving. As I told you before use your imagination while making the filling. This is a good way of using leftover veggies or meat and presenting in more an interesting way.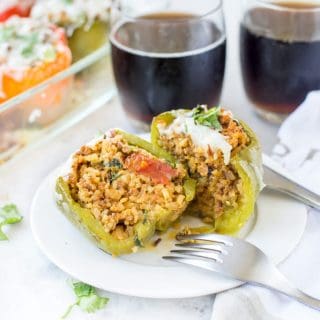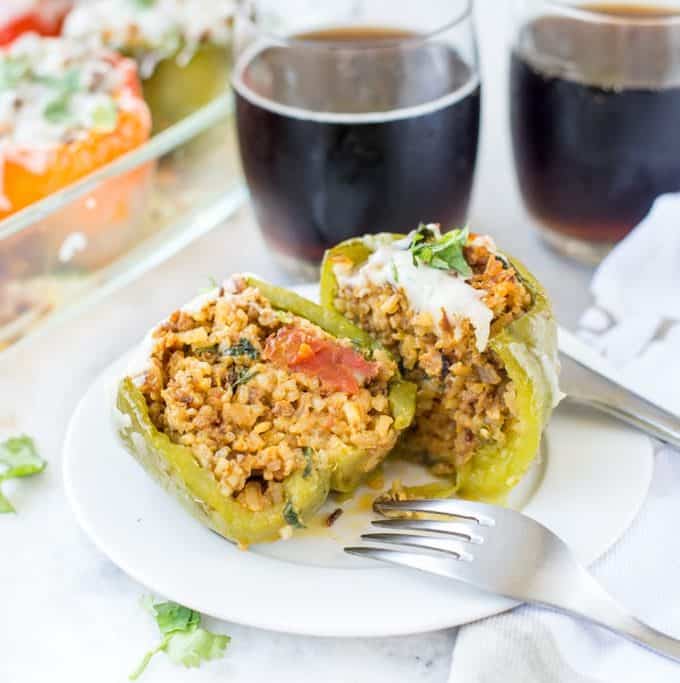 Stuffed Peppers with Spicy Lamb and Brown Rice
Ingredients
6 bell peppers large ( I used assorted colours)
salt pepper and
For Stuffing
300 gms Lamb Minced
2 tbsps Vegetable Oil
2 cardamom green
½ inch cinamon stick
2 cloves
1 bay leaf
2 Onions medium size , Chopped finely
1 tbsp Ginger Garlic paste
3 tomatoes large blanched,roughly chopped
1 tsp Coriander powder
1 tsp Cumin powder
½ tsp turmeric powder
1 tsp red chilli powder
½ tsp curry powder / garam masala
1 - 2 green chilli (optional)
2 cups Brown rice cooked ( Cook till the rice is 3/4th done)
handful coriander leaves of fresh , chopped
1 cup cheese ( I used cheddar), shredded
Instructions
In a deep pan heat 2 tbsp oil. Slightly pound cardamom,cloves and cinnamon in a mortar and pestle. Add Bay leaf and crushed spices to oil.

Once the spices are aromatic, add chopped onion and sprinkle little salt.Fry Onion till golden brown in colour.

Add ginger Garlic paste. Fry till the raw smell goes off.

Add minced lamb and continue stirring on medium-high heat for 4-5 minutes. The lamb will start browing.

Add all spice powders. Mix everything well.

Add chopped tomatoes along with its juice.

Cover and cook till the meat is almost done.Add little water if required. The cooked keema mixture should not be too dry.

Switch of the gas. Add cooked brown rice. Chopped green chilli (if using) and chopped coriander leaves.Let the mixture cool. Add half of the cheese.

Clean the peppers. Trim the rounded bottom of the pepper to make it flat and easier to stand. Trim the top, discard the seeds.

Pre-heat oven to 200 degree Celcius.

Season the peppers with salt and pepper.

Heat a griddle pan. Add little oil and grill peppers on high heat until it has small charred spots here and there. We are not going to cook the peppers here. It is just to add some smoky flavour to the peppers.

Divide lamb and brown rice mixture equally among the peppers. Stuff tightly.

Arrange the the peppers in a rectangular baking tray with wide side facing upwards.

Bake for 20 minutes in pre-heated oven. At the end of the baking period remove the tray , sprinkle rest of the cheese on top. Bake for 5 minutes more until cheese melts.

Serve hot.