Wraps are totally my kind of food. A complete meal in itself,a perfect grab and go meal when you are in a hurry. One more thing that is good about this wrap is you can add the stuffings the way you like it. I had made this just a day before I left on vacation. I had to clean up the fridge and use whatever is left. Got some fresh lettuce leaves and we had this delicious wrap ready in a matter of minutes.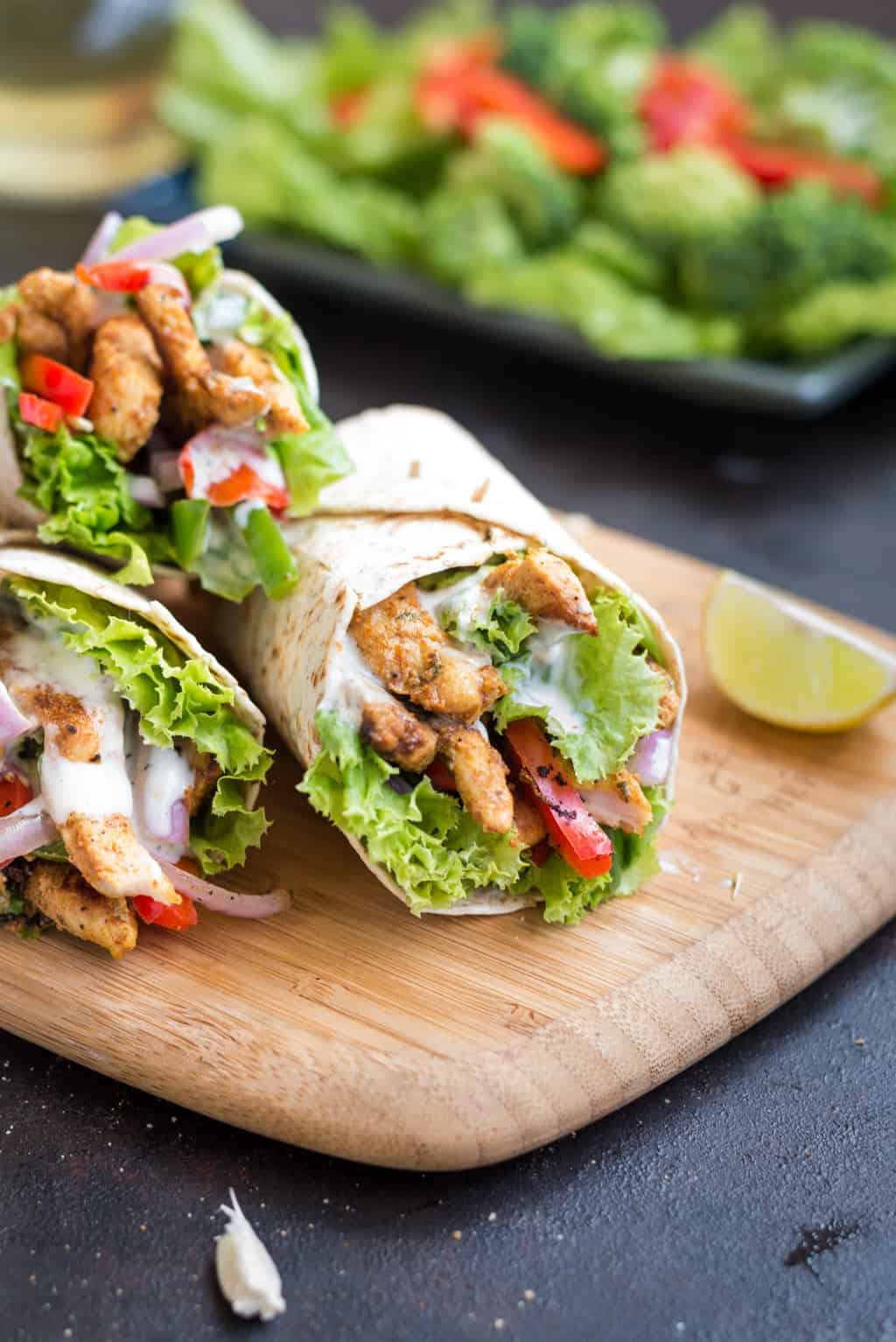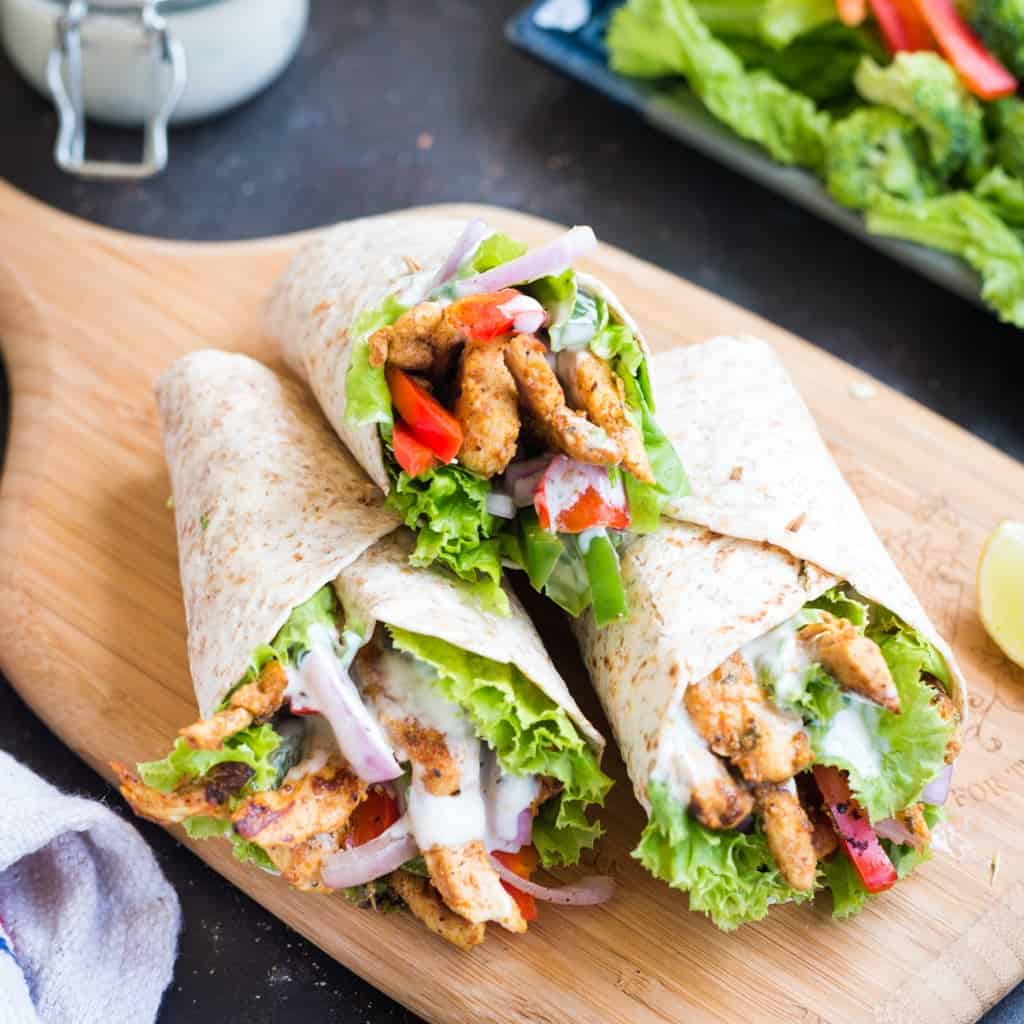 I had tandoori masala with me and the cheese garlic yogurt just paired very well with the tandoori flavour. The sauce is also very quick to make and takes few ingredients. The fresh herbs in the sauce makes it very refreshing. If you don't have tandoori masala you can just go with any seasoning available but I would say you must not skip the sauce part. We had this wraps along with a light salad of charred broccoli,bell pepper and lettuce, tossed in lemon juice.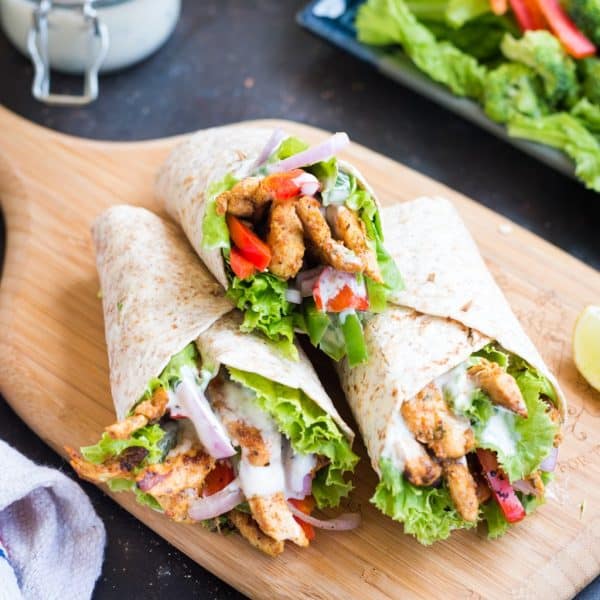 | | |
| --- | --- |
| | |
Mix all the ingredients mentioned under tandoori chicken. Let it marinate atleast for 1 hour or up to 24 hours in the refrigerator

Remove chicken from refrigerator 30 minutes before preparing.

Once chicken comes to room temperature,Heat a griddle pan.

Once the pan is hot add the marinated chicken cubes in 2 batches. Toss on medium-high heat for 4-5 minutes till the chicken is cooked through and looks charred.

When all the chicken has been cooked,in the same pan add assorted peppers and onion julliense. Toss on high heat for about 2-3 minutes till the peppers are slightly charred on the edges but still crispy.

To make the sauce mix all the ingredient in a bowl using a spoon. Adjust seasoning if required.

To assemble the wraps: Place one tortilla wrap on a clean dry chopping board.Arrange some lettuce leaves in a single layer followed by tandoori chicken pieces and charred peppers, Onions. If you need you can sprinkle some tandoori masala on top. Drizzle some sauce on top. Strat from one end and roll the tortilla tightly to a wrap.

Repeat the above process with remaining tortillas. Don't overdo the stuffing and sauce, else it will be difficult to roll and also the sauce will start to overflow.

Serve along side with some light salads.