Delicious Thai chicken noodle soup that has a punch of flavors and umami for cold winter evenings. Takes hardly 30 minutes to make.
If you are on the lookout for Thai recipes, you may also look at Thai Chicken Coconut Soup (Tom Kha soup), Thai Basil Cooler, Thai Shrimp Curry, Thai Butternut Squash Curry, and Thai Basil Chicken.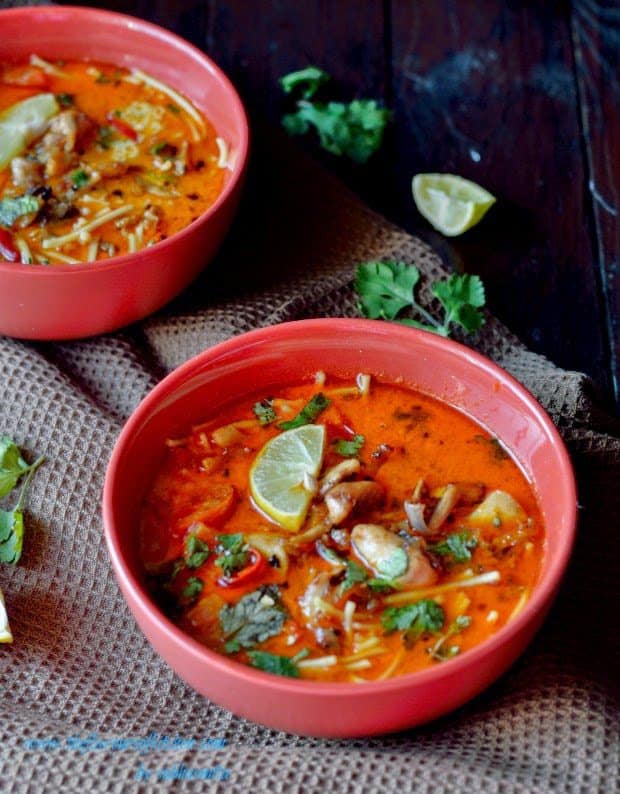 Here is a delectable soup that is bold and bursting with flavors. It is easy and quick to make. The chicken can be easily substituted with tofu and mushrooms. Comfort food on a cold winter evening.
Then comes a quite essential ingredient- a good stock. Vegetable or Chicken stock enhances the flavors in a soup.No doubt water can be easily substituted but I always prefer stock to water.
I prepare in bulk, freeze the stocks to cubes and store them, as easy as it sounds
Once the stock is done, don't worry about the leftovers. The chicken can be used in sandwiches, salads, or soups. Hey, what to do with veggies ?? Well, it is a secret I will be revealing in my upcoming post, so stay tuned.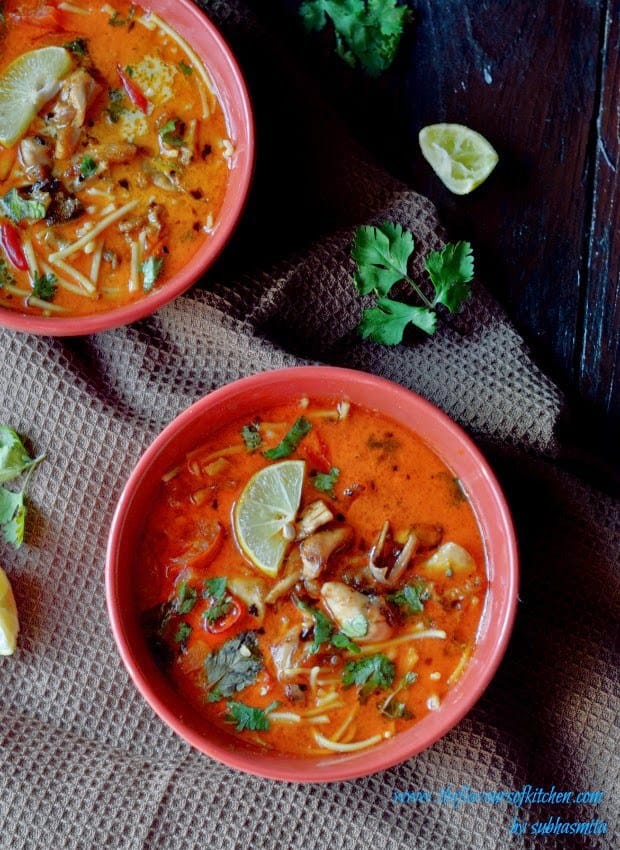 Other asian recipes
Crispy Sesame Ginger Tofu With Soba Noodles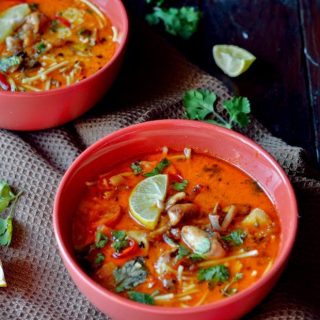 Thai chicken noodle soup & basic chicken stock
Thai Chicken noodle soup has a punch of flavours and umami for cold winter evenings. Takes hardly 30 minutes to make.
Print
Pin
Rate
Ingredients
For Chicken stock
300

gm

chicken

(preferably with bones)

8

cups

water

1

carrot

large

1 - 2

celery

stick of

8 - 10

cloves

garlic

1

onion

large

1

bay leave

½

tbsp

black peppercorn

1

tsp

salt
For chicken Soup
1

cup

chicken

boneless strips

2

cups

chicken stock

200

ml

coconut milk

1

lemon grass

stalk (white part only)

1

cup

egg noodles

cooked

6 + 2

cloves

garlic

finely chopped

1

inch

chopped ginger

finely

2

green chilli

½

tsp

cumin

powder

½

tsp

coriander

powder

1

tomato

medium chopped

half

lemon

juice of

¼

tsp

brown sugar

dash

fish sauce

1

tsp

soy sauce

light

1

tsp

red chilli

flakes

to taste

salt
Instructions
For Chicken Stock

Put all the ingredients into a large pan and bring to a boil.Reduce flame to medium and let it sit on stove for another 1.5 to 2 hours.

Once the liquid has reduced to half, switch of the gas and let it cool.You can either use the stock immediately or keep refrigerated for 3-4 days.

You can also put in an ice tray and freeze.Once freezed remove the cubes and store in a zip-lock bag in the freezer.Add the cubes as per need.

Remove the chicken pieces,take the meat out using a fork and reserve to be used later.

Separate the onion,carrot and garlic.Keep aside to use in other dishes(recipe coming soon,Yes we are not going to waste them).

Thai Chicken Soup.

In a pan heat 1 tbsp oil.Once oil is hot, put chopped ginger,6 cloves garlic and chopped green chilli.

Add cumin,coriander powder and the curry paste,fry for a minute in medium heat.Put the tomatoes and cook until it softens.

Pour in the stock and coconut milk.Put crushed lemon grass stalk.Once it starts to boil reduce heat.

Season the broth with salt,brown sugar and fish sauce.Mix the lemon juice.Discard lemon grass stalk.

Meanwhile in a separate pan(preferably grill pan) add another tablespoon of oil and heat. Add the chilli flakes,remaining chopped garlic.Then add the chicken strip. Sautxe9 at high heat for 3-4 minutes or until the chicken is cooked and nicely browned.

Remove from heat and mix soy sauce.(If using the shredded meat from the stock then make sure not to roast for too long else the chicken will become dry andchewy).

While serving put noodles,roasted chicken in a soup bowl.Add the broth,garnish with chopped mint,coriander and lemon wedges.
Notes