It's been more than a month I have posted anything for you peeps. With multiple tasks on my plate blogging has taken the back seat. So I have asked a couple of my blogger friends to do guest posts.
First in the series is from Jyothi Rajesh of CurryTrail . I have known Jyothi from past 1 year. A very humble and sweet soul. I admire her a lot for the kind of hard work she puts behind her blog. A very talented photographer, whose food phots will make you crave for the dish. From traditional recipes to some fine international cuisine, you would find lots and lots of interesting and innovative recipes at CurryTrail. My latest favourite from her blog is the Beetballs Pasta. You must try the revipe when you are having a serious pasta craving.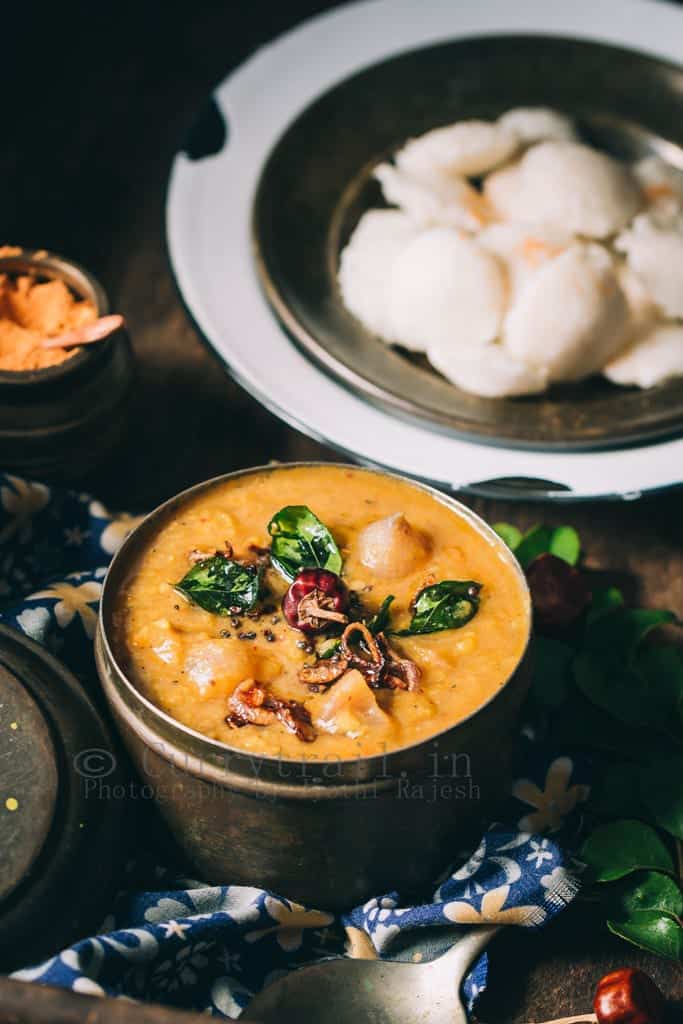 Today she is going to share with you all her mother's 'Tiffin Sambar' recipe. I was so happy when I saw the recipe.Let me tell you first that I am a big big fan of tamil style Sambar. My appetite just doubles up when I have a hot bowl of Sambar in front of me. Hot Idli or crispy vada dipped in a big bowl of Sambar.. oh!! Pure bliss. Now I have said enough about today's post, let switch to Jyothi and see what she has to tell about the recipe.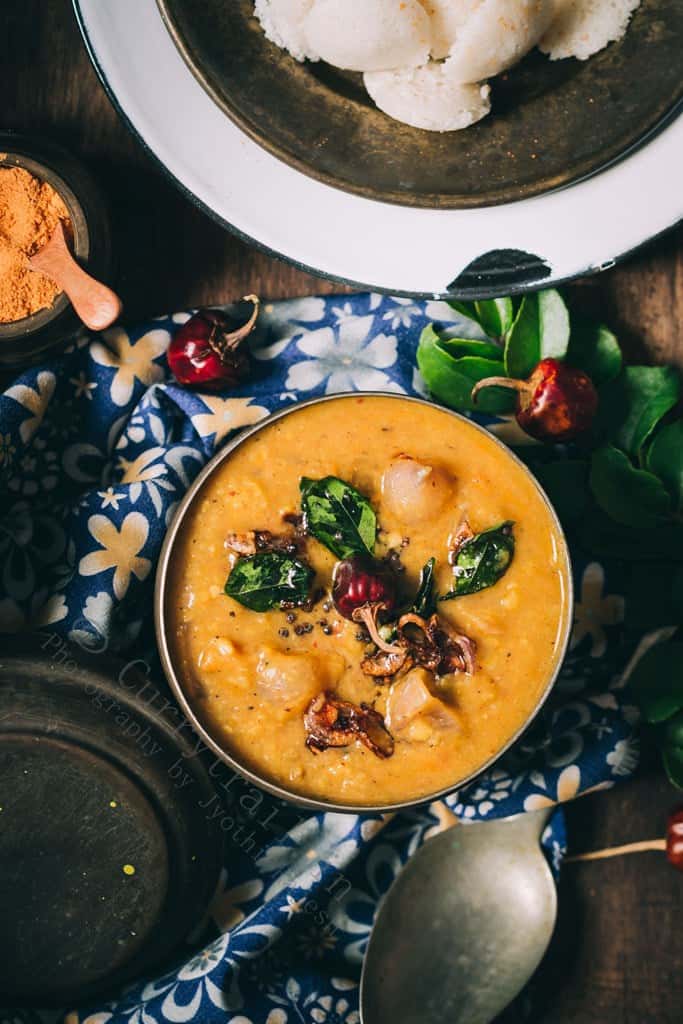 From Jyothi…
A big hello to all the readers of Flavors of my kitchen. Thank you Subha for inviting me to your beautiful space. It's my pleasure to share my family recipe with your fans!
Me and Subha got connected through FB about a year back. She's been a good friend and I am always amazed with her work.
Today I bring to all the readers and fans of Flavors of my Kitchen a very personal favorite family dish of mine. In fact, this is my mom's signature dish and we make this tiffin sambar at least twice a week. Our festival days must have this tiffin sambar accompanied with idli and vada for the breakfast. I cant imagine a single diwali when mom did not make this sambar and idli for breakfast. Special day starts with a most delicious and flavor packed shallots sambar to go with 'the most softest' idli's. My mom makes THE BEST idli's in the whole wide world and we all love our idli's with mom's special idli sambar or tiffin sambar.This sambar is unique! The podi (or powder) that we add in making this sambar is the secret behind the bold flavor and taste of this dish. Hot idli's, dribble of ghee on top and a ladle full of sambar soaking the idli's is how we love to eat it.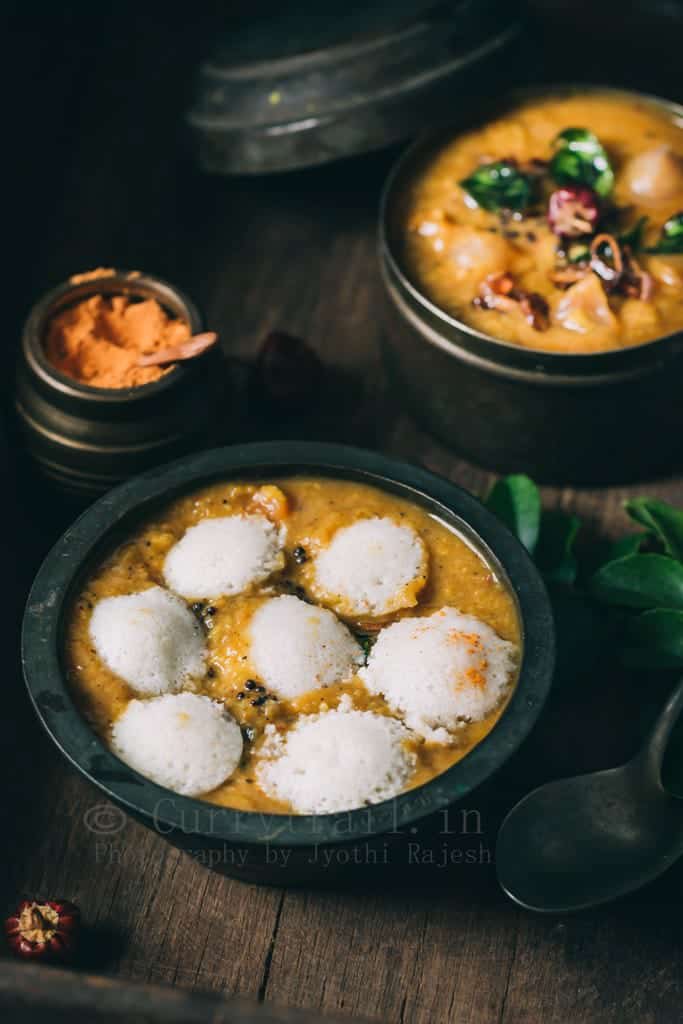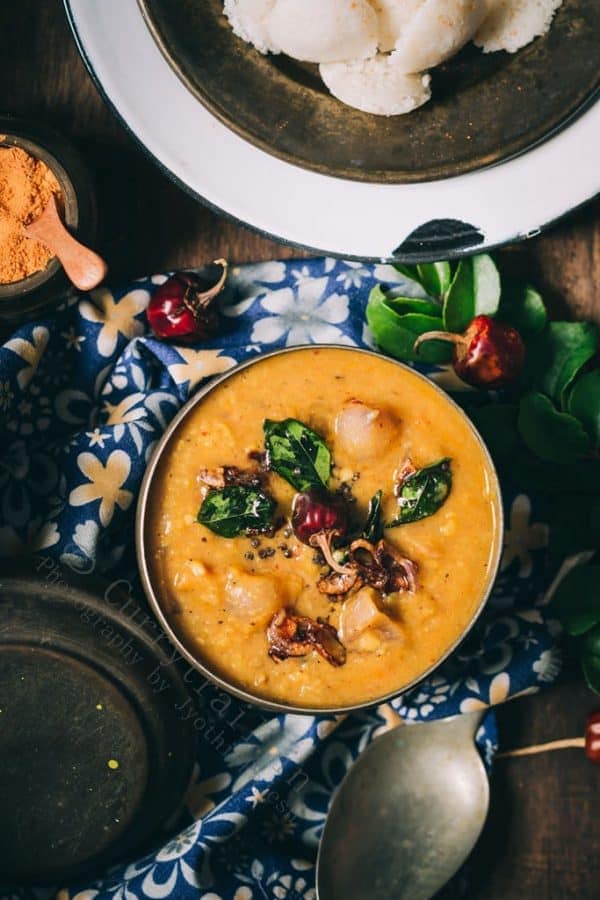 | | |
| --- | --- |
| | |
Rinse dal well. Soak dal for about 1 hours, this helps in cooking dal faster. Once soaked, discard the water from the dal and add fresh water. Add cloves, cumin seeds, turmeric powder and 1 teaspoon oil to dal and pressure cook it for 2 whistles.

While dal is cooking, you can make the tiffin sambar powder. In a pan dry roast red chilies, cumin seeds, fenugreek seeds, Bengal gram, black pepper corns one by one until roasted well and turns fragrant. Let the roasted spice cool down, and then grind into fine powder. You can store this tiffin sambar powder in air tight container for a few months.

In a kadai, heat oil. Once oil turns hot add curry leaves and chopped shallots and sautxe9 till onions turns translucent.

Add chopped tomatoes and cook until tomatoes turns mushy.

Add red chili powder and 3 to 4 tablespoon of tiffin sambar powder and salt to taste, give it a mix.

Add cooked and mashed dal to the kadai and bring it to boil. Check for seasoning and adjust according to your taste.

Add tamarind juice and let it boil for 3 to 4 minutes.

Turn off stove, sambar is ready, we need to add the tempering to the sambar now.

In a small pan, heat oil. Add mustard seeds and let it crackle. Add thin onion slices and sautxe9 till onions turn golden brown. Add curry leaves, dried red chilies and asafetida, mix well. Remove from stove and add this tempering to the sambar. Give it a mix.

Serve tiffin sambar with idli, dosa or even pongal. The best way to serve this sambar is with hot idlis in a bowl, dribble some ghee and pour hot sambar on it. Pure bliss!