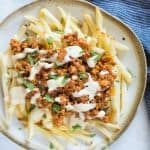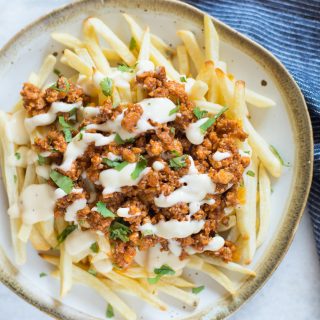 Print
LOADED MEXICAN CHICKEN FRENCH FRIES
These Loaded Mexican Chicken  French Fries are delicious and easy to put together.  These are perfect to serve a crowd at a party.
Mexican Chicken Topping
Heat Oil in a pan. Add finely chopped Onion. Cook till they are soft and start to brown.

Add minced garlic. Fry till the raw smell is gone.

Add tomato puree. Mix everything well and cook for 30 seconds on medium heat.

Then add all the spices. Mix well and cook for another 30 seconds to 1 minutes. Make sure not to burn the spice mixture. Else add few drops of water.

Add minced chicken and salt. MIx everything well and cook till chicken is cooked through, somewhere around 3-4 minutes on medium heat.

Add 1/4 cup warm water and bring to a boil. When it starts to bubble, switch off the flame and keep aside the mixture.
For Cheese Sauce
In a pan add butter. When butter starts to melt, add flour. Mix well using a whisk.

Cook butter and flour mixture on low heat. Just before the mixture starts browning, add warm milk slowly, while whisking with the other hand.

Keep whisking the flour-milk mixture slowly and avoid any lumps.

Add shredded cheddar cheese. Switch off the flame. Mix well until all the cheese has been incorporated and the mixture looks smooth.

If the cheese sauce looks thick then add few tablespoons of warm milk to the mixture.

Cover the cheese sauce with a cling wrap to avoid forming a skin on top.
Assembeling
Fry Frozen french fries just before serving till crispy.

Arrange on a serving plate. Top with cheese sauce and minced chicken. Garnish with fresh cilantro leaves.
Make sure you fry the french fries just before serving and after adding the toppings serve immediately. Soggy fries don't taste good at all.
If you are preparing the cheese sauce a day ahead, cover with a cling wrap and refrigerate.
If you have prepared the chicken topping ahead of time and at the time of serving it looks dry, then add a couple of tablespoon of hot water to the mixture and reheat.