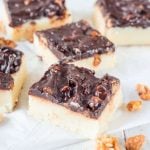 Print
Coconut & White Chocolate Fudge
Sometimes I ask myself-  what else do I really love to do apart from food and cooking ??? Well I do listen to music, I watch TV but then I  think that if I have time then why don't I browse about some more recipes, glance at a few gorgeous pictures and learn about the technique used . And ultimately
4

cups

coconut

Dry desiccated

300

gm

chocolate

white

120

ml

cream

double

1

tbsp

unsalted butter

pinch

salt

200

gm

dark chocolate

good quality

80

ml

cream

double

⅓

cups

walnuts

toasted
Line a rectangular tray with cling wrap. Keep aside.

In a heat proof bowl boil 150 ml cream. Once it comes to boil,switch off the gas.Add chopped white chocolate. Mix till all the chocolate melts and is lump free.Then Add butter.

Mix desiccated coconut salt (The mixture might look little loose but once it cools down it will be set). Spread the mixture in prepared pan. Smooth the top.Keep aside.

Bring rest of the cream to boil in a thick bottom pan. Take off the heat. Stir in finely chopped dark chocolate. Mix till it is smooth. Stir in chopped walnut.

Spread chocolate walnut mixture on top of coconut mixture. Keep it inrefrigeratorfor couple of hours to set. Cut into slices.