Za'atar Spiced Chicken Salad
This post may include affiliate links that earn us a small commission.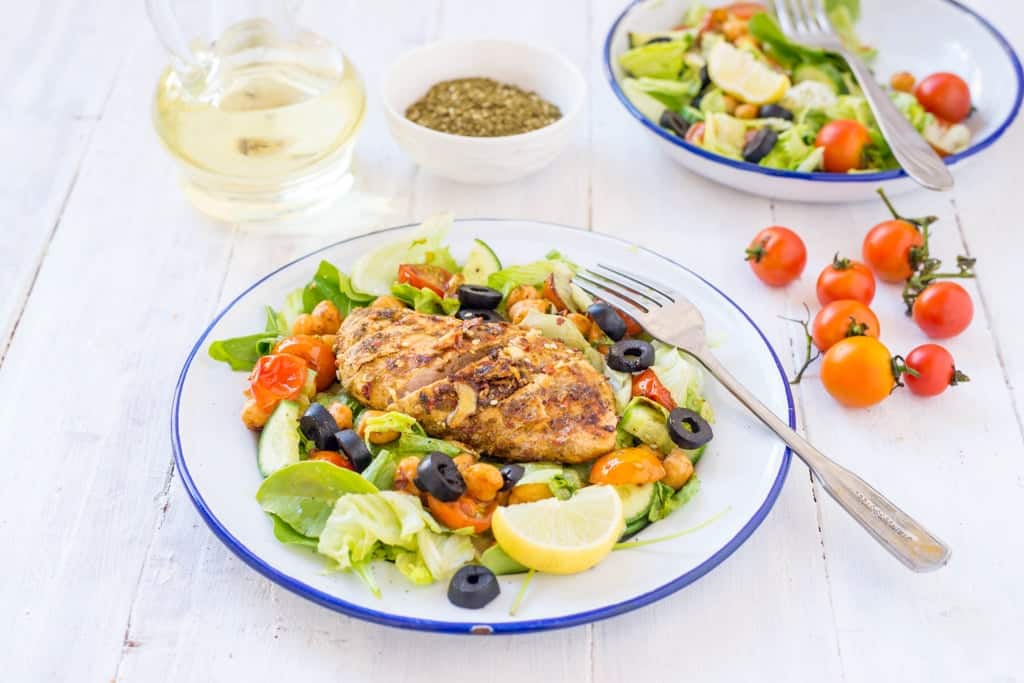 What will you do when you have lots of fresh greens. I would never tell salad. But now my first choice will be a salad. Simple, healthy and very fulfilling. We usually have a heavy meal on a Sunday afternoon,So it is obvious that dinner is always something light.
One thing that I love about salads is basically you can throw in anything that is available in your pantry and a basic dressing and you are done.I had all the ingredients for a wonderful salad. That's what I love about Winter,you get all fresh,colourful and vibrant veggies. And you will be left with endless options to use them. Coming to this salad I got a fresh bottle of za'atar spice on my recent visit to the supermarket. Za'atar is a Middle eastern spices used for seasoning on salads,breads marinate meats etc.
Flavours In Your Inbox
Subscribe for recipes straight to your inbox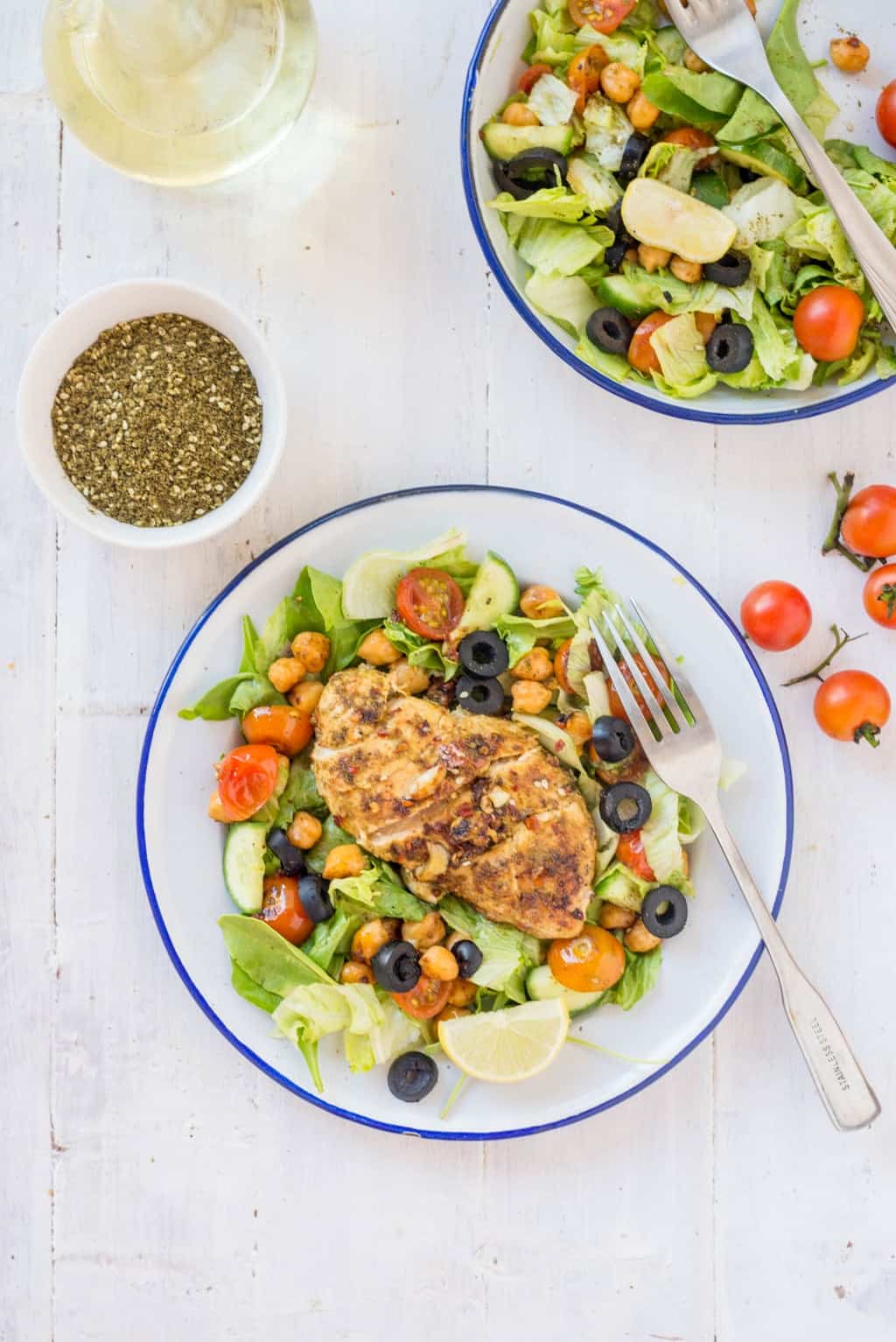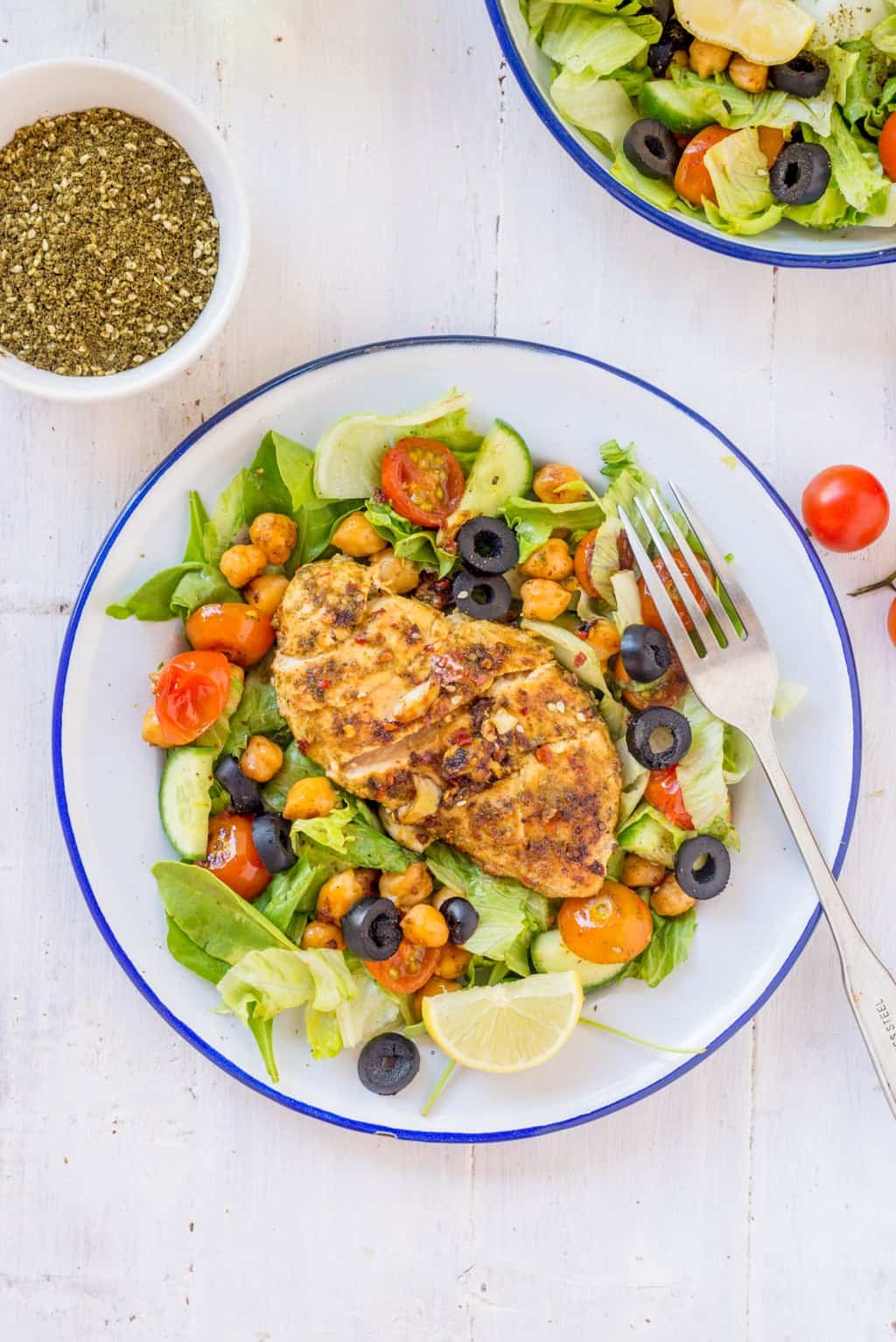 This salad doesn't have any dressing as such. After roasting the chicken the leftover seasoning and oil on the pan act as an excellent dressing for the salad. I have added lots of garlic to it,because after roasting the garlic adds a wonderful flavour to it.
There is no defined quantity for this salad,you can add as per your preference.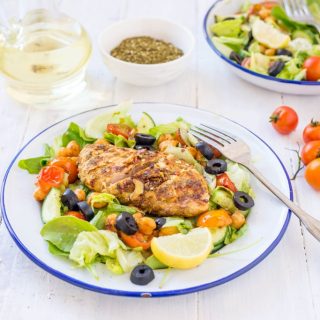 Za'atar Spiced Chicken Salad
Refreshing and easy summer chicken salad with za'atar and fresh crunchy greens.
Ingredients
1 Chicken breast
4 - 5 cloves Garlic crushed ,
Black pepper Fresh crushed (optional)
to taste salt (if Za'atar dosen't have in it)
1 tsp Olive oil
For Salad
2 cups Spinach baby , stems removed
1 cups Iceberg Lettuce ,chopped
1 Cucumber French
½ cups Cherry tomatoes ,halved
½ cup chickpeas Cooked
¼ cups Black Olives
½ Lemon Juice
Instructions
Season chicken breast with Za'atar, salt, crushed garlic. Let it marinate for 1 hour.

On a hot griddle pan, 1/2 tsp olive oil. Put marinated chicken breast. Let it cook on medium heat for 4-5 minutes. Flip and cook for another 3 minutes.

Let the chicken rest in a blow. Meanwhile in the same pan, in remaining oil add cherry tomatoes and chickpeas. Cook on high heat for 2-3 minutes. the tomatoes should look charred.

Slice chicken to thin strips. ( I reserved the liquid released from the chicken in the same bowl and added to the salad).

In a big mixing bowl add all the greens, cucumber, charred cherry tomatoes, chickpeas, olives, sliced chicken. Add lemon juice. Mix well.

Sprinkle extra Za'atar on top if required.Serve immediately.