Print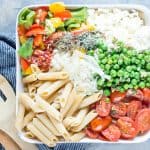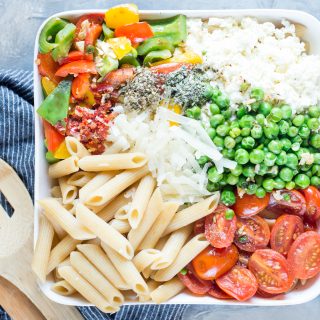 WARM RICOTTA PASTA SALAD
Ricotta Pasta Salad with charred bell peppers, Cherry Tomatoes, and creamy Ricotta is healthy and a perfect vegetarian meal prep / Lunchbox.
2

Cups

Penne Pasta

uncooked

2

tbsp

extra virgin olive oil

2

tspn

Minced garlic

1

cup

Assorted pepper

(I used red,green and yellow)

200

grams

cherry tomato

cut into half

1

cup

fresh green peas

blanched

1

cup

ricotta cheese

1

cup

Parmesan cheese

1

tspn

Dried Oregano

1

tspn

Dreid Basil

1

tspn

Red chili flakes

Salt and Pepper as per taste
Cook pasta as per packet instruction. Keep aside.

In a pan add 1 tbsp oil. Add minced garlic.

Add assorted bell pepper. Stir fry on high heat for 1-2 minutes. The peppers should look charred but still crunchy. Don't over cook. Add green peas. Stir fry for another 1 minute on high heat. Remove from the pan and keep aside.

In the same pan add reamining oil. Add halfed cherry tomatoes. Stir fry on high heat for 1-2 minutes. The tomato skin should look charred but again don't over cook it till mushy.

In a big mixing bowl, add cooked pasta, bell pepper,peas, toamto, ricotta, parmesan chees and all the herbs. Season it with salt and pepper. Mix everything well.
For the illustration purpose, I have cooked bell peppers, peas and tomatoes separately. So I divided the oil into 3 equal parts and cooked the veggies. You can cook the veggies as per the instruction.
While I was cooking the pasta, I prepared the veggies. And while the pasta was still warm, mixed it with rest of the ingredients.