This post may include affiliate links that earn us a small commission.
These Candied walnuts are roasted with honey until crunchy, then tossed in the brown sugar spice mix. Honey Spiced Candied Walnuts are addictive snacks, can be added to salads and are perfect for gifting this holiday season.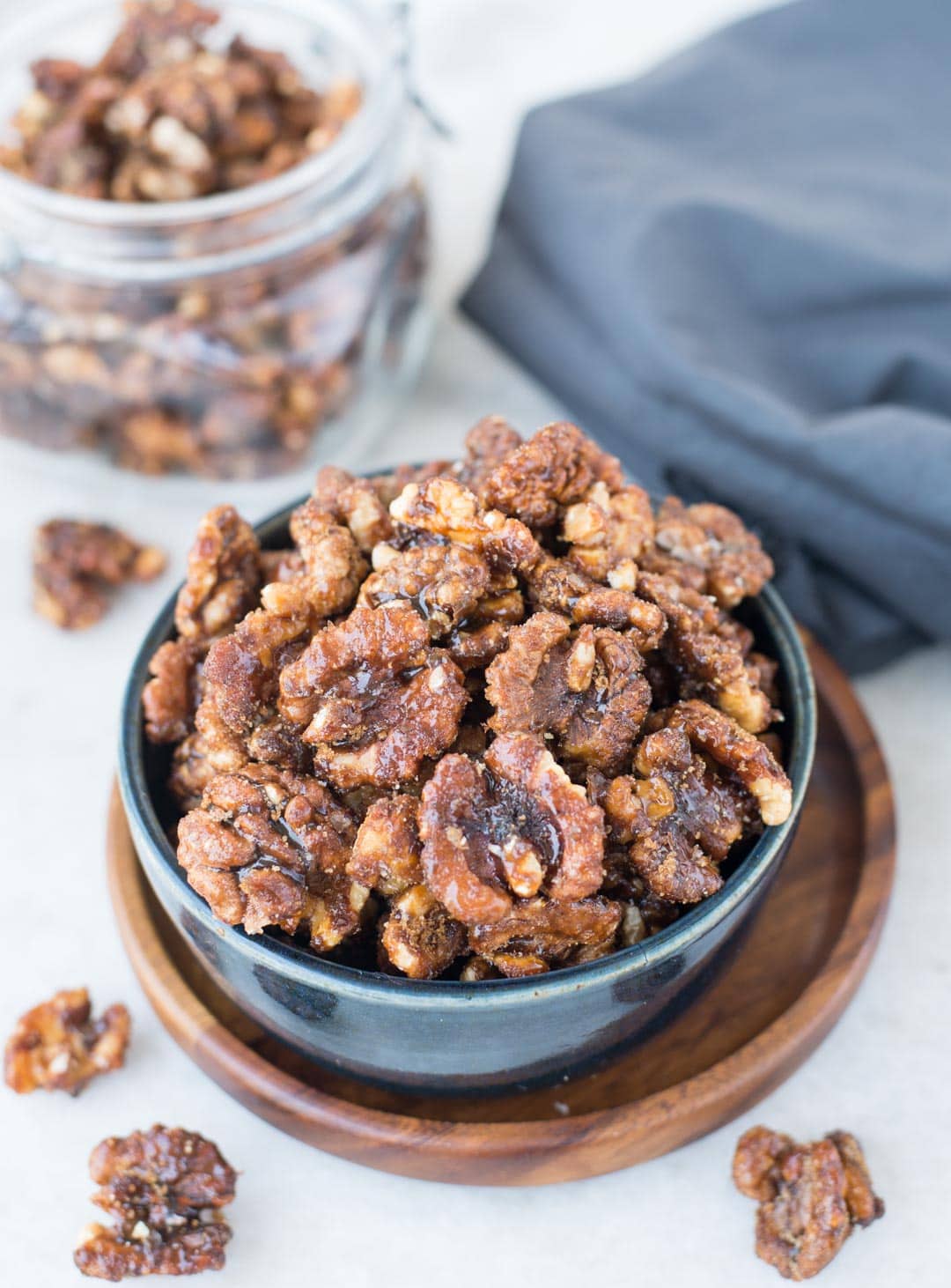 Making Candied Walnuts at home is super easy. It is far healthier and inexpensive when you made it yourself. It is sweet with a nice spicy kick from the spices. These Honey Spiced Walnuts are really addictive. You can munch them as it is or can add it to salads for that extra crunch. If you are planning to give edible gifts this holiday season, then these Candied Walnuts are great.
Flavours In Your Inbox
Subscribe for recipes straight to your inbox
I started making these Candied Walnuts a few months back. My daughter hates Walnut, because of its bitter aftertaste. Honey roasting them seemed like a good idea because it is healthy and I was sure she would like it. Now she haves them happily and along with her even we got addicted to these. To spice it up, I add a spicy mix to it.
A handful of Candied Walnuts satisfies your sweet craving and also provides the necessary nutrition. But let me warn you these are damn addictive and even before you realise half a jar would have got finished.
How to Make Candied Walnut?
Candied Walnut Recipe is really easy to make. For this Honey Spiced Candied Walnut, you need Honey, salt, Chili Powder, Garam Masala, Cinnamon Powder and Oil. The spice level can be easily customizable.
Start with making a mixture of honey and all the spices. Toss Walnut with the spiced honey mixture. Then bake in a pre-heated oven. First honey would melt and the mixture would look very liquidy. Gradually honey starts to caramelize and coat the walnuts. Keep mixing the walnut in intervals to coat the walnuts evenly.
Towards the end you need to watch closely, else it might burn very quickly. At the end of baking time, honey will thicken up and stick to the nuts. The nuts might still feel a little sticky when you take them out of the oven. It hardens once it cools down.
When it has cooled down but is still a little warm, we are going to toss it with light brown sugar. Tossing in sugar gives a crispy coating to the nuts and it will not feel sticky to touch.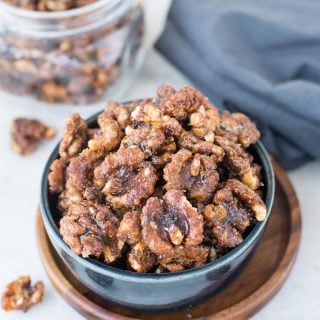 Honey Spiced Candied Walnut
These Candied walnuts are roasted with honey and spices till crunchy, then tossed in brown sugar. Honey Spiced Candied Walnuts are addictive snacks, can be added to salads and perfect for gifting this holiday season.
Ingredients
500 grams Raw Walnuts
⅓ Cup Honey
½ Teaspoon Salt
large pinch of Garam Masala
½ Teaspoon Cinnamon Powder
¼ Teaspoon Chili Powder (adjust per taste)
1 Tablespoon Butter
⅓ Cup Light Brown Sugar
Instructions
Pre-heat Oven to 180 degrees. Line a baking tray with a silicone mat.

In a bowl mix brown sugar, chilli powder, cinnamon powder, salt and garm masala.

Microwave honey and butter for 15-20 seconds in a microwave-safe bowl. Mix well.

Add Walnut and mix till well incorporated. 

Spread walnut in the lined baking tray evenly.

Bake in the preheated oven for 30 minutes. Stir it once midway and bake again.

Remove baked walnuts from the oven and let it cool for 10 minutes.

Sprinkle brown sugar-spice mixture all over and toss well.

Spread Walnuts in a single layer, until they are completely cooled and crispy to touch. 

Keep in an airtight container at room temperature.
Nutrition
Serving: 100g | Calories: 1393kcal | Carbohydrates: 67g | Protein: 28g | Fat: 123g | Saturated Fat: 12g | Sodium: 304mg | Potassium: 865mg | Fiber: 13g | Sugar: 45g | Vitamin A: 110IU | Vitamin C: 2.5mg | Calcium: 199mg | Iron: 5.7mg