Quinoa Chicken Broccoli Casserole
This post may include affiliate links that earn us a small commission.
Quinoa Chicken Broccoli Casserole is an incredibly healthy meal that the whole family would love. Quinoa, chicken, and broccoli topped with cheese cooked slowly in a slow cooker.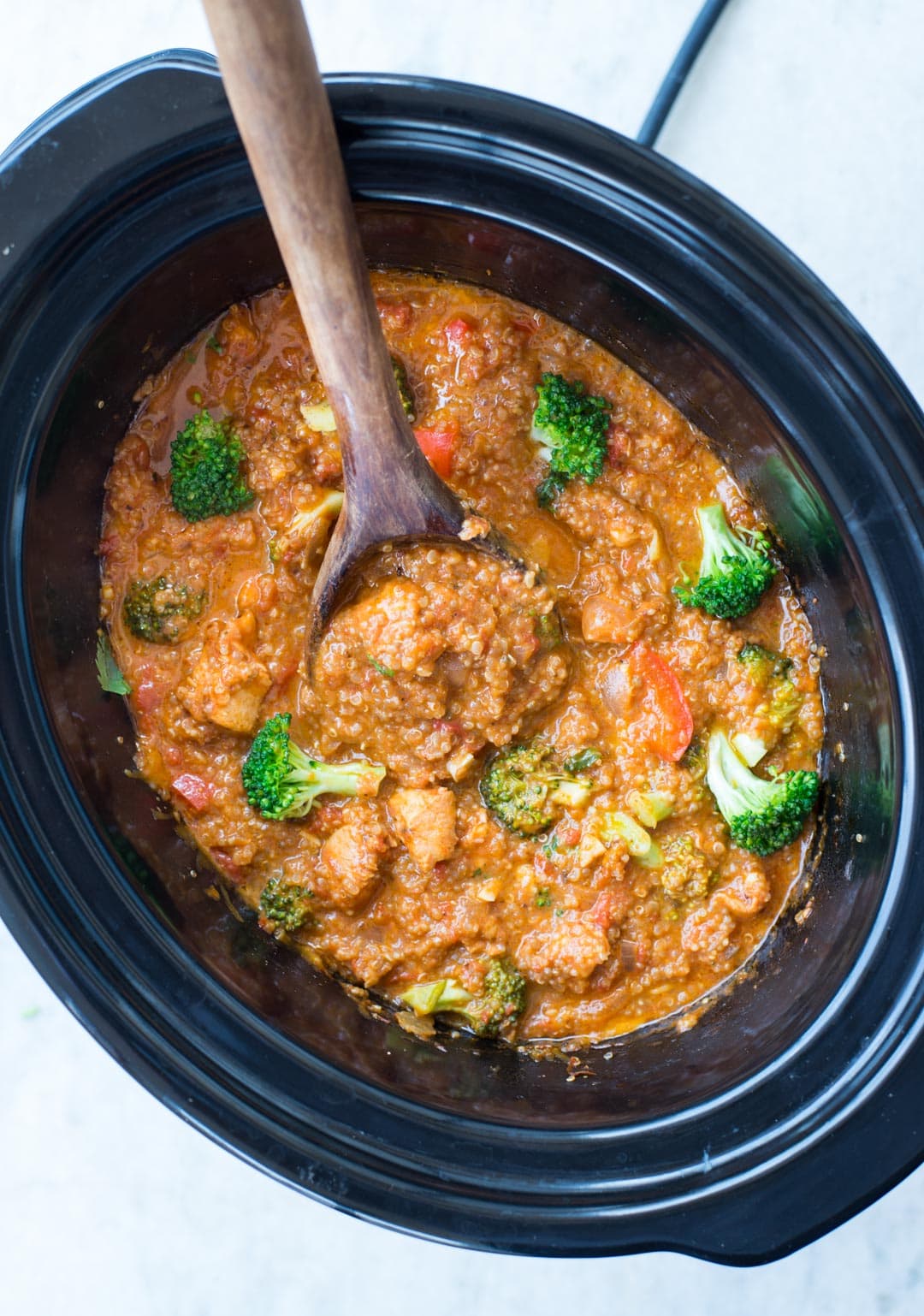 I love easy one-pot dinners. And if it is made in a slow cooker, it is even better because all you need to do is dump everything and forget until dinner. I always prefer healthy, wholesome dinner which is filling and satisfying.
Flavours In Your Inbox
Subscribe for recipes straight to your inbox
This Chicken Casserole with quinoa and broccoli fits all the bill. With delicious Mexican flavors, this Easy Chicken Broccoli Casserole is one of our favorites.
Making this Quinoa Chicken Broccoli Casserole in the Slow cooker is easy and adds many flavors. Quinoa gets cooked to a creamy consistency with tender, juicy chicken pieces. I mean, dinner can't be more easy and delicious than these. You need roughly ten ingredients to make this Chicken Broccoli Casserole with Quinoa.
Quinoa, Tender chicken, crunchy broccoli, and peppers cooked slowly with tomatoes, Mexican spices, and a whole lot of cheese to make it the ultimate comfort food. One more amazing Slow Cooker Recipe has been added to the recipe categories.
Another creamy and comforting recipe with chicken and broccoli is Creamy Garlic Chicken and Broccoli. For this combination as a stir fry, check out Chicken Broccoli Stir Fry.
Want to have quinoa as a cold dish? Check out this nutritious and tasty Easy and Zesty Quinoa Salad with a tangy and flavorful red wine vinaigrette. Other salads with broccoli – Creamy Broccoli Salad,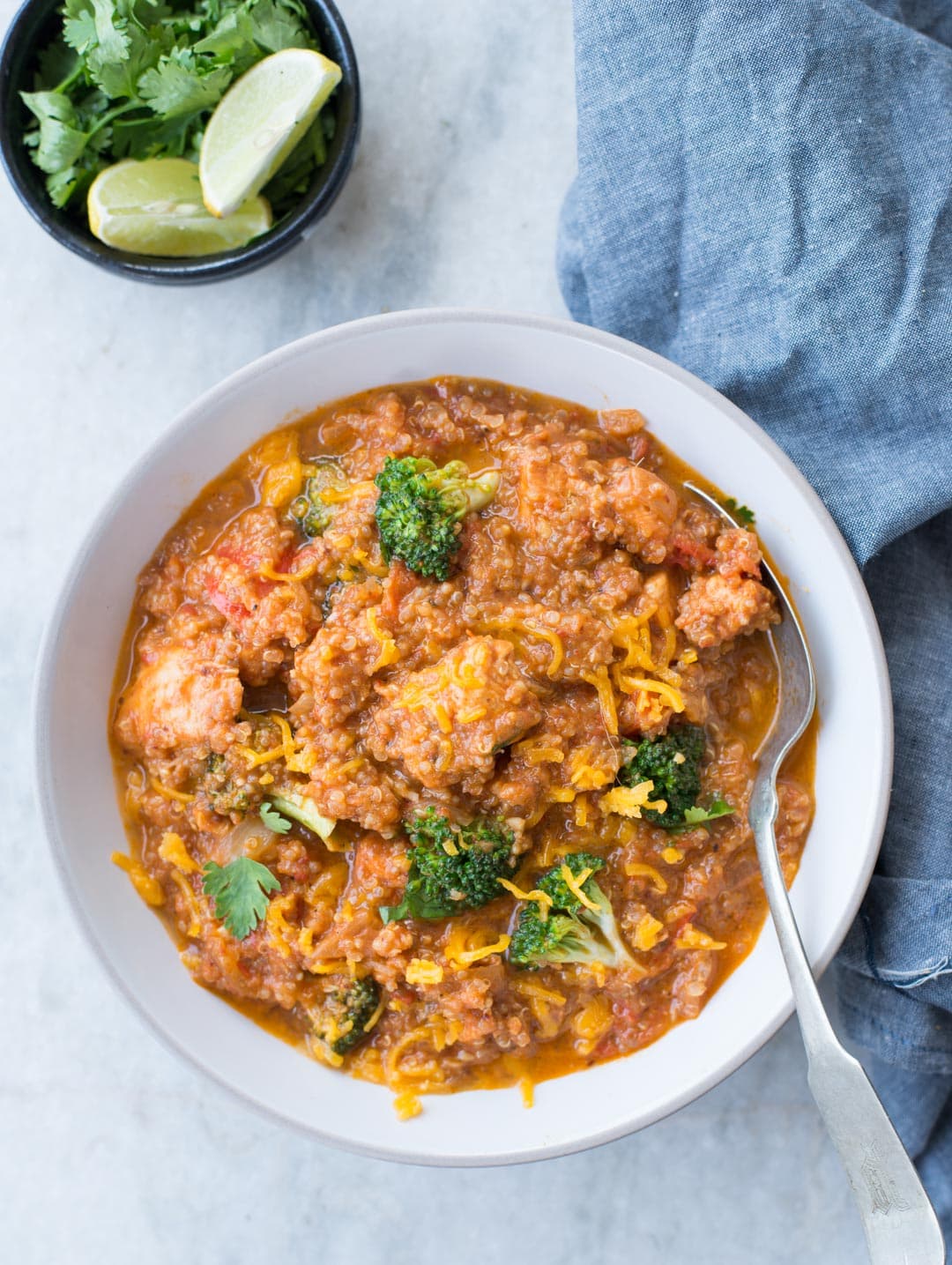 For the first time when I tested this recipe, I used Rice. Being a rice lover, rice was my default choice of grain. This combination of chicken, broccoli with rice – Stovetop Chicken Broccoli Rice Casserole was so good. Rice and Chicken make a perfect meal.
If you love rice and Chicken, you must try my reader's favorite – Instant Pot Garlic Herb Chicken and Rice. Everyone loves this Rice and Chicken recipe.
This recipe turned out so good with rice that I wanted to try the same recipe with Quinoa. Honestly, Quinoa is not one of my favorite grains. For some reason, I never liked the wired texture and taste. It was very difficult for me to adapt to the taste.
But considering its health benefits, I slowly introduced this superfood into my diet. Until I tried this Quinoa Chicken Broccoli Casserole, the only thing I used to like was porridge. Cook Quinoa in milk and sweetener.
Once cooked, add nut butter and top it with fruits and nuts. Those yummy toppings are used to hide the real taste of quinoa.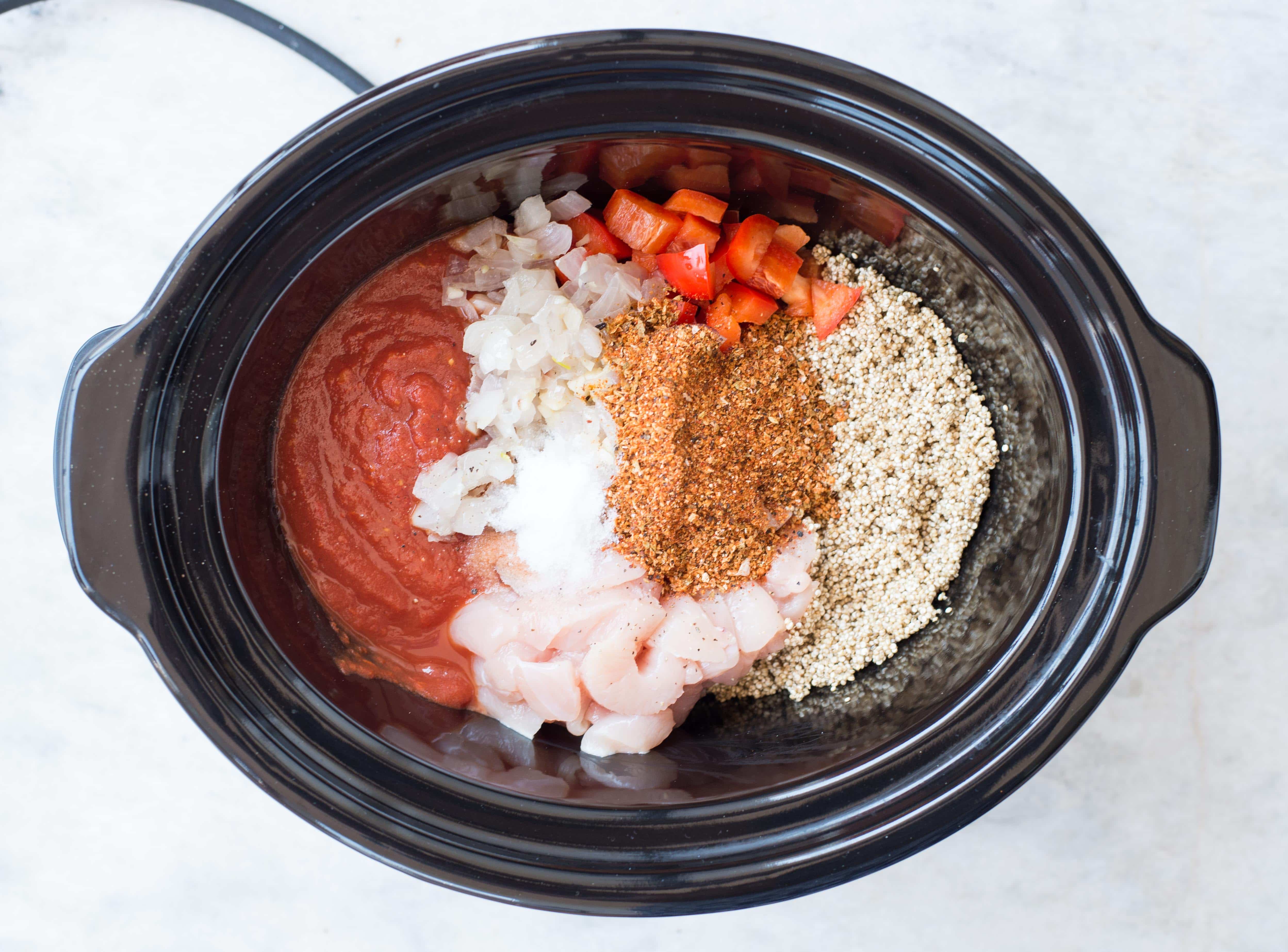 Ingredients
If you consider Cheese a source of healthy fat, then all the ingredients in this casserole recipe are healthy and nutritious. Quinoa and Chicken are rich sources of protein. There is broccoli and pepper, which also increases the fiber content. You can also add carrots, zucchini, corn, and red beans.
If you are looking for a vegetarian version, substitute chicken with Mushroom. In that case, also substitute chicken stock with vegetable stock.
You can adjust the quantity of cheese depending on how creamy and cheese you want. Taco Seasoning adds a lot of flavors to it. You can substitute taco seasoning with any herb you choose and add some paprika for the heat.
Quinoa – There are three colors of the grain available – white, black, and red. White has the most delicate taste and becomes fluffy when cooked. Red and black varieties are a bit chewy. They are all equally nutritious, and you are free to choose as per your taste.
Chicken breast – Choose boneless skinless chicken breast that must be pre-cooked and added to the casserole.
Chicken stock – Provides the maximum flavor to the dish as the
Vegetables – I have added bell pepper, tomatoes, and broccoli.
Fresh herbs – Use chopped fresh cilantro leaves for garnish.
Aromatics – Use minced garlic, chopped onion, and Taco seasoning for aroma and flavors.
Cheese – Cheddar melts fast and is sprinkled here to create an oozy cheesy layer.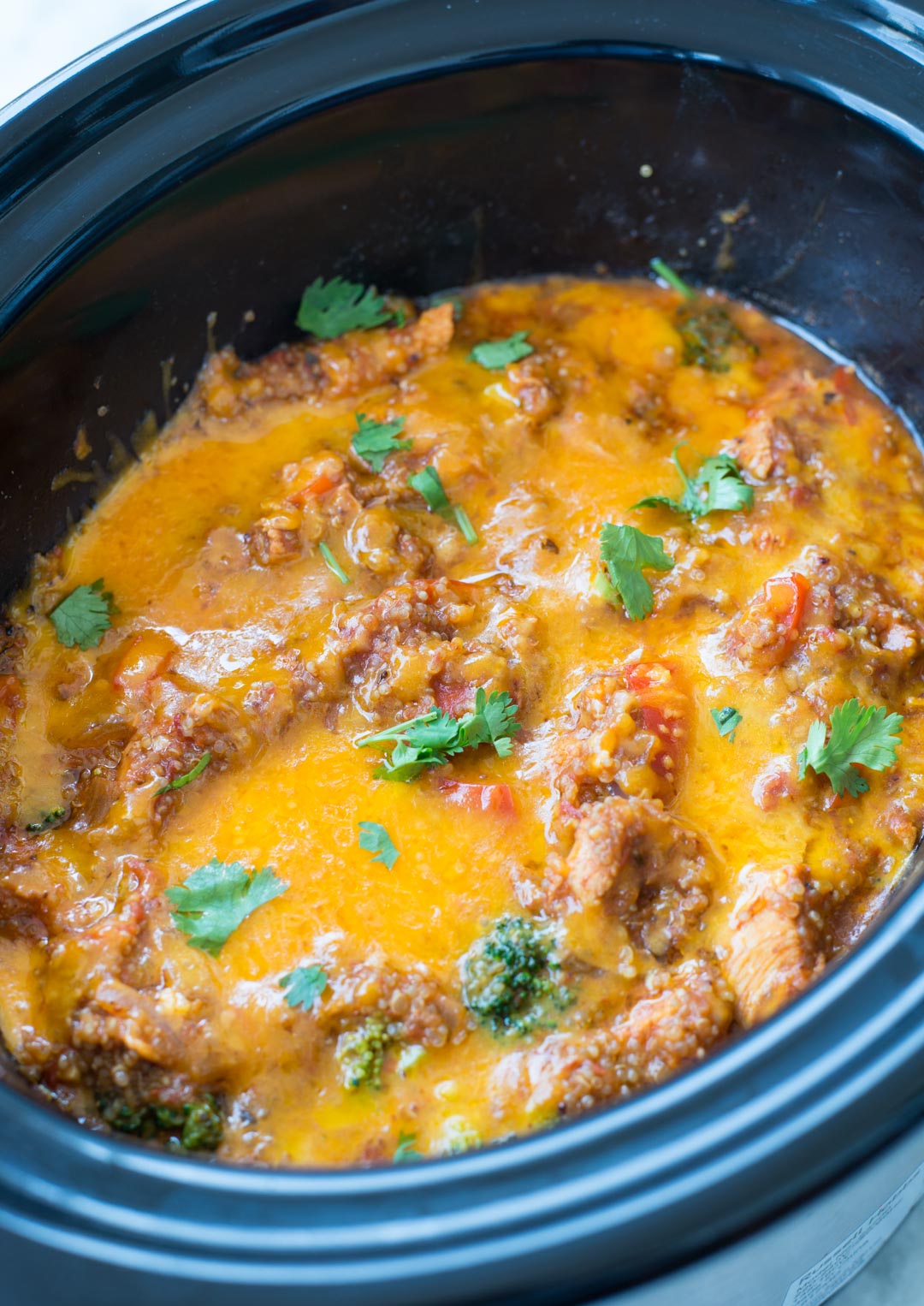 How to make in a slow cooker
This recipe is like any other slow cooker recipe, where you dump everything and let it cook slowly.
Prep
Cook quinoa in the method outlined in the previous section. Before cooking the boneless chicken breast, season the breasts by sprinkling salt and pepper and giving it a rub.
On a hot pan on medium-high heat, heat a teaspoon of oil (regular cooking oil is ok) and then add the breasts. Let it cook for 4 minutes until you see the bottom getting white in color. Flip and do the same for the other side. It should take another 2-3 minutes. The breast should be almost cooked by this time, and the rest will be done in the slow cooker.
Chop the cooked chicken breasts and veggies like broccoli into small bite-sized pieces, i.e., roughly 1 inch. Puree the tomatoes to a smooth texture.
Saute aromatics
To maximize the flavors, I used a pan to saute Onion and Garlic in a bit of Olive oil until fragrant and then added it to the Slow cooker.
Add to the slow cooker
Add the quinoa, chopped bell pepper, tomato puree, breast chunks, chicken stock, sauteed onion and garlic, salt, and pepper to the slow cooker. Stir and mix everything well.
Cover and let it cook for 6 hours on medium or 8 hours on low.
Add broccoli and cheese
Half an hour before you finish, open the lid and add the broccoli and half of the cheese. Mix everything well. Sprinkle the rest of the cheese on top.
Cover the lid and cook for 30 minutes or until the cheese melts, whichever is earlier.
How to make – on a stovetop
This recipe can easily be converted to the Stovetop method. Take a heavy bottom pot to avoid sticking or burning. You might need a half cup of extra stock because of the high evaporation on the stovetop.
Start with sauteing onion and garlic in Olive Oil. Then add Quinoa, Chicken, Red Bell pepper, Tomatoes, Taco Seasoning, Salt, and pepper. Let it cook on medium heat until the quinoa is cooked through.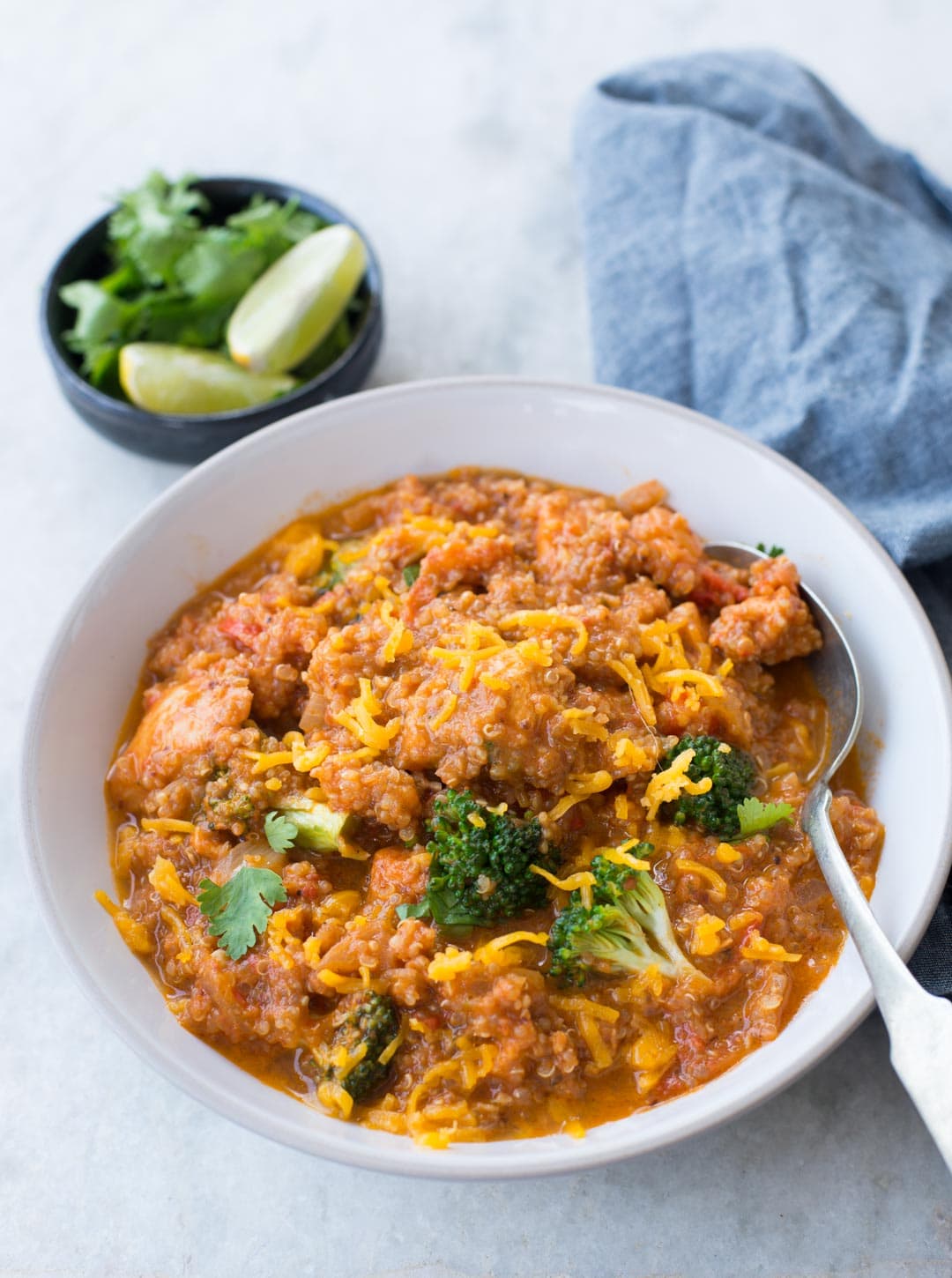 Storage instructions
Follow the below guidelines to preserve the quality and taste while storing the casserole. Allow the casserole to cool down completely before you store it.
Refrigerate – Cover it with plastic wrap or shift it to an air-tight container and store it in the refrigerator for up to 4 days.
Freezer – You can wrap the cooled casserole with plastic wrap or aluminum foil or use freezer bags. You can leave it in the freezer for 2-3 months. You must thaw the frozen casserole overnight in the refrigerator before reheating.
Preheat – preheat the oven to 350°F (175°C). Cover the casserole dish with foil and place it in the oven. Heat it for 30 minutes until you see the cheese bubbling on top. You may also reheat it in a microwave for 2 minutes.
Serve with
This casserole dish made with chicken, broccoli and quinoa, and oodles of cheese is fulfilling on its own. Some ideas to balance the dish are: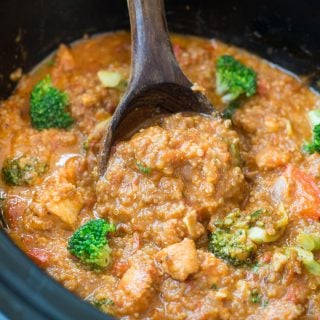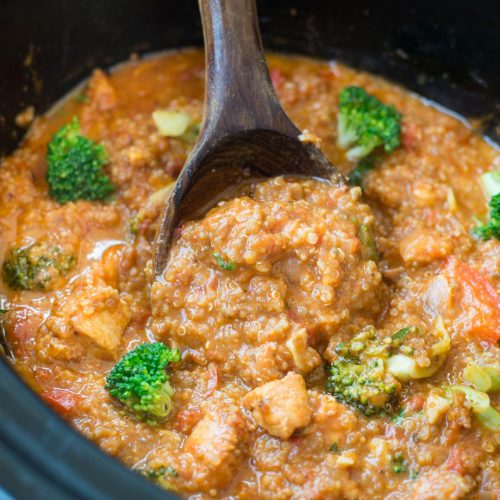 Quinoa Chicken Broccoli Casserole
Quinoa Chicken Broccoli Casserole is an incredibly healthy meal that the whole family would love. Quinoa, Chicken, Broccoli topped with cheese cooked slowly in a slow cooker.
Ingredients
1.5 cup Quinoa
1 pound Boneless Chicken Breast cut into bite-sized pieces
1 Red Bell Pepper chopped
1 28 Oz crushed tomato
1 Medium Onion chopped
1 Tablespoon Garlic Minced
1 Tablespoon Olive Oil (See note)
3 Tablespoon Taco Seasoning
2 Cups Chicken Stock
2 Cups Broccoli Cut in to florets
1 Cup Cheddar Cheese More for serving
Salt and Pepper to taste
Fresh Cilantro Leaves
Instructions
Start with Sauteeing Chopped Onion and Garlic in Olive Oil in a Pan until fragrant.

Add Quinoa, Chicken, Red Bell Pepper, Tomatoes, Sauteed Onion and garlic, Taco Seasoning, Salt, Pepper to the Slow Cooker.

Pour in Chicken Stock. Mix everything well. Cover and cook on high for 4-5 hours or on low for 8 hours.

30 minutes before the finishing time, add Broccoli and half of the Cheese to the Slow cooker. Mix Well.

Sprinkle rest of the cheese on top and Let it cook on high for another 30 minutes or until the cheese melts.

Garnish with fresh Coriander leaves and Sprinkle more cheese while serving.
Notes
If you don't want to Sautee Onion and garlic in Olive oil, then add chopped Onion and Garlic directly to the Slow Cooker. No need of adding Olive Oil to it. 
Nutrition
Serving: 200g | Calories: 592kcal | Carbohydrates: 54g | Protein: 45g | Fat: 21g | Saturated Fat: 7g | Cholesterol: 105mg | Sodium: 600mg | Potassium: 1177mg | Fiber: 6g | Sugar: 5g | Vitamin A: 1650IU | Vitamin C: 83.4mg | Calcium: 274mg | Iron: 4.4mg
'PIN IT FOR LATER'