Chicken Broccoli Stir Fry
This post may include affiliate links that earn us a small commission.
This take-out style Chicken Broccoli Stir Fry in a savory Asian sauce is an easy 30-minute recipe, worth adding to your weekday dinner menu. Learn how to make this easy stir fry with juicy chicken, crispy broccoli and a killer stir fry sauce.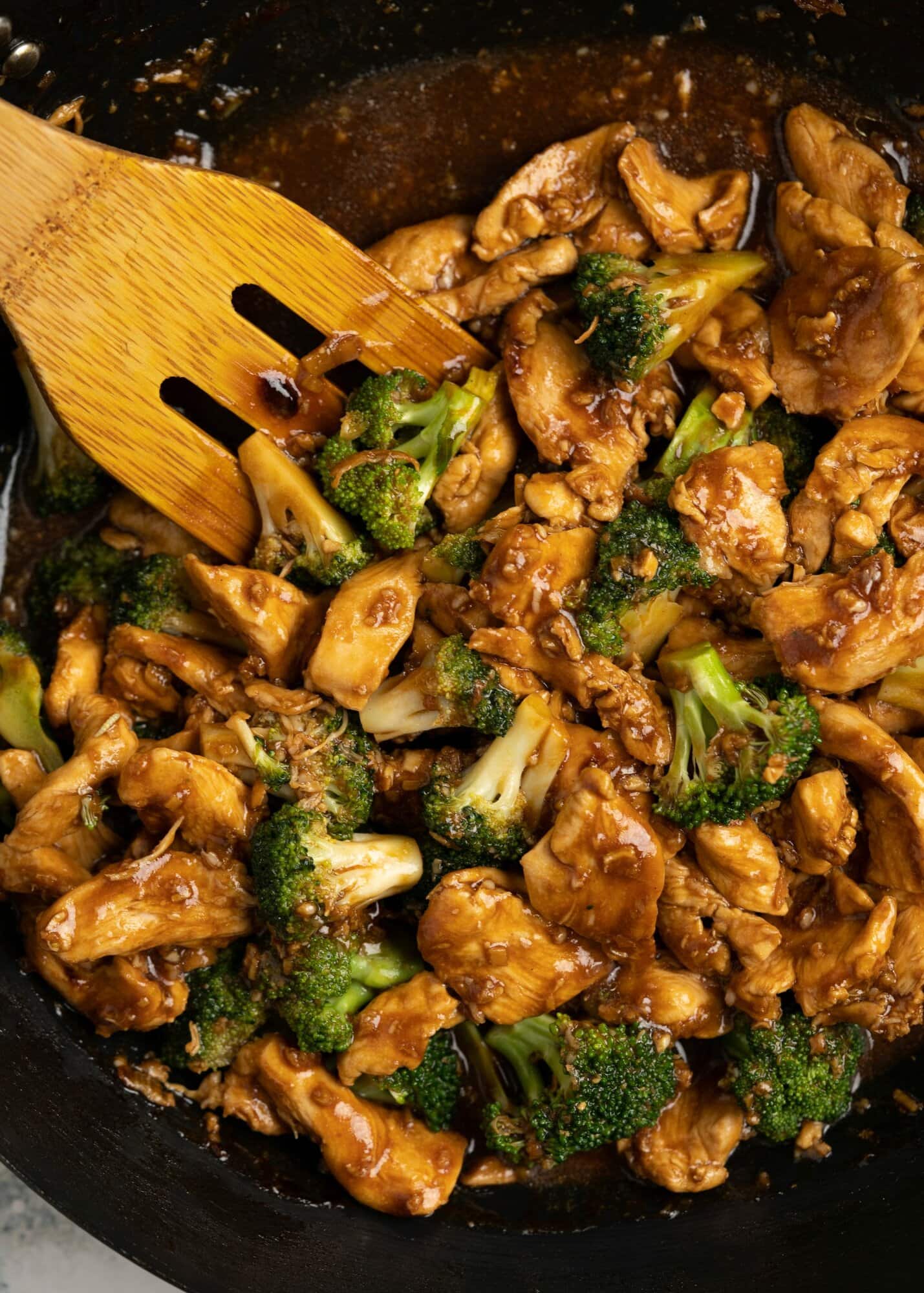 Take-out style Chicken broccoli stir fry made at home is always a healthier option. You will get to use fresh good quality ingredients and can pull off the dish in under 30 minutes. So a perfect recipe for busy days or if you are planning meal prep.
Flavours In Your Inbox
Subscribe for recipes straight to your inbox
I love recipes where you can pair protein and veggies together. It makes the dish wholesome. Especially when you are making for your family, you gotta be sure it is nutritious. This chicken stir fry tastes as good as the one you get in Chinese restaurants. Juicy chicken breast, crispy bright broccoli, and the delicious brown sauce is loaded with aromatics like ginger and garlic. There is enough sauce to pour over the rice.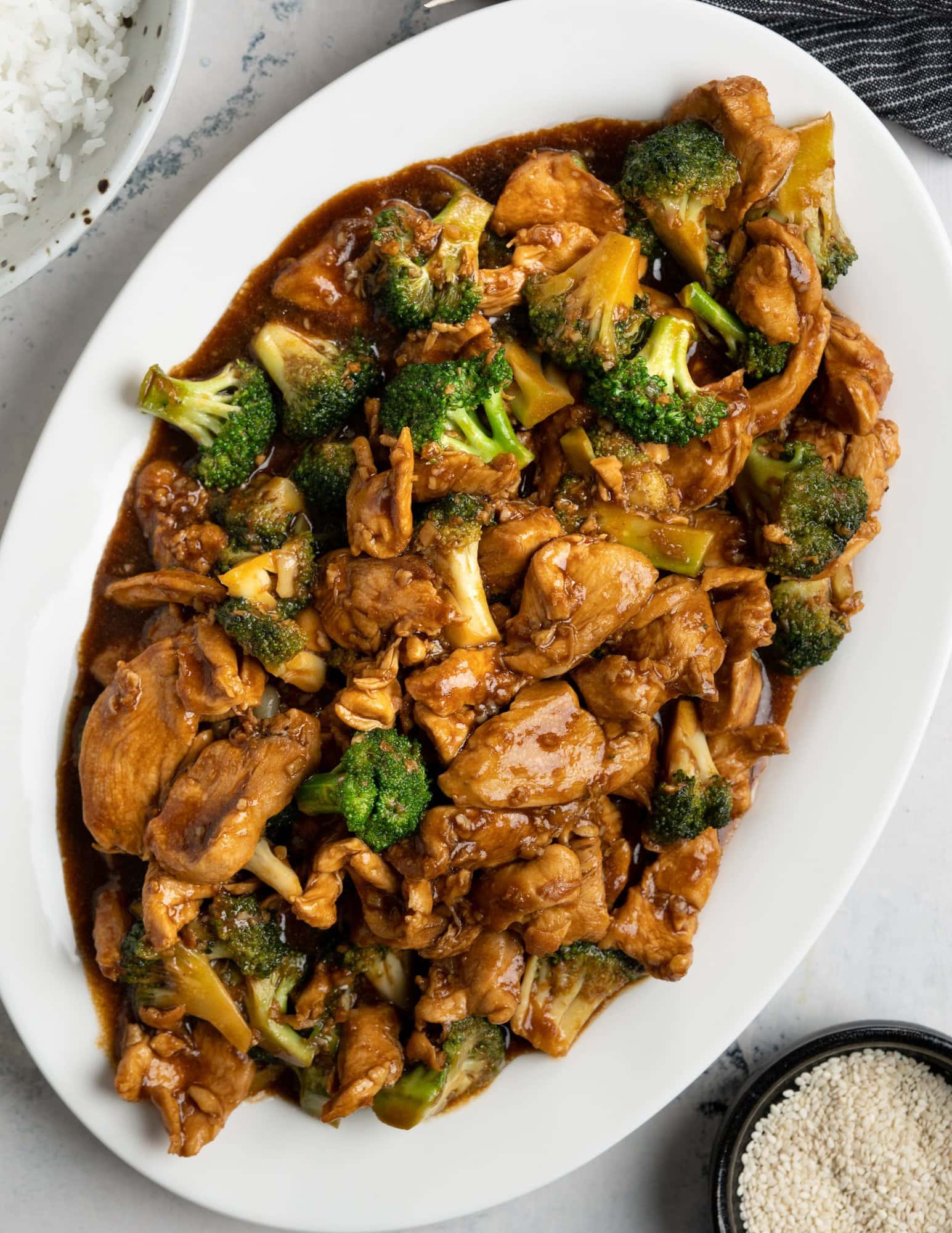 Ingredients you need for Chicken Broccoli Stir Fry
Chicken– I have used Boneless chicken breast. Cut chicken breast into thin slices against the grains. We are then going to tenderize the chicken pieces so that it stays juicy and moist instead of turning dry. You can also use chicken thighs instead.
Broccoli– Crispy crunchy broccoli pairs well with chicken and the sauce. The broccoli needs to be green, fresh, and firm. The florets need to be compact. To check the freshness of the broccoli, see the bottom of the stem/stalk. It needs to be white and firm to the touch. Broccoli is not fresh if the bottom of the stalk is yellow or soft to the touch.
You can also use red bell peppers, zucchini, mushroom, and snap peas.
Ginger & Garlic – Wish I could say you can substitute with garlic and ginger powder but fresh ginger garlic is a must for stir-fries. Use a garlic press to mince garlic. Use a spoon to clean the ginger and then a grater to grate the ginger.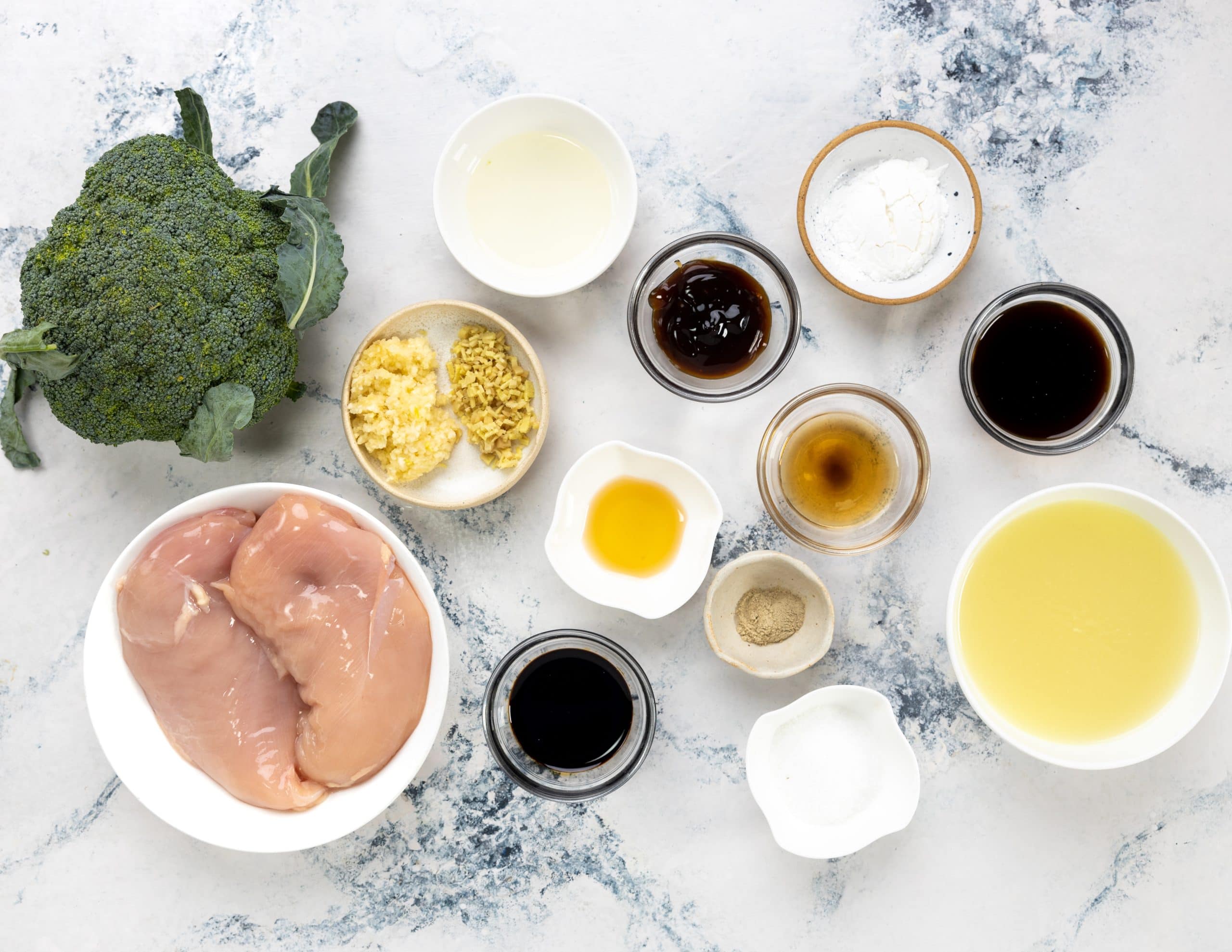 For Stir fry Sauce-
Soy Sauce– Good quality low-sodium soy sauce. If using regular soy sauce, then reduce the quantity at the beginning. Taste and add more if required towards the end.
Dark soy sauce – Dark soy sauce is deep in color with a sweeter taste and is less salty. I like to use dark soy sauce to give the dish a deep brown color. Use regular soy sauce instead.
Oyster Sauce– Gives a rich umami to the stir fry.
Shaoxing wine – If you are regularly into cooking Chinese recipes, it is worth buying a bottle of Shaoxing wine. It works like dry white wine in pasta dishes. Gives a depth of flavor to the dish.
Chicken Stock – Try using low-sodium chicken stock to control the overall saltiness of the dish. All the sauces mentioned above are salty enough. If you don't have low-sodium chicken stock in hand, then use diluted stock instead.
Cornflour – To thicken the sauce.
Key to a great Stir fry
Stir fry means frying rapidly over high heat while stirring briskly(wiki). Ideally, you use a carbon steel wok for the stir fries. It is worth investing in a wok, else use a large skillet so that you can toss easily without overcrowding the pan. Overcrowded pan results in steaming of the veggies and they will lose their crispiness.
'mise en place' is the key to a good stir fry. This french origin word means 'put in place'. So before you even start the cooking, gather all the ingredients, prep, and keep everything measured and ready. Stir fry happens really quickly. The idea is to cook everything on high heat.
Before you start heating the skillet keep the stir-fry sauce ready. Marinate chicken, blanch broccoli, and mince ginger garlic. Keep everything handy near the kitchen counter then start heating the wok/ skillet.
Steps to make Chicken Broccoli Stir Fry
Chicken broccoli stir fry is easy and quick to make. Here is the step-by-step instruction with photos of the process.
Start with cutting chicken breast against the grain into thin slices. In stir-fries, especially when using chicken breast, chicken needs to be tenderized. Marinating chicken with oil and cornflour tenderizes the chicken and keeps it super juicy even after cooking. Even 15-20 minutes of resting time is enough.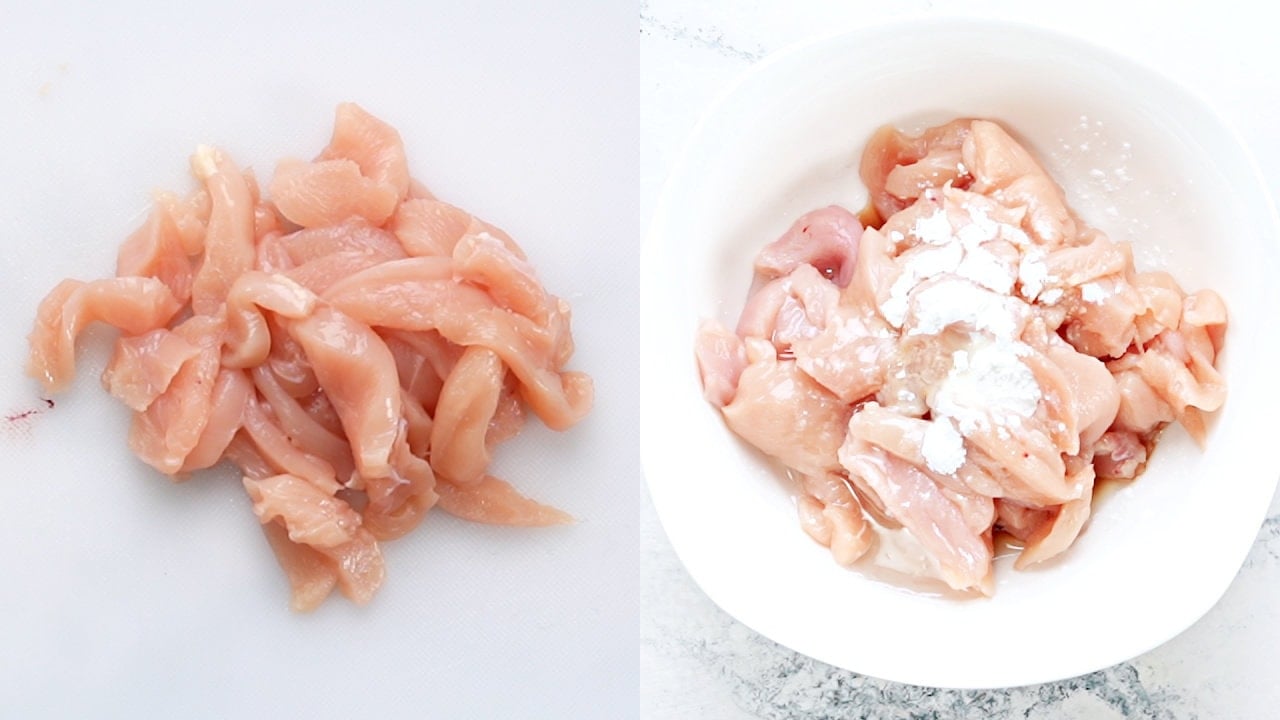 Cooking broccoli before stir fry? I prefer to blanch broccoli first, it hardly takes 1 minute. The best and easiest way to blanch broccoli is to dip a whole head of broccoli in a bowl of hot water and rest it for 1 minute. Put it in a bowl of ice-cold water. Drain well and cut into florets.
Heat a wok really well. Lightly coat the pan with oil. Sear chicken and remove. After sauteing ginger and garlic, add the sauce and bring it to a boil. Cooking the sauce along with aromatic makes the sauce flavourful. I prefer cooking down the sauce before adding chicken.
Last step is to add cooked chicken and broccoli florets. Also add the cornflour Slury. Toss everything on high heat for 1-2 minutes. The sauce will thicken and coat chicken well.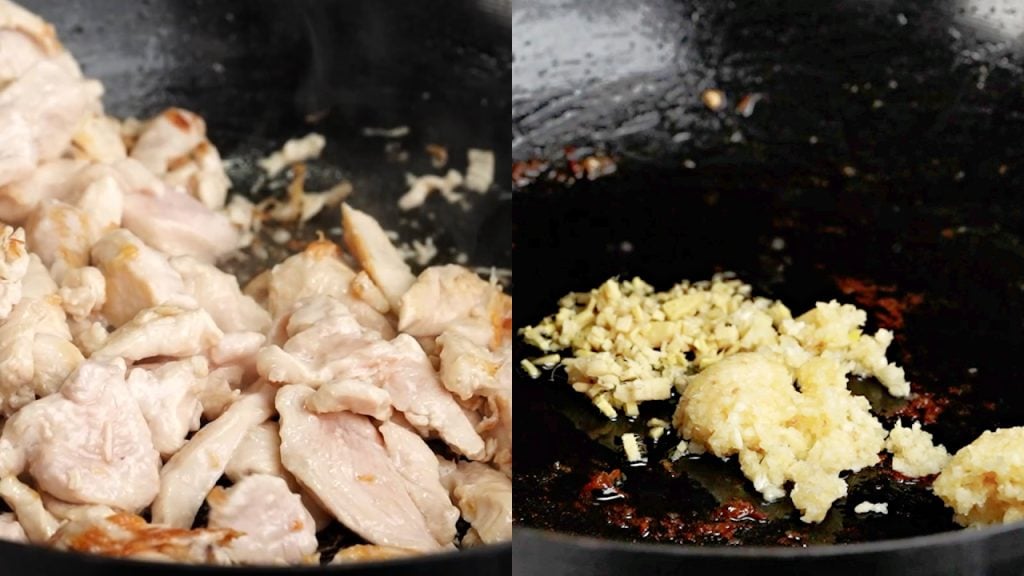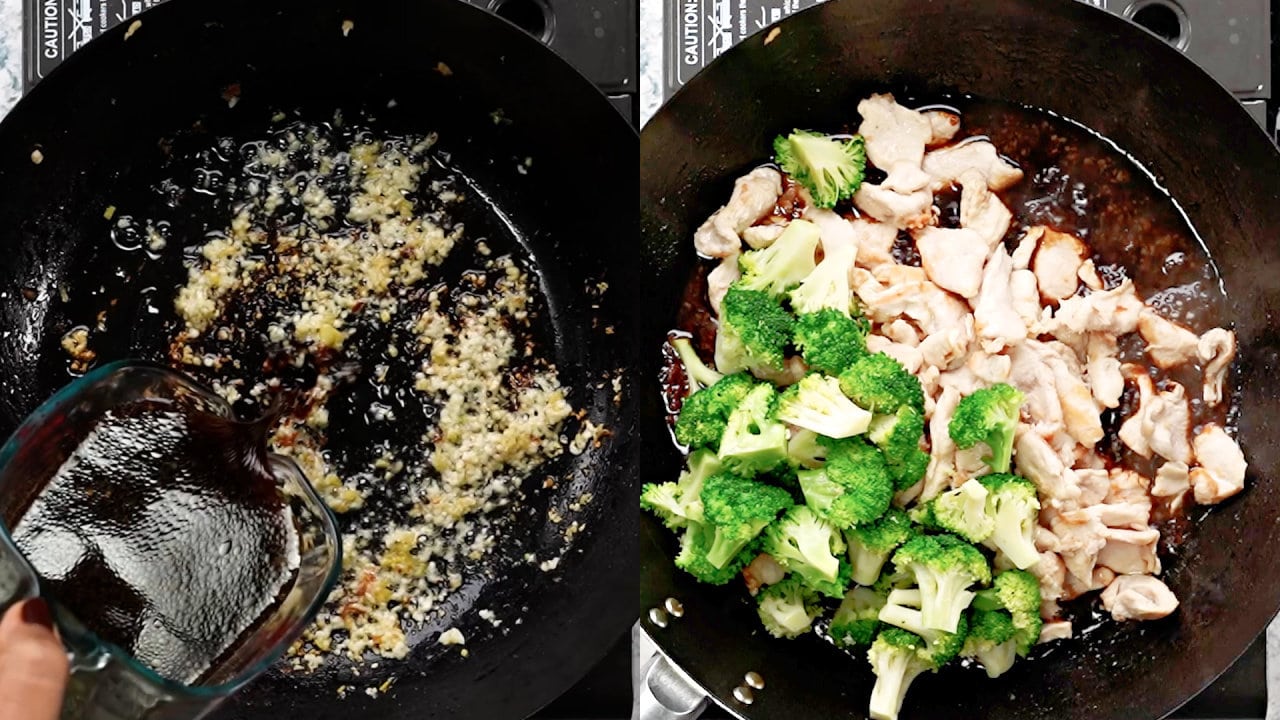 Storing leftovers
Stir fry leftovers store well in the refrigirator for 2-3 days. The veggies might loose its crunch in the process of refrigirating and reheating. Reheat in a microwave until its warm enough.
Chicken broccoli stir fry also works great in meal-prep. Choose meal-prep glass containers with divider, so that the sauce dosent get mixed with rest. Pair it with white/brown rice or noodles. Sprinkle with seasme seeds and green onion.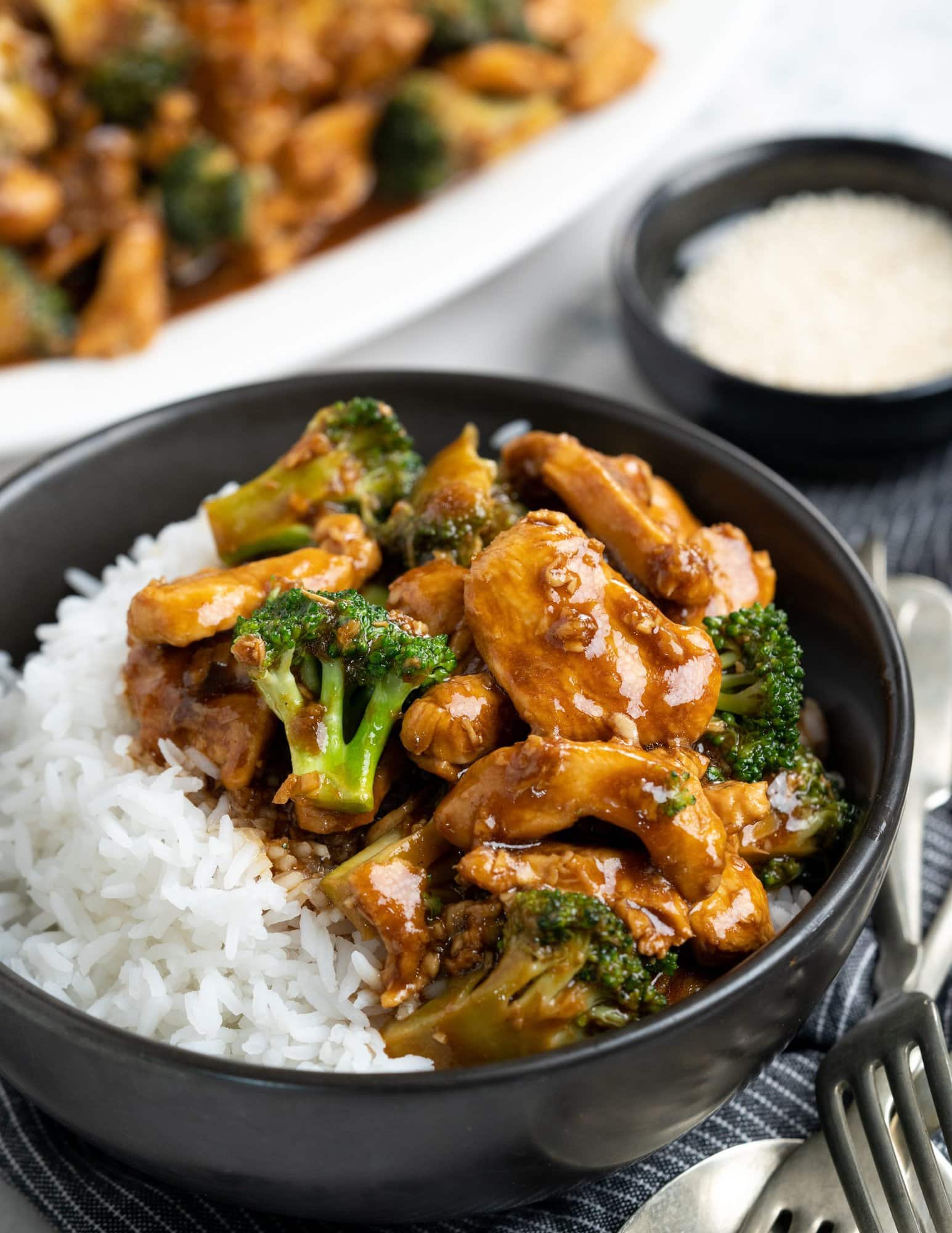 More Quick Chicken recipes
Crispy Italian Chicken Cutlets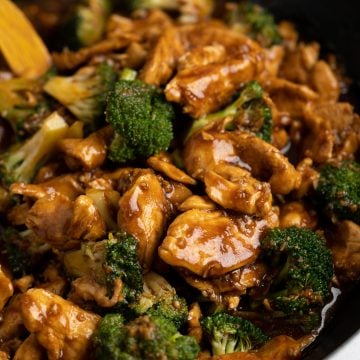 Chicken broccoli stir fry
Chicken and broccoli stir fry in an umami packed brown sauce is easy and quick to make. Learn the trick to tenderize the chicken for the stir fries. Also a hack to blanch broccoli quickly.
Ingredients
Chicken marination
500 grams chicken breast
1 tablespoon Shaoxing wine
1 teaspoon soy sauce
1 tablespoon oil
2 teaspoon cornstarch
Stir fry sauce
¾ cup chicken stock
1 tablespoon dark soy sauce
3 tablespoons light soy sauce
1 tablespoon oyster sauce
1 tablespoon Shaoxing wine
2 teaspoons toasted sesame oil
1 tablespoon sugar
1 tablespoon Cornstarch mixed with 2 tablespoon water
1 teaspoon ground white pepper
Stir fry
2 tablespoon garlic minced
1 tablespoon minced fresh ginger thumb-size piece of ginger
2 tbsp oil
Instructions
Mix all the sauce ingredients in a jar.

Blanch broccoli florets in hot water for one minute followed by an ice bath.

Slice boneless chicken breast into thin flat strips ( against the grain).

Marinate chicken pieces with soy sauce, Shaoxing wine, Oil, and Cornstarch. Let it rest for 15 minutes.

Heat 1 tablespoon oil to a wok or a large pan(make sure the bottom of the pan is coated with oil). Add marinated chicken to the wok/skillet in a single layer. Cook on medium-high heat undisturbed for a minutes. Flip and cook for another minute on high heat. The chicken should be slightly browned here and there. Remove from skillet.

To the same pan, add rest of the oil. Add minced ginger and garlic. Saute for 30 seconds.

Add prepared sauce to the wok. Let it come to a boil. Cook for 1-2 minutes on medium until the sauce has reduced a little.

To the wok add back cooked chicken and broccoli florets. Toss once.

Add cornflour slurry to the wok. Mix everything well and simmer for a minute for the sauce to thicken. (longer for thick sauce).

Serve with rice/noodles.
Nutrition
Serving: 1serving | Calories: 316kcal | Carbohydrates: 9g | Protein: 30g | Fat: 16g | Saturated Fat: 2g | Polyunsaturated Fat: 4g | Monounsaturated Fat: 9g | Trans Fat: 0.1g | Cholesterol: 81mg | Sodium: 1422mg | Potassium: 572mg | Fiber: 0.4g | Sugar: 4g | Vitamin A: 39IU | Vitamin C: 3mg | Calcium: 22mg | Iron: 1mg