Thai Cashew Chicken Stir Fry
This post may include affiliate links that earn us a small commission.
Thai Cashew Chicken Stir Fry – super quick Chicken Stir fry recipe is packed with thai flavors with the added crunch of perfectly roasted Cashews. You can either serve it as an appetizer or with rice/noodles for a complete meal.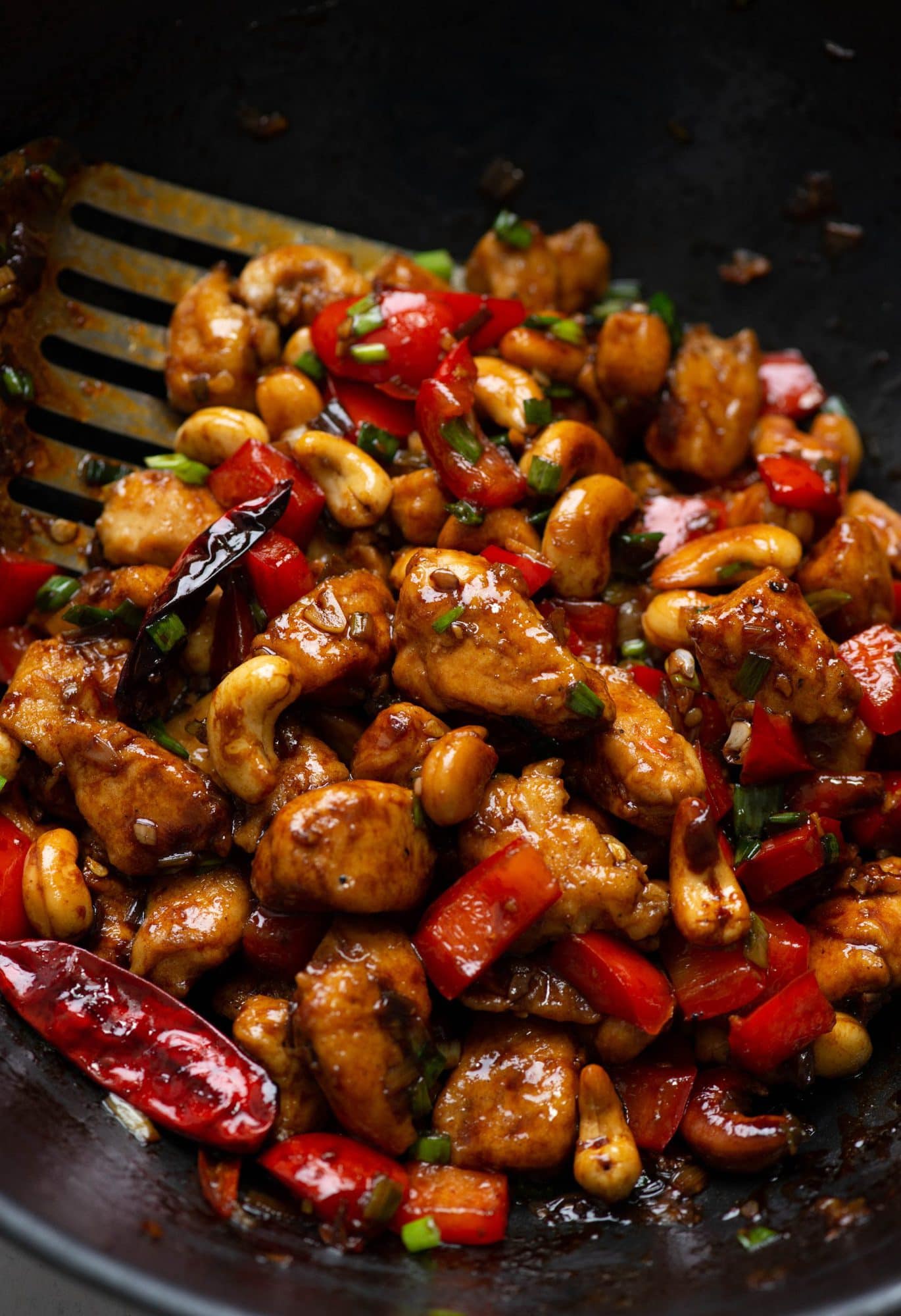 This Thai Cashew Stir fry is a classic take-out style dish, just like Chinese Cashew Chicken but with bold Thai flavors. Juicy chicken pieces coated in a salty, spicy umami-rich sauce, crunchy roasted cashew, peppers, and then there is enough heat from red chili peppers.
Asian stir-fries are always a hit at home. It is also one of the best ways to pair protein and veggies in a single dish. I always end up making a stir fry when I want to use up leftover bits and pieces of veggies. This Thai Cashew Chicken Stir fry recipe is one such recipe.
Stir fry recipes are popular and there are many variations of them with different ingredients. If you like shrimp, I have a sweeter version with Sweet Chili Shrimp Stir Fry, and a meal prep option like Vegetable shrimp stir fry (Meal Prep). There are versions with chicken as the main ingredient- Chicken And Green Beans Stir Fry, and Quick chicken cabbage stir fry. There is a very popular all-veggie version and a reader's favorite – Zucchini Stir Fry.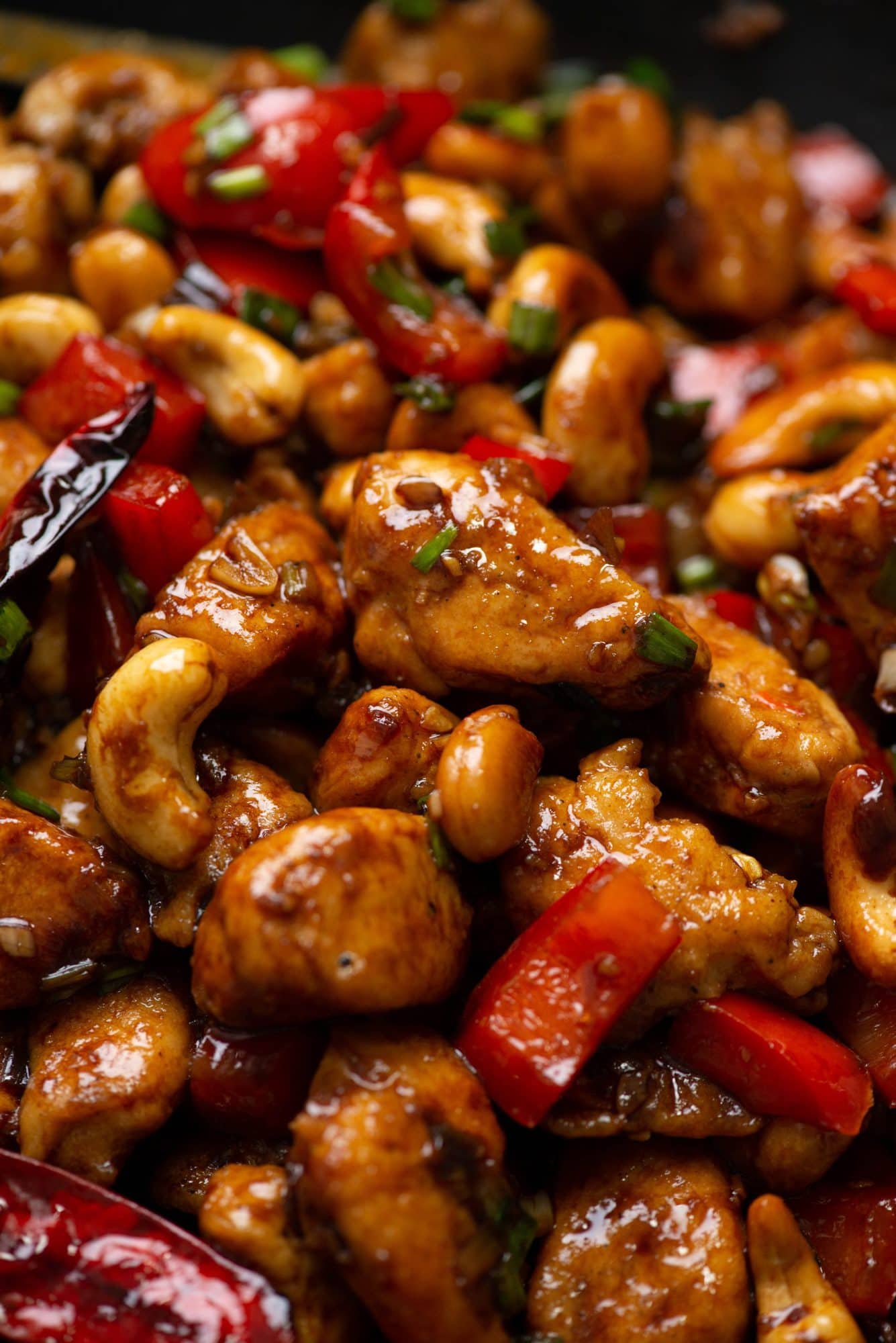 Ingredients you need
Like most Asian-style stir-fry recipes, you need a few commonly used sauces.
Chicken – Chicken breast or Chicken Thighs cut into bite-size pieces. Using boneless chicken breast, you must work with it carefully and avoid overcooking.
Cornstarch- To coat chicken. You can also use all-purpose flour.
Cashew – Good quality Whole Raw Cashews. You can also use Roasted Cashews but it needs to be unsalted.
Red bell pepper – Use assorted colored peppers if you wish.
Green Onions– Cut and keep the white and green parts separate.
Garlic – minced
Dry red chilies and bird's eye chilies– Dry red chilies are for a smokey flavor, it is not for the heat as we are using it whole. Bird's eye chilies are for heat, but it is totally optional and you can skip it. For heat, you can also add a dash of sriracha.
Sauce for stir fry – Dark soy sauce, light soy sauce, Oyster sauce, fish sauce( it is not Thai if there is no Fish sauce in it).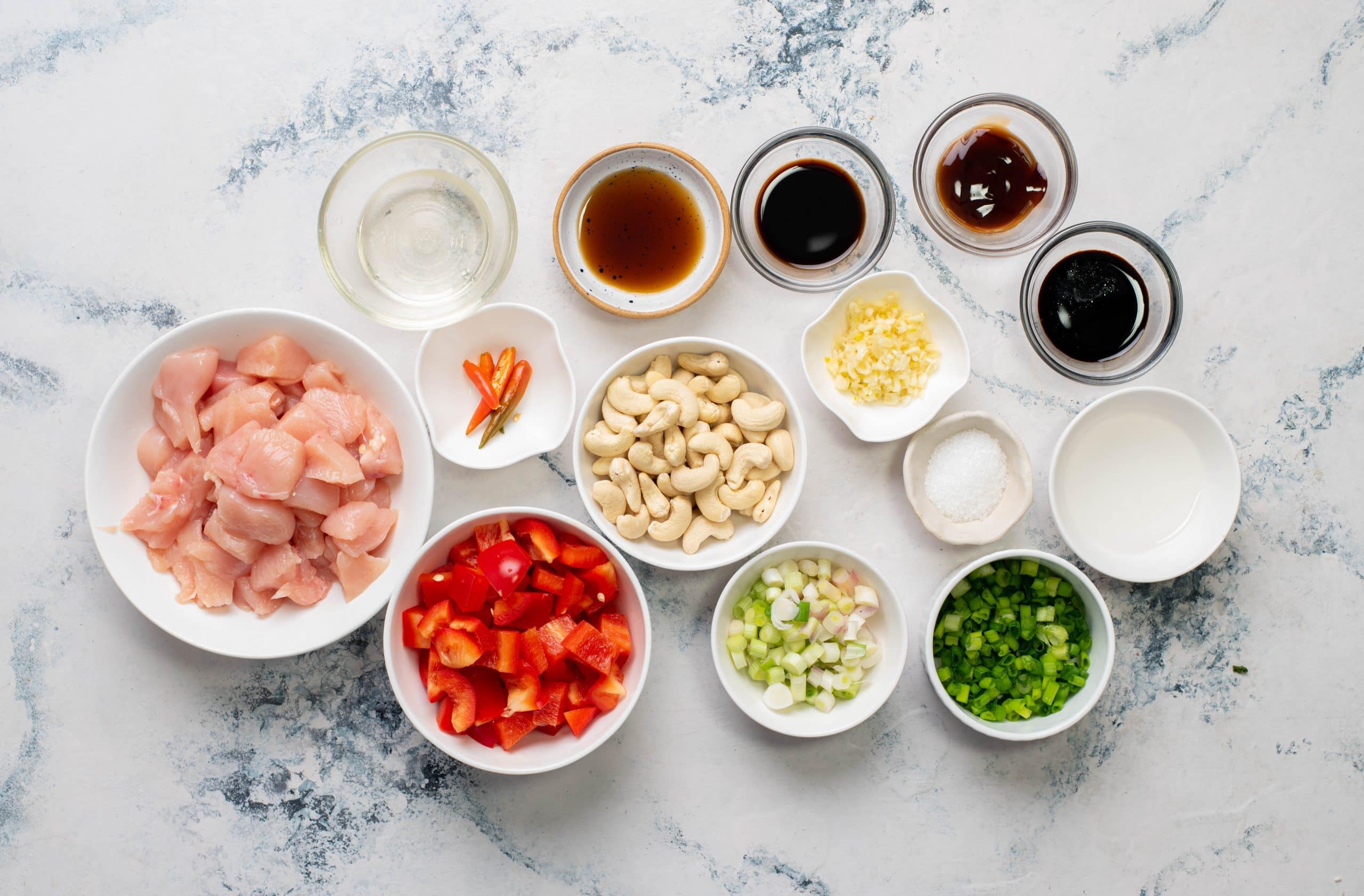 Steps to make Thai Chicken Stir Fry
It is important to keep all the ingredients measured and read because once you start cooking the recipe will move really fast.
Make the sauce – Mix all the sauce ingredients and keep them aside.
Coat Chicken- The next step is to coat the chicken well with cornstarch. Cornstarch-coated chicken makes it crispy and the sauce sticks well to the chicken.

Roast Cashew – If using raw cashew (which I highly recommend), roast it in oil. Keep stirring the cashew for even browning. Watch towards the end, or else they will overcook in no time. What we are looking for is nicely golden brown cashews with a nutty aroma. If using already roasted cashews, then fry it for a minute or so until it smells nutty.
Cook Chicken – Cook chicken in the same pan in reaming oil. Cook undisturbed for 2 minutes, then flip and cook for another 1 minute or so. Separate any chicken pieces stuck together so that they cook evenly from all the sides.

Making stir fry – Now that the cashews are roasted and the chicken is cooked, next, we will cook the aromatic. Cook ginger, garlic, chilies, and white part of the green onion until aromatic. Quickly cook the red peppers.
The last step is to add the chicken, cashews, and sauce. Toss everything well. Let the sauce thicken a bit and coat the chicken well. Top it with chopped green onion and mix.

Serving Suggestion For Thai Cashew Chicken
My favorite way to serve this is over-cooked rice such as Jasmine rice or White rice. You could also serve it over rice noodles.
Make ahead
For a quick and easy recipe like this stir fry, this is best served freshly made and hot. If you are short of time and would like to prep this earlier, the chopping and sauces can be made ahead and kept aside. The sauces just need to be mixed. Yes, that's how simple it is. You can refrigerate them for weeks.
Storing Leftovers
To refrigerate
This Thai cashew chicken is best served fresh. However, leftovers will last in the refrigerator for up to 3 days. You can microwave for 1-2 minutes before serving.
Freeze
You can freeze this by storing it in an airtight container or freezer bag, once it has fully cooled. Store it in the freezer for up to 2 months. To thaw, take it out of the freezer the night before and place it in the refrigerator. The next day when ready to serve, either heat it up in the microwave and add it to a skillet or wok and stir-fry until heated through.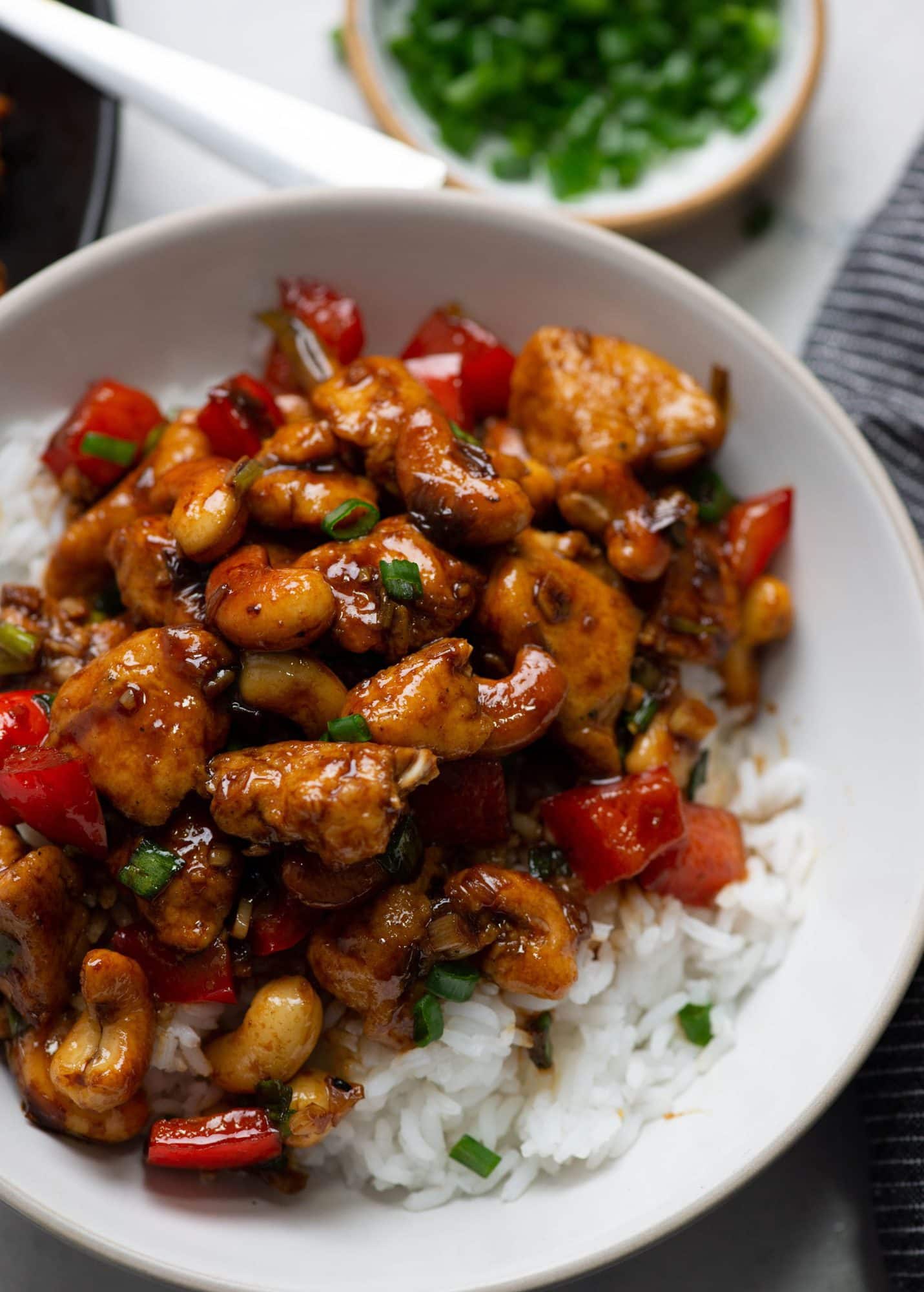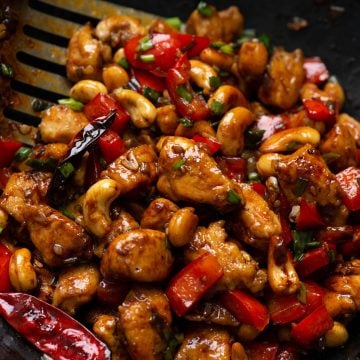 Thai Cashew Chicken Stir Fry
This is a super quick Chicken Stir fry recipe with the added crunch of perfectly roasted Cashews and packed with Thai flavours. You can either serve it as an appetizer or with rice/noodles for a complete meal.
Ingredients
2 medium boneless chicken breast (about 250 – 300 grams of chicken)
1.5 tablespoon Cornflour / Cornstarch
¼ teaspoon pepper
3 tablespoon Oil
2 dry red chilli
½ tablespoon minced Garlic
2 Green onion (white and green part separated, chopped)
2 bird eye chillies (optional)
1 red bell pepper cubed
150 grams Raw whole Cashew
For Stir fry Sauce
1 teaspoon light soy sauce
1 teaspoon Dark Soy sauce
1 teaspoon Oyster Sauce
1 tablespoon Fish Sauce
2 teaspoon Sugar
2 tablespoons Water
Instructions
To make the sauce, mix all the ingredients and keep it aside.

In a wok heat 2 tablespoons of Oil. Add cashews and cook for 3-4 minutes. Keep stirring continuously for even browning (Keep a close eye towards the end, else the cashews will burn in no time and will taste bitter).

Using a slotted spoon, remove cashew from the wok draining excess oil. Keep the cashews aside.

Cut chicken breast to bite-size pieces. Sprinkle cornstarch and pepper. Toss to coat chicken well.

Add coated chicken breast to the same hot wok (there would be remaining oil after frying cashews).

Separate any chicken pieces stuck together and cook on high heat for 2 minutes. Flip and cook for another minute. Using a slotted spoon remove the chicken pieces. Then chicken needs to be just cooked through. (It will get cooked further along with the sacue later)

Add the remaining 1 tablespoon oil. Add dry red chilli, chopped garlic, birds eye chilli (if using) , white parts of the green onion. Saute on high heat for 30 seconds, until the garlic is aromatic.

Add red pepper. Saute for another 30 seconds.

Add cooked chicken, roasted cashew and stir fry sauce. Toss everything well and cook for about 1 minute until the sacue has thickened and coats the chicken well.

Switch off the flame and stir in the green onion.

Serve with rice/noodles or as an appetizer.
Notes
Try using raw cashew and fry it in the oil. If using roasted cashew instead, then make sure they are not salted. 
You can also use a small stalk of lemongrass slightly crushed. Remove it while serving. 
Fish sauce though has a funky smell, once added to the dish, it elevates the flavours to another level. So, don't skip it. 
Instead of light and dark soy sauce, you can use all-purpose soy sauce. Though there will be a slight change in colour and flavour. 
The sauces have enough salt in them, so no need of adding extra salt. 
Nutrition
Serving: 1serving | Calories: 461kcal | Carbohydrates: 18g | Protein: 32g | Fat: 30g | Saturated Fat: 4g | Polyunsaturated Fat: 6g | Monounsaturated Fat: 16g | Trans Fat: 1g | Cholesterol: 72mg | Sodium: 700mg | Potassium: 771mg | Fiber: 2g | Sugar: 6g | Vitamin A: 1027IU | Vitamin C: 41mg | Calcium: 32mg | Iron: 3mg
Flavours In Your Inbox
Subscribe for recipes straight to your inbox