Chicken in Garlic Sauce Chinese
This post may include affiliate links that earn us a small commission.
Chinese garlic chicken is a spicy, delicious stir fry made of chicken and a delicious sauce that's dark in color and flavored with the heady fragrance of garlic. Serve it over rice or noodles for an Asian night special.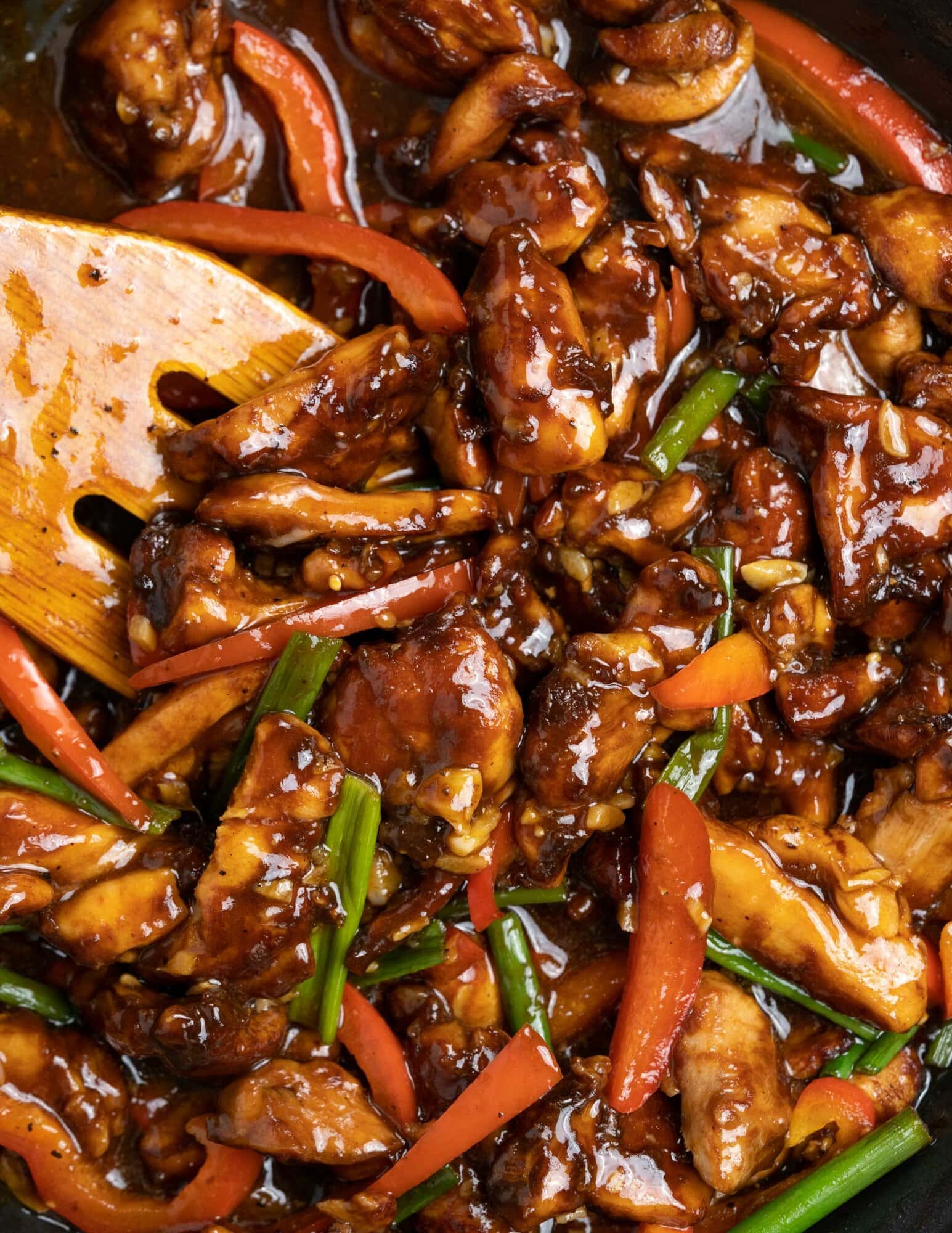 Chicken cooked with this Chinese garlic sauce is a blend of flavors: sweet, spicy, tangy, and savory. It is a quick and easy recipe in a wok or pan. The magic lies with the copious amounts of garlic and the delicious sauce. You may check out my other garlic sauce Asian recipe – Crispy Tofu in Chinese Garlic Sauce.
Flavours In Your Inbox
Subscribe for recipes straight to your inbox
Chinese garlic chicken
Boneless chicken is fried to a crisp after marinating in the sauce. We have bell peppers, green onions, and chicken sauteed in sauce, ginger, and garlic.
This will be better than the Chinese takeout from your favorite restaurants, and the best part – you have made it at home using the freshest ingredients.
This stir-fried Chinese chicken dish has boneless chicken thighs, which I always prefer over breasts because it has more flavor. It also helps that the breast has to cook right and does not forgive overcooking. It becomes chewy and rubbery.
Chicken thighs are more forgiving to spend more time on the pan. Thigh pieces with bone have more flavor, but this stir fry works best with boneless bite-sized pieces.
This recipe is flexible; you may not have chicken and bell peppers. You can add mushrooms, which add a depth of flavor, and a few other vegetables like green beans, broccoli, or carrots.
Read some of the recipes that I have shared. You will know that garlic is my favorite aromatic. I love its intense flavor and aroma and believe it lifts any dish that can have it. It's been used for a thousand years and will continue to be used for a million more.
Raw garlic has a pungent smell, which changes to a sweet and savory flavor and aroma when cooked for a minute. Along with onions, it forms the base of many a sauce and gravy.
A few of my favorite garlic-flavored recipes are – Creamy Garlic Shrimp, Honey Garlic Chicken Thighs, Sesame Garlic Ramen Noodles, and Baked Honey Garlic Chicken Wings.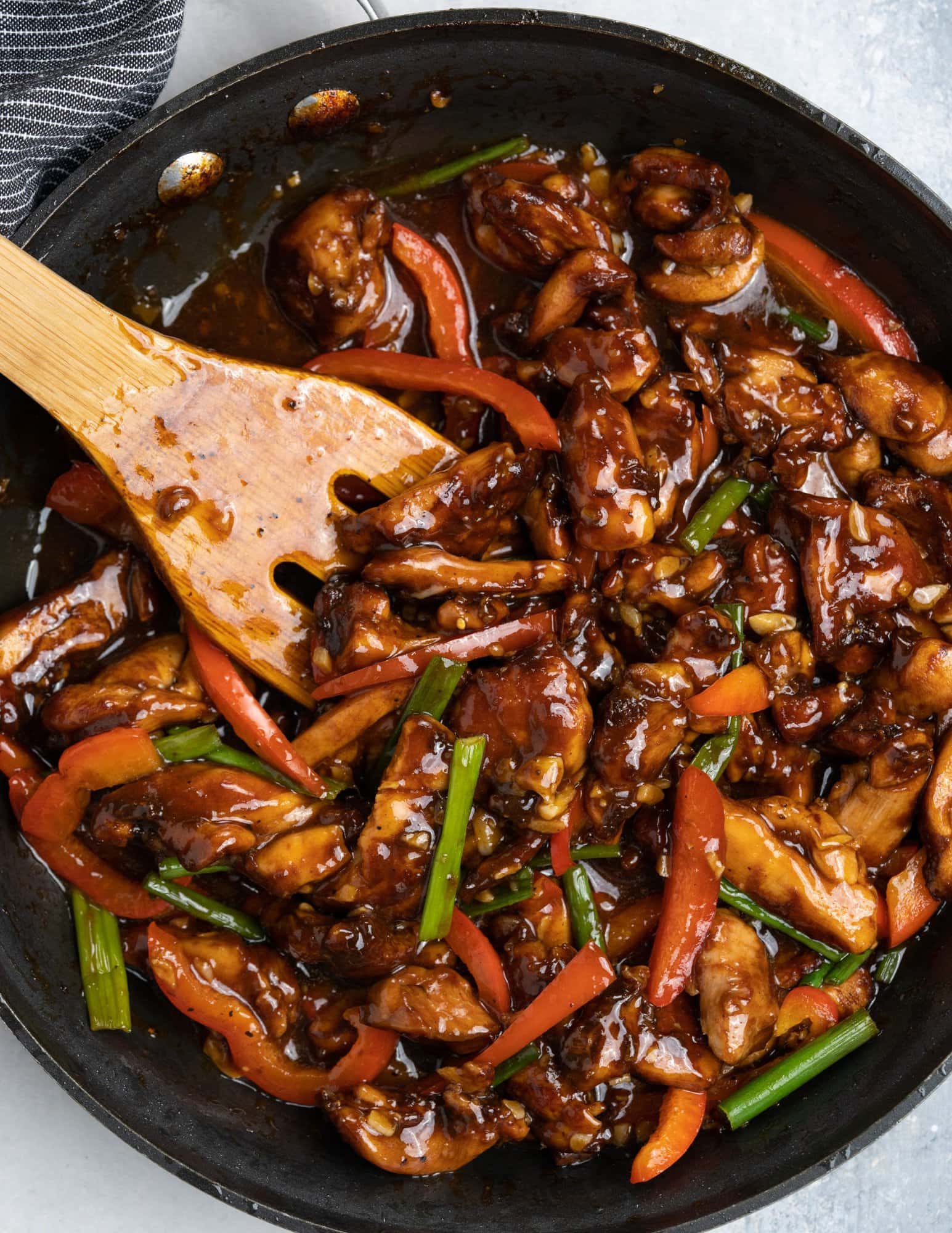 Chinese garlic sauce
Ironically, though you can taste garlic in the sauce, it is not used while preparing it. Garlic is used, in heavier amounts than in most dishes, while sauteing with ginger, and the sauce is then added to it. You get the flavor everywhere when the sauce and chicken are cooked with this copious amount of garlic.
But there is not just one flavor – garlic, in this garlic sauce. This dark sauce is a heady mix of flavors and is darker than most other sauces.
The dark color comes from the dark soy sauce used, which has a hint of sweetness and salt to bring out all the other flavors. We use brown sugar to add sweetness and flavor.
The hot sriracha sauce is a trick addition that provides heat and a tangy taste profile from the rice vinegar. Pepper is added for warmth, and cornstarch thickens the sauce.
You can substitute the dark soy sauce with an All-purpose or light soy sauce. Remember that light soy sauce can taste saltier, and you might need to increase the sugar to balance it. Dark soy sauce has more sodium, but the higher amount of soy negates the saltiness, which light soy sauce with less soy concentration does not.
A few recipes that run riots with flavor from delicious sauces are – Chicken Meatballs with Asian sauce, Baked Meatballs In Garlic Butter Sauce, Instant Pot Chicken In Creamy Tomato Sauce, and Baked Tilapia In Lemon Garlic Sauce.
The best part of making delicious sauces is that you can spoon the leftover sauce or mix some leftover rice with it and have it. A couple of sauce recipes bring different flavors to the table but are equally delicious – Schezwan sauce and Sweet Chili Pineapple Sauce (Video Recipe).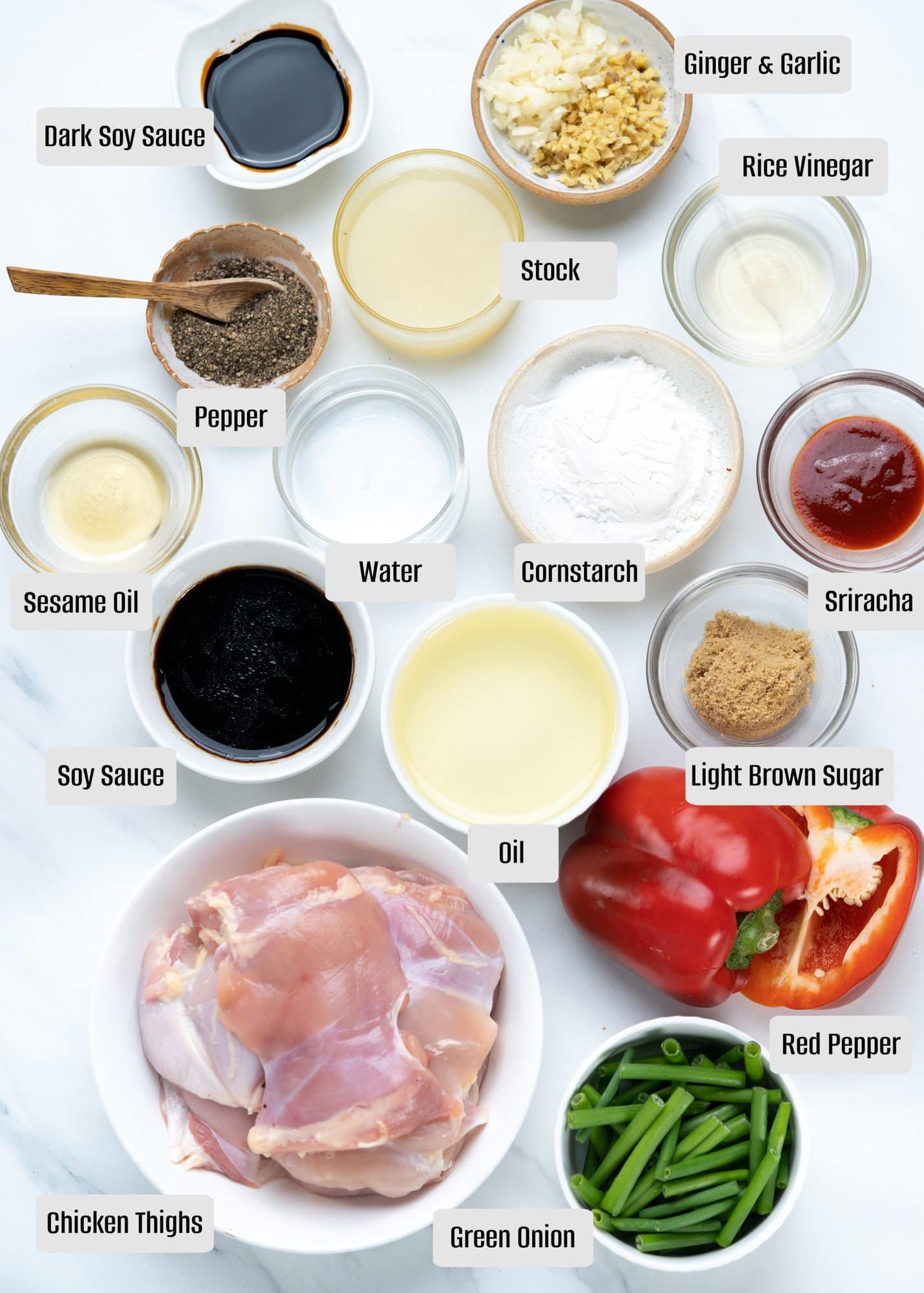 Ingredients
Boneless chicken thighs – This can be done with chicken breast, but chicken thighs have more flavor and are forgiving to overcooking. For stir-fry recipes, boneless chicken works best.
Cornstarch – the coating helps the chicken become crispy when fried.
Dark Soy sauce – Dark soy has a characteristic dark color that gives this dish its color.
Garlic – minced garlic is used in very generous amounts and provides the characteristic flavor when the sauce is cooked with it.
Ginger – another aromatic that is often sauteed with garlic.
Red bell pepper – sliced bell peppers are commonly used in an Asian stir fry for their crunch and taste.
Green onion – chopped green onions add a hint of freshness.
Oil – for frying the chicken. I have used neutral cooking oil.
For the Chinese garlic sauce
Dark soy sauce – provides saltiness and umami to the dish. Its dark soy sauce provides that dark color to the sauce.
Chicken broth – has many flavors and helps build the sauce's base.
Rice vinegar – also known as rice wine vinegar, adds a dry and tangy taste to the sauce.
Light brown sugar – for the tinge of sweetness to balance the saltiness from the soy sauce. You can substitute it with honey.
Sesame oil – is used for its flavor and fragrance in Asian dishes and is fine for high-heat cooking.
Sriracha – is a thick, spicy sauce made from chili peppers with a hint of garlic. It tastes spicy and sweet and adds a layer of flavor.
Water – to add volume to the sauce. It should be enough to coat the chicken.
Pepper – a slight heat from black pepper.
How to make
The instructions here are simple. The cooking takes as little time as the prepping. Leave the chicken marinated in the sauce for at least 30 minutes for the best results.
Prepare the sauce
Combine all the ingredients for the sauce in a bowl and set aside.
Coat and cook the chicken
Cut the chicken into bite-sized pieces and place in a mixing bowl. Add dark soy sauce and cornstarch to the chicken. Toss everything well to coat the chicken pieces.
On a hot large skillet, heat oil on medium heat. Add the marinated chicken and cook for up to 3 minutes; flip and cook for another couple of minutes.
We need the chicken to get crispy from the cornstarch coating without overcrowding. If needed, cook the chicken in batches.
Cook aromatics
Drain the oil from the skillet, leaving only one tablespoon behind. Add minced garlic and ginger and saute them until they turn aromatic. It will take a minute.
Add the cooked chicken, sliced bell pepper, and chopped green onion. Pour the prepared sauce and toss well until the sauce coats everything.
Let it cook until the sauce thickens further. You are ready to serve.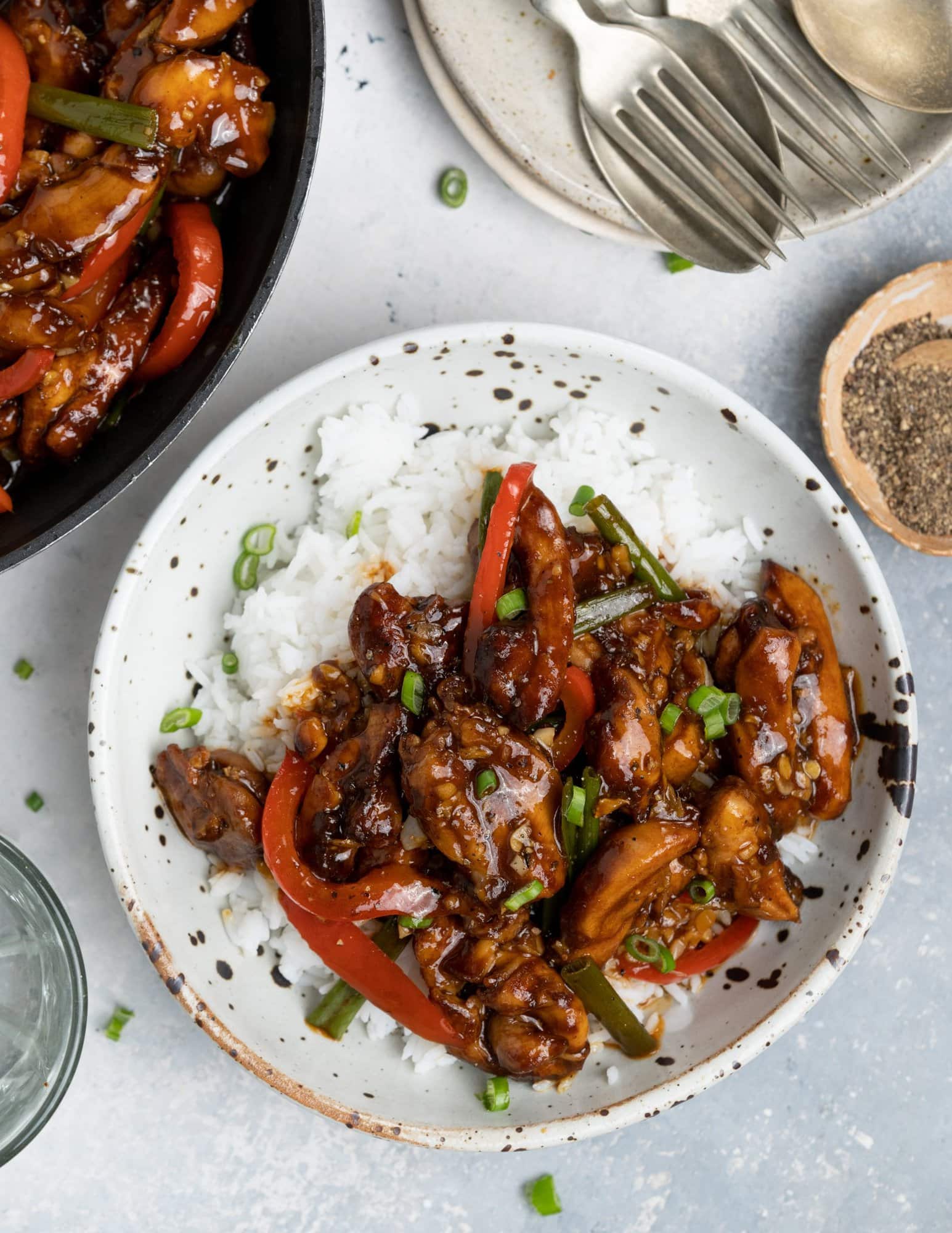 Tips to improve the flavor and get the best garlic chicken
Since garlic is the hero of the dish, make sure to use fresh minced garlic.
Marinate the chicken for at least 30 minutes and up to 2 hours for the flavors to seep in. The salt in the soy sauce helps distribute flavors in the chicken.
Use a large skillet or wok for stir-frying and tossing the ingredients.
The dish calls for cooking on high heat to make the chicken crispy.
Add vegetables at the end, along with the already-cooked chicken. It must be tossed along with the sauce for a few minutes. We need the veggies to retain their crunch and not become soft.
You can replace dark soy sauce with All-purpose or light soy versions. This will be slightly saltier and hence increase the sugar a little. The dish color will become a bit lighter as a result.
Store
Chinese garlic chicken, like other stir-fries, can be refrigerated, in an airtight container, for up to 4 days. This contains onions and garlic, which does not allow it to store longer.
You can safely freeze this, by double-wrapping the container and marking the date, for months. When it's time to have this, move it to the refrigerator the previous night to thaw.
You can stir the contents well and reheat them in the microwave. Otherwise, you may give it a quick stir fry while tossing the contents a few times.
What to serve with
This dish is flavorful, has protein and fiber from veggies, and goes very well with various sides.
Rice – plain steamed rice is the classic pairing with Chinese stir-fry dishes like chicken with garlic sauce. Rice soaks up the delicious sauce and makes the whole dish fulfilling. You can also pair it with fried rice.
Noodles – Plain noodles or noodles with other flavors apart from garlic work well with this saucy dish by absorbing the flavors and making it a hearty meal.
Stir-fried veggies – Veggies stir-fried offer a crunch and extra fiber, which makes for a satiating meal. To serve with this, you can stir-fry broccoli and green leaves like bokchoy, cabbage, etc..
Related Asian dishes
Asian Ground Beef Bowl – An Asian-inspired tasty bowl of juicy ground beef stir fry served with rice.
Chicken Broccoli Stir Fry – made with a delicious Asian sauce, is an easy stir-fry recipe with juicy chicken, crispy broccoli, and stir-fry sauce.
Thai Cashew Chicken Stir Fry – this chicken recipe is packed with thai flavors with the added crunch of perfectly roasted Cashews.
Sweet Chili Shrimp Stir Fry – Quick and easy Shrimp stir fry with zucchini, pepper, and tossed in Thai Sweet chili Sauce.
Chinese Noodle Soup with Chicken – Comforting Chinese noodle soup made with chicken, noodles, and bok choy is packed with flavors from fresh aromatics.
Chinese Chicken Salad With Sesame Dressing – this wholesome salad has chicken, crunchy vegetables, crispy fried noodles, and Asian Sesame dressing.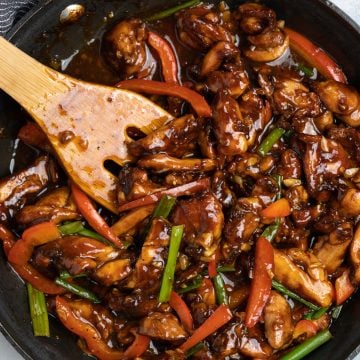 Chicken in Chinese Garlic Sauce
Chinese garlic chicken is a spicy, delicious stir fry that's dark in color and flavored with the heady fragrance of garlic. Serve it over rice or noodles for an Asian night special.
Equipment
1 Mixing bowl To marinate the chicken with sauce and cornstarch
1 Medium bowl Used for mixing the ingredients for the sauce
1 Spatula Used to toss everything in the wok/pan
1 Spoon Used mix the ingredients in the bowl for sauce
Ingredients
500 grams Boneless boneless thighs
2 tablespoon Cornstarch
1 tablespoon Dark Soy sauce
1.5 tablespoons Garlic minced
1 teaspoon Ginger
1 Red bell pepper Sliced
⅓ cup Green onion
⅓ cup Oil for frying the chicken
For Chinese Garlic Sauce
2 tablespoon Soy sauce
¼ cup Chicken broth
2 teaspoon Rice vinegar
1 tablespoon Light brown sugar
1 teaspoon Sesame oil
1 teaspoon Sriracha
¼ cup Water
½ teaspoon Pepper
1 tablespoon Cornstarch
Instructions
Prep sauce and marinate chicken
Mix all the sauce ingredients in a mixing bowl.

Cut chicken thighs into bite-sized pieces. Place in a mixing bowl.

Add dark soy sauce and 2 tablespoons of cornstarch to the chicken. Toss to coat the chicken well.
Cook chicken
Heat 1/3 cup oil in a skillet on medium heat. When the oil is moderately hot, add half of the marinated chicken One by One, spaced a little apart without crowding the pan. Cook for 2-3 minutes on medium heat, flip, and cook for another 2 minutes.

You might have to cook in 2 batches for the chicken to cook crispy instead of steaming. While cooking there are chances of hot oil splattering, so be careful.

Once all the chicken is cooked, drain all the oil from the skillet except 1 tablespoon.
Cook aromatics and sauce with chicken
If the skillet is not hot, heat the oil. Add minced ginger and garlic. Saute for 30 seconds until it is aromatic.

Add cooked chicken, sliced bell pepper, and green onion. Pour over the prepared sauce. Mix everything well.

Let it cook for 2-3 minutes for the sauce to thicken.

Serve with hot rice.
Notes
I have used Dark soy sauce in marinating chicken because it gives rich dark color. You can substitute it with regular soy sauce or light soy sauce. 
Nutrition
Calories: 507kcal | Carbohydrates: 13g | Protein: 23g | Fat: 41g | Saturated Fat: 7g | Polyunsaturated Fat: 10g | Monounsaturated Fat: 21g | Trans Fat: 0.2g | Cholesterol: 123mg | Sodium: 937mg | Potassium: 396mg | Fiber: 1g | Sugar: 5g | Vitamin A: 1116IU | Vitamin C: 41mg | Calcium: 31mg | Iron: 2mg