This post may include affiliate links that earn us a small commission.
Ground beef bowl is Asian inspired tasty bowl of juicy ground beef stir fry served along with rice. Onion and garlic, along with some umami sauces, add a bomb of flavour to the stir fry.
If you have got ground beef in the fridge and wondering what to do with it, this Asian ground beef bowl recipe is easy, fast, and hits with a bang of flavour just like this Ground beef and vegetable skillet. It's so easy, so quick to make, and so full of flavour, you will come back to it again and again as I did.
Flavours In Your Inbox
Subscribe for recipes straight to your inbox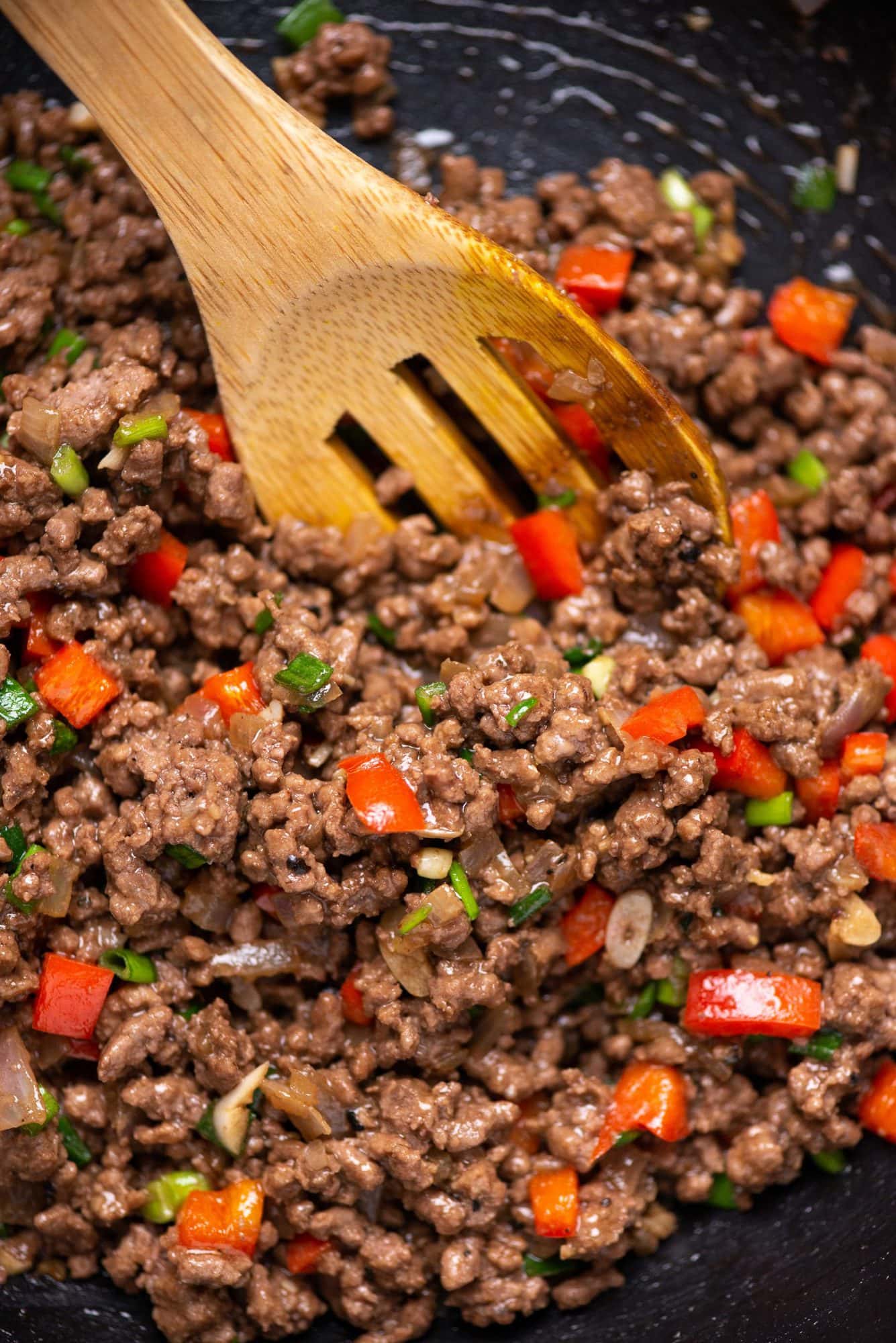 This dish has all the umami-providing ingredients like soy sauce, oyster sauce, and sesame oil. Sauteed onion and garlic serve as a base for this stir fry. You would have an idea by now as to how much flavour this will have.
It has got a nice spice kick from the Sriracha hot sauce.
Condiments like soy sauce and oyster sauce remain widely used in Asian cuisine are a better substitute to table salt as they also provide umami (savory and tangy flavour) to any dish.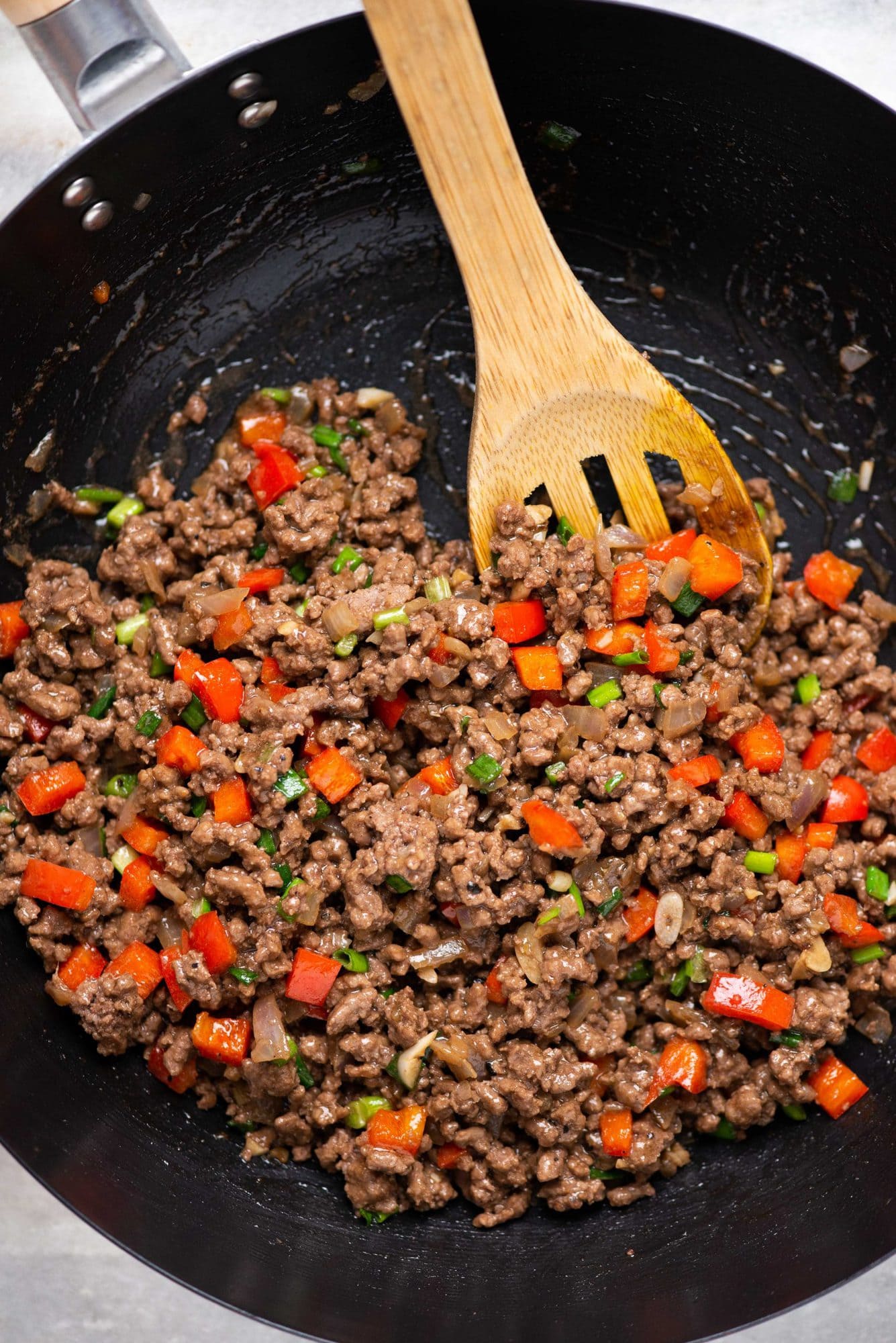 Ingredients
The ingredients used in this dish are all everyday stuff you will most likely have in your pantry if you have made any Asian recipe earlier.
For the sauce
Soy sauce is a dark brown liquid used as a salty seasoning in many Asian dishes. Soy sauce adds some umami flavour to the dish along with a darker color and salty taste.
Oyster sauce – Another very popular dark brown condiment used in Asian cuisine. It has a salty and sweet taste and has an umami flavour.
Sriracha Hot sauce – Used to add a bit of heat to the dish.
Sesame oil – You can use it as either a heating oil to sauté the onions and garlic or just seasoning to the dish. It has a toasted and nutty flavour.
Corn starch– Use corn starch is used to thicken the gravy around ground beef.
Sugar – brown sugar if you prefer
Water
To cook ground beef
Onion & garlic – used mainly to add flavour and wonderful aroma to the beef.
Red bell peppers – are used for heat and flavour. When I want to make a dish with some color, bell peppers are an excellent way to do that.
Lean ground beef – Go for a high percentage of lean ground beef best for this dish.
Green Onion – add color, crunch, and mild onion taste. An excellent topper for dishes.
Vegetables (optional)
You may also add broccoli to this dish or even sauteed mushrooms to increase the fiber profile.
You can sprinkle sesame seeds or finely chopped vegetables like beans on the bowl too.
How to make
This is a super-easy dish to make. The total prep plus the cooking time is around 30 minutes.
Prepping is about fetching all the ingredients, chopping or measuring, and then keeping them ready.
Cooking is making the sauce ready and then cooking the ground beef with the sauce. Making the sauce requires mixing all the ingredients needed for the sauce.
Cooking the ground beef is a 15-minute task requiring a wok (Asian deep pan). If you do not have a wok, use a deep pan or skillet.
Heat oil in a wok and add minced garlic and chopped onion and sauté them until the onions turn golden in color.
Now add the ground lean beef and sauté it until it changes color to brown.
Add sauce, toss and let it simmer for another 2 minutes until the sauce thickens.
Add red peppers and green onion and toss it few times. The peppers should be crunchy and not cooked as they would become soft.
Sprinkle sesame seeds on top after serving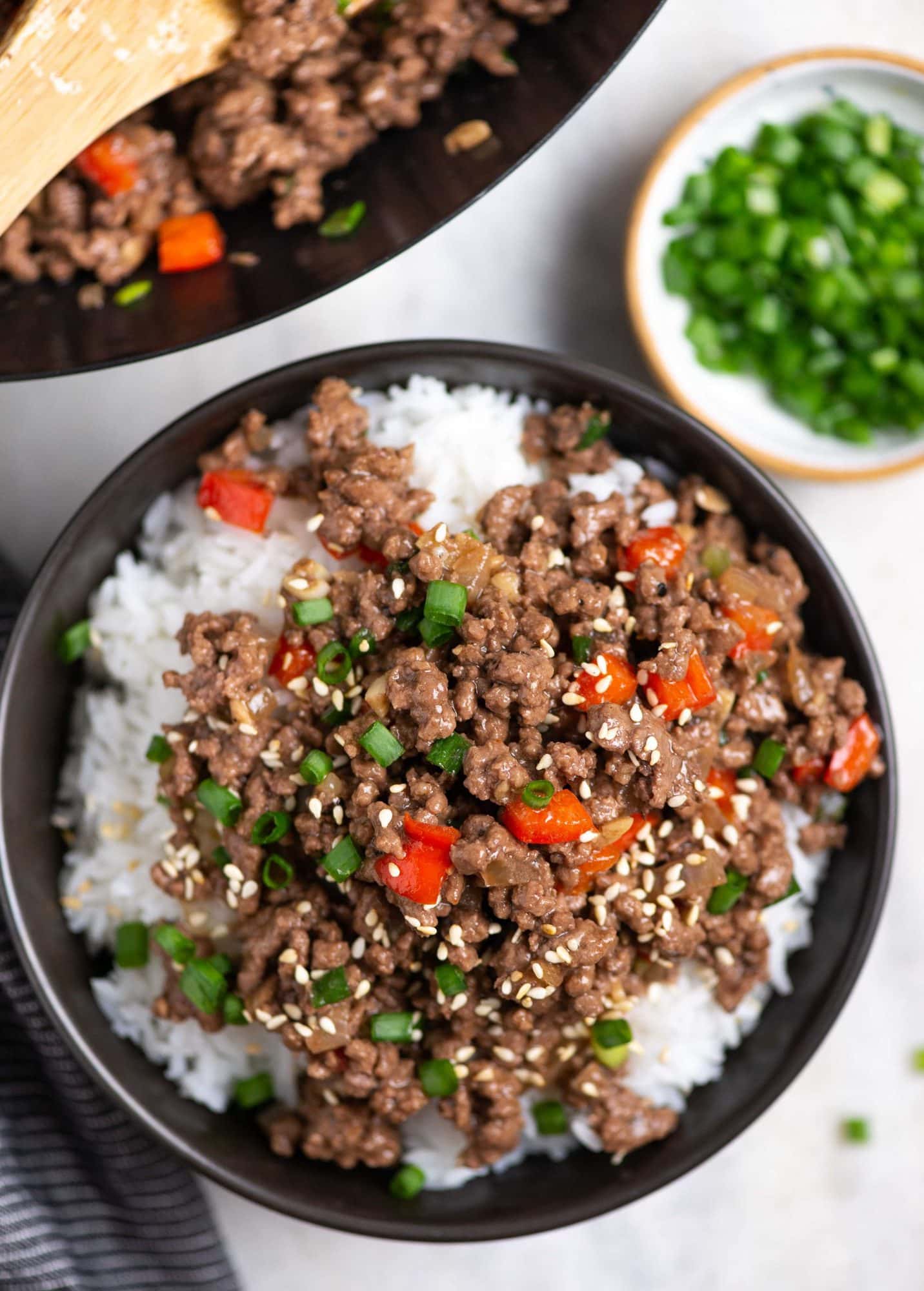 Top Tips
Cornstarch (in US) is the same as Corn flour (as is known as UK and Asia). These are different from Corn Flour (in US) which is the ground flour from whole corn kernels used as a substitute of wheat flour. This is referred to as corn meal in UK and other countries.
To tenderize the ground beef and help it retain moisture, you may add baking soda to the ground beef before you cook it. You can add 1/2 tbsp of baking soda to the ground beef, mix it well and leave it on the counter for 15 minutes.
To increase the spice level, increase the amount of Sriracha hot sauce to 1 tsp which should be hot enough for most people.
Serve with
Asian ground beef bowl is best served with rice or noodles. You may go with white rice, basmati, jasmine, or brown rice.
It will also work well with any Asian noodles.
Store
You can store the sauce well in the fridge for up to weeks. Ground beef as a dish can be kept in the refrigerator for four days before consumption. Please keep it in an air-tight container.
You may freeze it for up to much longer.
Other Asian recipes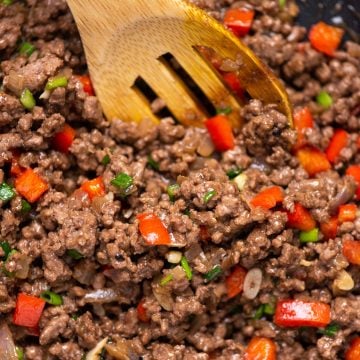 Asian Ground Beef Bowl
Ingredients
500 grams lean ground beef
2 tablespoons oil
½ onion chopped
½ tablespoon minced garlic
1 red bell pepper chopped
⅓ cup green onion
Stir fry sauce
2 tablespoon Soy Sauce
2 tablespoon Oyster Sauce
1 tablespoon Sugar
½ teaspoon Sriracha increase upto 1 teaspoon for extra hot
½ teaspoon Toasted sesame oil
2 teaspoon Cornflour
2 tablespoon water
Instructions
Make Stir fry Sauce
Mix all the ingredients mentioned under sauce. Keep aside.
Ground Beef Stir Fry
Prep all the ingredients. Keep aside.

Heat oil in a wok and saute onion and garlic until the onion has softened and garlic is aromatic.

Add ground beef. Saute on medium-high heat until the beef is no longer pink. It is browned. The wok should have very little liquid at this stage.

Add sauce and cook it for 1-2 minutes. The sauce will thicken and look glossy.

Add red peppers and green onion. Toss and switch off the flame.

Serve over rice. Sprinkle green onion and toasted sesame seeds.
Nutrition
Serving: 1serving | Calories: 280kcal | Carbohydrates: 9g | Protein: 28g | Fat: 14g | Saturated Fat: 3g | Polyunsaturated Fat: 3g | Monounsaturated Fat: 7g | Trans Fat: 1g | Cholesterol: 78mg | Sodium: 848mg | Potassium: 563mg | Fiber: 1g | Sugar: 5g | Vitamin A: 1016IU | Vitamin C: 41mg | Calcium: 27mg | Iron: 3mg