Thai Red Curry With Chicken
This post may include affiliate links that earn us a small commission.
Rich and creamy, Thai red Curry has chicken and vegetables. It packs fresh flavors; you need just 30 minutes to make it. This Thai curry recipe features a secret to creating fresh flavors using bottled red curry paste. It tastes fantastic when served with Jasmin rice.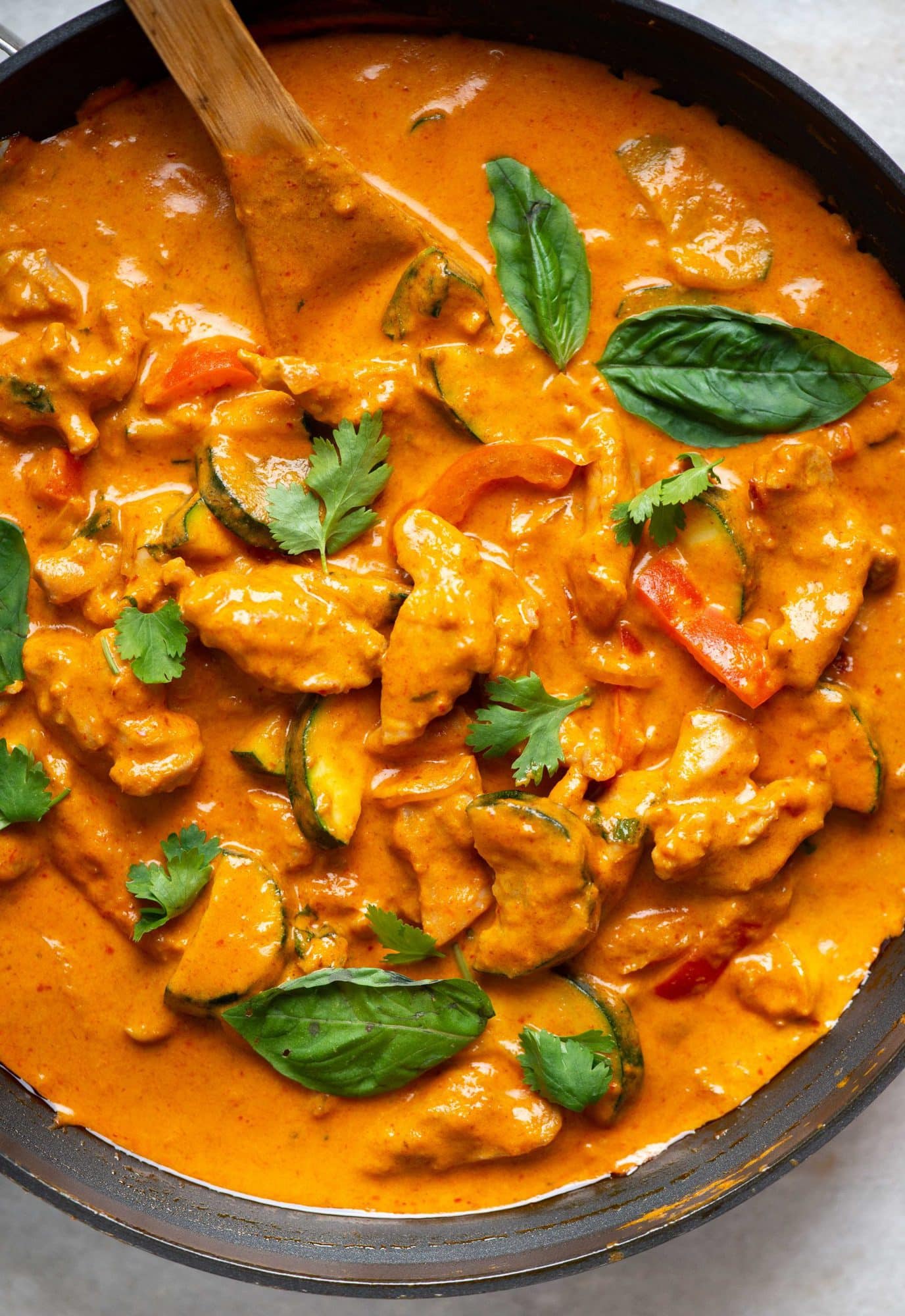 If you wonder how Thai red curry can have fresh flavors using bottled Red curry paste, read along, and you will find the secret.
If you are on a hunt for Thai recipes, you may have a look at Thai Grilled Chicken, Thai chicken noodle soup, Thai Shrimp Curry, Thai Chicken Coconut Soup (Tom Kha soup), Thai Cashew Chicken Stir Fry, or Thai Butternut Squash Curry.
Flavours In Your Inbox
Subscribe for recipes straight to your inbox
A bowl of hot rice with curry is comfort food for us. We love Thai curries, and it's pretty regular at home. You can load it up with vegetables and protein. And the best part is it takes less than 30 minutes to make it. So definitely a perfect curry to make on busy days.
You would find so many versions of Thai curry on the web. The recipe shared below is something I make regularly and have improvised over the years. It is very versatile, and you adjust it to your taste.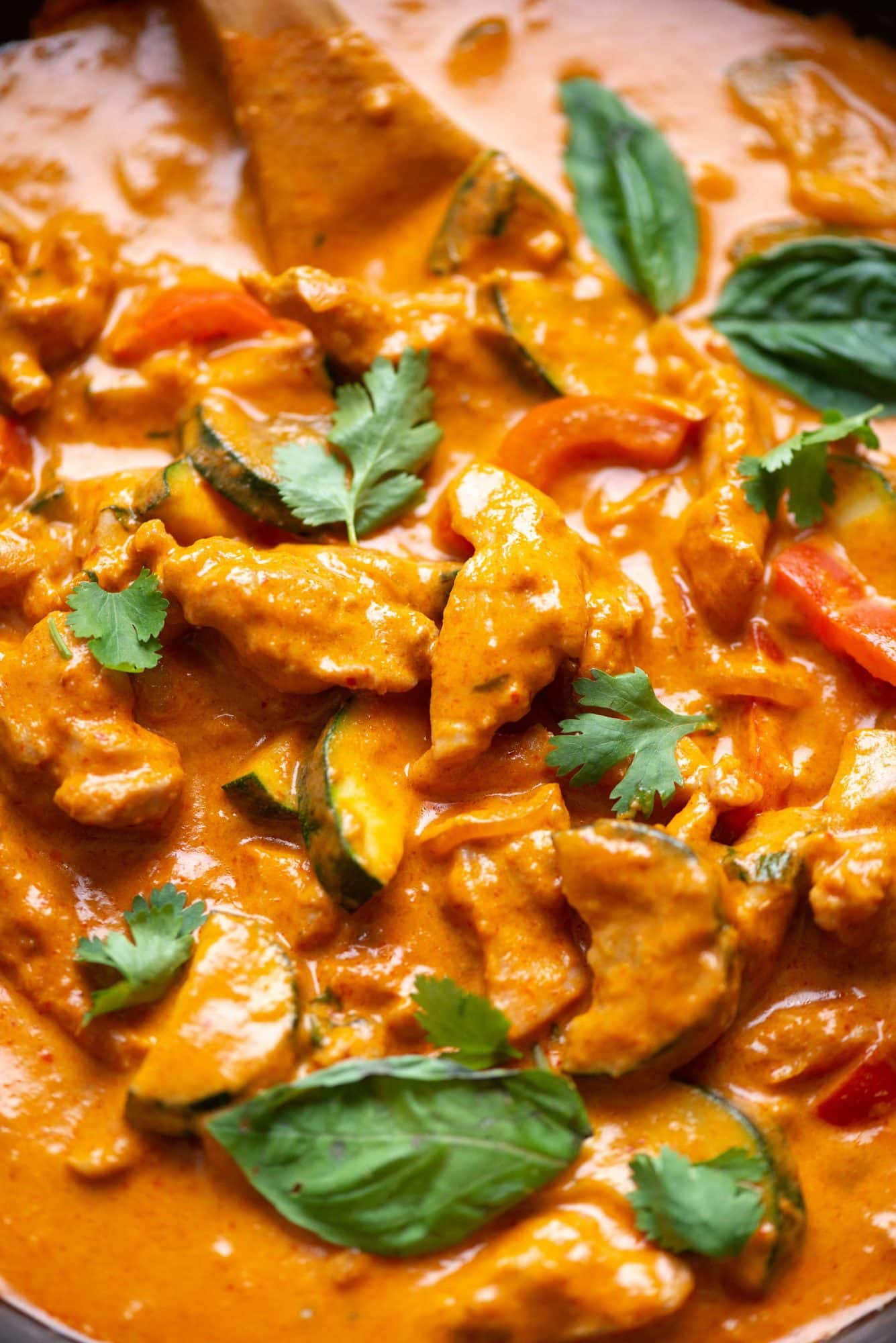 Thai Red Curry Recipe
While Thai Curry pastes made from scratch at home are always the best, it is not always feasible. Red curry paste calls for a long list of ingredients, and it can sometimes be challenging to source a few ingredients. So, keeping a jar of red curry paste always comes in handy.
Bottled Curry paste is quite intense in flavor, but it lacks freshness. So to lift the flavors and add some freshness, we add some fresh aromatic like fresh Thai basil, lemongrass, ginger-garlic, and fresh cilantro roots.
Bottled Thai Red Curry Paste
There are many brands of curry paste available in the market. You can use any of your favorite brands.
Authentic Red curry paste contains shrimp paste, which gives umami. If you are allergic to shrimp, make sure you read the label before buying.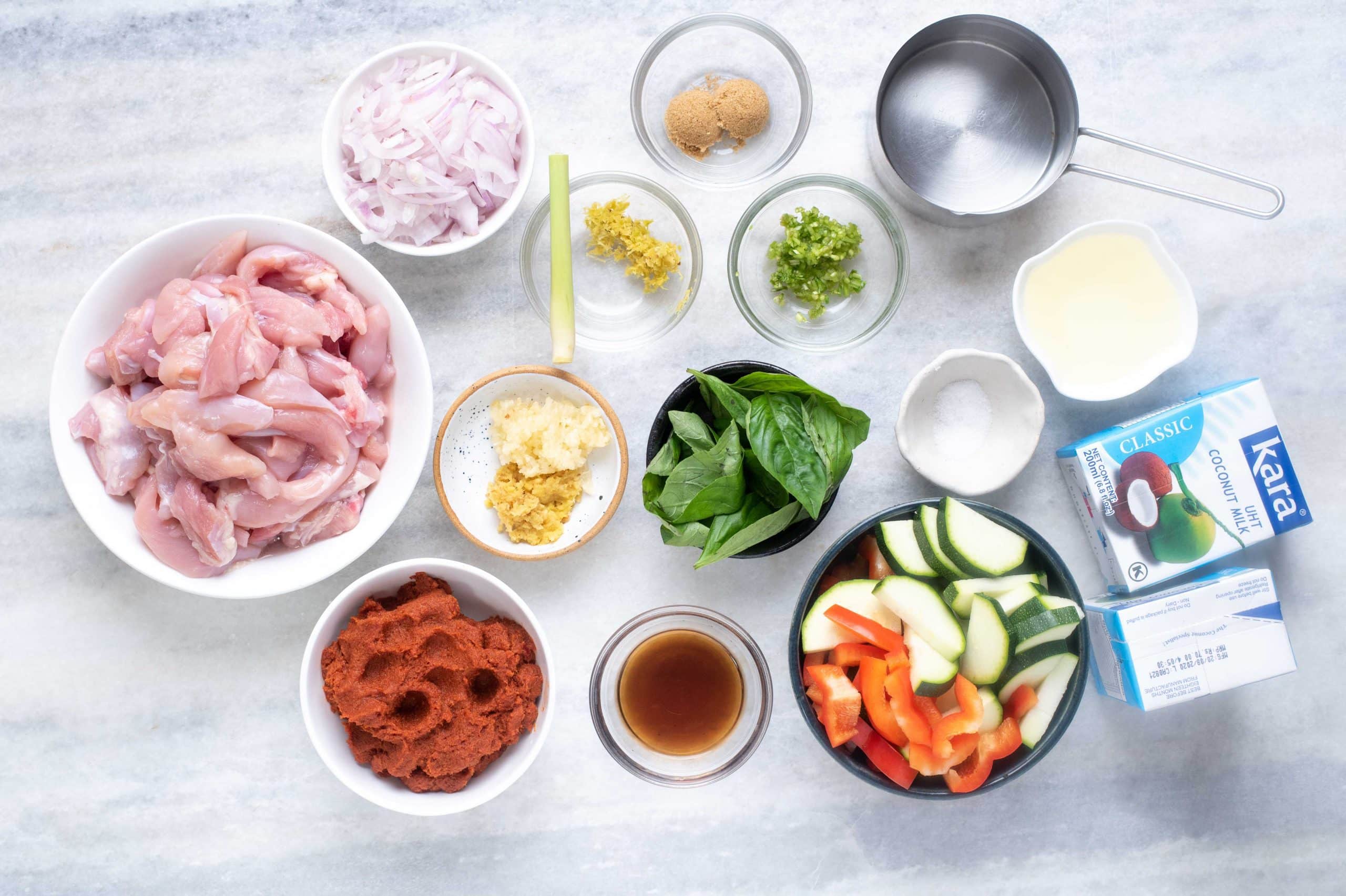 Ingredients you need
Boneless Chicken thighs– Cut into thin strips. Chicken thighs are the juiciest meat, but you can substitute them with chicken breast. If using chicken breast, then reduce the cooking time, else chicken breast will quickly get overcooked.
Coconut Milk– full-fat coconut milk for a rich, creamy curry.
Red curry Paste– Any good quality red curry paste will do.
Aromatics– Ginger, garlic, fresh lemon zest, minced cilantro root(root is packed with flavor), Thai basil. These ingredients will take the flavors to another level.
Sugar and Fresh lime/lemon Juice – Prefer lime if you can get it. It gives a slightly stronger flavor and adds a bit of sweetness.
Fish Sauce– it is a must in Thai curries. The savory sauce gives the curry 'Umami.'
Veggies- I have added Zucchini and peppers. You could use green beans, carrots, broccoli, or pumpkin. Add the veggies as per their cooking time. Start with tougher veggies and add soft veggies to the end.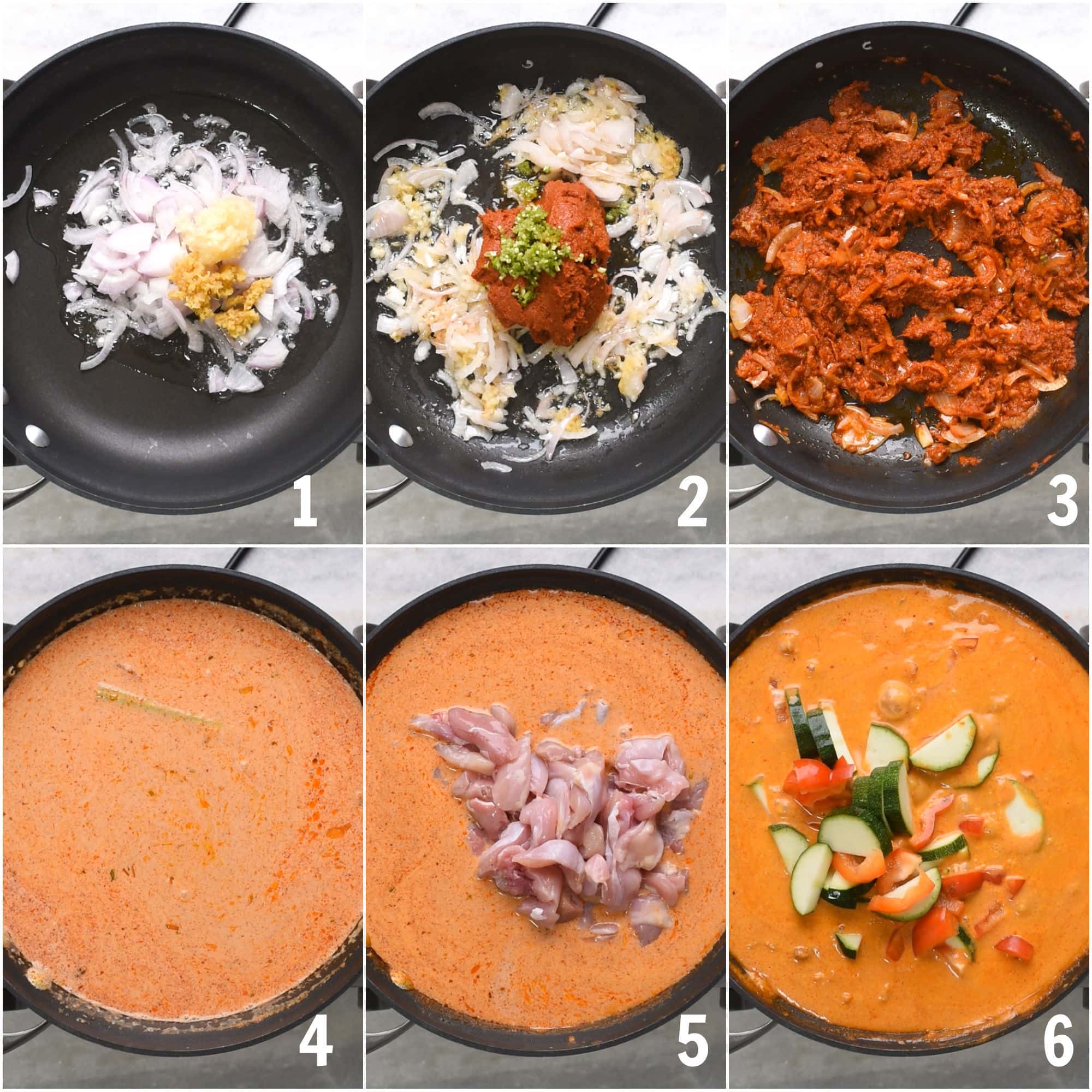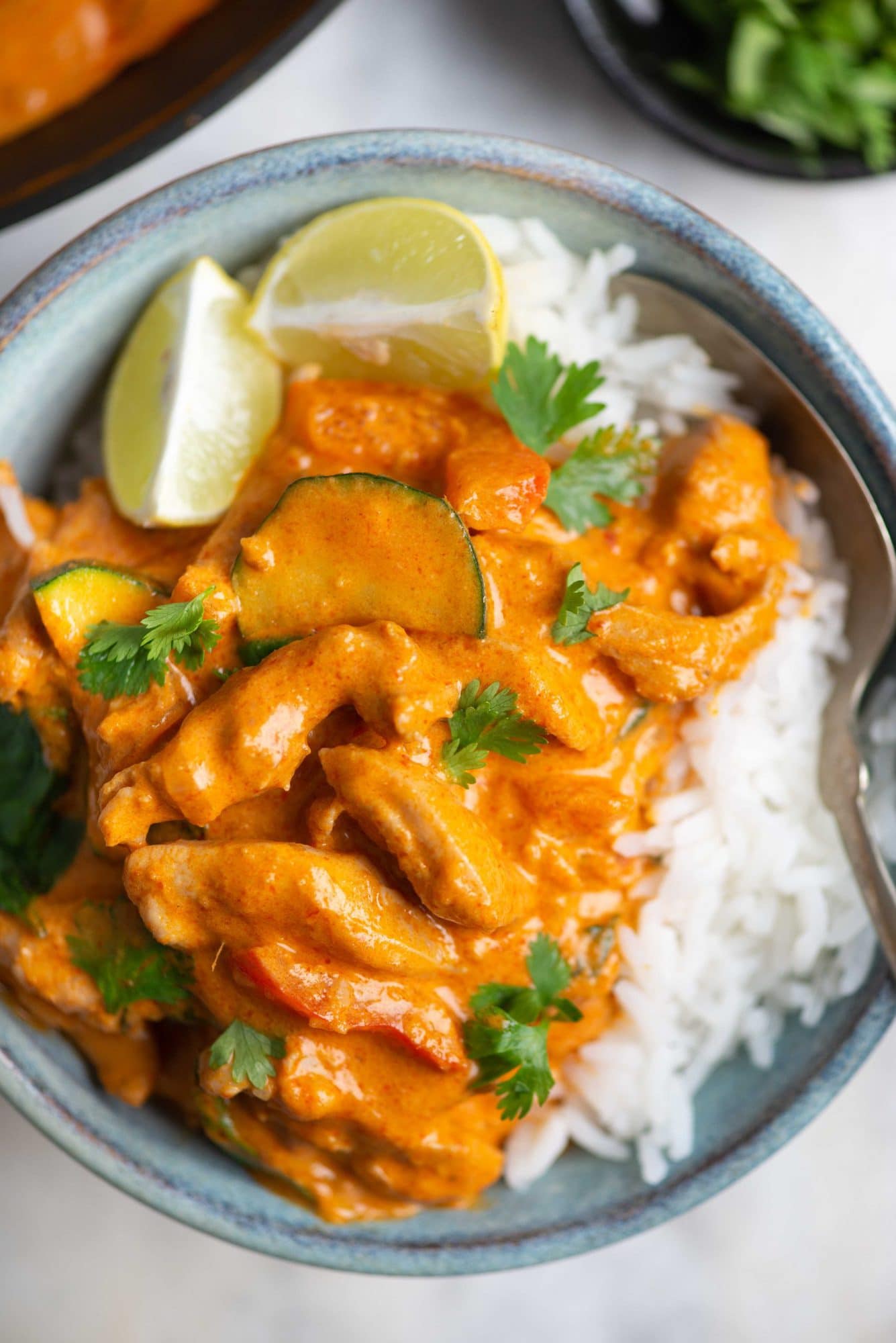 Wondering, If Thai red curry is spicy? The color may look so, but it's not at all spicy. In fact, I sometimes add red chilli to make it spicy. The different ingredients used in Thai curry paste give it that color. Coconut milk also mellows down the spiciness to a reasonable extent.
Tips for the best result
Use chicken thighs for the juiciest meat.
Don't skip the aromatics; they bring life to the dull curry paste.
Fish sauce is a must. I know the smell will put you off, but trust me, it makes a lot of difference. Fish sauce gives a more rounded flavor.
The intensity of bottled curry paste might vary depending on the brand. You can add more sugar or lemon juice and adjust the seasoning.
Try not to use more than two veggies.
Serve with
A curry is a versatile dish that can be served with various sides that complement its savory flavor. Thai red chicken curry is no different. You can consider serving this thai curry with the following options:
Rice – A classic combination that doubles as comfort food is serving this creamy and savory curry over a bed of plain/basmati or jasmine rice.
Fried rice – works great with this thai chicken curry while also utilizing any leftover rice. Check out this vegetable fried rice, Kimchi Fried Rice, or Egg Fried Rice.
Indian flat bread – you can use flat bread like Naan or paratha to sop up the curry.
Noodles – are a popular option to serve in a bowl and pour this savory curry over them. Vegetable or egg noodles work great.
Store
You may easily refrigerate this curry for up to 5 days. You can reheat it on the stovetop until you see bubbles and the curry is reasonably hot. It can also be microwaved for a minute.
Not recommended, but you may freeze this in air-tight containers or zip-lock bags for up to a month. Coconut milk tends to separate slightly when frozen, especially in this curry, where it is generously used. If that happens, you will get a slightly grainy texture in the curry sauce.
More Asian Recipes
Chicken Meatballs with Asian sauce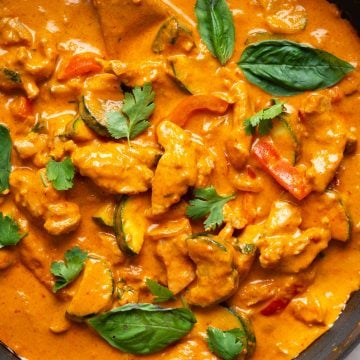 Chicken Thai Red Curry
Rich and creamy Thai red Curry have chicken and vegetables. It is packed with fresh flavours and you need just 30 minutes to make it. It tastes amazing when served with Jasmin rice.
Ingredients
500 grams Boneless Chicken Thighs cut into thin strips
2 tablespoon Oil
4 tablespoon Red Curry Paste (ref not 1)
½ Onion sliced
½ tablespoon Garlic minced
1 teaspoon Ginger minced
½ tablespoon Coriander Stem minced
1 stalk Lemon grass (ref notes – 2)
2 teaspoon Fish Sauce
½ tablespoon Light Brown Sugar
1 Red Bell Pepper cut into wedges
1 cup Zucchini cut
1.5 cup Coconut Milk full fat
½ cup Stock / Water
2 teaspoon Lemon Juice
8-10 leaves Thai Basil roughly torn
Instructions
Heat oil in a skillet. Add sliced onion, minced ginger, and garlic. Saute for a minute until it is aromatic.

Add red curry paste and minced coriander root. Saute for 2-3 minutes until oil starts oozing out on the side, and the mixture is aromatic.

Add coconut milk, stock, lemon zest, brown sugar, fish sauce, and lemongrass stalk. Mix well and let everything come to a boil. Simmer and let it cook for 2-3 minutes.

Add chicken and let it simmer for 7-8 minutes.

Add the veggies when the chicken is almost cooked/ and the sauce has reduced almost by half (or to the consistency you are looking for).

Cook for another 2 minutes, until the veggies are just cooked but still have a crunch to them.

Remove the lemongrass stalk, Add torn Thai basil.

Serve over rice with more garnishing of basil and fresh coriander leaves.
Notes
Store-bought curry paste is very intense, so 4-5 tablespoons of curry paste work the best. Suppose using fresh curry paste use from 1/2 – 3/4 cup of curry paste.
 Red curry paste might be on the spicier side for some brands. So if you have low spice tolerance, start with 2 tablespoons of curry paste, taste, and add more if required. 
It's easy to crush a stalk of lemongrass(only the white part) to add flavor to the curry. Instead, you can use roughly 1 teaspoon of readymade lemongrass paste or fresh lemongrass paste. 
Add up to 2 cups of veggies. You can use chopped squash, green beans, or snow peas as well to the curry. 
Try to use full-fat coconut milk for a rich and creamy sauce. 
You can adjust the seasoning to your liking by adding more fish sauce or sugar to the sauce. 
Nutrition
Serving: 1serving | Calories: 442kcal | Carbohydrates: 9g | Protein: 19g | Fat: 38g | Saturated Fat: 18g | Polyunsaturated Fat: 5g | Monounsaturated Fat: 11g | Trans Fat: 1g | Cholesterol: 98mg | Sodium: 279mg | Potassium: 524mg | Fiber: 1g | Sugar: 4g | Vitamin A: 2806IU | Vitamin C: 38mg | Calcium: 52mg | Iron: 4mg