A hearty rice bowl with Thai Minced Chicken, Crunchy fresh salad and off course rice. Takes 15 minutes to cook the Thai Basil Minced chicken and another  five minutes to put together the rice bowl. Your dinner would be ready in just under 30 minutes.
We love everything about this rice bowl. To be honest I really like the entire concept of one bowl meal. You keep digging the bowl and keep discovering different layers of taste and texture. So most of the time I make a lunch bowl out of my everyday lunch menu.. My lunch bowl always consists of some grain, good portion of protein( mostly chicken) or some vegetable curry and a fresh salad.  Sometime I also add some fried chips or papad/Papadum to the bowl.  Do give this lunch bowl thing a try and I am sure you are gonna love it.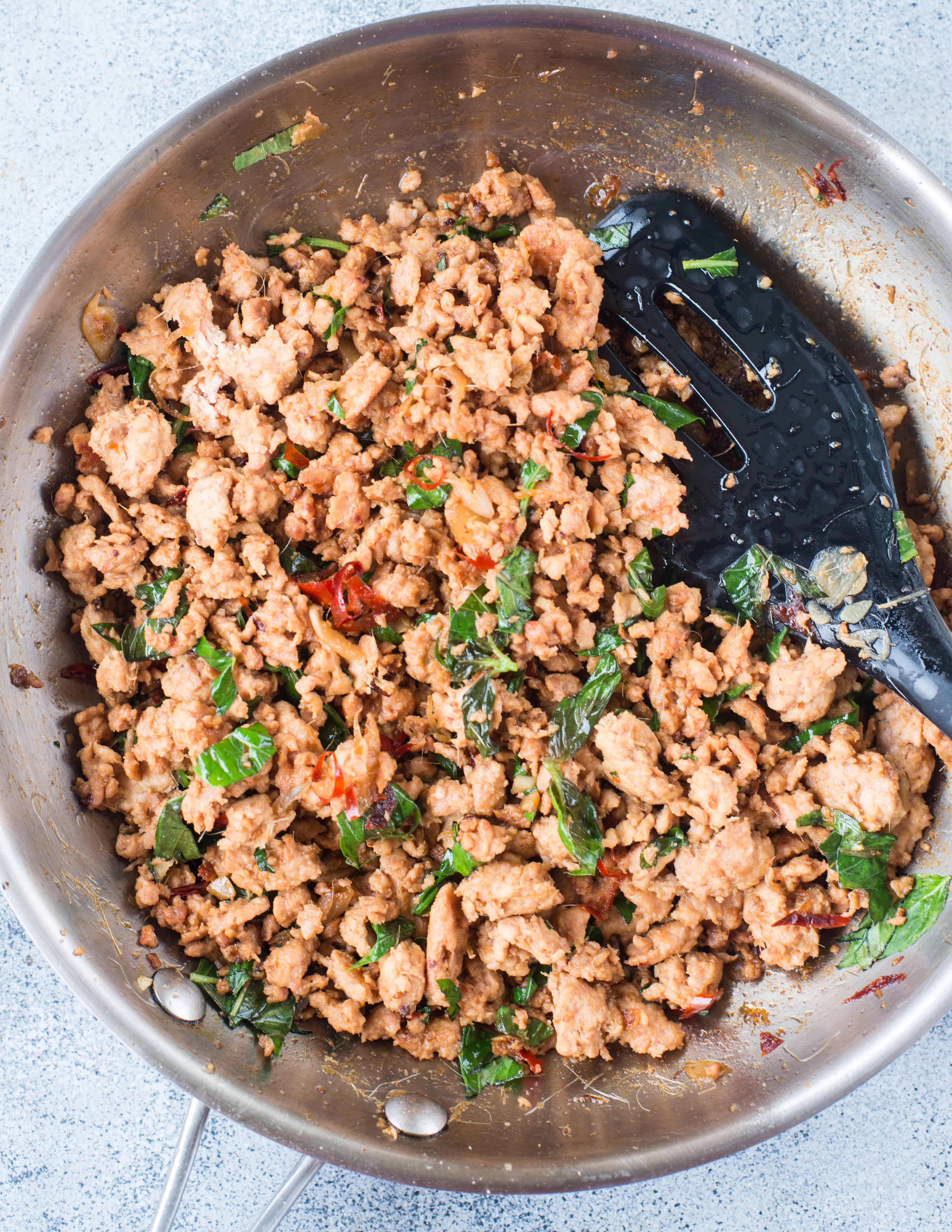 Before I start talking about this Thai Basil Chicken Bowl and its robust flavor, first let me tell about the star ingredient of the dish THAI BASIL .  The two most common type of basil used in cooking is Thai Basil and Italian Basil. And one should not get confused with these two herbs. Both are very different to look and taste.
Thai Basil grows on purple stem. The leaves are firm with purple veins. It has a very strong pungent taste.  While Italian basil has more of a subtle sweet flavor. I love using Italian basil in pesto. Both these herbs are not interchangeable in a recipe at least I have never done so. Many sources says that Thai basil can be substituted with Mint leave ( I am yet to try). So if you would like to try this recipe make sure you use Thai Basil.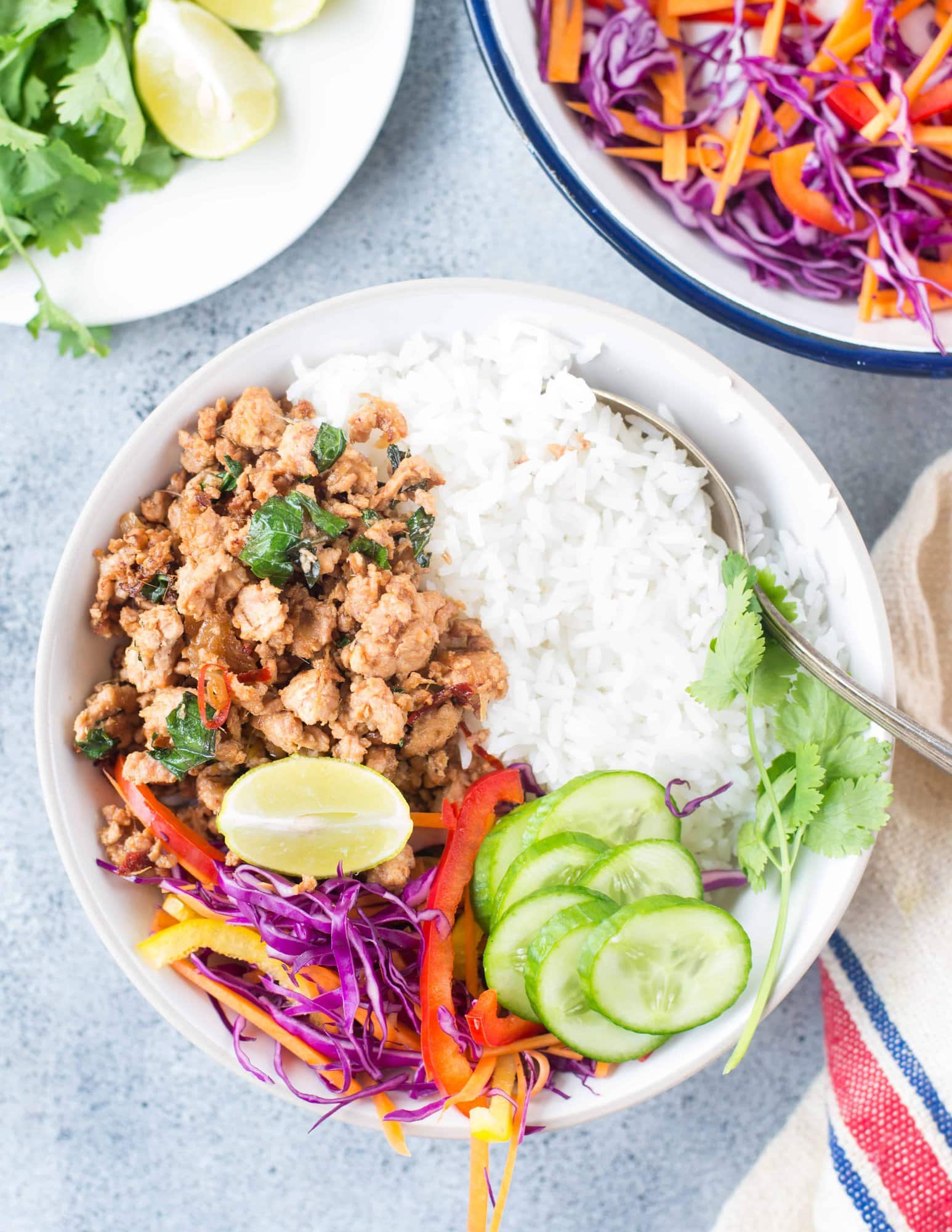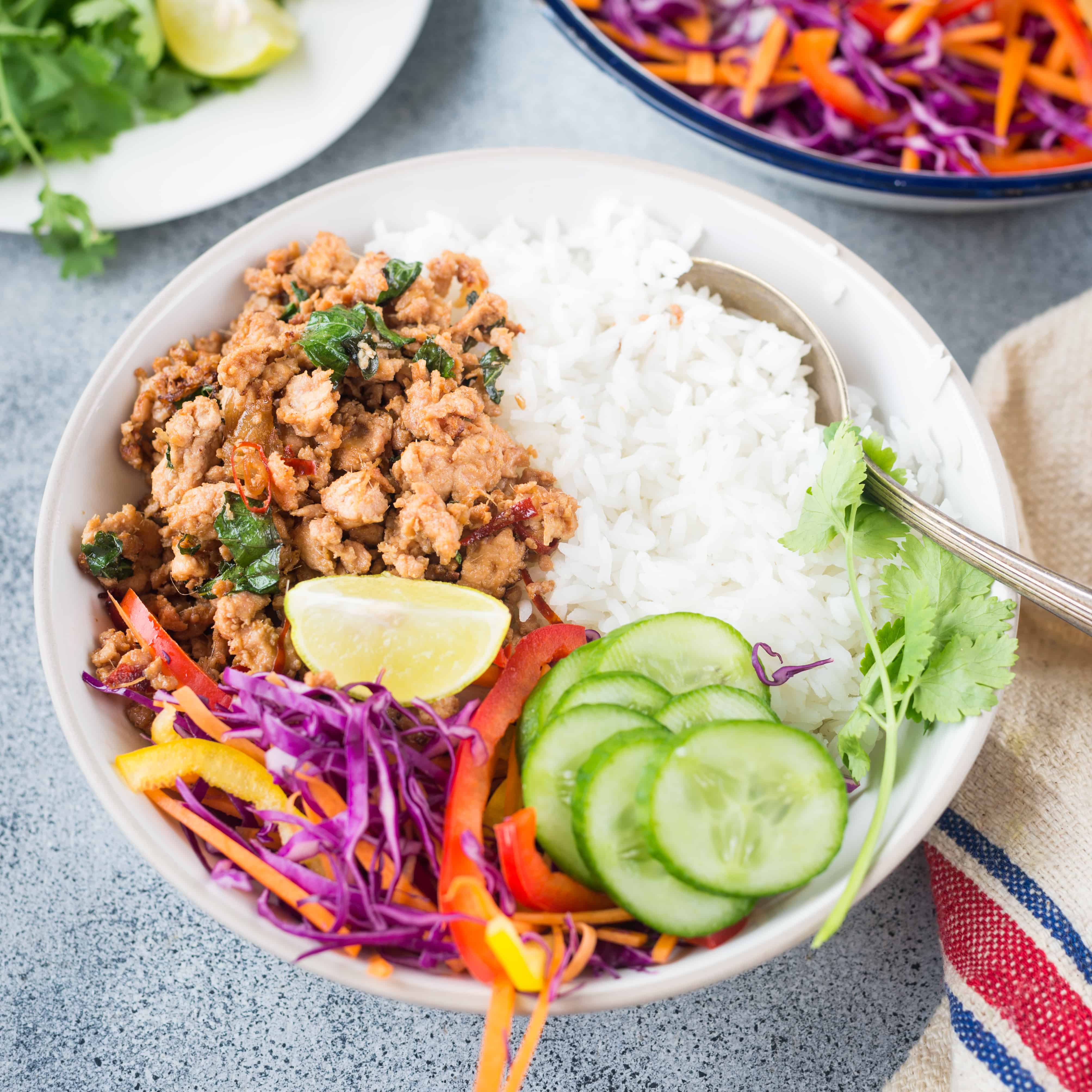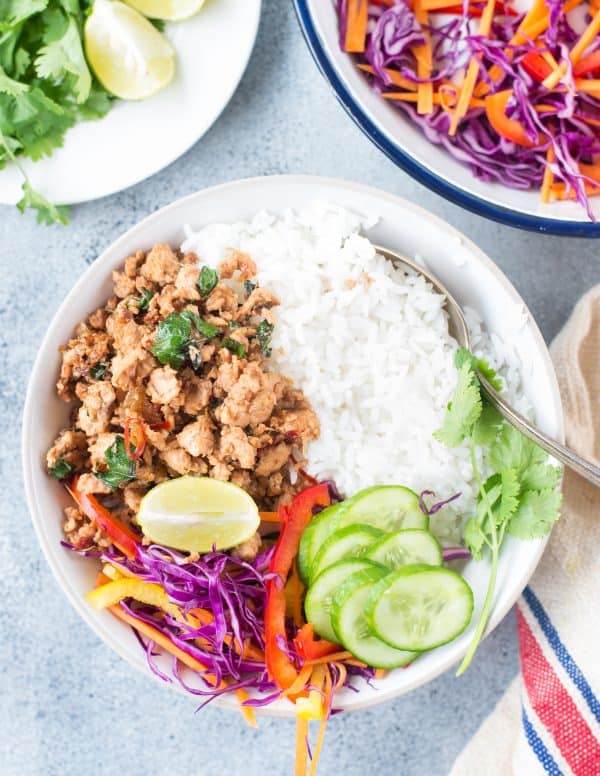 | | |
| --- | --- |
| | |
Heat a pan. Add Oil. Once the oil is medium hot add minced garlic followed by sliced shallots. Fry till the shallots have soften and starts to brown.

Add minced chills and lemongrass. Cook for 30 seconds more.

Then add minced chicken. Mix everything well and cook for 4-5 minutes.

Add brown sugar and salt as per taste. Stir well and cook till all the water has evaporated and the mixture starts to brown a little bit.

Add Soy Sauce and Fish sauce. Mix well. Cook for a minute on medium - high heat.

Add fresh chopped basil. Mix and take the pan out of the stove.

For the Salad mix Cabbage, carrot and peppers. Season with salt.

To make the rice bowl Spoon cooked white rice bowl. Top it with Thai Basil minced Chicken, salad, Cucumber slice, Lemon wedges and garnish with fresh Coriander leaves.