This post may include affiliate links that earn us a small commission.
Thai Basil Chicken, this stir fry is spicy, flavourful with real Thai flavor from Thai basil, and takes only 15 minutes to make. Serve it with a bowl of jasmine rice and a fried egg or fresh salad.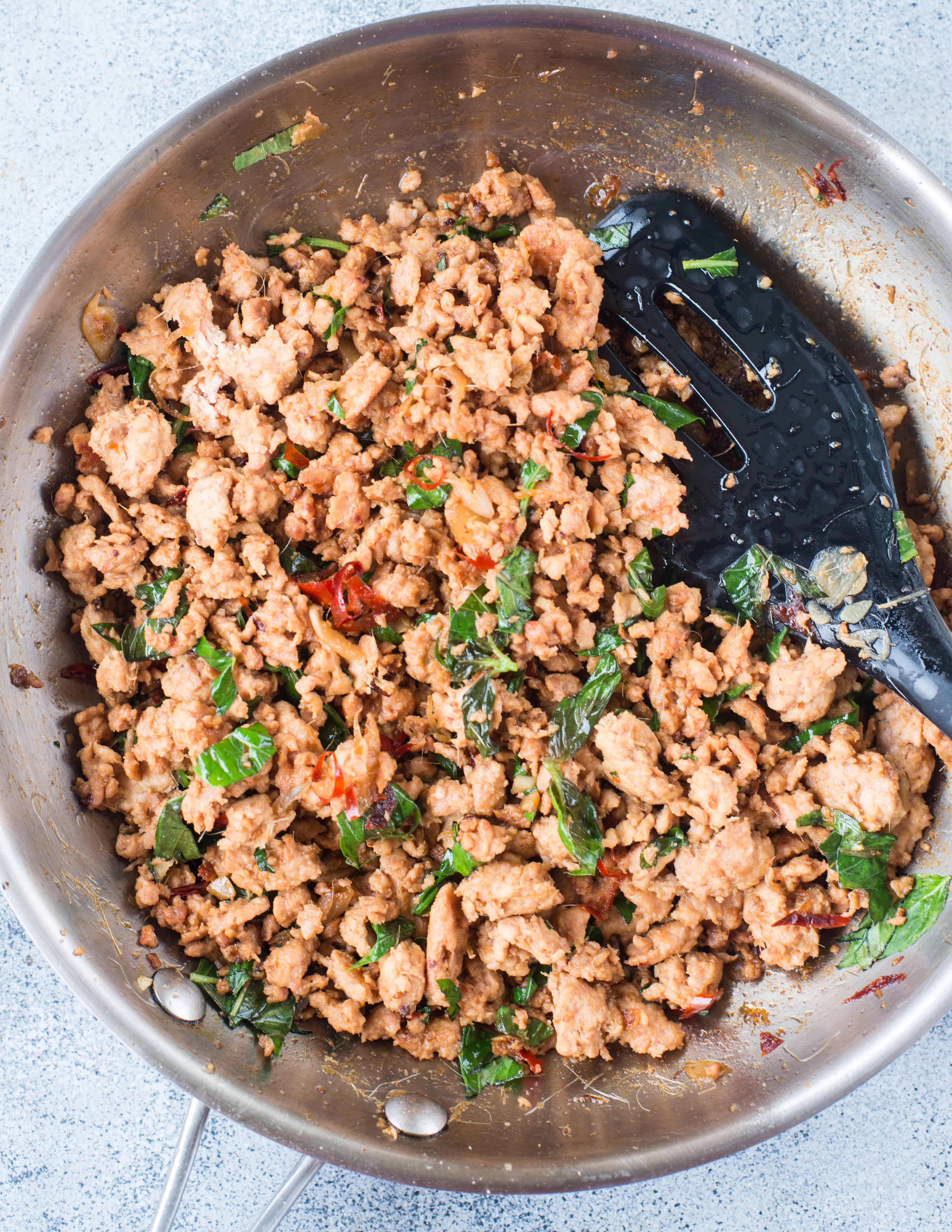 We love everything about this Thai Basil Chicken.
Flavours In Your Inbox
Subscribe for recipes straight to your inbox
Before I start talking about this Thai Basil Chicken Bowl and its robust flavor, first let me tell you about the star ingredient of the dish which is THAI BASIL.
The two most common type of basil used in cooking is Thai Basil and Italian Basil. And one should not get confused with these two herbs. Both are very different to look and taste.
If you are on the lookout for Thai recipes, you may also look at Thai Red Curry, Thai Grilled Chicken, Thai Shrimp Curry, Thai Chicken Coconut Soup (Tom Kha soup), Thai Cashew Chicken Stir Fry, and Thai Butternut Squash Curry.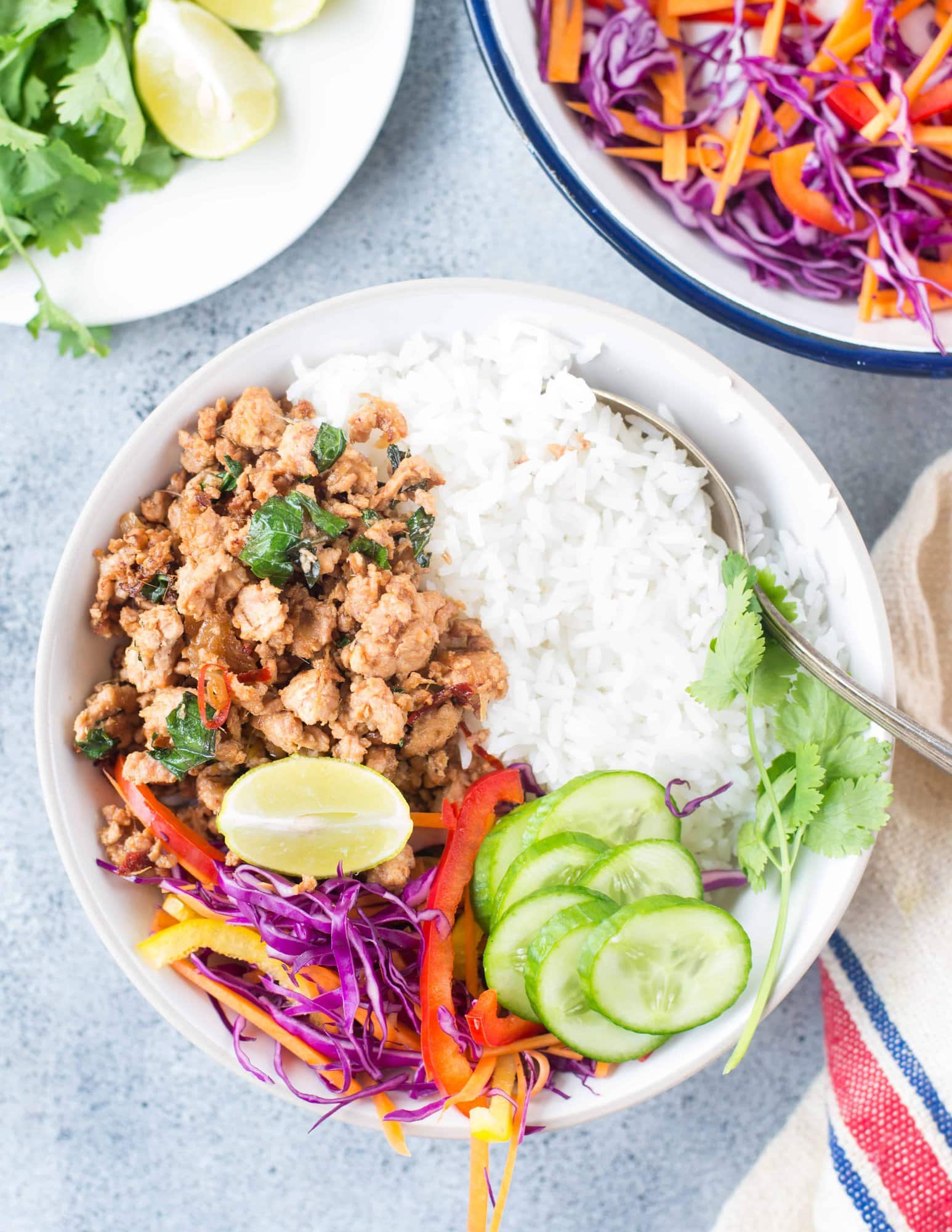 Thai Basil grows on a purple stem. The leaves are firm with purple veins. It has a very strong pungent taste.
While Italian basil has more of a subtle sweet flavor. I love using Italian basil in pesto. Both these herbs are not interchangeable in a recipe.
Many sources say that Thai basil can be substituted with Mint leave ( I am yet to try). So if you would like to try this recipe make sure you use Thai Basil.
Thai Basil is again of two types Holy Basil and Sweet Basil. In Thailand, Holy Basil is used for Thai Basil Chicken. But it is hard to get hold of Holy Basil, so you can substitute it with Sweet basil.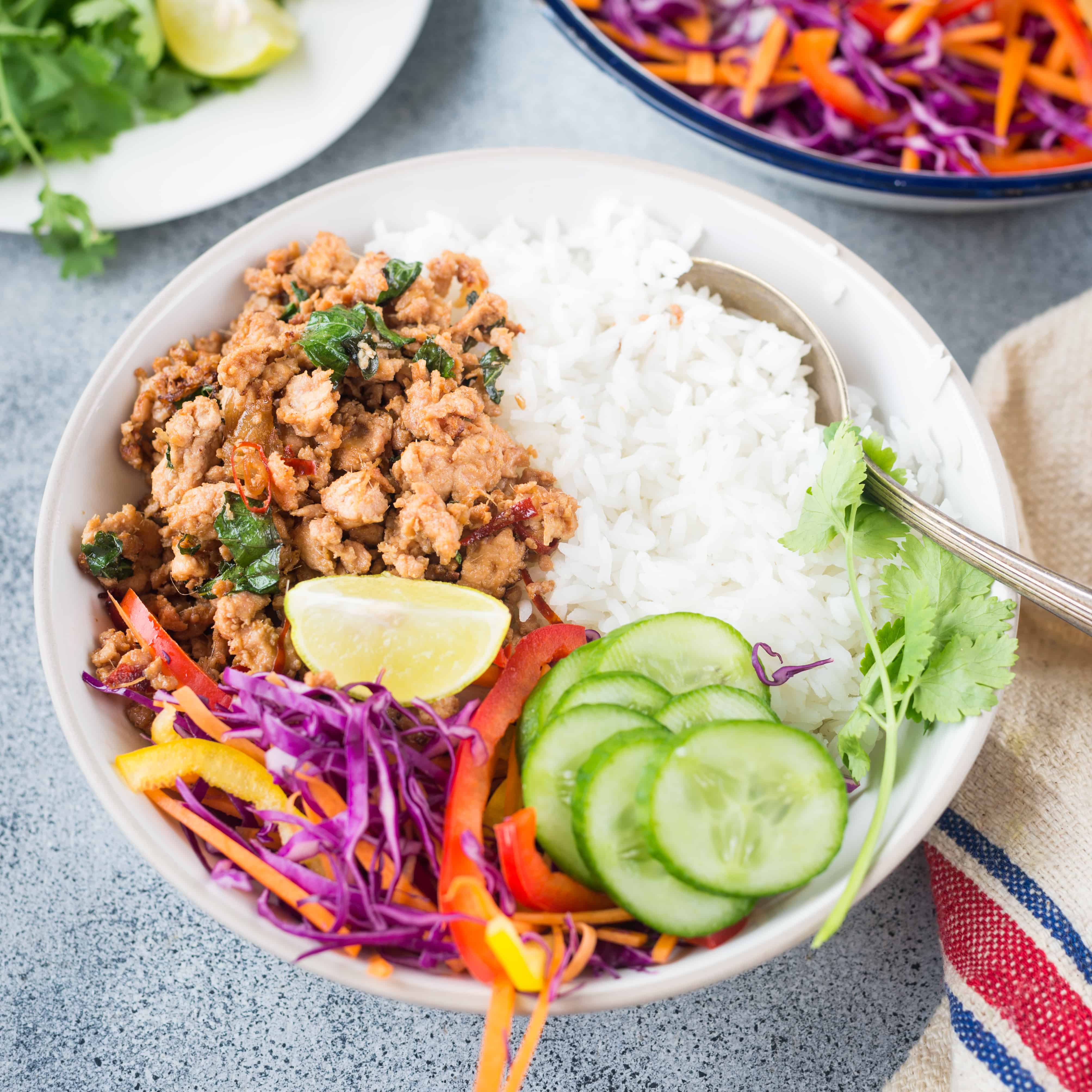 More Asian Recipes
Chicken Meatballs with Asian sauce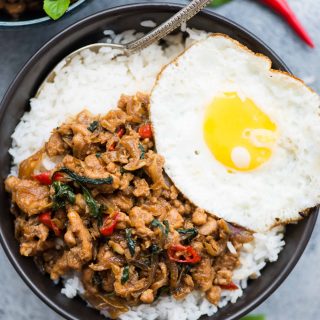 THAI BASIL CHICKEN
Thai Basil Chicken, this stir fry is spicy, flavourful with real Thai flavour from Thai basil and takes only 10 minutes to make. Serve it with a bowl of rice and fresh salad.
Ingredients
400 gms Minced Chicken
2 tbsp Vegetable oil
4 cloves garlic Minced
¼ cup Shallots Sliced
1-2 Thai birds eye chilli Minced ( Adjust spice as per preference)
1 tbsp soy sauce
1 teaspoon oyster sauce
1 teaspoon brown sugar / Palm Sugar
½ Tablespoon fish sauce
⅓ cup Thai Basil Roughly chopped ( Increase upto 1/2 cup )
1 teaspoon Lemongrass Minced
Instructions
Heat a pan. Add Oil. Once the oil is medium hot add minced garlic followed by sliced shallots. Fry till the shallots have softened and started to brown.

Add minced chills and lemongrass. Cook for 30 seconds more.

Then add minced chicken. Mix everything well and cook for 4-5 minutes.

Add brown sugar and salt as per taste. Stir well and cook till all the water has evaporated and the mixture starts to brown a little bit.

Add Soy Sauce and Fish sauce. Mix well. Cook for a minute on medium-high heat.

Add fresh chopped basil. Mix and take the pan out of the stove.

For the Salad mix Cabbage, carrot and peppers. Season with salt.

To make the rice bowl Spoon cooked white rice bowl. Top it with Thai Basil Minced Chicken, salad, Cucumber slice, Lemon wedges and garnish with fresh Coriander leaves.
Nutrition
Serving: 100g | Calories: 216kcal | Carbohydrates: 3g | Protein: 18g | Fat: 15g | Saturated Fat: 8g | Cholesterol: 86mg | Sodium: 530mg | Potassium: 544mg | Fiber: 1g | Sugar: 1g | Vitamin C: 1mg | Calcium: 11mg | Iron: 1mg