Oven Baked Creamy Chicken Thighs
This post may include affiliate links that earn us a small commission.
Crispy Baked Chicken thighs in a creamy parmesan sauce can be made in the oven from start to finish. Perfectly seasoned chicken thighs are juicy with crispy skin and easy enough for a weeknight family dinner.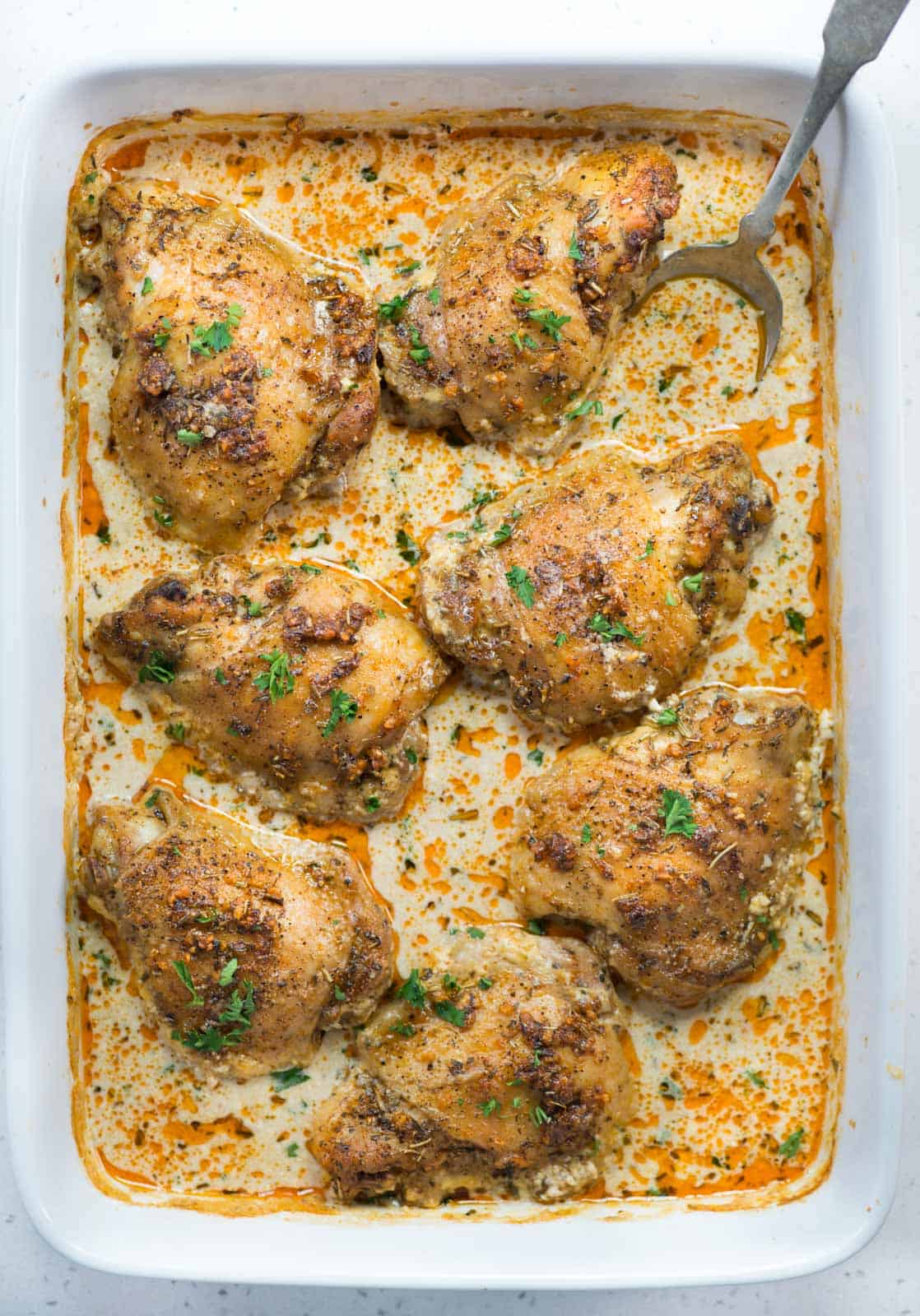 Look no further, this is going to be your favorite oven Baked Chicken Thigh recipe from here on. Perfectly seasoned chicken thighs, crispy skin, and a rich creamy sauce. Isn't this what a perfect dinner is made up of?
Flavours In Your Inbox
Subscribe for recipes straight to your inbox
This is a one-pot/one-pan recipe. Bone-in, with skin chicken thighs, are first seasoned with a basic spice mixture, then baked until nice and crispy. The rich cream sauce has the juice from the baked chicken and heavy whipping cream.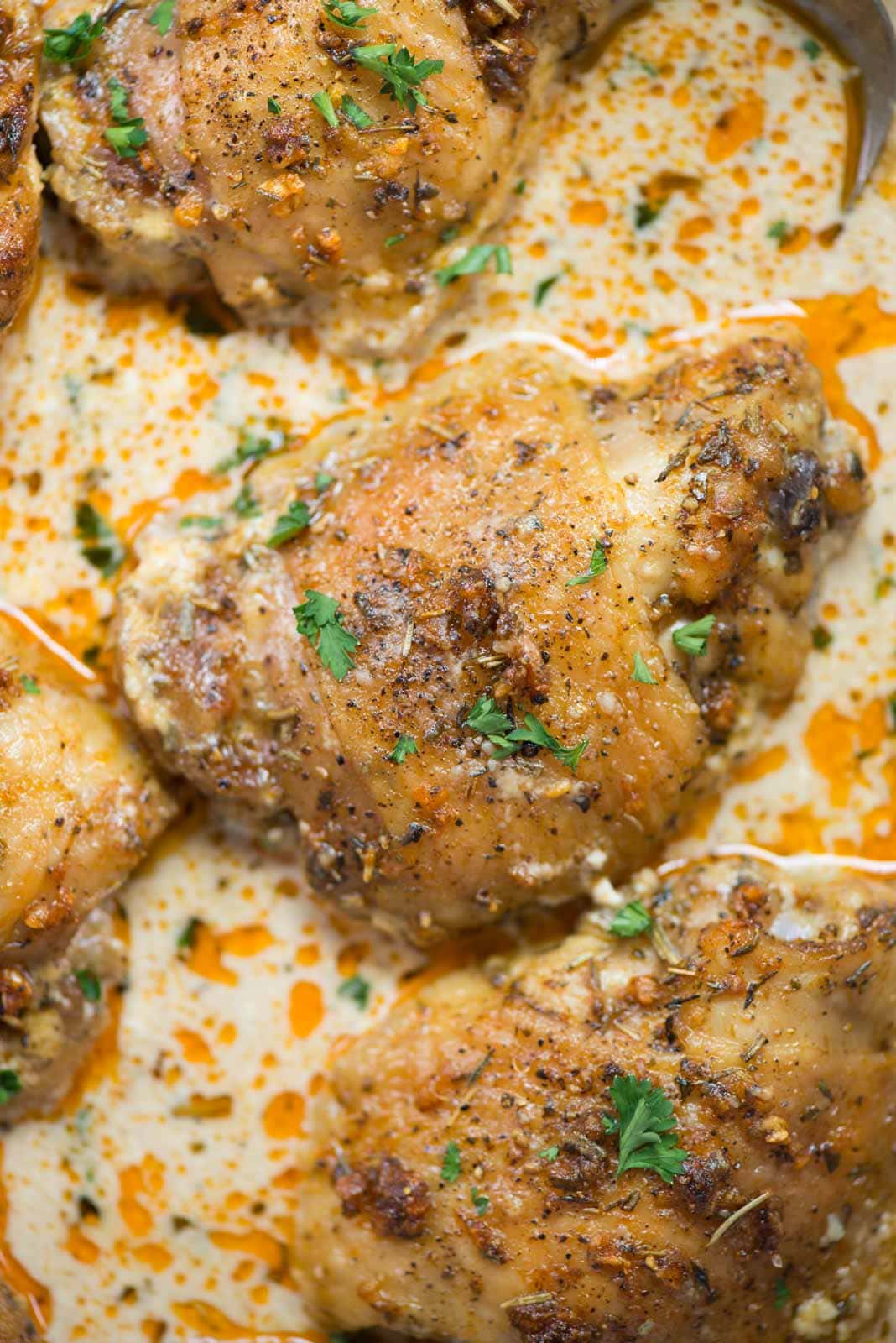 What ingredients do you need?
I do not go with fancy ingredients. Most of the time my recipes call for easily available pantry ingredients. This is no different.
This is also a very versatile recipe when it comes to seasoning, so don't panic if you don't have an ingredient or two.
Chicken Thighs– Bone-in and with Skin. Boneless Chicken thighs would work but the cooking time will vary. And no one wants to miss the Crispy Chicken skin, so please, try to use thighs with skin.
Seasoning– Dried herbs like Thyme, Oregano, Basil, Parsley will work here. I have used thyme, rosemary, and parsley. You can also use mixed herbs or poultry seasoning instead.
Paprika, pepper, and salt– Paprika is optional, I like to use it for color and also for a smoky flavor. Season the thighs well with salt and pepper.
Chicken Stock
Dijon Mustard
Heavy Cream and Parmesan: for a creamy rich sauce.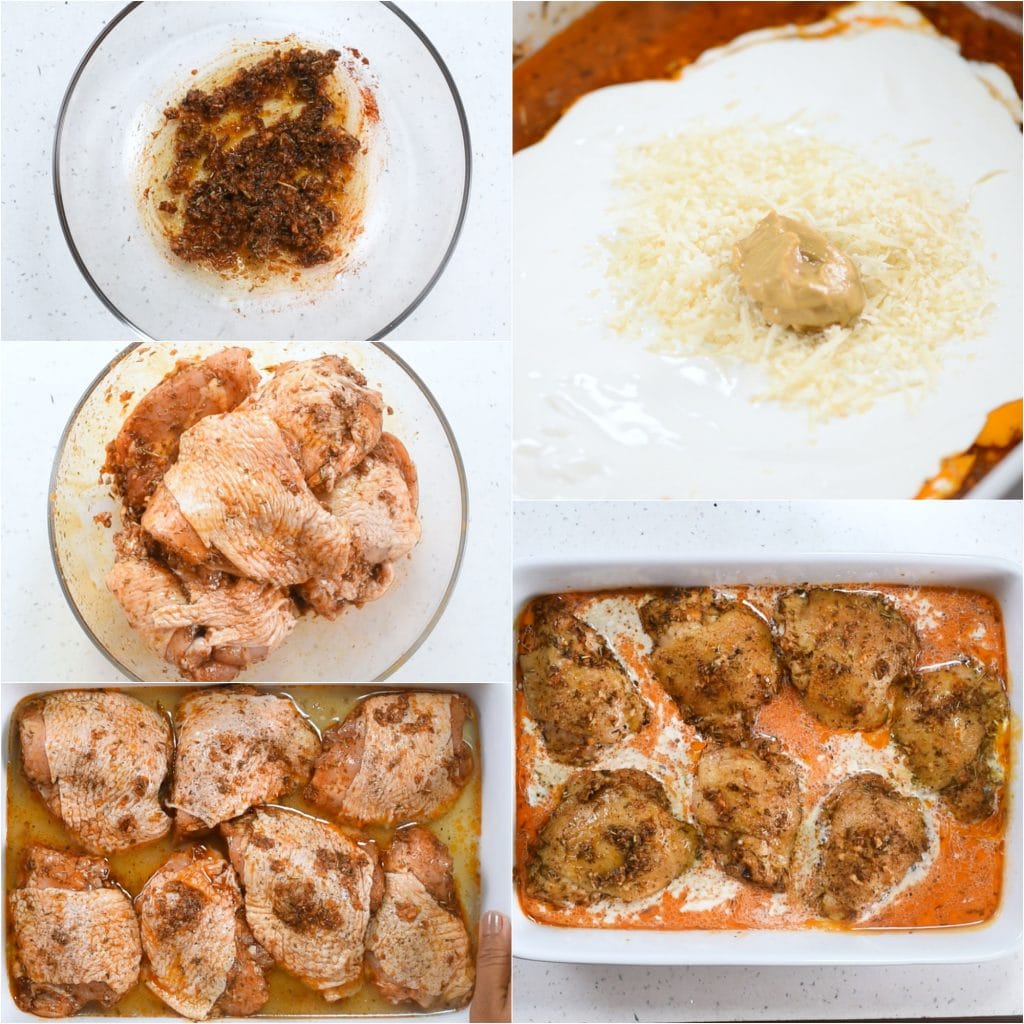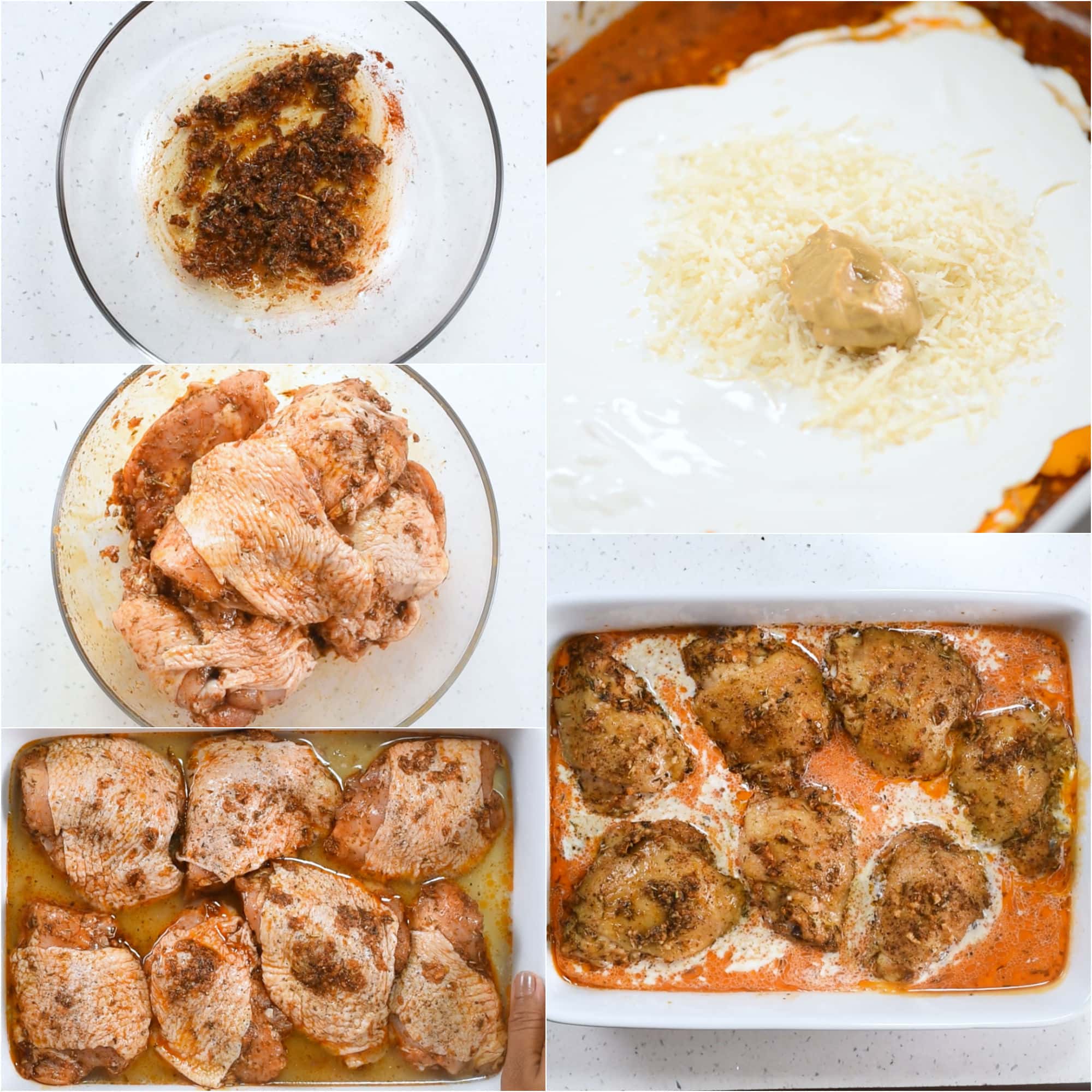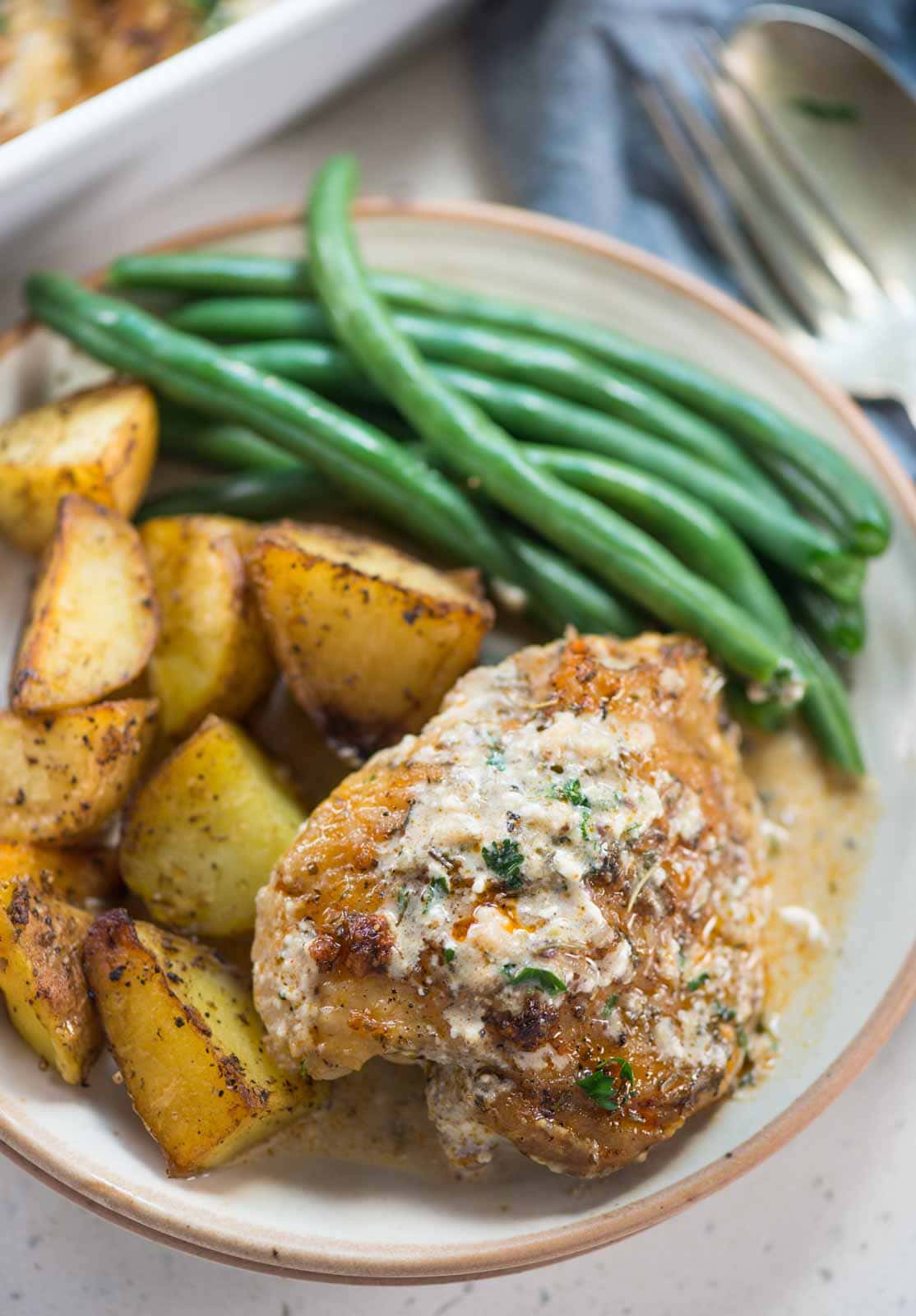 The Most Important Question, How long to bake the Chicken Thighs?
Thigh meat is very forgiving to cook. Unlike Chicken Breast, it doesn't dry out if you cook it a little longer. It stays perfectly juicy and tender. Here are a few tips for perfectly baked Chicken thighs.
Size matters – Make sure the chicken thighs are more or less of similar size for even cooking time.
Bring thighs to room temperature before baking, for it to cook evenly.
For crispy skin – Pat them dry with a kitchen towel to soak as much moisture as possible. Moisture prevents the skin from crisping.
How long and at what temperature to bake the chicken thighs? It takes around 40-45 minutes to cook with crispy skin for the thighs. The internal temperature should reach 165 degrees on a kitchen thermometer.
Other Chicken Thigh Recipes
Sweet and Spicy Boneless Chicken Thighs
Creamy Honey Mustard Chicken Tenders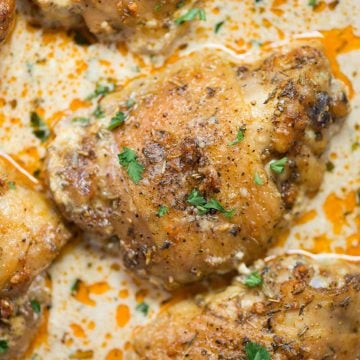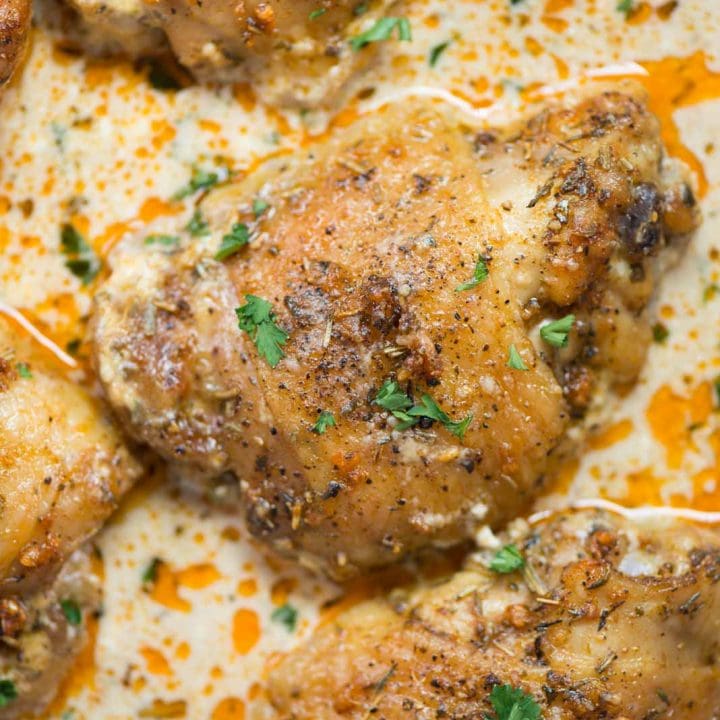 Baked Creamy Chicken Thighs
Seasoned Chicken thigh baked in the oven until juicy with a crispy skin. The pan juice mixed with cream makes a rich sauce perfect to pour over the thighs.
Ingredients
1 kg Chicken thighs bone-in and with skin
¾ cup Chicken stock
¾ cup Heavy Cream
¼ cup Parmesan Cheese
1 teaspoon Dijon Mustard
For seasoning
2 tablespoon Olive oil
1 teaspoon Garlic Powder
1 teaspoon dried thyme
1 teaspoon dried rosemary
1 teaspoon dried parsley
1 teaspoon paprika
1 teaspoon black pepper (adjust per taste)
1 teaspoon salt (adjust per taste)
Instructions
Preheat oven to 400 degrees F (200 degrees Celcius)

Pat dry chicken thighs with a kitchen towel.

In a bowl add all the ingredients mentioned under seasoning. Add in the chicken thighs and toss. Chicken thighs need to coated evenly with the seasoning.

In a 9X13 baking dish, pour in the stock. Arrange the seasoned chicken thighs in a single layer.

Bake in pre heated oven for 20 minutes.

Remove the pan from the oven, bast chicken thighs with the pan juice. (spoon some of the pan juices on chicken thighs)

Remove chicken thighs from the baking pan to a plate.

To the pan juice in the baking pan add heavy cream, dijon mustard, and parmesan cheese. MIx well.

Put the chicken thighs bake to the baking pan in a single layer. Bake for another 25 minutes.
Notes
Make sure you use full-fat heavy whipping cream for a creamy sauce. . Low fat cream might curdle when heated. 
Nutrition
Serving: 1serving | Calories: 782kcal | Carbohydrates: 5g | Protein: 44g | Fat: 65g | Saturated Fat: 25g | Cholesterol: 330mg | Sodium: 916mg | Potassium: 616mg | Fiber: 1g | Sugar: 1g | Vitamin A: 1335IU | Vitamin C: 1mg | Calcium: 93mg | Iron: 2mg