Baked Meatballs In Garlic Butter Sauce
This post may include affiliate links that earn us a small commission.
Baked meatballs in a delicious, savory butter garlic sauce are easy to make and fail-proof. The meatballs have tons of flavor (secret ingredient) and are juicy.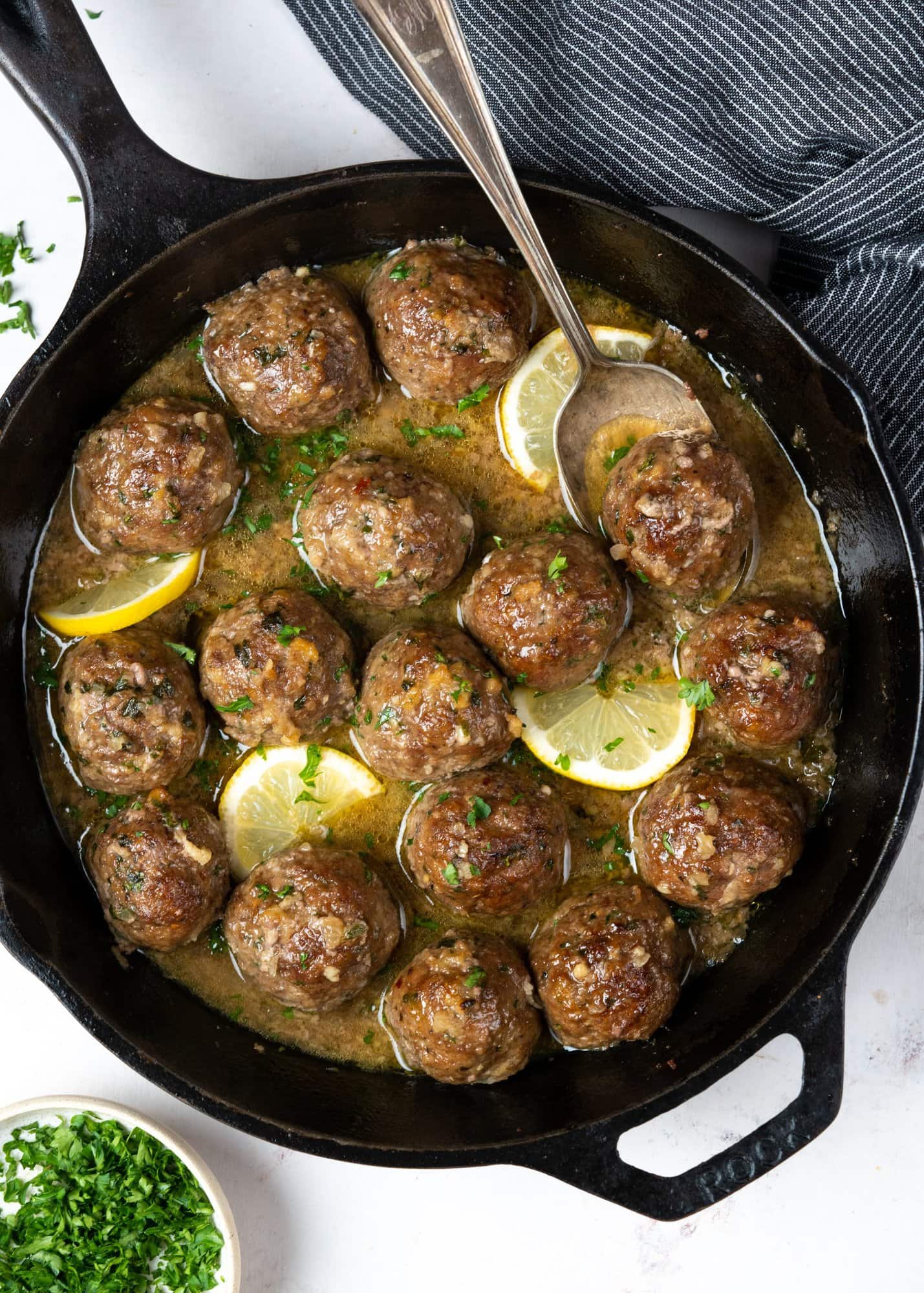 Baked Meatballs in Butter Garlic Sauce
Everybody loved meatballs, baked or fried. Those juicy softballs with a nice golden crust on top and flavor from the meat, onions, garlic, herbs, and spices are so delicious and tempting; one is never enough.
Flavours In Your Inbox
Subscribe for recipes straight to your inbox
When we talk of meatballs, we want them to have a nice brown crust on the top and a tender and juicy inside. Meatballs should be spongy to the touch. A dense, tough, or chewy meatball can spoil your mood and appetite.
If you can make homemade meatballs as good as or better than restaurant ones, you can go versatile with them. Shape it as you like it, and pair it with a gravy or sauce you prefer. The butter garlic sauce in this recipe is super flavorful and hits the spot.
A properly seasoned and cooked meatball by itself is not enough. You need a flavorful sauce to compliment them. This butter garlic sauce shines there. This savory sauce with the flavors of butter, garlic, and onions makes those meatballs sing. Have it with mashed potato, and it's a complete and fulfilling meal.
You can also have these meatballs with an asian sauce like I have done in this meal prep recipe – spicy chinese chicken meatballs.
Why this baked meatball recipe wins you over
The best meatball recipe should have a few things going for it, and this oven-baked meatballs recipe checks all the boxes.
With this recipe, homemade meatballs will come tender and juicy with nice browning on top every time.
Perfectly seasoned meatballs with garlic, onion, cheese, and parsley flavors.
Meatballs are baked here, saving time and making it error-proof.
You can do a larger batch in the oven vs. on a pan, where you need to do it in smaller batches and be consistent in cooking and browning each time.
Butter garlic sauce in this recipe is super easy to make and delicious. It is rich and savory, and lick-worthy.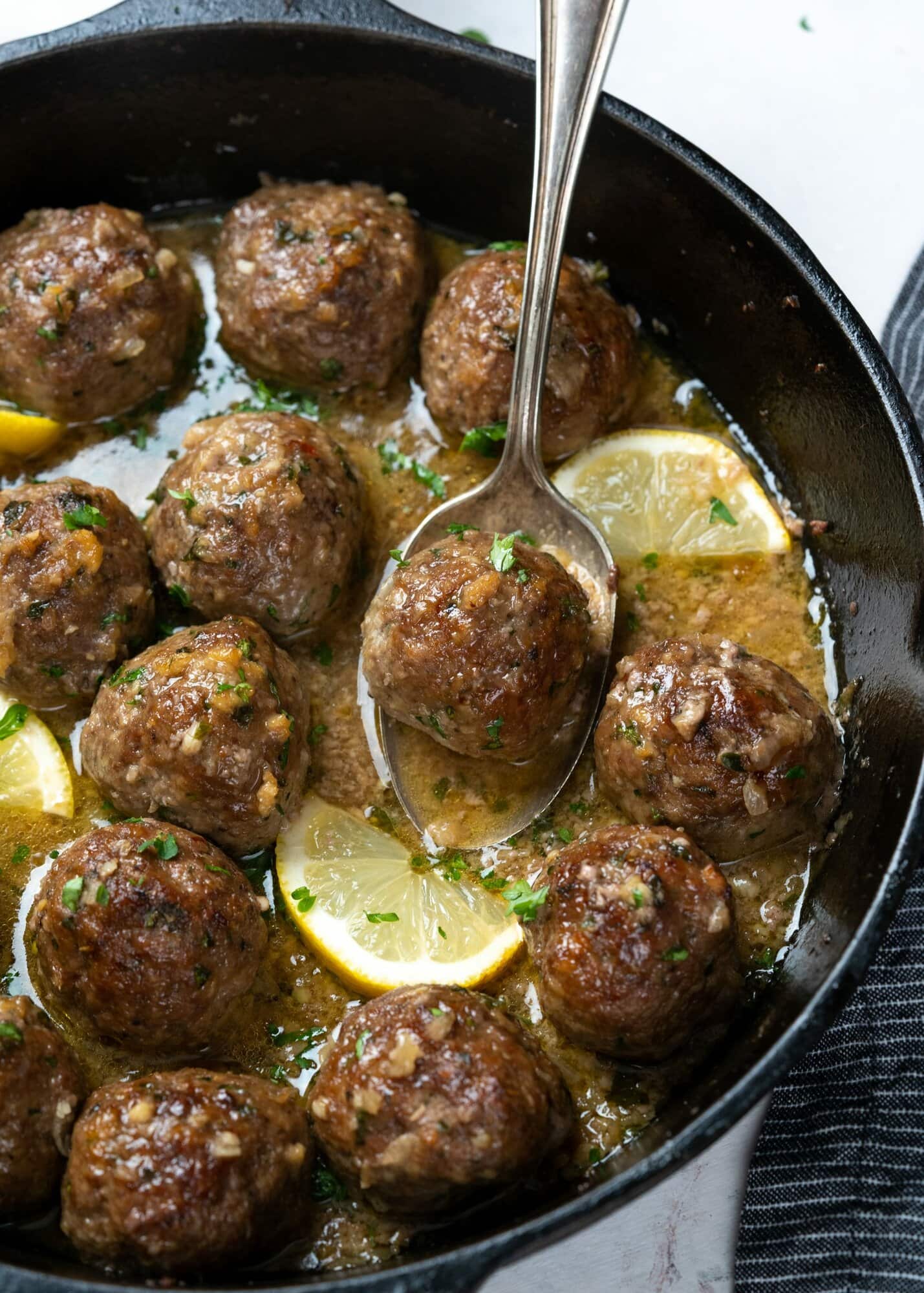 History of Meatballs
Meatballs are an American-Immigrant creation. With Italian meatballs so famous and Ikea meatballs so popular, one would be forgiven to think meatballs originated in Italy or neighboring parts of Europe.
Though it is difficult to trace back the origins of a popular and old dish, recipe books have documented it for over 2000 years, and it can be accepted that meatballs had their origins in the humble Kofta, which is popular from India to the Arab peninsula.
Using ground meat, from chicken to fish, with other ingredients acting as fillers, is universal and popular worldwide. Traditionally, meatballs for the masses included chicken and fish or cuts of meat that were not expensive, while the rich went for more expensive and quality cuts. Fillers have always been breadcrumbs, onions, eggs, cheese, spices, and herbs.
The Italian immigrant population to America came up with this affordable idea of pairing meatballs with spaghetti or some easily made sauces. This has caught up with most Italian-food establishments in America and beyond.
What do you need
Ingredients for meatballs
Lean ground beef – Forms the bulk of the meatballs and is the primary flavor driver of the meatballs. Get good quality ground beef for the best-tasting meatballs.
Ground pork – Only beef will make the meatballs dense. Adding ground pork makes them soft and light and adds fat. Fat adds tenderness and flavor to the meatballs. This combination based on Italian meatballs gives the best juicy meatballs.
Breadcrumbs – These are used to act as a filler in between all the meat. It also helps absorb the moisture and juice and traps it in the meatball. Juicy meatballs owe some to the breadcrumbs.
Parmesan cheese – Grated cheese adds fat, flavor, and moisture to the protein and helps bind everything together.
Onions – are grated, and the juice is used in the meatballs.
Minced garlic – I have added it makes the meatballs more flavorful.
Milk – is used to add moisture to the meatballs, which helps keep them tender and juicy. It is the secret behind getting juicy and tender meatballs.
Chicken Bouillon powder – This is dehydrated chicken stock in powder form. It's often made from chicken stock, vegetables, seasonings, and fat. It has a slightly stronger flavor than stock.
Italian seasoning – Italian seasoning makes a difference between a meatball with flavor and a bland meatball.
Red chili flakes – Used for that extra heat to balance the salt and everything else.
Egg – Unlike the misconception, the egg is used as a binding agent to bind ground meat, breadcrumbs, and onion, not for moisture.
Parsley – Adds a herby flavor level to the meatball.
Ingredients for butter garlic sauce
Note that many ingredients seem repeated here to make the butter garlic sauce and are also used to make the meatballs. These have been repeated for clarity.
Butter – Sauteing onion and garlic in butter adds more flavor.
Chopped onion – Sauteed onions provide flavor to the sauce.
Minced garlic – Garlic is often used to enhance the taste in most savory sauces and gravies.
Chicken stock – Provides base flavor and body to the sauce.
Chopped parsley – Mixed at the end for some extra flavor.
Lemon Slice – to garnish and squeeze on the meatballs while serving.
How to make the perfect meatballs
Shape the meatball
Mix and Rest – Add the breadcrumbs, grated onions, chicken bullion powder, and milk to a large bowl. Mix well. Let it rest for 10 minutes.
Add beef & Pork – now add the ground beef and pork and the rest of the ingredients needed for meatballs. Mix everything well using a spatula. You can use your hands to do so too.
Roll the balls – Slightly wet your palms with oil or water. Take 1 and a half tablespoons of the mix in your palm. Press it gently between both palms and roll it circularly. You should be able to roll them to shape them into a ball. Place each in a tray once done.
Bake the meatballs – Place the tray in the oven at 410°F (210°C) for 12 minutes.
Cook the Sauce
Sauté the ingredients – Add butter to a hot pan while the meatballs bake in the oven. Add minced onions and garlic and sauté for 2 minutes. The onions should have softened, and the garlic had lost its raw smell by then.
Stock & Whisk – Add chicken stock to the pan and allow the mix to simmer for another 3 minutes. You can switch off the flame now. Add another tablespoon of butter and also chopped parsley and whisk the sauce.
Broil meatballs and Sauce
Take out the meatballs from the oven and spoon the sauce over the meatballs. Broil by placing the tray back in the oven for 2 minutes. Since you broil on high heat and place it on the top tray, the meatballs get a crispy golden top.
Serve & Savor 🙂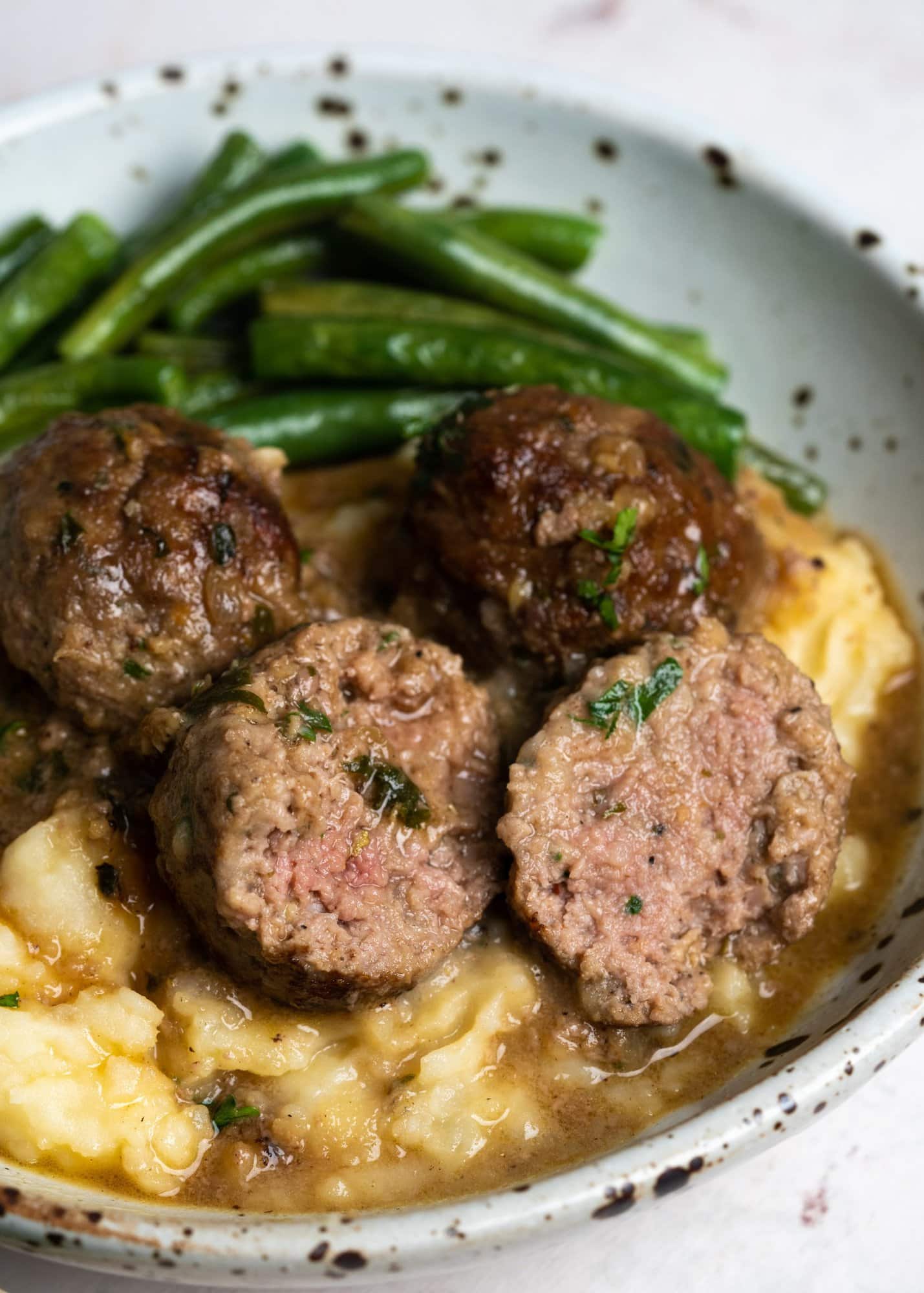 Frequently Asked Questions
Can I bake meatballs instead of frying them?
I have pan-fried meatballs earlier. While I could get equally good juicy and tender meatballs, oven-baked meatballs beat it as it is so convenient. No searing in the pan in which so many things can go wrong. Baking meatballs are entirely hands-free.
Remember, in browning meatballs on a skillet; you must do so in batches. You must toss the meatballs around to get a proper sear. Overcrowding will hinder your efforts thus, batching takes more time unless you have a very large skillet and a wide flame.
Baking them in the oven involves just putting them on a tray. Broiling with the sauce gives them a wonderful brown exterior that takes a couple of minutes. It is just so convenient.
How do you tell if baked meatballs are done?

To tell an eye-check does them, you should check if the outside is browned. If it is, then the inside would be cooked too. Another way is to insert a cooking thermometer to measure the internal temperature; the center should read above 160°F. That reading indicates a well-cooked and juicy core.
How long should I bake meatballs in the oven?
Baking meatballs at 410°F (210°C) for 12 minutes is enough to cook the meatballs, and then broiling them for a couple more gives you perfectly cooked and browned meatballs.
Should I brown meatballs before baking?
You do not need to sear them on a skillet before baking them. Baking them in the oven cooks them through, and at the end, you also broil them. Broiling them in the oven top rack gives them a wonderful brown outside, similar to a good searing.
Can I bake frozen meatballs directly in the oven?
Yes. You do not need to defrost them. You may directly put frozen meatballs in the oven but take care of a few things. Spread them apart and double the time to bake. Bake them for 25 minutes instead of 12.
This means, as per this recipe, you do not add the sauce until it is half-done i.e., 13 minutes. Then, add the sauce and follow the recipe from here on.
Make ahead & Store
Meatballs are one of the most convenient things to make ahead. Bake them ahead, and you can freeze them for a long time (months). You can also refrigerate the meatballs and sauce separately for 3-4 days.
When you need to serve them, get them out before and thaw them if it is from the freezer. You can reheat it in the micro-oven for a minute or heat it on a skillet for a couple of minutes.
Serve with
These wonderfully delicious meatballs are best served over spaghetti or zucchini noodles like Garlic Parmesan Mushroom Zoodles. These also go best with mashed potato or mashed cauliflower.
Other Meat Recipes
Healthy Ground Beef Vegetable Skillet
Stuffed Peppers with Spicy Lamb and Brown Rice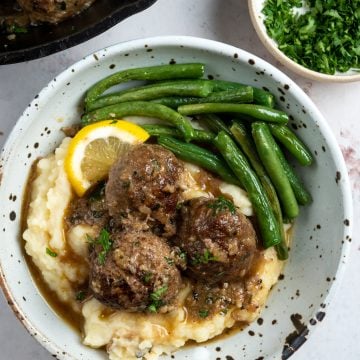 Baked Meatballs in butter garlic sauce
Juicy and tender baked meatballs in delicious, savory butter garlic sauce are easy to make and fail-proof.
Ingredients
For Meatballs
400 grams Lean Ground Beef
100 grams Ground Pork
½ cup Breadcrumbs
1 cup Parmesan cheese grated
1 small Onion grated, ref note 1
⅔ cup Milk
¼ teaspoon Chicken Bouillon Powder
½ teaspoon minced garlic
1 teaspoon Italian Seasoning
½ teaspoon Red chili flakes (optional)
1 Egg
1 tablespoon Chopped parsley
For Garlic Butter Sauce
2 tablespoon Butter
½ Finely chopped Onion
1 teaspoon minced garlic
½ cup Chicken stock
1 tablespoon Chopped Parsley
Instructions
Preheat oven to 410°F (210°C)

Add breadcrumbs, grated onion (along with juice), Chicken Bouillon powder, and milk to a large mixing bowl. Mix well and rest it for 8-10 minutes.

Add ground beef, ground pork, grated parmesan cheese, and rest of the ingredients to the bowl. Using a spatula or best with both hands mix everything really well.

Scoop about 1.5 tablespoons of the mixture, place it in between both palms, and roll into smooth balls. Slightly wet your palms in between to prevent the mixture from sticking. Place it on a tray.

Melt butter in a skillet. Once the butter starts to foam, add minced onion and garlic. Saute for 2 minutes until the onion has softened and the raw smell of garlic is no more.

Add chicken stock and simmer for 2-3 minutes. Switch off the flame. Whisk in another tablespoon of butter and chopped parsley.

Arrange the shaped meatball in a single layer. Bake for 12 minutes.

Remove the pan out of the oven and spoon some sauce over the meatballs. Broil for 1-2 minutes more for a golden and crispy top.

Sprinkle chopped parsley on top and serve.