This post may include affiliate links that earn us a small commission.
A true winter warmer – Beef barley soup has tender beef chunks, barley, and veggies in an aromatic thick broth. This delicious soup is a hearty, nutritious, and wholesome meal for chilly days.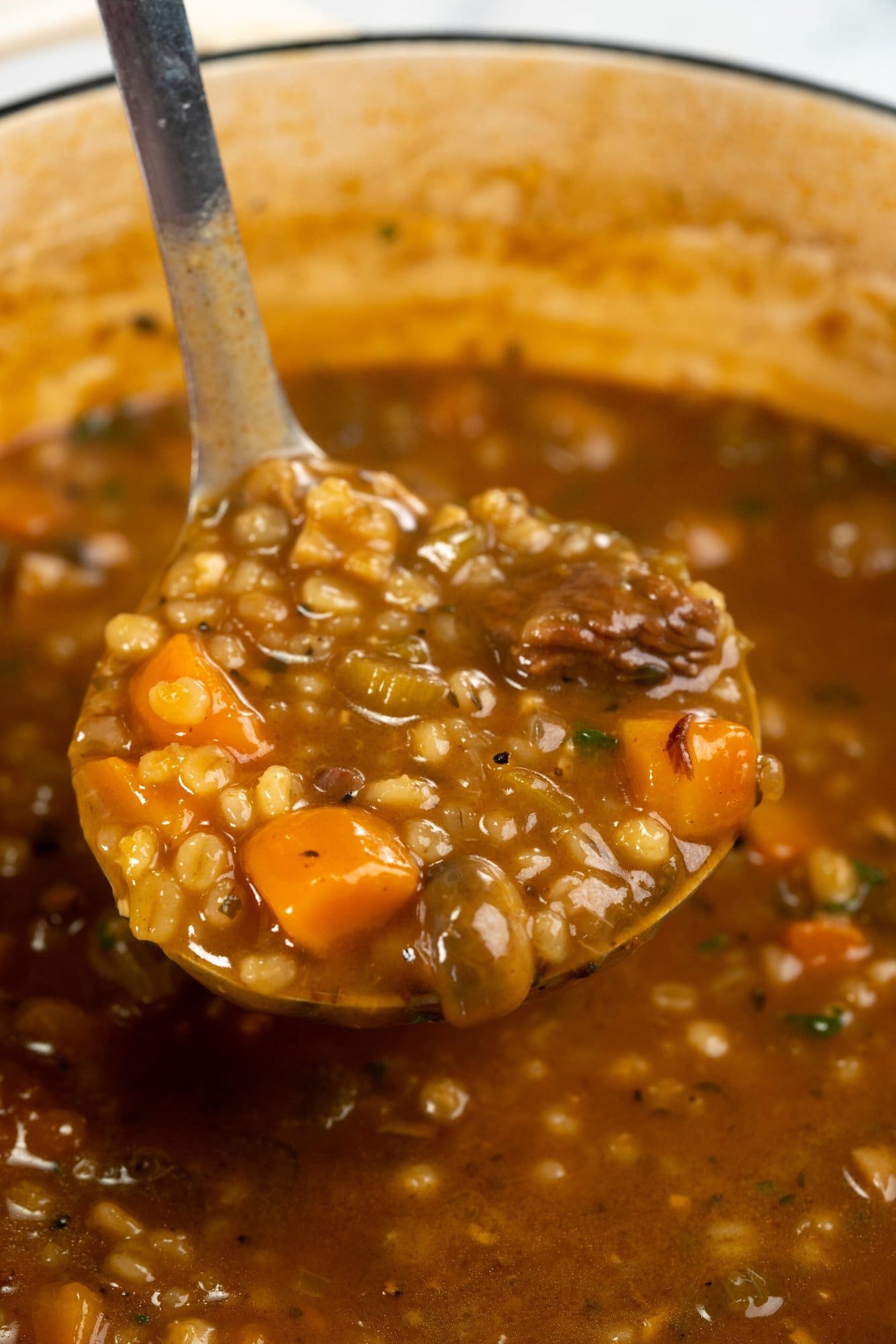 Beef barley soup is a one-pot dish for cold winters. Serve it with some bread to make a wholesome meal. The chuck cubes are browned and cooked along with the rest of the soup to become tender and impart their flavor to everything. Barley makes the soup fulfilling and nutritious. You can get creative with the added vegetables in this like most soups. Add carrots and also mushrooms for their rich flavor.
Flavours In Your Inbox
Subscribe for recipes straight to your inbox
This season calls for soups. While you can enjoy soups at other times too, winter just makes you crave a hot, brimming soup. It really helps when you have at least a dozen of soup recipes in your arsenal. These winter soup recipes will keep you warm and cozy – Creamy Tomato Tortellini Soup, Classic French Onion Soup, Healthy Vegetable Soup, and Red Lentil Soup With Spinach.
Right cuts of beef for Soups
Many have a question – which is the best cut of beef for barley soup or any soup in general?
The thumb rule is to get cuts from worked-up portions of the animal. The reason is – the worked-up parts of the animal like the shoulder develop a lot of collagen. Collagen forms the bulk of the connective tissue that joins the muscle fibers in these areas. It is the most abundant form of protein in most animals.
So the question is now – which parts have the most collagen or are the most worked-up muscles? Chucks (part of the shoulder) and short ribs are collagen-rich and touch pieces. They need a long time to cook when the collagen melts and forms gelatin-like stuff, that not only keeps the chuck pieces moist but also does not dry.
Other tender popular cuts like the tenderloin are not ideal. While the soup cooks, they dry up and become chewy. They do not have collagen which can save the day for them.
So, best advice – get the chuck or at least the short ribs. Chuck pieces are easy to cube and add to the soup and more convenient than the ribs where you will have to remove the rib bones. Just trim the chuck pieces of excess fat as fat can make the soup very oily when cooked.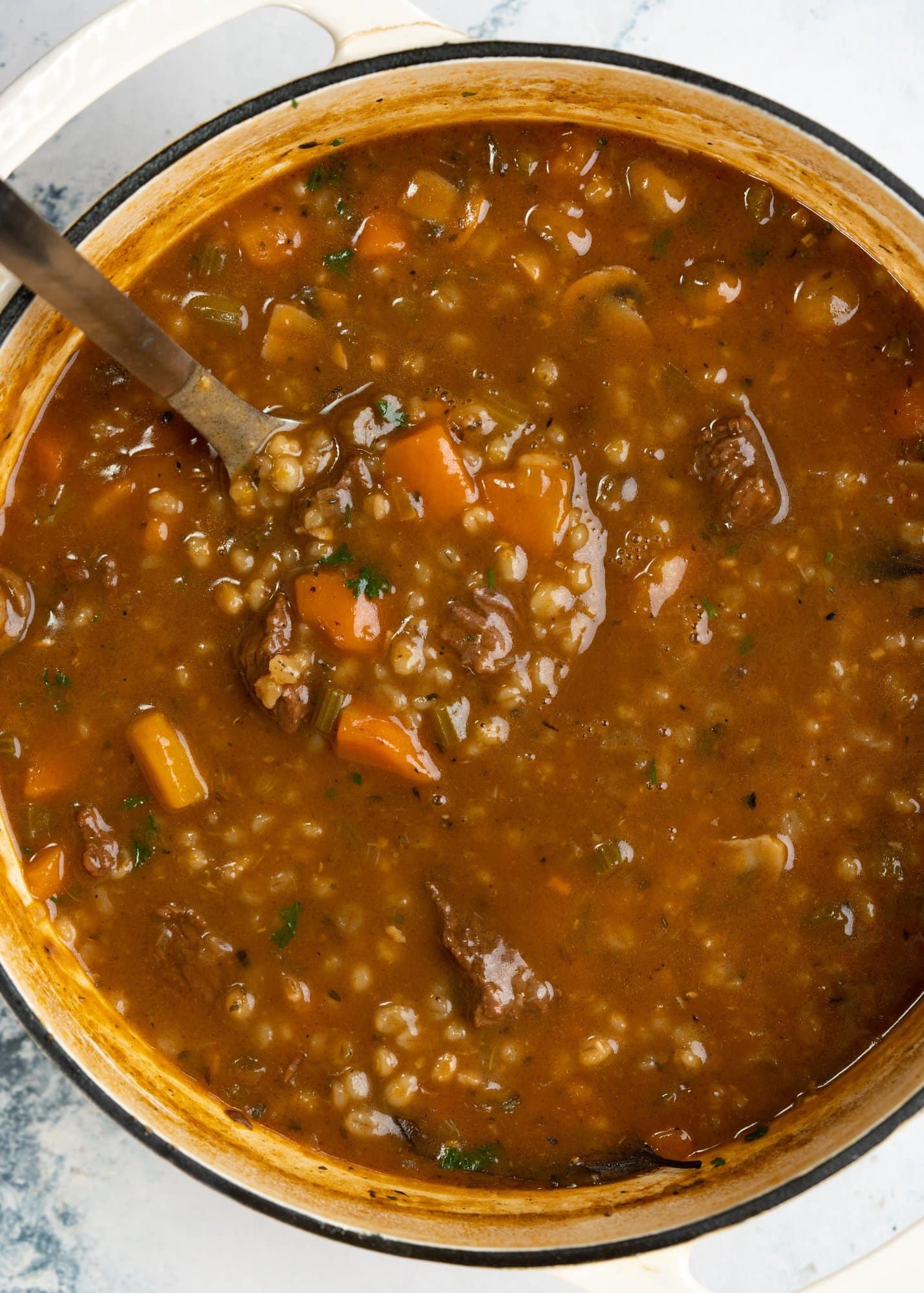 Ingredients
To make a beef barley soup, you will have to arrange a good cut of beef, popular aromatics, and sauces that you should already have in your pantry and common herbs available in your garden.
Chuck – when you have decided on chuck roasts, you make your job much easier. just make sure to trim them of excess fat and cut them into less than 1-inch cubes.
Barley – Pearl barley is processed and therefore cooks faster and is less chewy than other unprocessed forms. You will have to wash and it cooks along with everything else.
Oil – used to brown the beef chunks. Olive oil gives a nice flavor but you may use vegetable oil instead too.
Vegetables – I have added carrots and mushrooms. You may use any ones that you like.
Beef stock – forms the body of the soup. A good quality beef stock is really worth it.
Aromatics – Popular ones like onion and garlic. Add tomato paste which forms a base for the aromatics, herbs, and spices.
Herbs & Spices – Herbs like celery and thyme and spices like bay leaf. Go for at least 2 teaspoons of minced thyme, if you are using fresh. For dried thyme, the quantity should be reduced to 1/2 teaspoon.
How to make beef barley soup
Soak barley
Do you need to cook barley before adding it to the soup? You do not need to. What will help to have the barley cook by the time the soup is ready, is to soak it in warm water.
Wash the barley and soak it in warm water. Let it soak till you need to add them after the soup cooks for an hour.
Roast the chuck pieces
This I would say is the most important step. Roasting the beef well ensures that it cooks well and develops a lot of flavors.
Pat the beef chunks dry. Moisture on the chunks will make a lot of steam and not allow them to sear properly and develop that nice brown color. We do not want steam chuck pieces.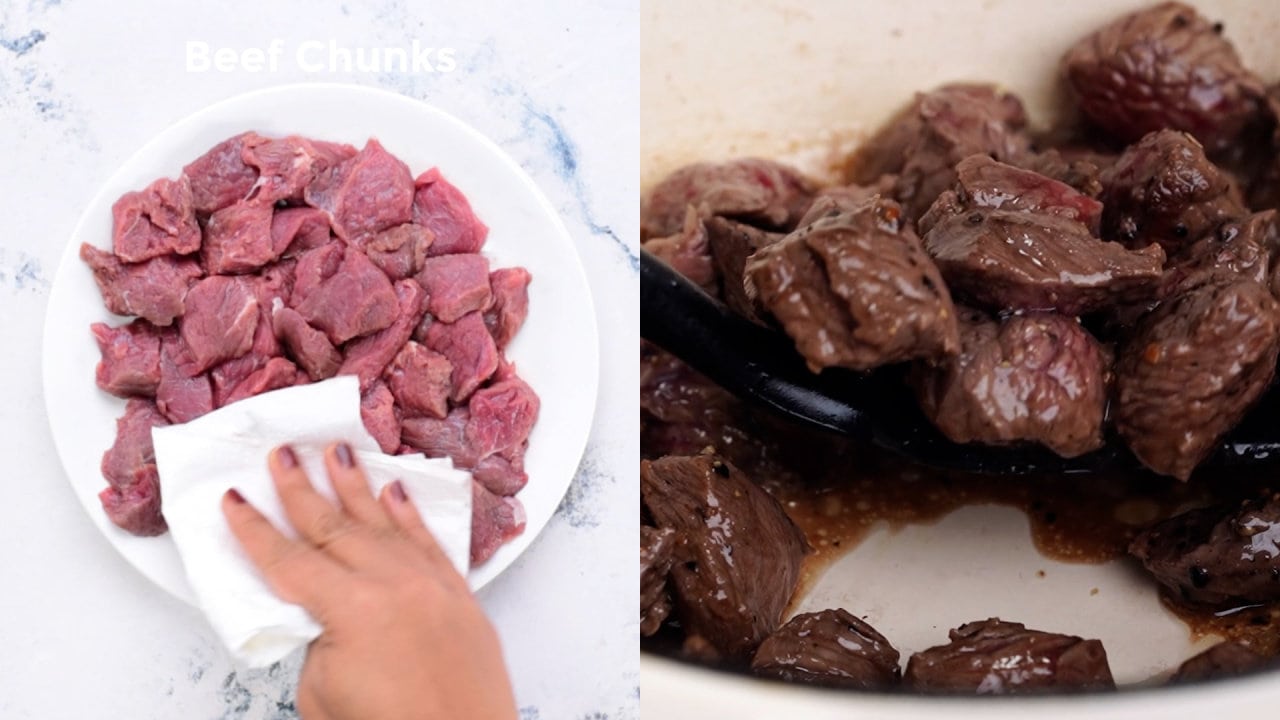 Heat a dutch oven. To check if it is hot enough, splash a few drops of water on it. If they steam, it is hot enough. Add oil now and wait to see some smoke.
We should be roasting the chuck pieces in batches. Avoid crowding, as that will not let the heat escape and will steam the pieces instead. Sear it for high heat for 2-3 minutes on high heat. Turn them over and you should see a nice brown crust on the beef pieces. Brown them for up to 3 minutes on the other side too. Take them off using a slotted spoon.
Spices & herbs sing flavor
While you can get all the components cooked right, a soup still has to pack loads of flavor. Aromatics like onion and garlic along with spices and herbs up the dish to another level.
After taking off the beef chunks, add chopped onion and garlic and saute them for 30 seconds to a minute. The onions and garlic should lose their raw smell. Add chopped carrots, bay leaf for aroma, and herbs – celery and thyme. Saute for 2 minutes to allow the spices and herbs to develop flavor when exposed to heat. Add tomato paste and saute for further 2 minutes.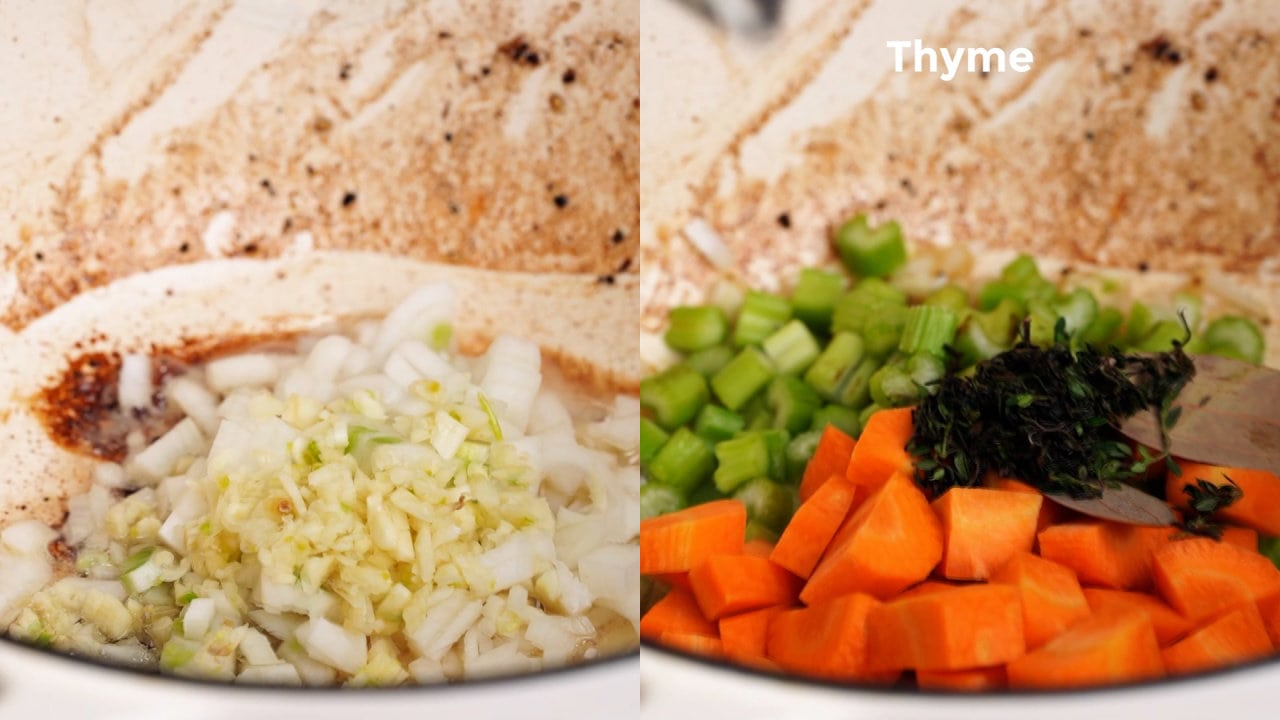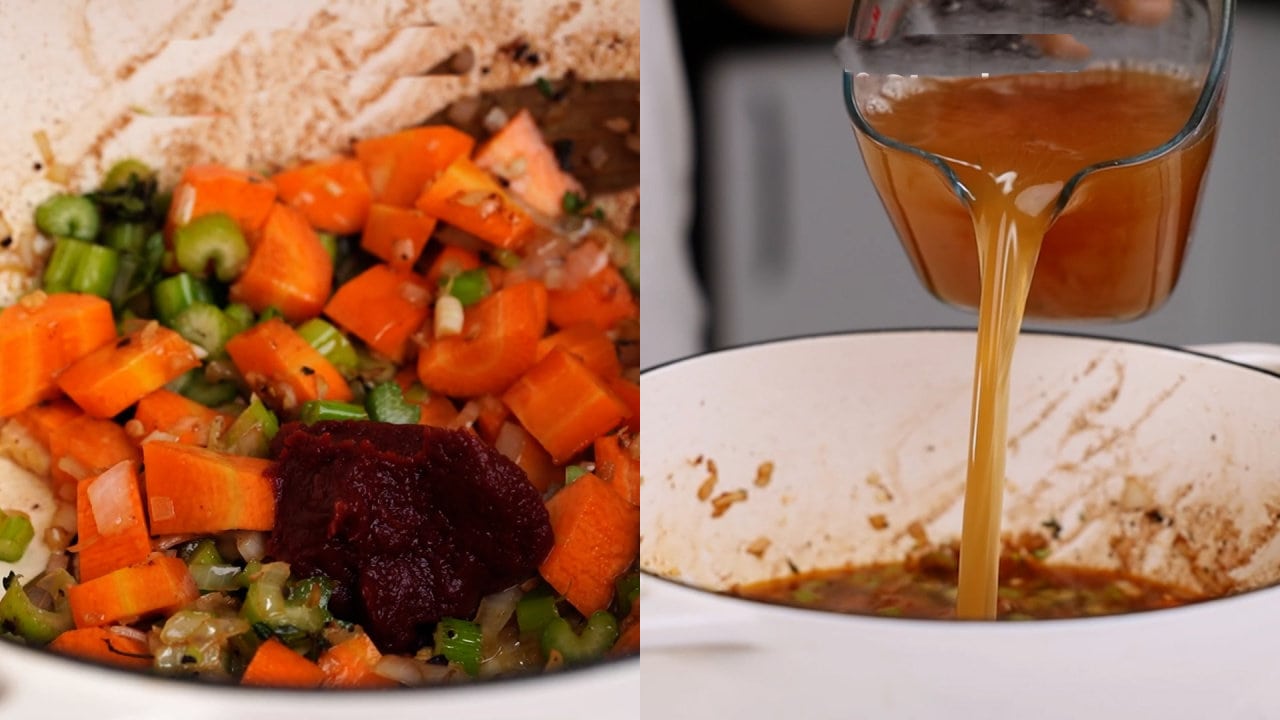 Season with stock and sauce
Stir in the beef stock. To do so, slowly pour the beef stock while you stir the contents of the dutch oven. Season with Soy sauce and Worcestershire sauce. Taste for saltiness now and add some more salt if required. Add the browned beef chunks.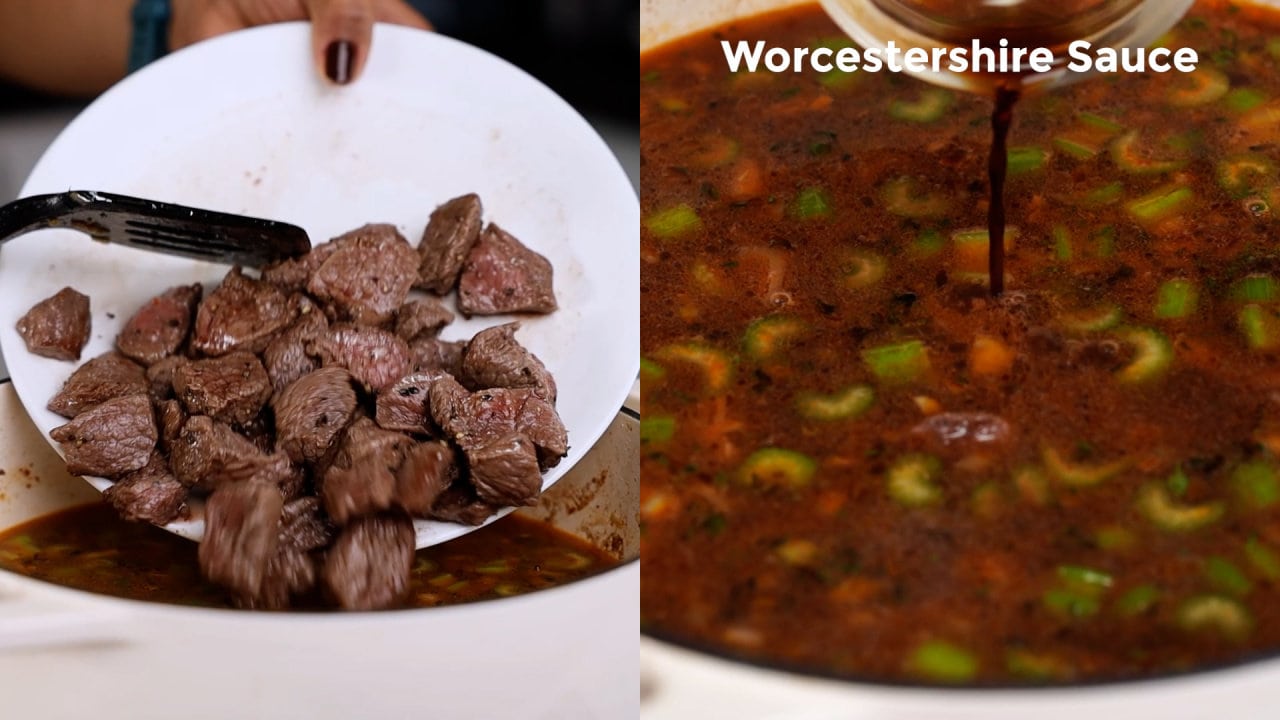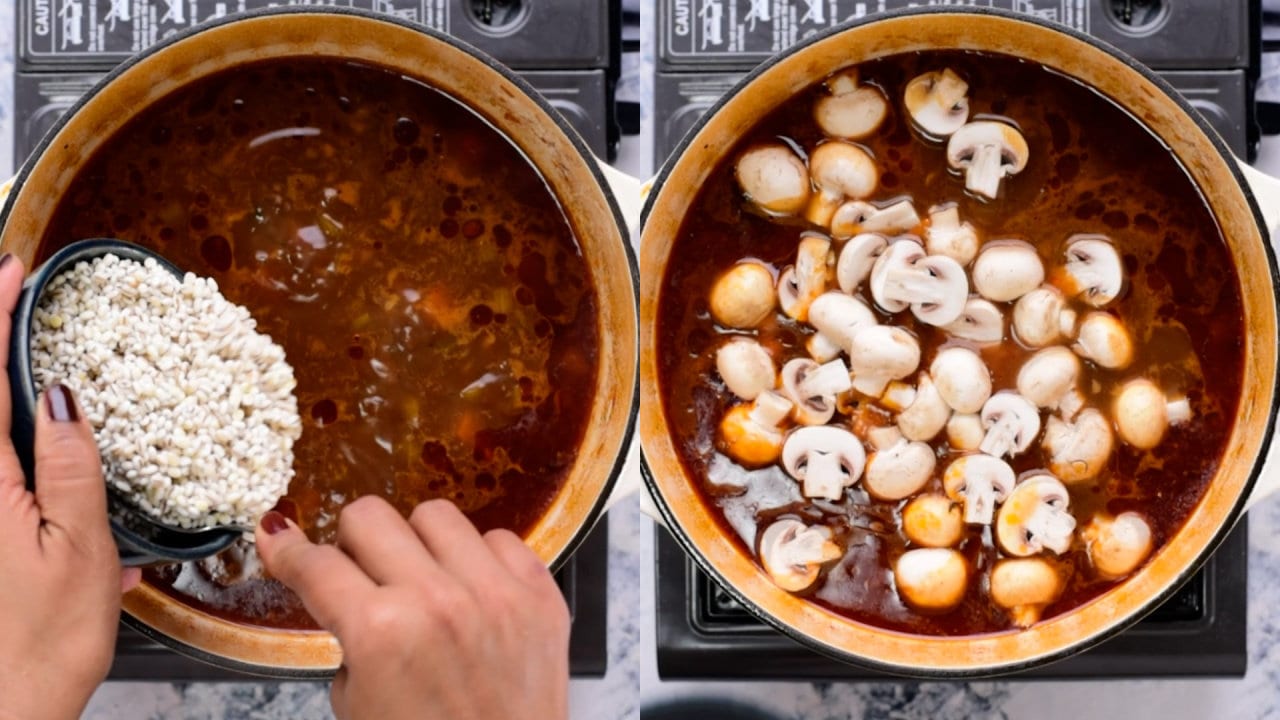 Bring the content to a boil and then, reduce heat, cover it and let it simmer for an hour.
After an hour, add the soaked barley grains along with the mushrooms. Cover and cook again on low heat for another 45 minutes to 1 hour.
Add chopped parsley and serve.
How to store soup
Beef barley soup can be easily frozen for up to 6 months in the freezer. Keep one important thing in mind – the soup becomes dense when it freezes and when you thaw and reheat it, it will lose even more water. To handle this, make the soup slightly runny. Just ensure the container is airtight.
You can refrigerate this for up to 4 days. For refrigerated, soups, just reheat them back in the dutch oven or even microwave them. For frozen soups, thaw them overnight in the refrigerator section and then reheat them as usual.
Other Soup Recipes
Instant Pot Creamy Vegetable Soup
Slow Cooker Mexican Chicken Soup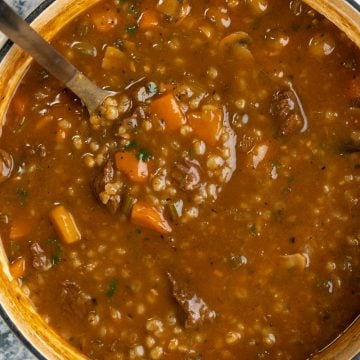 Beef Barley Soup
Beef is cooked slowly until soft and tender. This soup is hearty and filling with nutritious barley and vegetables.
Equipment
1 Big bowl or vessel to soak the barley in warm water
Ingredients
500 grams chuck roast trimmed of excess chunks of fat, cut into 3/4-inch cubes
3 tablespoons olive oil
2 carrots cut into big chunks
200 grams mushroom halved
2 stalks celery
1 large yellow onion
3 tablespoons tomato paste
1.5 tablespoons minced garlic
6-8 cups broth
2 bay leaf
2 teaspoons minced fresh thyme or 1/2 tsp dried
1 tablespoons low-sodium soy sauce
3 teaspoons Worcestershire sauce
Salt and freshly ground black pepper
¾ cup pearl barley
3 tablespoons minced fresh parsley
Instructions
Wash the barley. Soak it in warm water while you prepare the rest of the soup. It will be needed later.

Using a kitchen towel pat dry beef chunks really well. Season with salt and pepper.

Heat olive oil in a dutch oven. Add half of the beef chunks. Sear it on high heat for 2-3 minutes. Turn the pieces and brown for 2-3 minutes more. Using a slotted spoon remove browned beef chunks from the pot.

Add the rest of the beef chunks and brown. Keep aside.

To the same dutch oven, add chopped onion and garlic and saute for 30 seconds.

Add chopped celery, carrot, bay leaf, and thyme. Saute for 2 minutes.

Add tomato paste and saute for 2 minutes.

Stir in beef stock. Season with Soy sauce and Worcestershire sauce. Check the seasoning and add more salt if required. Add in the beef chunks. Bring it to a slow boil, then reduce heat, cover and let it cook on a simmer for 1 hour.

Add the soaked barley grains. Add it to the dutch oven. Also, stir in the mushrooms. Cover and cook again on low heat for another 45 minutes – 1 hour.

Add parsley and serve.
Nutrition
Serving: 1serving | Calories: 353kcal | Carbohydrates: 31g | Protein: 21g | Fat: 17g | Saturated Fat: 5g | Polyunsaturated Fat: 2g | Monounsaturated Fat: 10g | Trans Fat: 1g | Cholesterol: 58mg | Sodium: 1236mg | Potassium: 712mg | Fiber: 6g | Sugar: 6g | Vitamin A: 4101IU | Vitamin C: 7mg | Calcium: 51mg | Iron: 3mg