Instant Pot Creamy Vegetable Soup
This post may include affiliate links that earn us a small commission.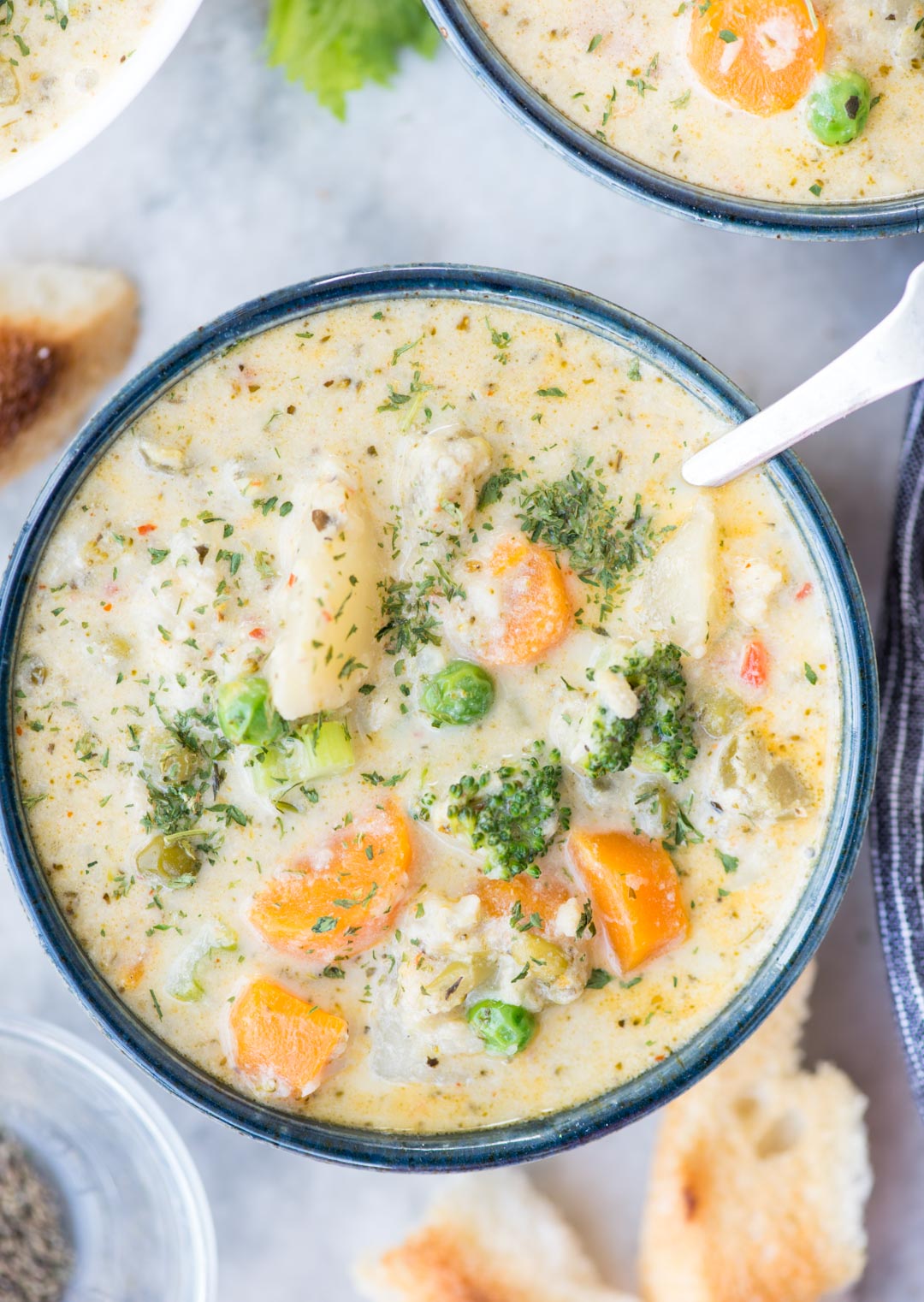 Creamy Instant Pot Vegetable Soup made with loads of vegetables is healthy and gluten-free. The soup has the richness of Parmesan Cheese and is really filling.
Made with an array of colorful vegetables, a bowl full of this Homemade Creamy Instant Pot Vegetable Soup is going to keep you warm on cold winter days. I have not used any flour or cornstarch to thicken the soup. It is partly thickened with cooked vegetables.
Flavours In Your Inbox
Subscribe for recipes straight to your inbox
For extra richness, I have added heavy cream and parmesan cheese. You can pretty much adjust the amount of Cheese for low calorie and healthier version.
I have made this soup in my Instant Pot to speed up the process but you can easily make it on the stovetop. I am going to share both the versions below in the recipe. In either way, you can serve this delicious Creamy Vegetable Soup for dinner in under 30 minutes.

Ingredients For Vegetable Soup
This Soup is a great way to include veggies in your meal. Especially for kids, who is a fussy eater. They can't tell no to the creamy delicious broth. I would top it with little more cheese while giving it to the kids and lure them to it 😉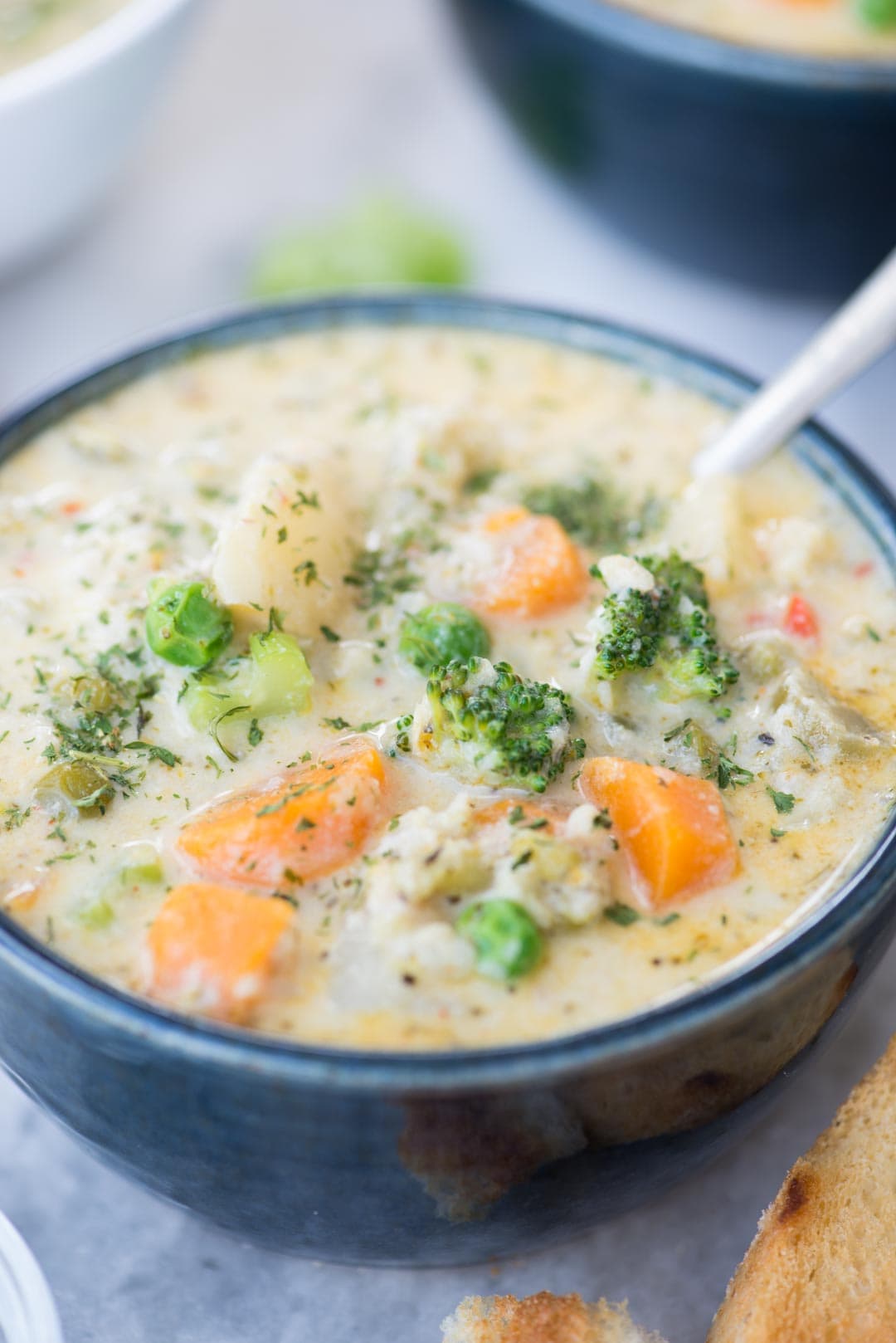 It is a great soup to use up any leftover veggies. You can add any of your favorite veggies to it. I have used carrots, broccoli, cauliflower, peas, and potatoes here. You can use corn, mushroom, zucchini, etc too.
Instant Pot Vegetable Soup Recipe
Dunk a crusty bread into this Creamy Vegetable soup and I am telling you it is a real bliss. This Healthy Vegetable soup doesn't have any flour or thickening agent. It is naturally gluten-free. Cauliflower, broccoli, and potatoes once cooked, helps to thicken the soup.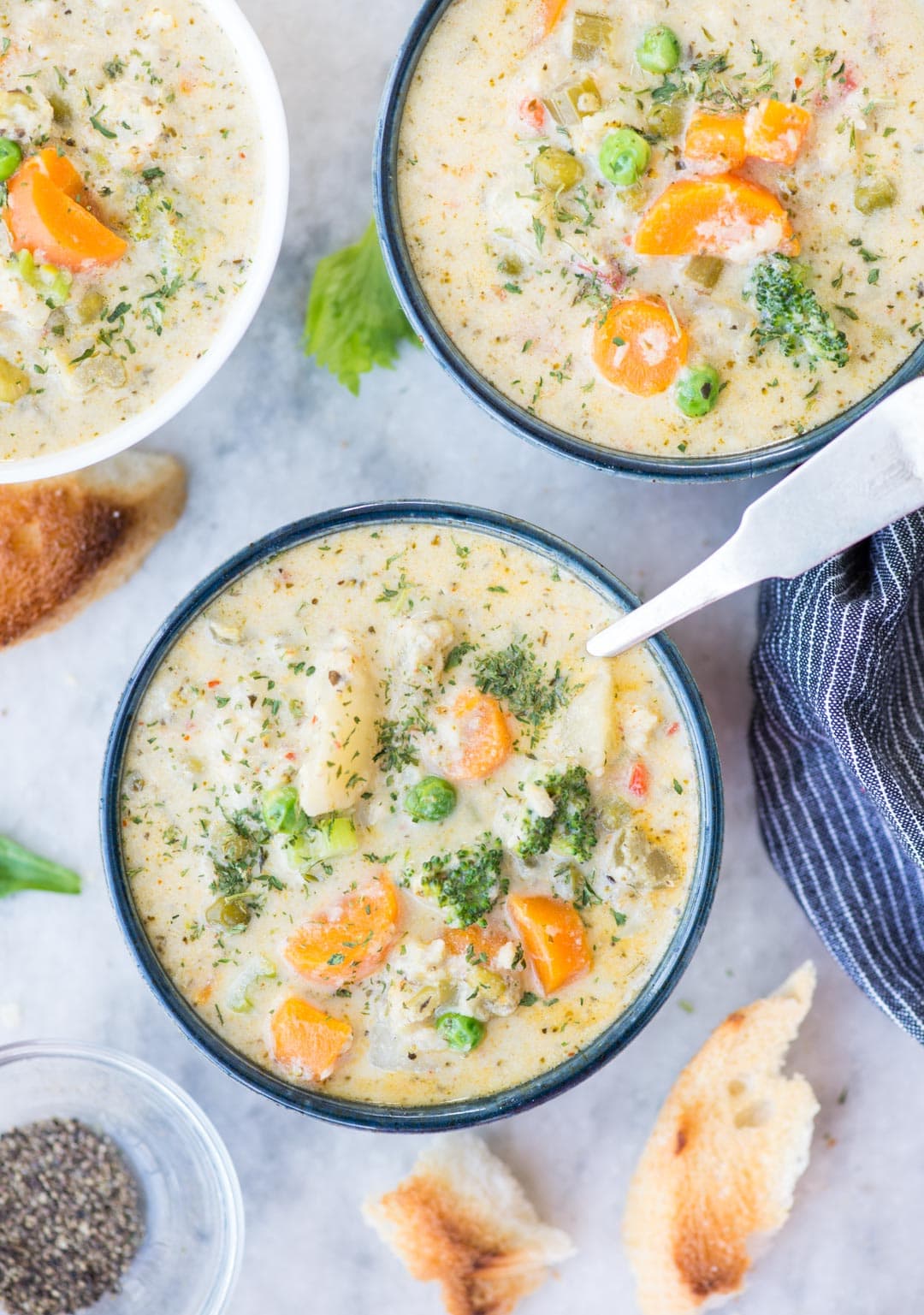 You can adjust the amount of cream and cheese to be added if you are counting your calories.

More Instant Pot Soup Recipes…
Instant Pot Sausage Tortellini Soup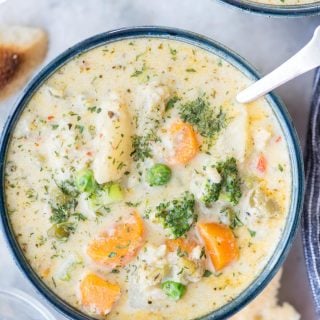 Creamy Instant Pot Vegetable Soup
Creamy Instant Pot Vegetable Soup made with loads of vegetables is healthy and gluten-free. The soup has the richness from Parmesan Cheese and is really filling.
Ingredients
2 Teaspoon Olive Oil
1 Teaspoon Butter (optional)
1 medium Onion Chopped
1 Tablespoon Garlic Minced
½ Cup Celery Chopped
1 large Potatoes Cubed (about 1 cup)
2 Cups Cauliflower Florets (Heaping Cup)
1 small Brocolli
1 Medium Carrot
½ Cup Frozen Peas
2 Teaspoon Italian Seasoning
½ Teaspoon Chili Flakes
Salt and Pepper
1.5 Cups Vegetable Stock Or Chicken Stock
½ Cup Heavy Cream
½ Cup Parmesan Cheese
Instructions
Switch on the Instant Pot and set to Saute mode.

Add oil and butter. Once warm, stir in the chopped onion, minced garlic, and celery. Saute for 1 minute. 

Add cauliflower, carrot, and potato. Saute for a minute. 

Add Bell pepper, Broccoli and peas, followed by the seasoning, Chili flakes, salt and pepper.

Pour in the stock. Mix everything well.

Cover the lid. Set the Instant pot to Manual/Pressure Cooking mode. Cook for 5 minutes. Then let the pressure release naturally for 5 minutes, followed by manual pressure release. 

Stir in Heavy cream and Parmesan cheese.  Mix until the cheese has melted and mixed well ( Don't overmix else the veggies will become really mushy).

Serve hot with more parmesan cheese sprinkled on top, along with a crusty piece of bread.
Nutrition
Serving: 200g | Calories: 229kcal | Carbohydrates: 21g | Protein: 13g | Fat: 10g | Saturated Fat: 4g | Cholesterol: 24mg | Sodium: 459mg | Potassium: 665mg | Fiber: 4g | Sugar: 9g | Vitamin A: 3040IU | Vitamin C: 39.2mg | Calcium: 294mg | Iron: 2.2mg