This post may include affiliate links that earn us a small commission.
Classic tomato soup has fresh flavors; it is tangy with a hint of sweetness and flavorful from using aromatics and herbs. You can make this soup using fresh or canned tomatoes and a handful of other ingredients.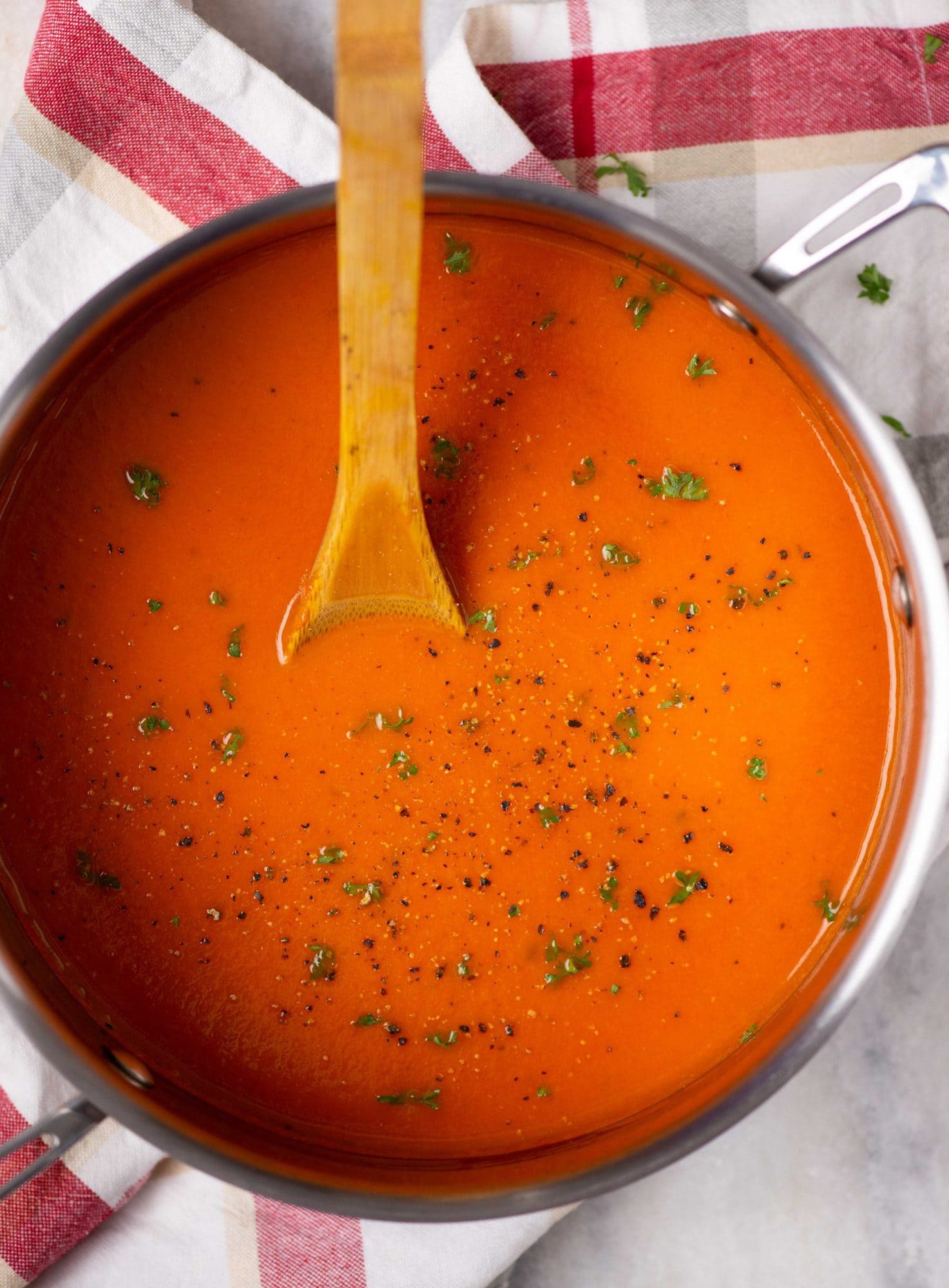 This recipe needs no introduction. Humans have been comforting themselves with soups for a long time and Tomato soup has been savored by families around the world for centuries. There is one hero ingredient here and one that most kitchens will have – the tangy tomato, and you use a few others to balance the tanginess and acidity in it.
Flavours In Your Inbox
Subscribe for recipes straight to your inbox
Homemade Tomato soup is one of our favorites. This is way better than canned tomato soups available in stores. This is such a simple, comforting homemade soup, and one, sure I am not the only one, who can savor it all year long.
Onion and tomatoes are sauteed in butter for beautiful flavor, then tomatoes are cooked and blended until smooth.
It is rich and creamy, yet doesn't contain oodles of cream. Check out the detailed recipe to find the trick for the creamiest tomato soup without adding cream.
I am also going to share a few modifications to get Restaurant-style Tomato soup. You can choose to make it chunky too, as per your preference. The creamy version here is perfectly soothing to spoon down.
Tomatoes are ubiquitous and I have made soups by pairing different ingredients with a tomato-based sauce like a creamy soup with tortellini, and also a Tomato White Beans Soup. Tomato Egg Drop Soup is another interesting variation to a classic Chinese recipe.
Fresh or canned tomatoes for tomato soup?
I would say use what you have access to. Both will lend different flavours to the soup but both versions will be delicious in their own way.
Canned tomatoes are the best quality in-season tomatoes with intense flavor. It is convenient to use because there will always be a couple of canes of tomatoes lying in the pantry. You can make tomato soup any time of the year, instead of waiting for the tomato season.
Fresh tomatoes are also equally flavourful. Homemade tomato soup is a great way to use in-season fresh produce. Pick ripe plum tomatoes for the best result. Here is a small trick, while using fresh tomatoes. Add a couple of tablespoons of tomato paste to intensify the flavor.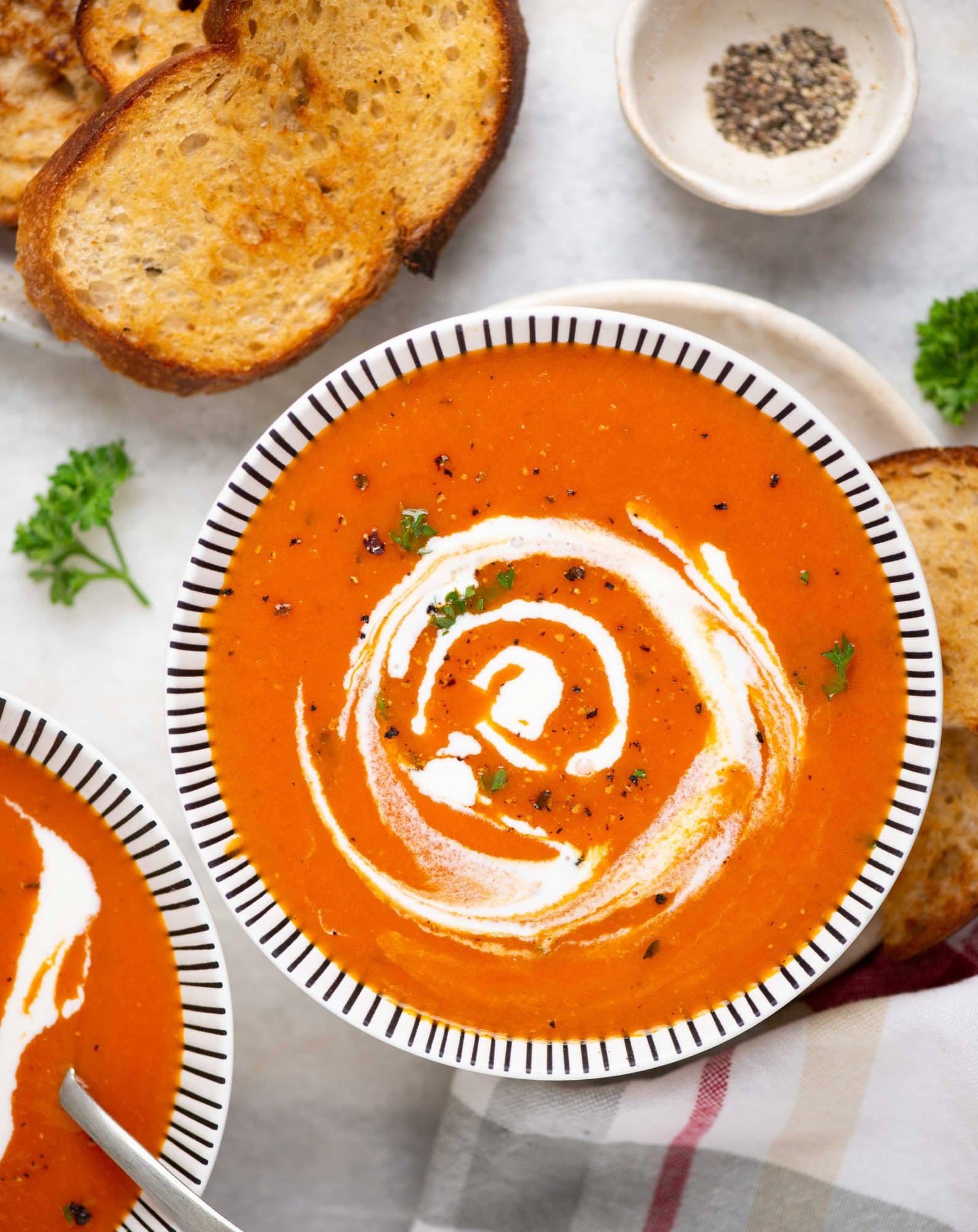 Roux – to thicken and add flavor
If you have questions like – What should I do to make my soup thicker and creamier? A Roux is the answer. It acts as a thickening agent to thicken the soup, obviously, but its role does not end there.
It also makes the texture creamier while adding flavor to the base. It also binds the ingredients in your soup and prevents them from separating, especially if you have added cream.
You make a roux, after you have blended the tomatoes. A roux is an equal mixture of fat and flour. To fat like butter, melted in a pan, you add flour while stirring the mixture. It should not form lumps and you cook that over low heat.
This way the flour is lightly roasted in butter, without browning, and develops a flavor that imparts to the soup as well. You then add the blended tomato puree ladle by ladle while whisking the mixture. You can do that the other way around too. It is better if the roux has cooled down before it is added to the tomato base.
Ingredients
Tomatoes are the main ingredient and we use a couple of aromatics and other ingredients to balance the tanginess and up the flavor.
Tomatoes – Fresh, ripe tomatoes are best as they have some sweetness too. Pick Roma or San Marzano tomatoes from the stores. Your local seasonal varieties are good too.
Tomato paste – Tomato paste is thicker and has a more stronger flavor than pureed or blanched tomatoes. A little paste helps make the tomato base thicker.
Butter – Most things sauteed in butter develop a better flavor compared to regular oil.
Olive oil – Butter has a lower smoking point and hence, there is a risk of burning the ingredients. Olive oil helps in raising the smoking point of butter and is mixed with butter to saute the aromatics.
Onion and garlic – These aromatics give a depth of flavor and aroma to the tomatoes.
Sugar – To offset the tanginess of the tomatoes, you can use sugar.
Spices – Bay leaves when cooked in oil or water, give a mild scent and flavor. Add black peppercorn to season the soup.
Vegetable stock/water – Vegetable or chicken stock adds plenty of flavor and brings a difference. Water is the easy alternative but won't pack the same flavor.
Herbs –  Use herbs like dried oregano or basil to uplift the dish.
Flour – If you end with a slightly thin consistency, make a roux with flour and let the soup simmer to thicken it.
Salt – Added while sauteeing the onions and brings all the other flavors out.
How to make the soup
Saute aromatics and cook tomatoes
Start with sauteing onion and garlic in butter. Add peppercorn and bay leaf. Saute until aromatic. Add chopped tomato, and salt and saute until the tomatoes have softened a bit. Add tomato paste and stock/water. Let the tomatoes get cooked well until it is soft and mushy.
Blend the tomatoes
Discard the bay leaf and blend using a hand blender until smooth. If using a mixer grinder/ food processor, make sure to cool it down a bit (else it hot liquid will splatter).
Run the blended liquid through a colander/sieve. Discard the skin and seed remains. Skip this step if using canned tomatoes.
Make roux for a creamier soup
To make the tomato soup creamy and rich, instead of adding cornflour mixture or cream, we are making a roux.
Melt butter, and saute flour/maida until the raw smell is gone. Lower the heat and then slowly add two full ladles of tomato mixture. Stir continuously to avoid any lump. The mixture should look smooth and it will start to thicken.
Add the rest of the ingredients
Add the rest of the liquid and slowly stir to mix well.
Now add sugar, salt, and oregano. Check salt and add more if required.
Note:- Fresh tomatoes are tart compared to tinned tomatoes. So you might need to add more sugar to adjust the tartness.
Garnish
Drizzle some cream while serving. Fresh Italian Basil adds a lot of freshness to the tomato soup. You can also add a dollop of fresh basil pesto, freshly grated parmesan, or crispy bacon while serving.
Restaurant-style tomato soup
In restaurants, especially Asian, tomato soup has got a very different take. The flavor and the color are quite different.
Tomato soup there has a red/purplish hue to it. If you are after that, to get the color, add a small piece of beetroot while adding onion and garlic. Don't get tempted and add more. Just a small piece of beetroot will give a beautiful color and you can't even taste the veggie.
Also, to make it a tad spicy and add more flavor, add a small piece of ginger,1 clove, and 2-3 coriander stems (chopped) while adding onion and garlic.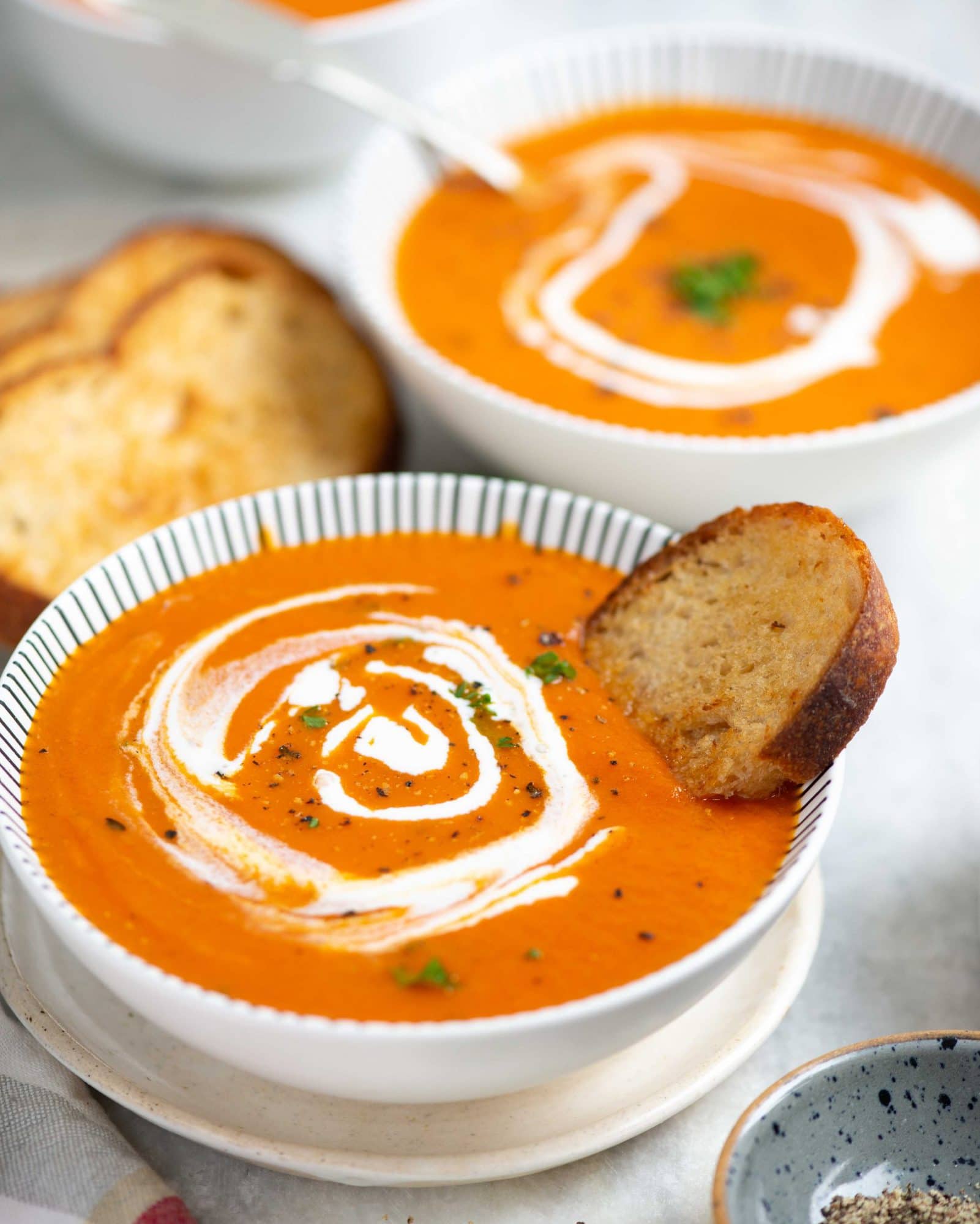 Tips to make the best tomato soup at home
Always opt for fresh ripe tomatoes. Fresh ripe tomatoes have a natural sweetness, cook quickly, and are easier to blend while raw tomatoes are very sour. If they are not in season, canned tomatoes will work.
Don't skip on the roux part. It adds a creamier consistency and a depth of flavor too.
Cook the tomatoes for longer and let them absorb the flavor of the aromatics (onion and garlic and the roux too).
Add herbs and spices – like oregano and basil as mentioned in the recipe. For more complex flavors, you may also add thyme, and paprika, or use ginger too along with garlic.
Sprinkle a bit of salt over the tomatoes while they cook. Salt helps in draining the water out of tomatoes while bringing out their flavor.
Vegetable or chicken broth is better than water to add to the soup as it imparts deep flavor and umami.
Can this soup be frozen?
This soup freezes beautifully. If making a bigger batch, divide it into smaller portions ( 2-3 servings) and freeze for up to 3 months, in freeze-safe bags and containers.
You can refrigerate tomato soup for up to 4 days.
To reheat, frozen soup needs to be thawed overnight after shifting it to the refrigerator. Refrigerated soup can be reheated easily in the microwave for a minute, or in the pot too. Stir the soup to get the consistency back before or while reheating.
What to serve with Tomato Soup?
Other soup recipes
Classic French Onion Soup – A classic staple in French kitchens, this soup has a golden crust made of a layer of cheese, over a bowl containing sweet caramelized onions and savory beef broth.
Healthy Vegetable Soup – You can be versatile with your choice of vegetables while making this healthy and comforting soup.
Thai Chicken Coconut Soup (Tom Kha soup) – This famous Thai soup made with coconut milk, chicken, and mushrooms, is creamy and rich, more like a curry.
Lemon Chicken Orzo Soup – Chicken and orzo make it fulfilling, while the lemony broth has loads of umami.
Broccoli Cheddar Soup – Takes broccoli and makes a flavorful soup with aromatics and herbs while cheddar cheese makes it creamy and cheesy.
Beef Barley Soup – This hearty and comforting soup is a true winter warmer.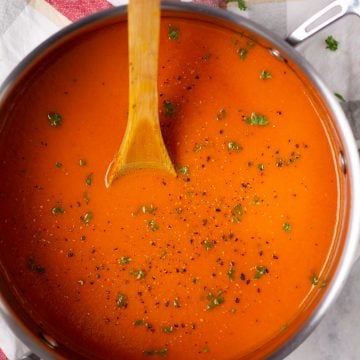 Homemade Tomato Soup
Classic tomato soup is with fresh flavors, it is tangy with a hint of sweetness. You can make this soup using fresh or canned tomatoes and a handful of ingredients.
Ingredients
To make with Fresh Tomatoes
1 kg Ripe Plum Tomatoes ref note 1
1 tablespoon Olive oil
3 tablespoon butter
1 medium Onion
1 tablespoon Garlic Roughly chopped
3 tablespoon Tomato paste
1 tablespoon sugar
1 bay leaf
½ teaspoon black peppercorn
3-4 cups vegetable stock/water
1 dried oregano/basil
2 tabespoon flour
Instructions
To make with fresh Tomatoes
Roughly chop fresh tomatoes. Keep aside along with all the juice.

Heat a heavy bottom soup pot. Melt oil and butter. Add chopped onion, garlic, peppercorn and bay leaf. Saute until onion has softened and garlic is aromatic. It will take around 2-3 minutes.

Add chopped tomatoes along with all its juice. Add 2 teaspoons of salt. Saute for 4-5 minutes.

Add tomato paste, stock/water. Cover and cook for 10 minutes. The tomato should be cooked soft and mushy.

Switch off the heat. Remove the bay leaf.

Using a hand blender blend it until smooth. If using a food processor make sure to cool it down before processing.

Run the blended tomato mixture through a colander. Discard the residual skin/seeds.

Clean the used pot or in a separate pot melt the remaining butter. Stir in the flour. Cook on low heat for minutes until the flour is not smelling raw anymore. Take care not to brown the flour.

Slowly add a ladle of the strained tomato mixture and keep stirring continuously. Add another ladle of the mixture while stirring with the other hand to avoid lumps.

Add the rest of the tomato mixture. Adjust the thickness by adding more water. Add sugar, oregano and salt (if required). (increase the amount of sugar as per taste to balance the tartness of tomatoes)

Let it simmer for another 8-10 minutes. Keep stirring in between to avoid the mixture getting stuck.

Serve the soup with a drizzle of cream or shredded parmesan or crouton.
To make with canned tomatoes
Use a 28 oz can of crushed tomatoes instead of fresh tomatoes.

You may skip tomato paste because canned tomatoes already have an intense flavour.

No need of running the blended mixture through a colander.
To make Restaurant-Style Tomato Soup
Add 1 teaspoon of ginger, 2 small pieces to beetroot(for colour) and 2 tablespoons of chopped coriander stem to the pot, while adding onion and garlic.
Notes
Use the hybrid variant(instead of the local variety of tomatoes)
Nutrition
Serving: 1serving | Calories: 132kcal | Carbohydrates: 14g | Protein: 2g | Fat: 8g | Saturated Fat: 4g | Polyunsaturated Fat: 1g | Monounsaturated Fat: 3g | Trans Fat: 1g | Cholesterol: 15mg | Sodium: 593mg | Potassium: 515mg | Fiber: 3g | Sugar: 9g | Vitamin A: 1940IU | Vitamin C: 26mg | Calcium: 30mg | Iron: 1mg