Creamy Tomato Tortellini Soup
This post may include affiliate links that earn us a small commission.
Cheesy tortellini simmered in a Tomato based Soup base. This soup is creamy, tangy, and Italian basil adds freshness to it.
If you love pasta and love soups as well, this creamy tangy tomato tortellini soup is your answer. Regular readers of our site would know we love pasta and love soups as well. Cozy weather is here and soups are the first thing that comes to my mind.
Flavours In Your Inbox
Subscribe for recipes straight to your inbox
Tortellini pasta sits very well in a cheesy and tangy tomato base. Ripe tomatoes, especially the Roma ones, give a nice sweet and tangy taste. Cream and cheese add richness to the soup.
The extra ingredient that elevates this soup is chicken stock. Stock or broth, either of them adds a wonderful depth of flavor.
We like tortelleni – both the plain one and the stuffed one. This ring-shaped pasta is soft, absorbs flavors well, and is quite versatile as you can use it in soups, salads, and typical cheesy pasta dishes. These are most often cooked in broth or stock.
Tortellini is often confused with ravioli as they are both stuffed pasta. They differ in shape, stuffing, and technique used to make them. Ravioli are square-shaped, whereas tortellini is ring or navel-shaped. The stuffing in Ravioli is filled between very thin layers of stuffing, and we often see ravioli shapes to be bigger than tortellini.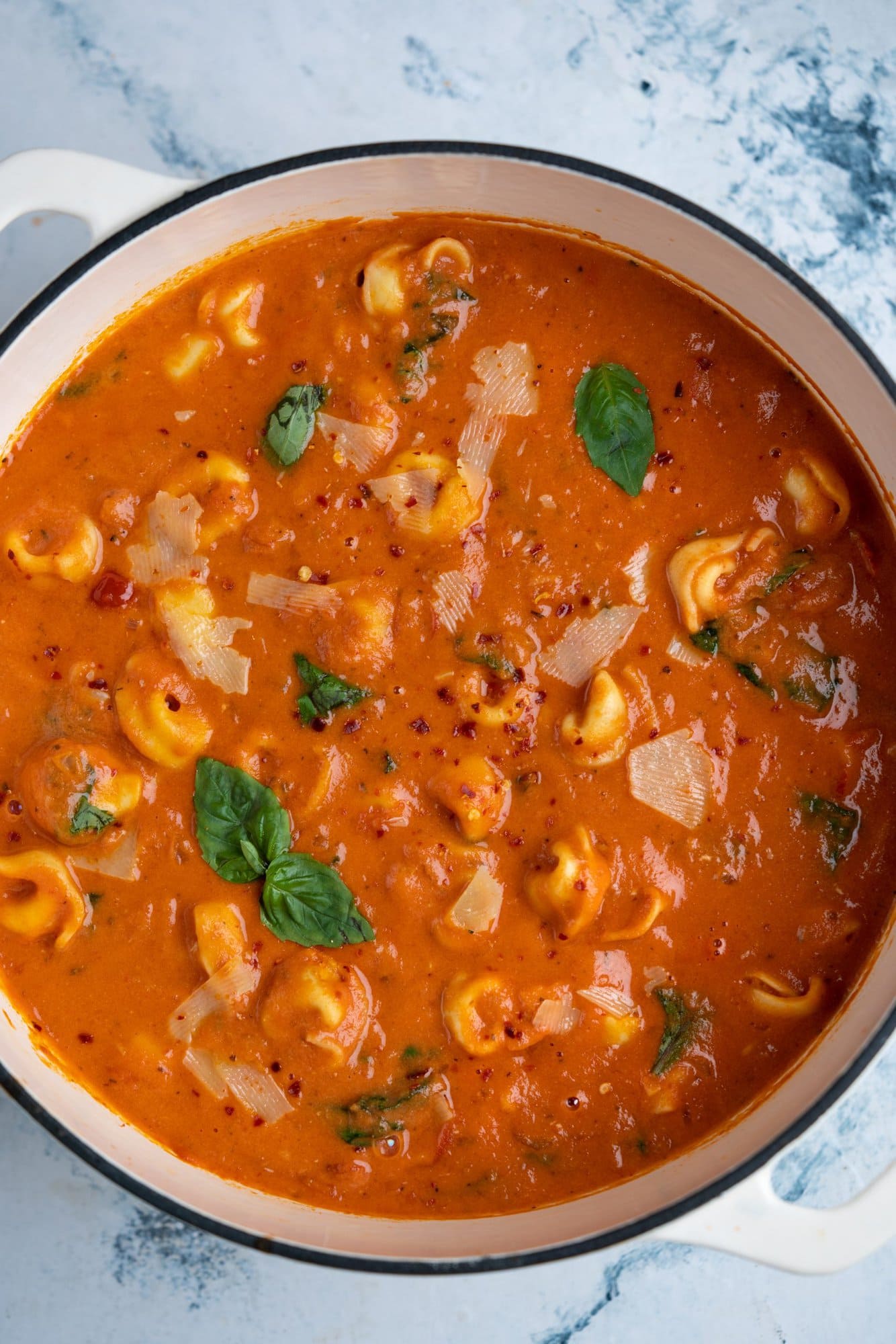 Ingredients
Dried Tortellini – I have used three cheese dried tortellini. Stuffed tortellini usually comes with stuffing like ricotta cheese or prosciutto. You can use fresh tortellini that you get it the refrigerator section.
Olive Oil – we are going with an all-out Italian flavor and will use olive oil as a source of fat to saute the onions and garlic.
Chopped Onion – I have used yellow onions with more spicy notes. Red or white onions will work here too. Finely chop onions as they need to blend with the sauce.
Minced Garlic – minced garlic is a flavor bomb and is sauteed along with the onions.
Flour – All-purpose white flour thickens the soup and binds all the other ingredients.
Diced Tomato – I have used Roma diced tomatoes from the Mutti brand, which is considered one of the best. You may use ripe tomatoes like Roma or San Marzano, which are ideal for soups.
Tomato Passata/ puree – again used one from the brand Mutti.
Chicken stock – adds the most flavor to the base of the stock.
Sugar – to balance the sourness of the tomatoes.
Salt and pepper – Use salt and pepper to your taste and tolerance.
Heavy Cream – influences the soup's texture and makes the soup's base thick and creamy.
Fresh Basil – sprinkle a few fresh Italian basil leaves towards the end of cooking for aroma.
Parmesan cheese – grated cheese is sued as garnish.
Substitution & Additions
Vegetables – That is all I added to the soup. You may add vegetables like carrots, red peppers, or Spinach.
Chicken broth – Chicken broth is a very good substitute for stock. The broth is made of chicken pieces, unlike the stock, which is made of bones. Homemade broth is preferable over store-bought ones if you can make out time to make it.
Onion and garlic powders – A lazy and quicker way to make the base is to use onion powder and garlic powder. This will make your work easier by compromising on a bit of flavor. Also, sauteeing freshly chopped onion and garlic give a body to the soup that powders cannot provide.
Vegetarian soup? – you can easily make a vegetarian version of this soup by using vegetable stock. Get a store-bought one or make one easily at home but do not forget to include mushrooms while making stock(if you like them) as they impart the most flavor.
How to make
Cook the tortellini – The first step is to cook the pasta al dente. Follow the instructions in the package to cook the tortellini. A tip here would be to add enough salt to season the pasta while you cook it. Keep the cooked pasta aside. If using fresh tortellini, add to boiling water and wait until it starts to float.
I prefer adding cooked tortellini to the soup so that the starch from cooking pasta remains in the cooking water.
Prepare the base of the soup – Heat olive oil in a dutch oven. Making the base of the soup requires sauteed onions and garlic on medium heat to add flavor. Then the flour is added to the mix. Add diced tomatoes and cook them for a few minutes. Tomatoes lose their raw smell and form a smooth base. Time to add the pasta, stock, salt, pepper, and sugar. Mix them and let the mixture come to a boil.
Tortellini & cheese – The base of the soup is ready. Add the cooked tortellini along with chopped Italian basil. Let it simmer for 5 minutes. The tortellini absorbs the flavor of the soup liquid during this. Serve it in bowls.
Grate parmesan cheese and sprinkle on top and add a few leaves of fresh basil for the best way to have this sumptuous soup.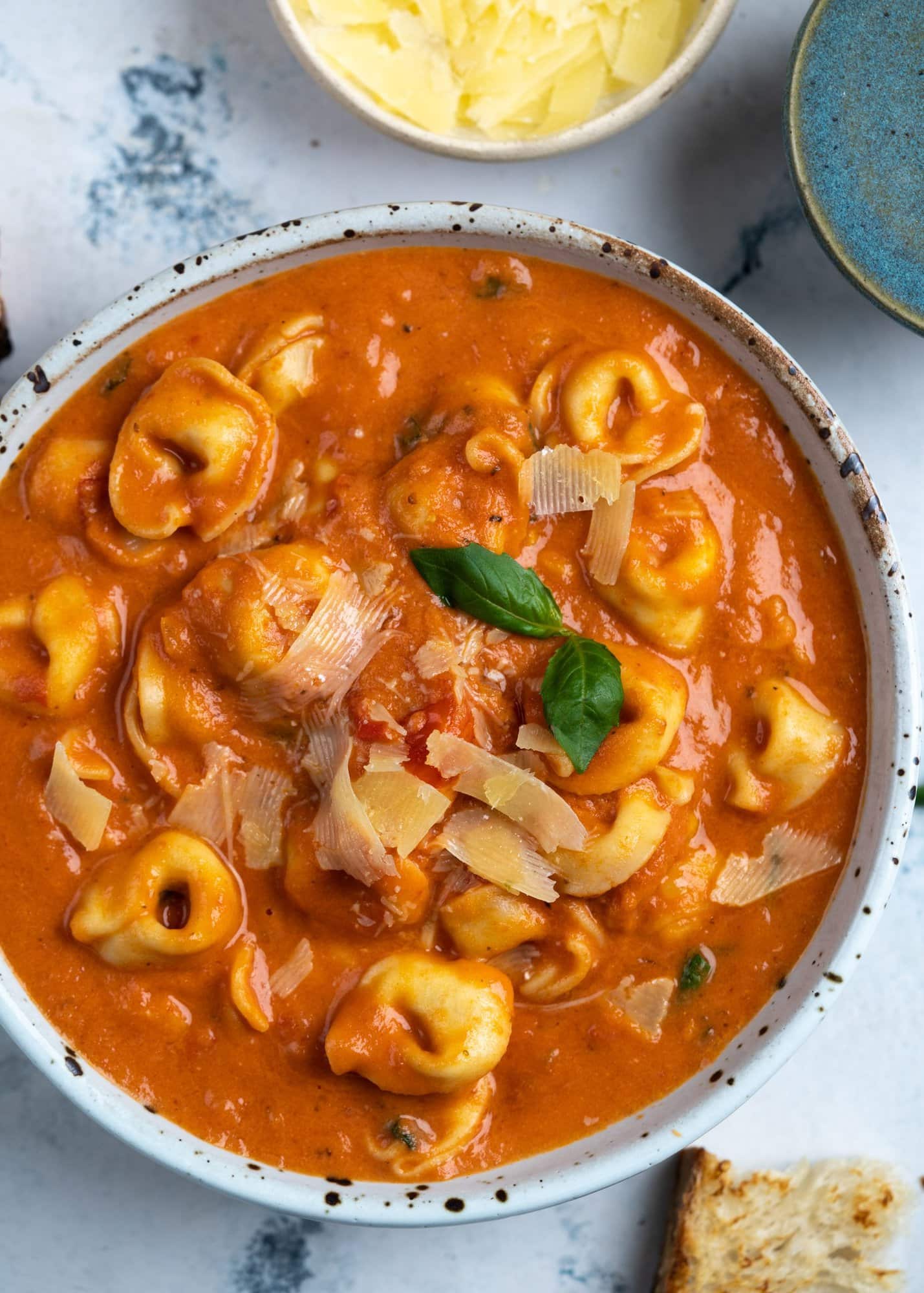 Serve with
This salad with tortellini and veggies is a fulfilling meal if you want to take it lightly. You can also go with salads, bread, or other sides.
Salads – Serve with a fresh salad like this Asian Cucumber Salad or any salad with a lemon or vinaigrette base.
Bread – Soups like this are great to have with bread. White bread like this No-Knead Rustic White Bread or Artos: Greek Celebration Bread.
Meat – meatballs go well with this creamy salad, like this Chicken Meatball in Plum Sauce. Also, you may pair it with grilled recipes like Easy Grilled Chicken with Buttermilk Marinade, Grilled Rosemary Chicken Kebabs, or Grilled Shrimp.
Store
This soup is not ideal for freezing. Tortellini pasta, when left too long in liquid, will soak the liquid and swell up. So I wouldn't freeze this soup with the tortellini in it.
Freeze the soup without adding the tortellini. Cook the soup and let it cool. Store the soup along with the tortellini but in separate containers or zip-lock.
If there is any leftover and you end up freezing it, then while reheating, loosen the soup by adding more stock to it until the desired consistency.
You can refrigerate the soup for up to four days without the tortellini.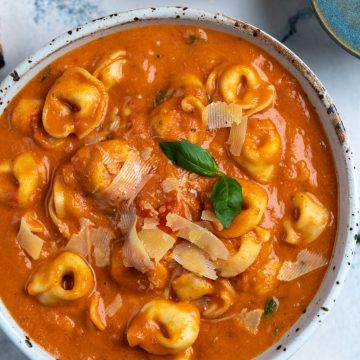 Creamy Tomato Tortellini Soup
Cheesy tortellini simmered in a Tomato based Soup base. This soup is creamy, tangy, and Italian basil adds freshness to it.
Ingredients
250 grams Dried Tortellini
2 tablespoon Olive Oil
½ Yellow Onion, Chopped
1 tablespoon Garlic, minced
2 tablespoon Flour
400 grams Diced Tomato 14 oz can
500 grams Tomato Passata/ puree
2 cups Chicken stock
1 teaspoon Sugar
Salt and pepper to taste
1 cup Heavy Cream
½ cup Fresh Basil
Instructions
If using dried tortellini, cook as per package instructions. Keep aside.

In a pot, heat oil. Add chopped onion and garlic. Saute for a minute until the onions have softened.

Add flour and saute for about a minute.

Add diced tomatoes, mix well and cook for 2-3 minutes.

Stir in tomato passata, chicken stock, salt, pepper, and sugar. Bring it to a boil.

Reduce heat and stir in heavy cream. Add cooked tortellini and roughly chopped Italian basil. Simmer for 5 minutes and switch off the heat. (if using fresh/ refrigerated tortellini cook it for longer until the pasta is cooked through).

Serve warm with freshly grated parmesan cheese on top and garnish with fresh basil.
Nutrition
Serving: 1serving | Calories: 362kcal | Carbohydrates: 31g | Protein: 9g | Fat: 24g | Saturated Fat: 11g | Polyunsaturated Fat: 1g | Monounsaturated Fat: 8g | Cholesterol: 62mg | Sodium: 285mg | Potassium: 640mg | Fiber: 5g | Sugar: 10g | Vitamin A: 1268IU | Vitamin C: 17mg | Calcium: 132mg | Iron: 3mg