Cinnamon Maple Roasted Sweet Potatoes
This post may include affiliate links that earn us a small commission.
Roasted sweet potatoes – Sliced sweet potatoes tossed in cinnamon butter and topped with crunchy maple walnut topping then baked until tender. A delicious side to include in your thanksgiving or Christmas spread.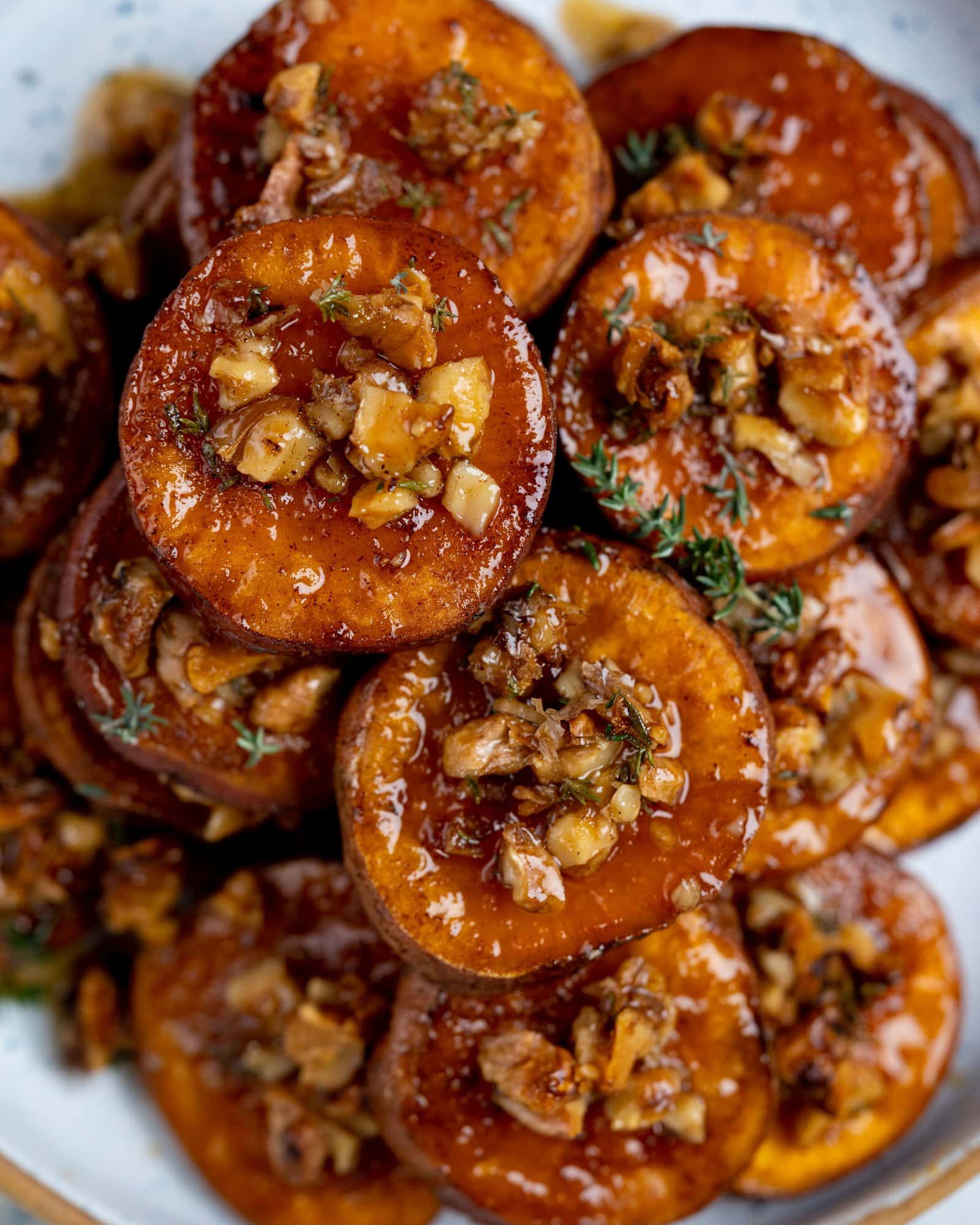 Roasted sweet potatoes with maple syrup and walnuts are a great addition to your thanksgiving dinner. Sweet potatoes are in season, and this sweet potato recipe is another great way to have them.
Flavours In Your Inbox
Subscribe for recipes straight to your inbox
This recipe takes simple roasted sweet potatoes one level higher – with the shiny, sweet, and rich maple glaze on the potatoes, topped only with crunchy walnuts. To make the deal sweeter, you can add some feta cheese on top. I can recall and salivate while writing this now.
This glazed candied sweet potato with a crunchy topping makes a great party appetizer. It tastes sweet and savory and is a proven hit. And you can prep and push it into the oven while you prepare other stuff. I had made it for get-togethers a few times. It was an amazing snack and flew off the plates in seconds.
This maple syrup-coated sweet potato is an easy-peasy recipe. After a little chopping and mixing, you put them into the oven for 30 minutes. That's it. There is more waiting involved than actual prepping.
You may look at my other appetizing sweet potato recipes – Instant Pot Pumpkin Sweet potato Soup, Maple Bacon Sweet Potato Hash, Roasted Sweet Potato Hummus, or Instant Pot Sweet Potato Chickpea Curry.
Ingredients
Sweet potatoes – buy sweet potatoes with that orange or red color which has more moisture. Select ones that do not have any cracks or bruises and have smooth skin.
Unsalted butter – when it comes to roasting, butter provides much more flavor and a rich taste to sweet potatoes than oil. It makes a difference but using oil is ok too.
Maple syrup – its sweetness and distinctive taste, a mix of caramel with other flavors, makes it an excellent choice for roasted veggies. Anything from golden to dark colors will do for this recipe.
Chopped walnuts – Added for the crunch on top of the roasted glazed potatoes.
Thyme – herbs like thyme give a herby flavor to the potatoes.
Cinnamon – gives a sweet and savory taste to the potatoes.
Salt & Pepper – Use 1/2 a teaspoon of each. I have used black pepper though you may use cayenne pepper for that extra hotness.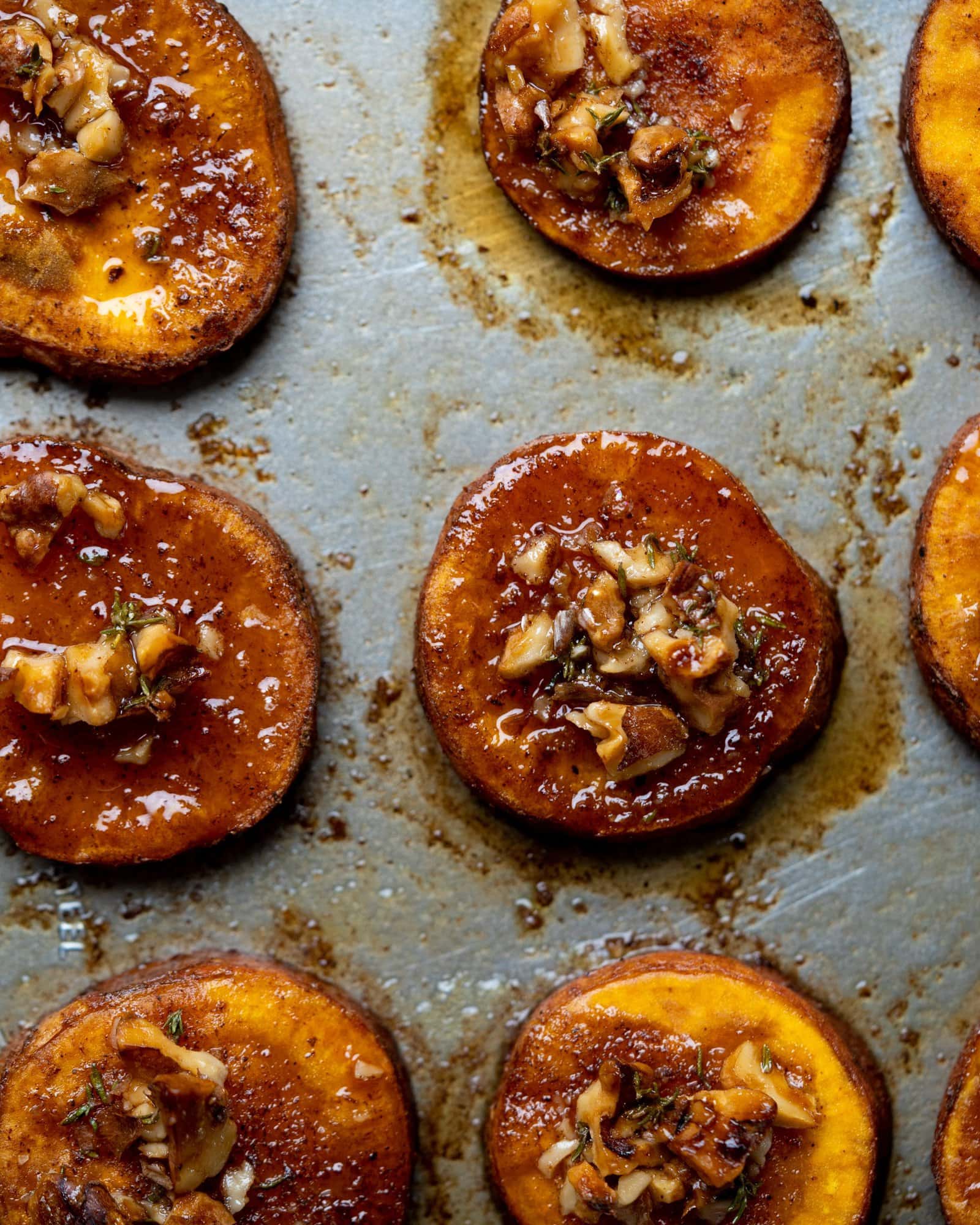 How to make roasted sweet potatoes
Start by preheating the oven and prepping the sweet potatoes. You are free to use the skin if you like. Slice them even to round about half an inch thick. You may cut those into sweet potato cubes or chunks but presenting them as slices would be the winning move.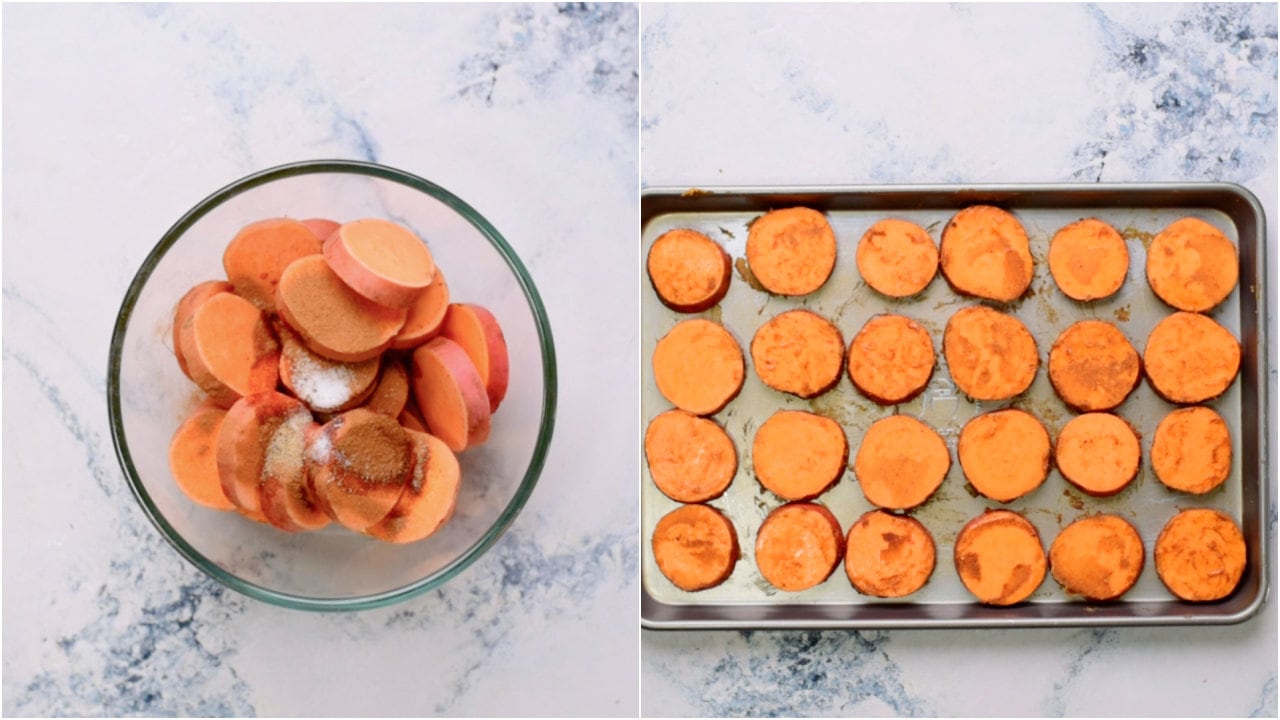 Mix salt, pepper, butter, and cinnamon in a bowl with the sweet potatoes. Toss everything so that you rub them well on all sides of the potatoes.
You may use a baking sheet to lay it over the baking tray or sheet pan and lay the potatoes on the sheet, but I did not use one. Baking them at the right time and the butter spread on these potatoes did not allow them to stick. Spread them on a baking pan or tray. Do not overcrowd them; they will steam, become soft and mushy, and not roast properly. Same reason why one should not cover them with foil.
Please put them in the oven for 30 minutes till they cook and become tender but stay firm.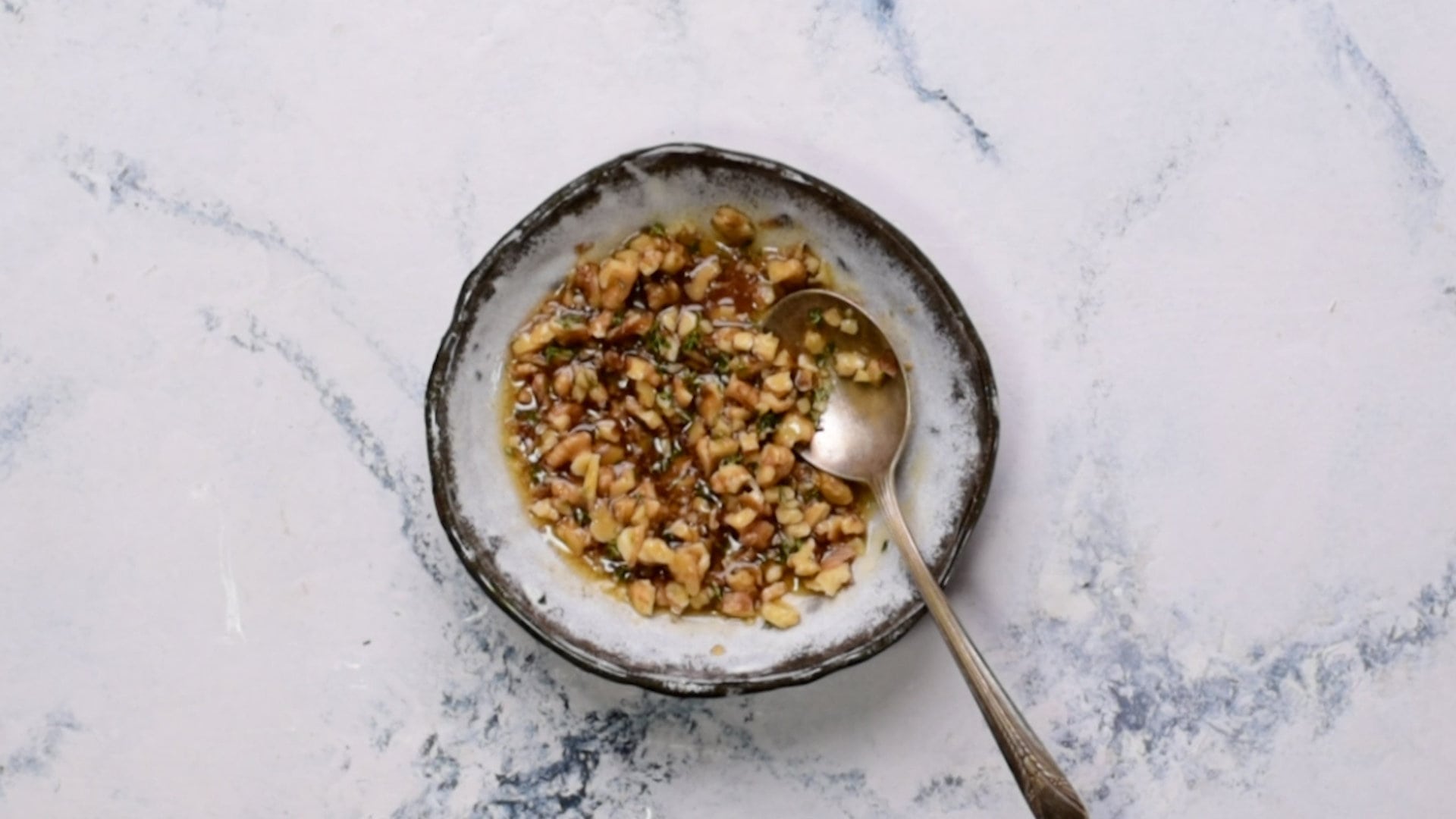 Spend this time making a mix of maple syrup, chopped walnuts, cinnamon, and thyme in a bowl. At the end of 30 minutes, remove the tray from the oven, and add a teaspoon of the syrup mix on top of each potato slice.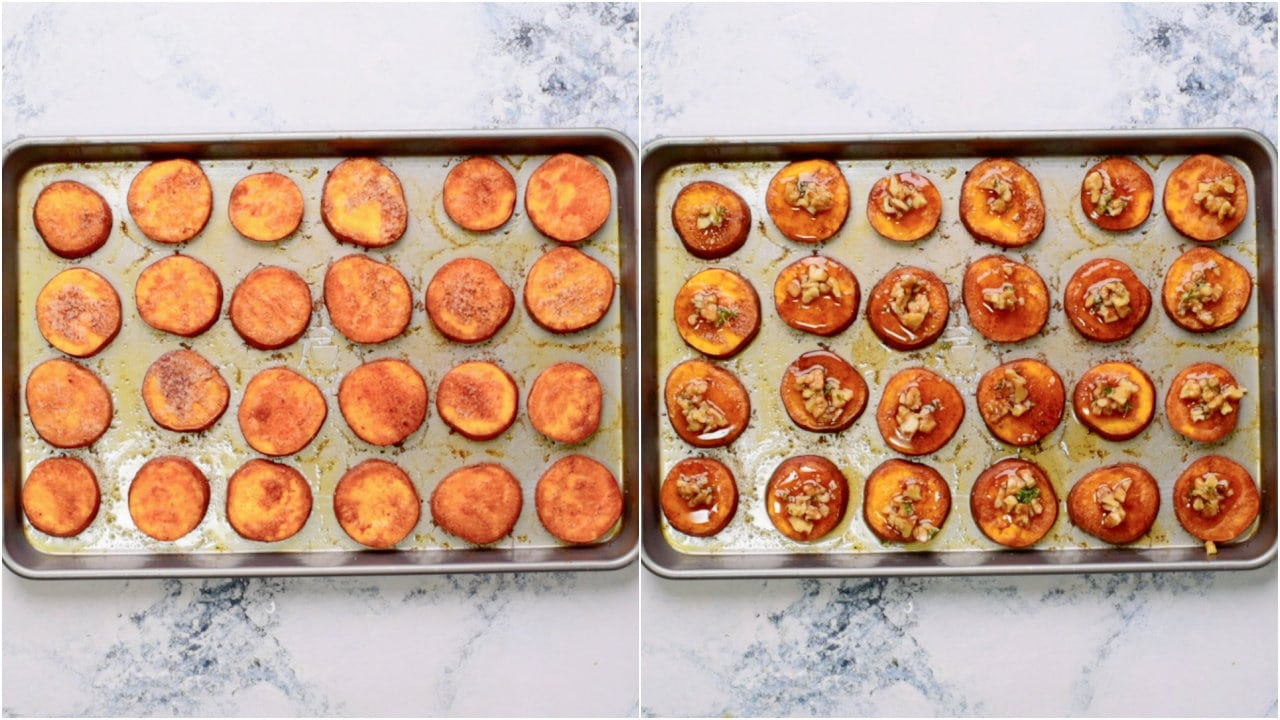 Return the baking tray to the oven for another 10 minutes. By now, these roasted sweet potato slices would be fork tender. Sprinkle some feta on top and serve.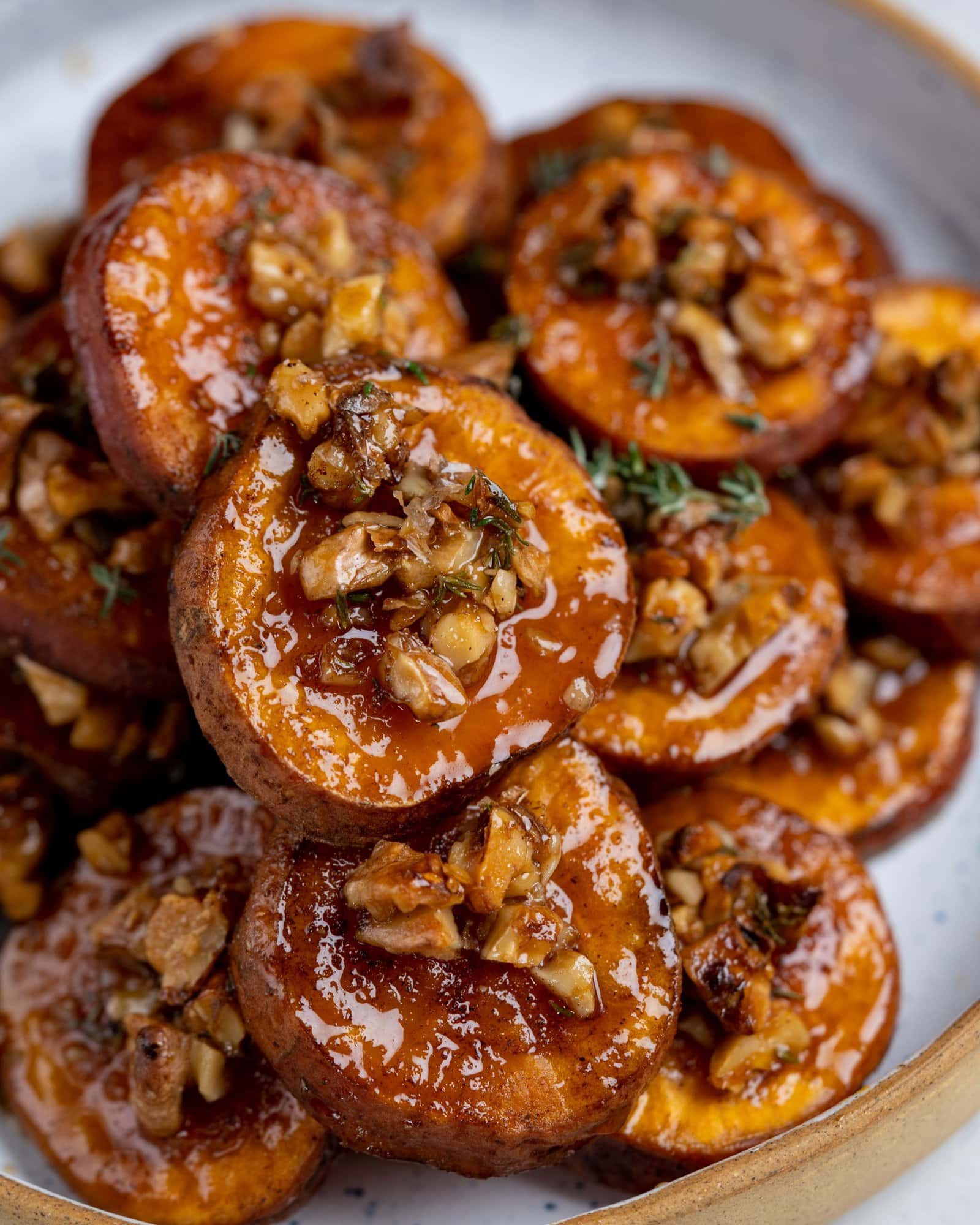 Store
You can store these roasted sweet potatoes in the refrigerator inside an air-tight container for up to a week. Freeze them for even longer – up to 3 months.
You may roast the sweet potatoes when you bake them as the first step and then store them. Before consuming, make the syrup mix, add to the potatoes and bake for 10 minutes. This way, the potatoes do not become soggy with syrup, and the walnuts stay crunchy.
Before consuming, reheat them in the microwave for a minute.
Serve with
You can snack on these sweet delicious, oven-roasted sweet potatoes. It is carb heavy and is a great snack. Serving these as a side dish? Serve with your favorite protein like Honey Garlic Chicken Thighs, Creamy Ranch Chicken, or Creamy Garlic Parmesan Chicken.
A nice salad with a delicious dressing like Apple Kale Salad With Apple Cider Vinaigrette, Cucumber Strawberry Salad, Mediterranean Chickpea Salad, or Roasted Corn Pasta Salad.
Other Roasted or Baked side dishes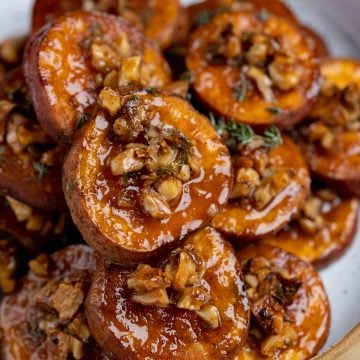 Walnut Maple Roasted Sweet Potatoes
Roasted sweet potatoes – Sliced sweet potatoes tossed in cinnamon butter and topped with crunchy maple walnut topping then baked until tender. A delicious side to include in your thanksgiving or Christmas spread.
Ingredients
3 medium Sweet Potatoes
⅓ cup Melted Unsalted Butter
1 teaspoon Cinnamon
½ teaspoon Salt
½ teaspoon Pepper
⅓ cup Maple syrup + 2 tablespoons
⅓ cup chopped Walnuts
1 teaspoon Thyme
½ teaspoon Cinnamon
Instructions
Clean and cut sweet potatoes to 1/2-inch thick rounds ( you can either keep the skin on or peel it).

Preheat oven to 200 Celcius / 400 F

To sliced sweet potatoes add melted butter, cinnamon, salt, and pepper. Using a spatula or both hands, mix everything well. Instead of a bowl, you can also use a ziplock bag, add everything to it and shake to mix.

Arrange sweet potato slices on a baking tray in a single layer leaving little space between to slices. (do not overcrowd the pan, else the potatoes will steam instead of browning) . Bake for 25-30 minutes @200 d Celcius /.

At the end of the baking time, the sweet potatoes should be form tender. Baking time may vary depending on the thickness of the slices.

Meanwhile, mix maple syrup, chopped walnuts, cinnamon, and thyme in a bowl.

Remove the baking tray. Top each sweet potatoes slices with about 1 teaspoon of the above mixture.

Put the tray back into the oven and bake for another 8-10 minutes.

Serve as it is or with some feta sprinkled on top.
Nutrition
Serving: 1serving | Calories: 421kcal | Carbohydrates: 54g | Protein: 4g | Fat: 22g | Saturated Fat: 10g | Polyunsaturated Fat: 5g | Monounsaturated Fat: 5g | Trans Fat: 1g | Cholesterol: 41mg | Sodium: 389mg | Potassium: 689mg | Fiber: 6g | Sugar: 23g | Vitamin A: 24549IU | Vitamin C: 5mg | Calcium: 105mg | Iron: 2mg