Oven Roasted Carrots With Parmesan
This post may include affiliate links that earn us a small commission.
Carrots tossed in butter, olive oil, garlic, herbs, and parmesan cheese then baked, make the Oven Roasted Carrots. The natural sweetness of the caramelized carrots complements the savory seasoning, making it one of our favourite side dishes.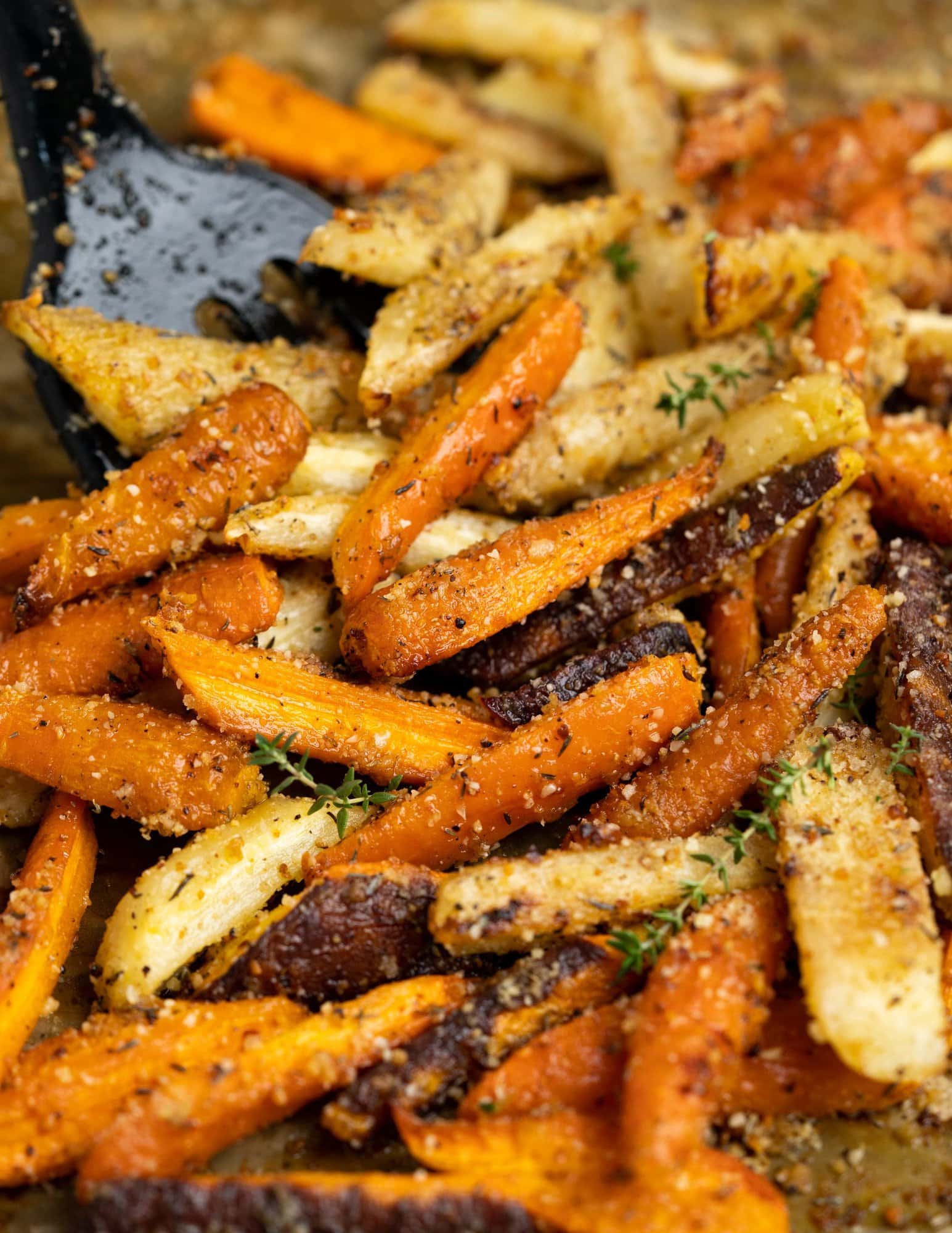 Oven Roasted carrots are probably one of our favorite ways to eat them. Carrots are roasted at high temperatures so that they are caramelized around the edges and tender in the middle with a bite. With very minimal preparation and a pretty simple recipe, these roasted carrots appear frequently on our dinner table.
Oven Roasted Carrots
Carrots or any other vegetable for that matter when roasted at a high-temperature start to carmelize, intensifying the natural sweetness. While you are making dinner, pop the seasoned veggies into the oven and you will have a healthy side dish in no time.Be it Broccoli, zucchini, Brussel sprouts or carrots, my family devours roasted vegetables.
Flavours In Your Inbox
Subscribe for recipes straight to your inbox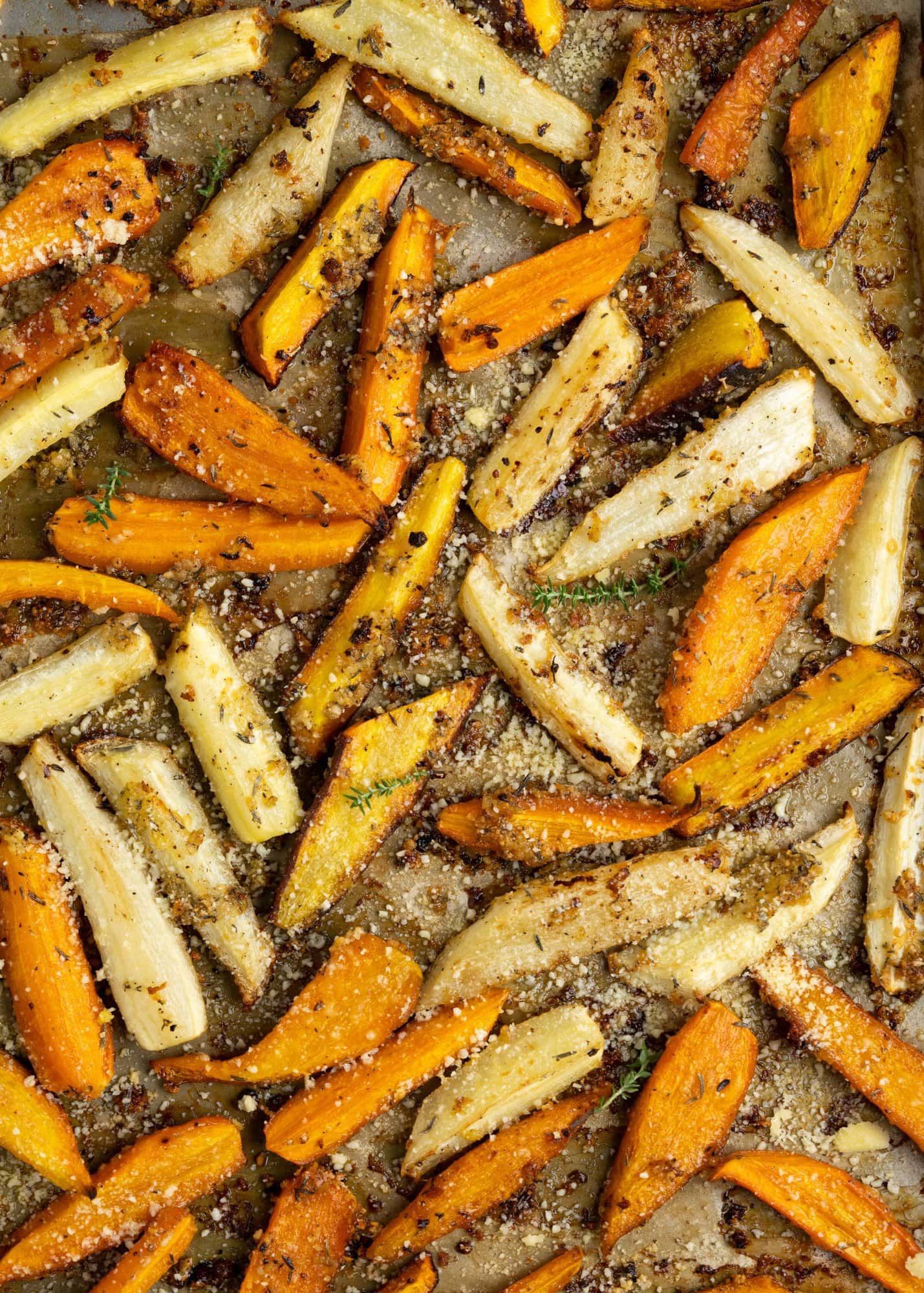 Ingredients
While a simple salt and pepper seasoning also works, I love to jazz things up.
Carrots – regular carrots, baby carrots, or like I have used assorted colored carrots anything will work.
Garlic – finely minced garlic. You could use 1/2 teaspoon of garlic powder instead.
Butter and Oil – Butter to add richness and more flavor. You can substitute butter with oil as well.
Thyme – Carrot and thyme pair well. Rosemary is another option. You can also use Italian seasoning blend in case you don't have fresh herbs on hand.
Parmesan – Finely grated parmesan cheese stick better to carrots. Put small parmesan blocks in a food processor and blend until fine.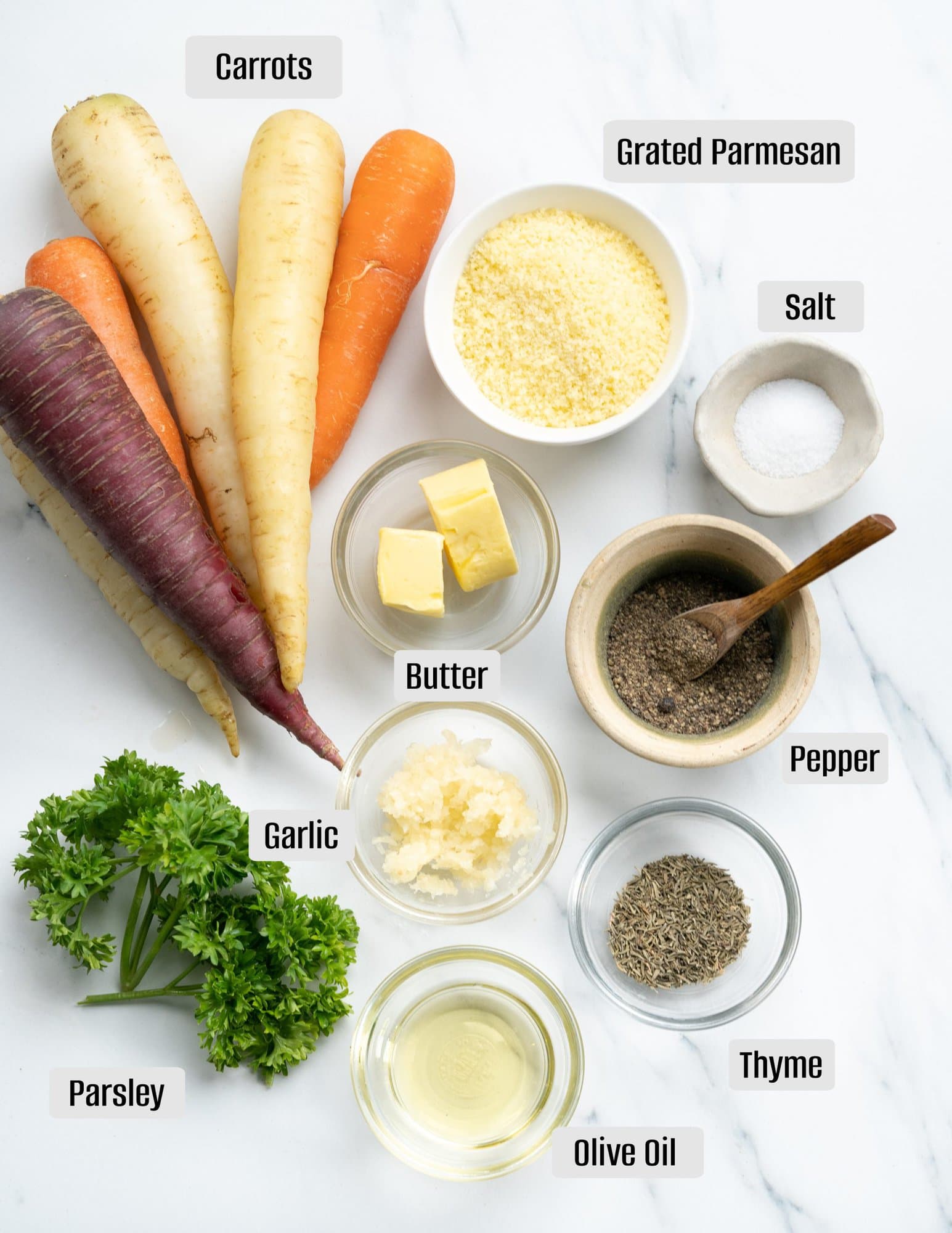 How to make Oven roasted carrots?
Prep carrots– Clean carrots and trim the top. You can either peel the carrots or keep them on. If using tender baby carrots keep them whole, just trim the tip. For large carrots, slice them on the diagonal into 2-inch pieces. Cut any large/thick carrot pieces in half lengthwise.
Toss the seasoning – Add melted butter, oil, thyme, garlic, salt, and pepper first. Toss well. Then add finely ground(not shredded) parmesan and mix again.
Roast: Preapre a pan. For easy clean up you can line the tray with foil or parchment paper. Roast in the oven, flipping the carrots at about the halfway mark.
Serving – Once done, sprinkle more parmesan and chopped parsley on top.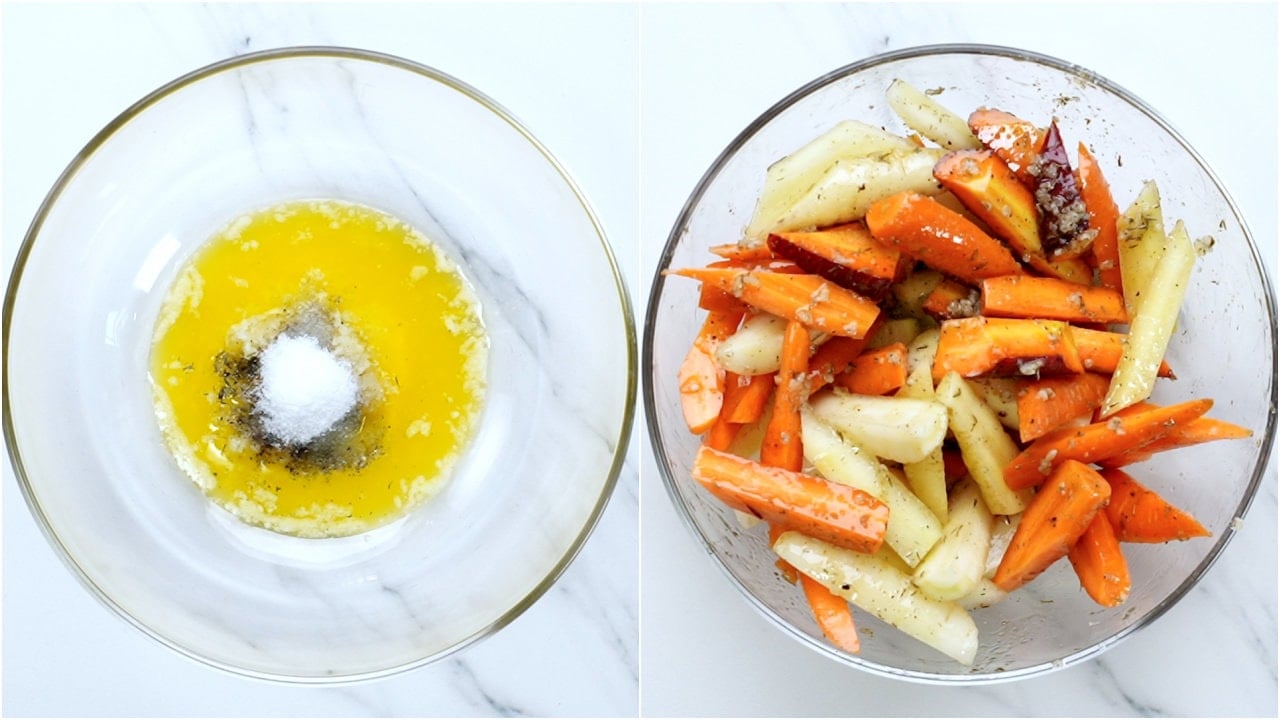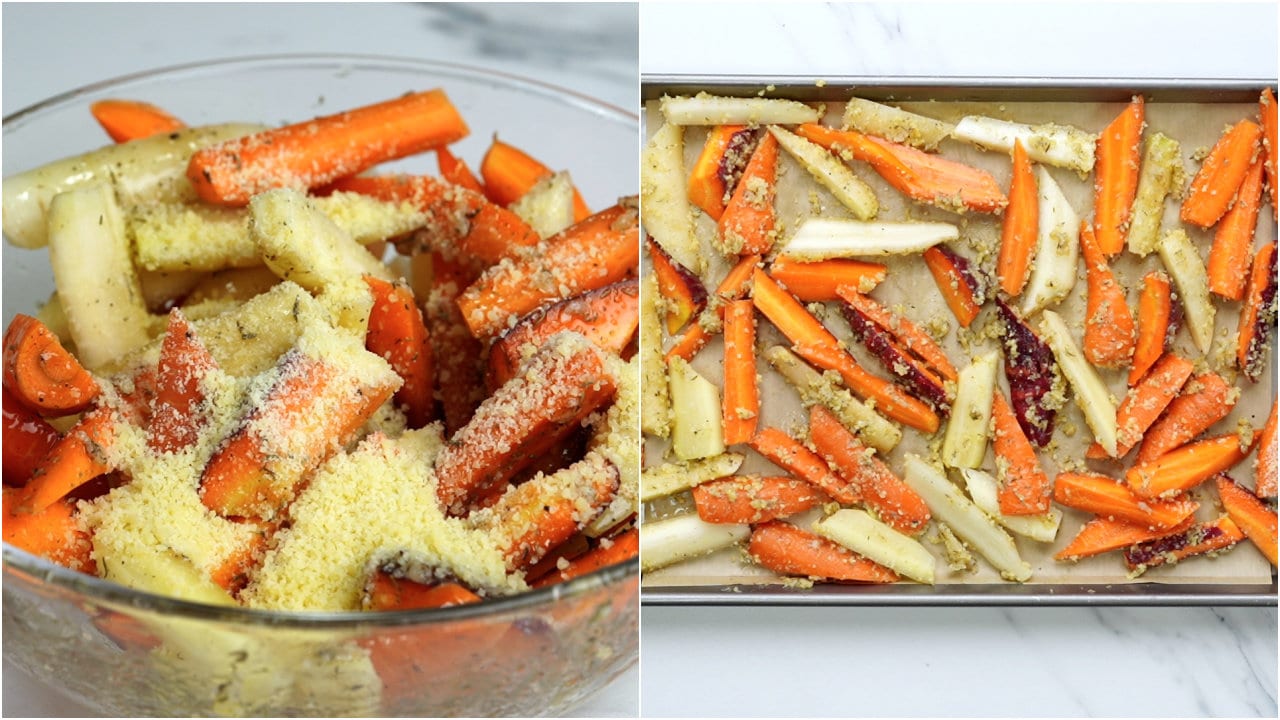 Tips For Best Roasted Carrots
Cut the carrots into equal sizes. This will ensure that the carrots are cooked evenly. Else you will end up with some undercooked ones and a few might get burned. Don't cut carrots too thin as they tend to shrink once baked.
Time & temperature – Roasting carrots in a 425-degree oven yields the best results. The exterior gets perfect caramelization while keeping the perfect crisp-tender texture without being mushy.
You can prep the carrots ahead and keep them in the refrigerator 2-3 days in advance.
Flip the carrots halfway through.
Don't crowd the pan – It's easy to double up the recipes. The baking time will remain the same. One of the most important things to keep in mind while roasting any vegetable is don't overcrowd the pan. Spread in a single layer without overlapping so that carrots will roast evenly.
If you are planning to keep the peel on, go for fresh organic carrots. Give them a good scrub.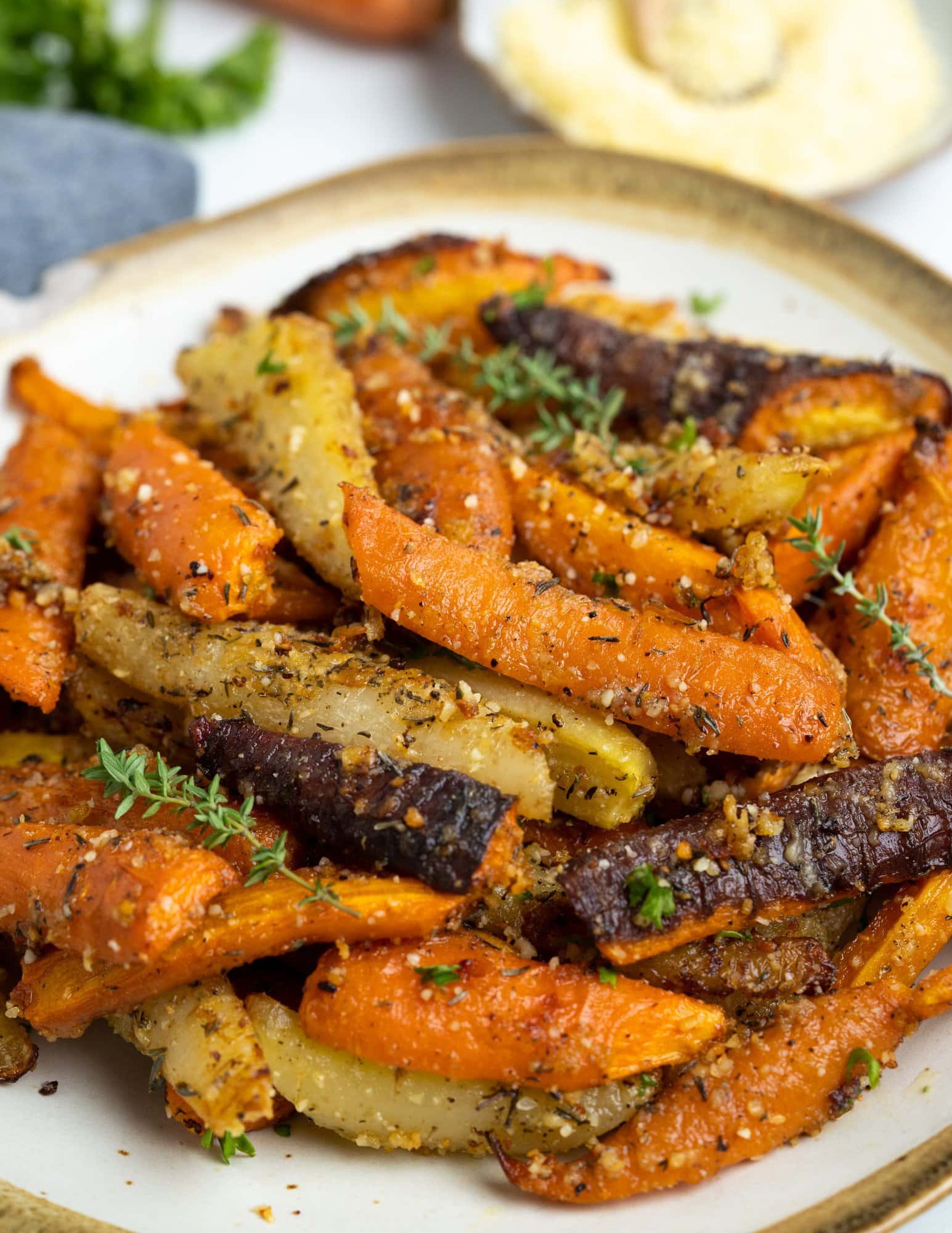 What to serve with Oven Roasted Carrots
These Oven Roasted carrots are a perfect side dish to pair with any meal. Be it your everyday meal or during festivities like Thanksgiving or Christmas, these fit perfectly in the menu. Goes well with any Chicken dish, Roast chicken, pork chops, or baked Pork Tenderloin.
More Vegetable Side dishes to try
Air Fryer Roasted Broccoli – The best way to eat Broccoli for sure. Perfect charred bits, tender yet have a crunch
Sweet & Spicy Brussels Sprouts – Oven-roasted Brussels sprouts are perfectly caramelized with a golden crust.
Pecan Honey Roasted Carrots – Carrots are tossed in honey, butter, garlic and roasted in the oven until it is tender and slightly caramelized around the edges.
Cinnamon Maple Roasted Sweet Potatoes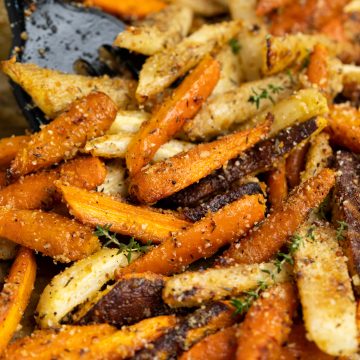 Oven Roasted Carrots with parmesan
Ingredients
2 pounds Carrots
2 tablespoon Butter
1 tablespoon Olive oil
½ tablespoon Garlic, minced
½ teaspoon Thyme
⅓ cup finely grated parmesan cheese
½ teaspoon Salt
pepper to taste
parsley to garnish
Instructions
Preheat oven to 425°F and line 2 baking sheet pans with parchment paper 

If using baby carrots clean and trim the top end. For large carrots, cut into sticks of 1 – 1.5 inch thickness. Make sure the carrots are cut into equal thickness for even cooking.

In a mixing bowl, add melted butter, olive oil, minced garlic, thyme, salt, and pepper. Add carrots and mix until it is coated well with the butter mixture.

Add in grated parmesan cheese and toss well to coat.

Pour carrots into the prepared sheet and arrange them in a single layer.

Bake for 15 minutes. Remove the pan flip carrots and bake again for 10 minutes. Insert a fork to check the doneness or else bake for longer until done.

When it is still warm, sprinkle chopped fresh parsley and more parmesan cheese if preferred.
Nutrition
Serving: 1serving | Calories: 209kcal | Carbohydrates: 22g | Protein: 5g | Fat: 12g | Saturated Fat: 6g | Polyunsaturated Fat: 1g | Monounsaturated Fat: 5g | Trans Fat: 0.2g | Cholesterol: 21mg | Sodium: 626mg | Potassium: 741mg | Fiber: 6g | Sugar: 11g | Vitamin A: 38141IU | Vitamin C: 14mg | Calcium: 178mg | Iron: 1mg