Oven-roasted Zucchini with Lemon Pepper seasoning is one of the best ways to cook Zucchini. It is a simple and easy-to-make side dish.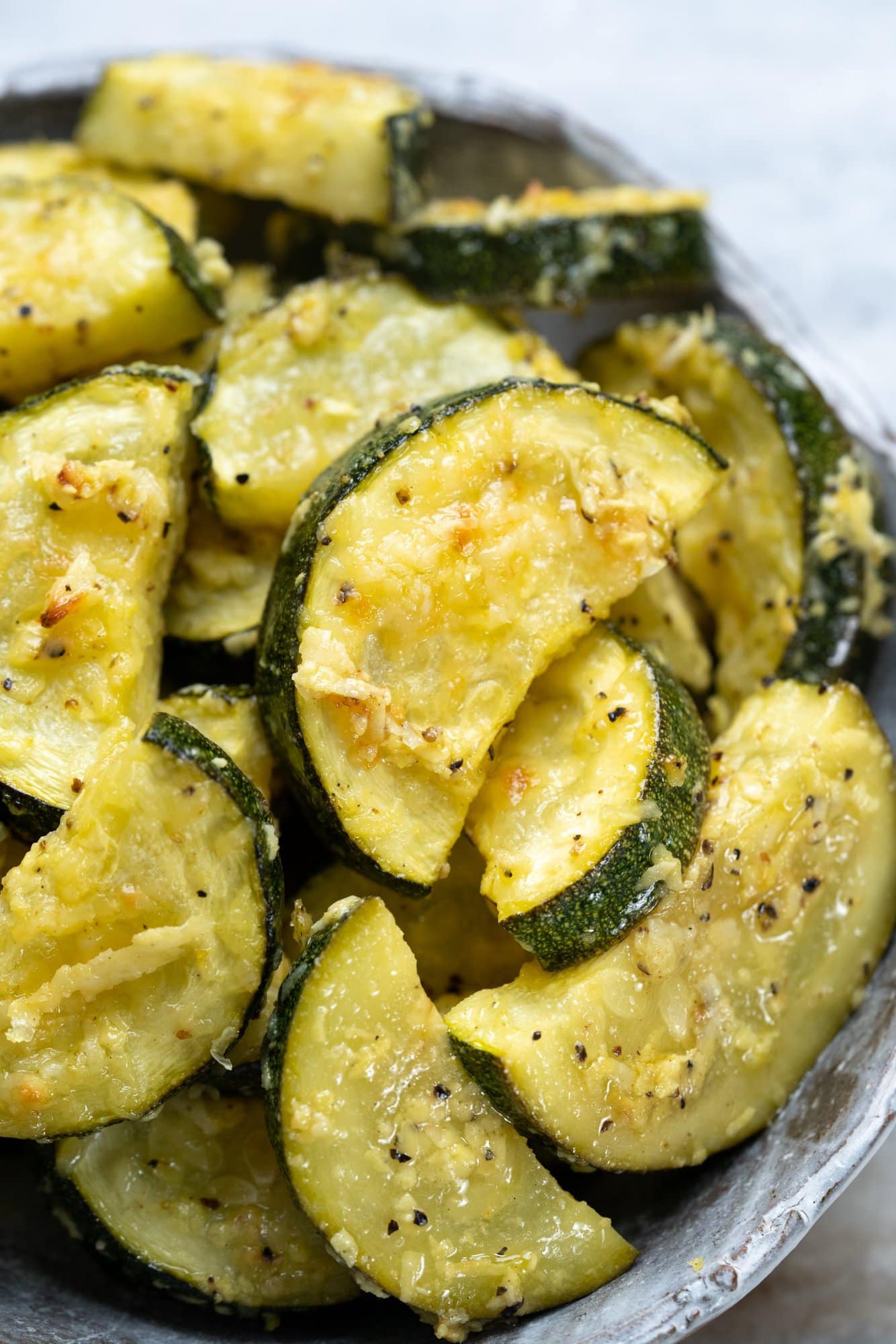 These roasted zucchinis are a great way to use all the zucchinis and summer squash from the backyard.
Roasted and parmesan-coated zucchini is an excellent addition to summer recipes. Oven-roasted zucchini has nice flavors from the lemon and pepper seasoning.
Think of summer vegetables, and Zucchini, otherwise known as courgette, comes to mind. I like zucchini, as apart from being a seasonal veggie, you can be pretty versatile in cooking it in several ways.
You may fry it like Zucchini Stir Fry, bake it as I did in Zucchini Banana Bread, and use it in breakfast recipes like Coconut Flour Pancakes With Zucchini or Zucchini, mushroom, and red bell pepper bread. Or make spirals out of them, often called zoodles, like in this Garlic Parmesan Mushroom Zoodles.
Oven-roasted zucchini is another excellent addition to my list of zucchini recipes. This is crispy roasted and parmesan coated and a great way to lure kids into digging into this healthy vegetable.
This is a super quick recipe with minimal prep. The flavor comes from lemon pepper seasoning and olive oil. Prep involves just chopping zucchini and mixing the seasoning. The baking and broiling time of 10 minutes will be the longest step of this recipe. That's how quick and easy this is.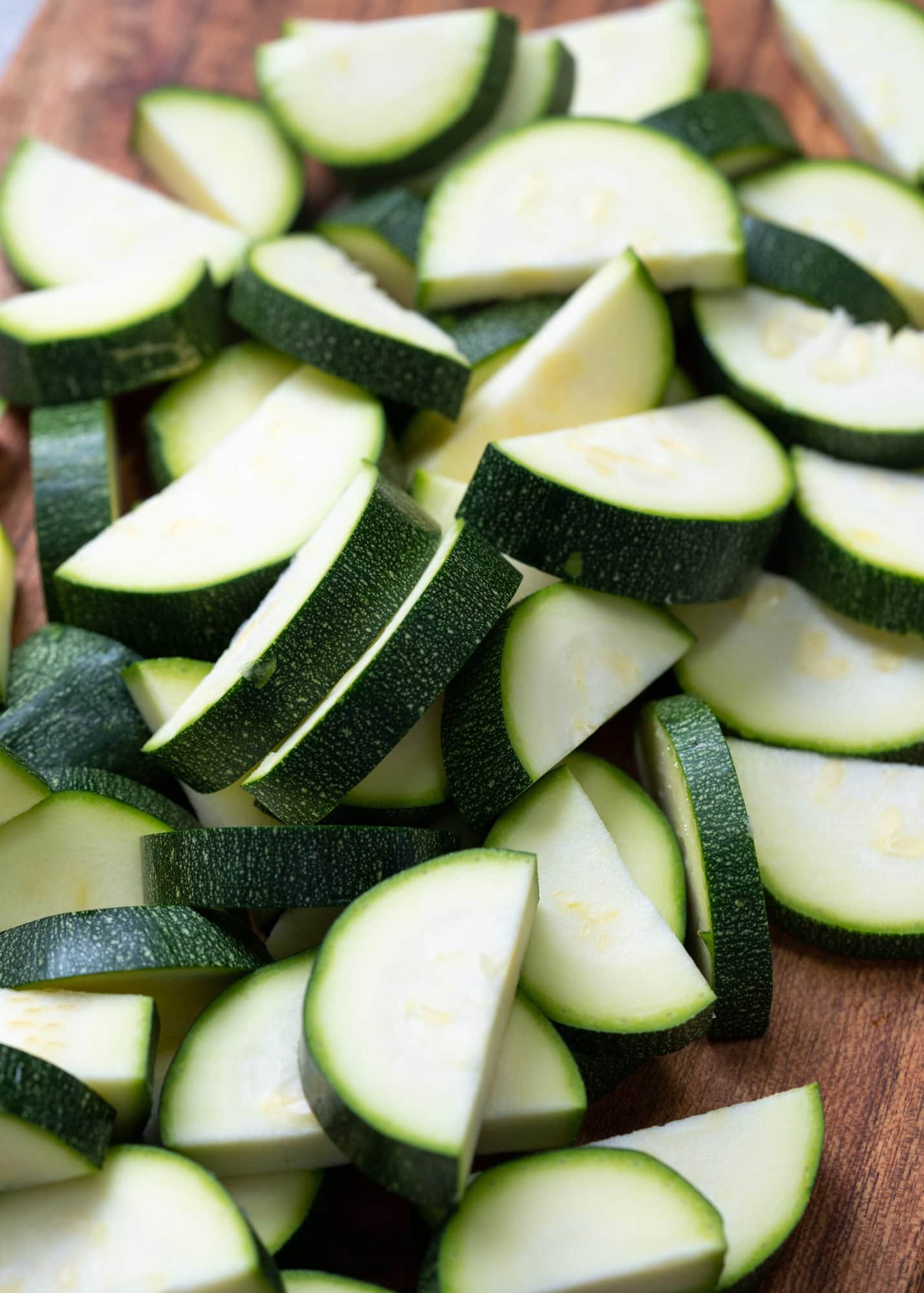 Ingredients
Zucchini - Get medium-sized zucchini in length. While picking zucchini, get the ones 8 inches or smaller. These have soft seeds, are a bit sweet, and have smooth skin.
Lemon Pepper Seasoning -  This has a lemony and citric flavor from lemon oil and citric acid. It also has a hint of black pepper.
Black Pepper (Optional) - Add this for a bit of heat and balance the lemony taste. Since the seasoning above already has a hint of pepper, you may avoid it to keep the heat mild.
Parmesan cheese - Get grated parmesan which adds a cheesy layer on top.
Olive oil
How to make oven-roasted zucchini
Prep the oven  - Preheat the oven to 400 °F.
Chop the zucchini - chop the zucchini to round sizes of half an inch thickness. If they appear big, you can cut them in half as I have done. This gives smaller and bite-sized pieces which are easier to eat.
Mix the seasoning, oil, and parmesan cheese in a small bowl and add the chopped zucchini. Mix them well.
On a large baking sheet, arrange the zucchini slices spaced a little apart. Don't overcrowd the pan. Divide into two sheets if required.
Sprinkle the rest of the grated parmesan on top.
Bake for 5 minutes. Then broil for 2-3 minutes or until you see small brown spots on the zucchini slices.
Zucchini slices will be just cooked through yet will have a bite to them.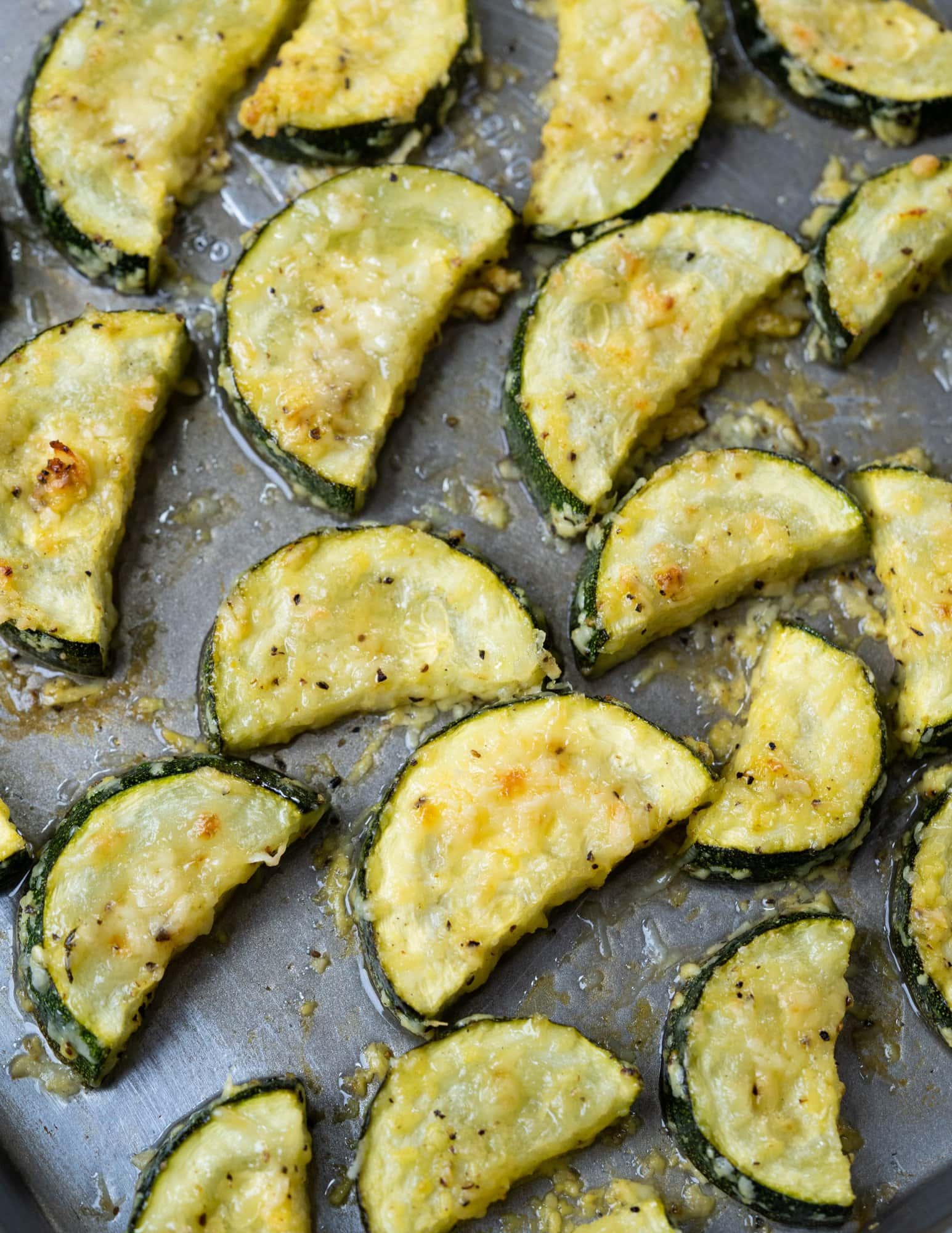 Frequently Asked Questions
Do you peel zucchini?
I have not peeled the zucchini because as the skin roasts, it becomes a bit crisp, and has a lovely bite. Moreover, from a health point of view, the skin of summer squash has a lot of nutrients.

The skin will always be on the sides when I have cut the zucchini to coin-shaped sizes. If you cut it instead into long halves like spears, make sure to keep the skin-side face down. Putting them on a mesh atop the baking tray is even better. The space below the skin allows hot air to circulate and roast the skin.
How do you avoid zucchini from getting soggy?
A soft vegetable like zucchini becomes soggy because it has a lot of water. When you allow it to cook for a long time over low heat, the water breaks out and makes everything soggy.

Roasting veggies should be done over high heat and quickly. This way, the outsides get crisp while any leaked water evaporates rather than residing in the container.

For roasting zucchini, do it at 400 °F, and with coin-sized pieces, it will take just 5 minutes. That is enough to cook the zucchini without spilling the water. Also, broiling for a couple of minutes will roast it enough to get the right color.
How long to roast zucchini?
Since this recipe calls for zucchini to be cut into coin-sized small pieces, it is enough to bake for 5 minutes.

You may cut zucchini into long spear shapes or slice them into half or quarters. For longer cuts, the baking time would be longer, like 7 - 9 minutes. For longer cuts, I would prefer to check it once after 6 minutes and every couple of minutes so that it doesn't overcook.
Store
You can store these roasted zucchinis in the refrigerator for 3-4 days in an air-tight container or zip-lock bag. Since these are cooked and, to an extent, dry, they will not become soggy.
You can reheat the zucchini by baking it again in the oven for a couple of minutes. You can also air-fry them or reheat them in the microwave for a minute.
Serve With
Roasted parmesan-coated zucchini makes an excellent side that can serve with bread like Cheesy Garlic Bread or No-Knead Rustic White Bread. Salads like Classic Coleslaw would be great.
You may serve this with pasta like Salmon Pasta in Creamy Lemon Sauce, Creamy Tuna Pasta Salad, Chicken Broccoli Pasta, or Chicken Fajita Pasta.
It also pairs well with other grilled or roasted meat dishes like Vietnamese Grilled Shrimps, Cilantro Lime Chicken, or Pan-Seared Mediterranean Lamb Chop.
📖 Recipe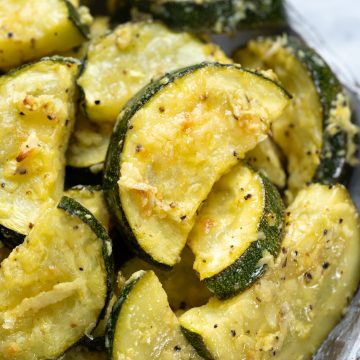 Roasted Lemon pepper Zucchini
Slices of zucchini seasoned with lemon pepper seasoning and parmesan cheese, then roasted in the oven. These are slightly crispy on the outside and not soggy at all.
Print
Pin
Rate
Ingredients
2

medium

Zucchini

about 1.5 - 2 pounds

2

tablespoon

Olive Oil

2

teaspoon

Lemon pepper seasoning

¾

cup

Grated Parmesan Cheese
Instructions
Pre-heat the oven to 450 degrees F (Fan forced oven) . Keep the tray at upper one third of the oven.

Clean and pat dry Zucchini. Cut ½ inch round slices. If the rounds are too big, cut each slice into half.

In a bowl toss Zucchini slices with olive oil.

Add lemon pepper seasoning and ½ cup finely grated Parmesan cheese(reserve remaining cheese to use later). Toss everything well.

In a large baking sheet arrange the zucchini slices spaced little apart. Don't over crowd the pan. Divide into 2 sheets if required.

Sprinkle rest of the grated parmesan on top.

Bake for 5 minutes. Then broil for 2-3 minutes more or until you see small brown spots on the zucchini slices.

Zucchini slices would be just cooked through yet will have a bite to it.
Notes
Keeping the skin on adds texture, so keep them on. 
Instead of baking, we are roasting the zucchini. Baking at high-temperature zucchini will get roasted on the outside yet doesn't get fully cooked through. You would also prevent it from becoming soggy. 
Pre-grated bottled parmesan will also work in this recipe. But freshly grated parmesan has a better flavor on any day.