One-pot pasta with a lemony, creamy sauce is both delicious and refreshing. Lemon in this pasta is a great flavor enhancer. It brings out the flavor of the noodles and makes the whole dish delicious.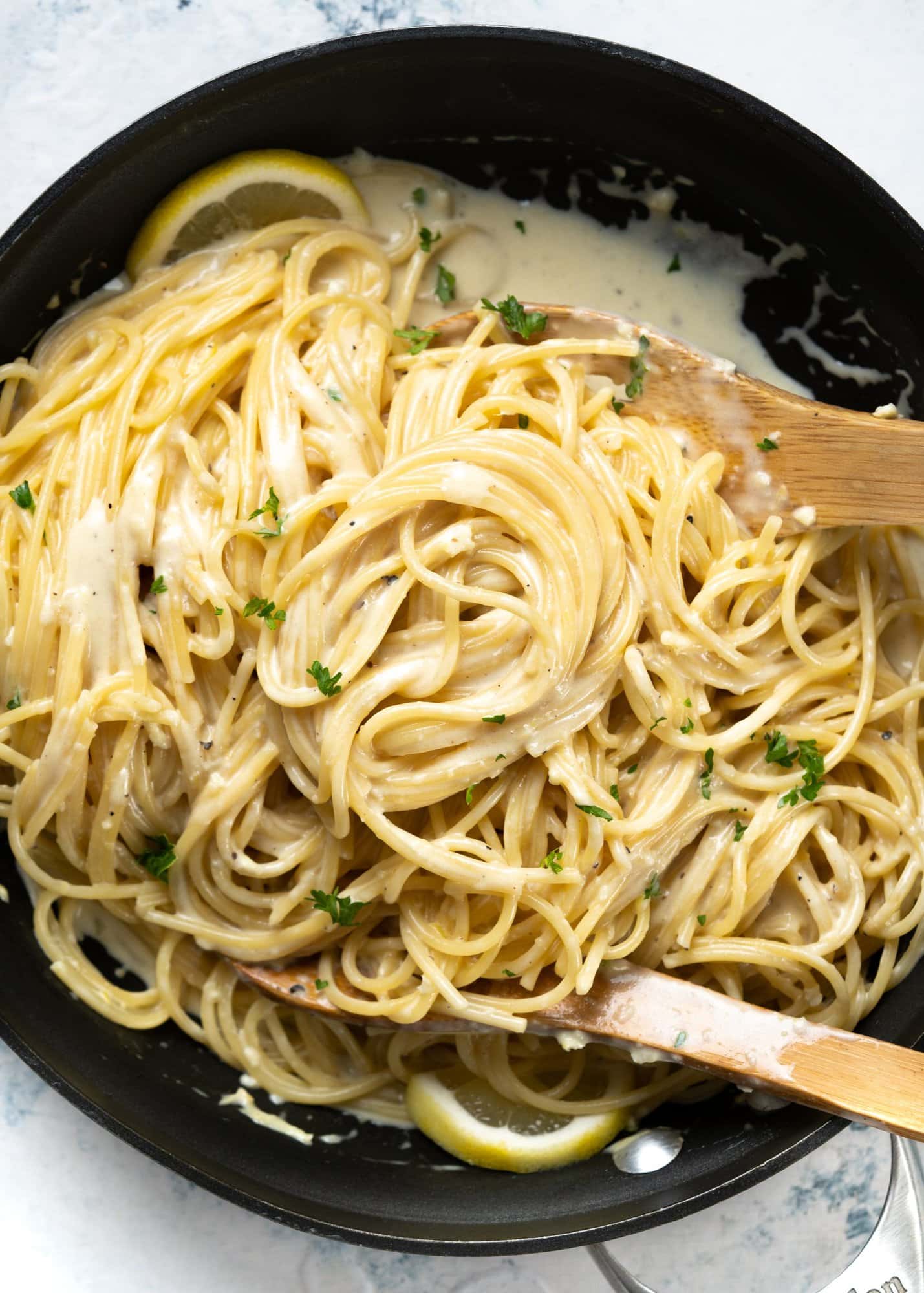 One-Pot Pasta with a Lemony Creamy Sauce
Once you try out this recipe, you will fall for the convenience and flavor it gets you. One-pot lemon pasta has many things going for it -
Everything is cooked in a single pot/skillet. Less hassle while cleaning dishes.
It has a refreshing flavor from the lemon, and cream makes a beautiful sauce—a break from rich, saucy pasta with tomato.
Pasta is cooked in chicken stock, giving it a great flavor and taste.
Traditionally, pasta involves boiling and cooking the pasta Al Dante in a separate vessel. Often it involves a bigger pot to boil it. This way, you end with a longer cleaning job at the end.
This lemon pasta dish is made in a single pot or skillet with straight sides. Everything is added and cooked in a single pot—no worries or hassle of cleaning multiple dishes.
Pasta is usually boiled and cooked in plain water. Now, that gets the job done, but cooking in chicken stock takes it to the next level. The cooked pasta's stock gets absorbed, resulting in fantastic flavor in each bite.
Pasta is a favorite in the family. In other words, we are diggers into Italian cuisine and love it. I have been adding lots of pasta recipes on the site, and when we take a liking to any new pasta dish, we come across online or outside, we have to try it out at home. If it tastes amazing and offers something new to what we already had, the recipe comes to the site.
If you would like a similar lemon sauce pasta with salmon in it, check out - Salmon Pasta in Creamy Lemon Sauce. Have another with shrimp - Creamy Lemon Garlic Shrimp Pasta. Check out some other creamy and cheesy pasta like - Creamy Tuna Pasta Salad, Creamy Spinach Pasta, and Garlic Cream Cheese Pasta.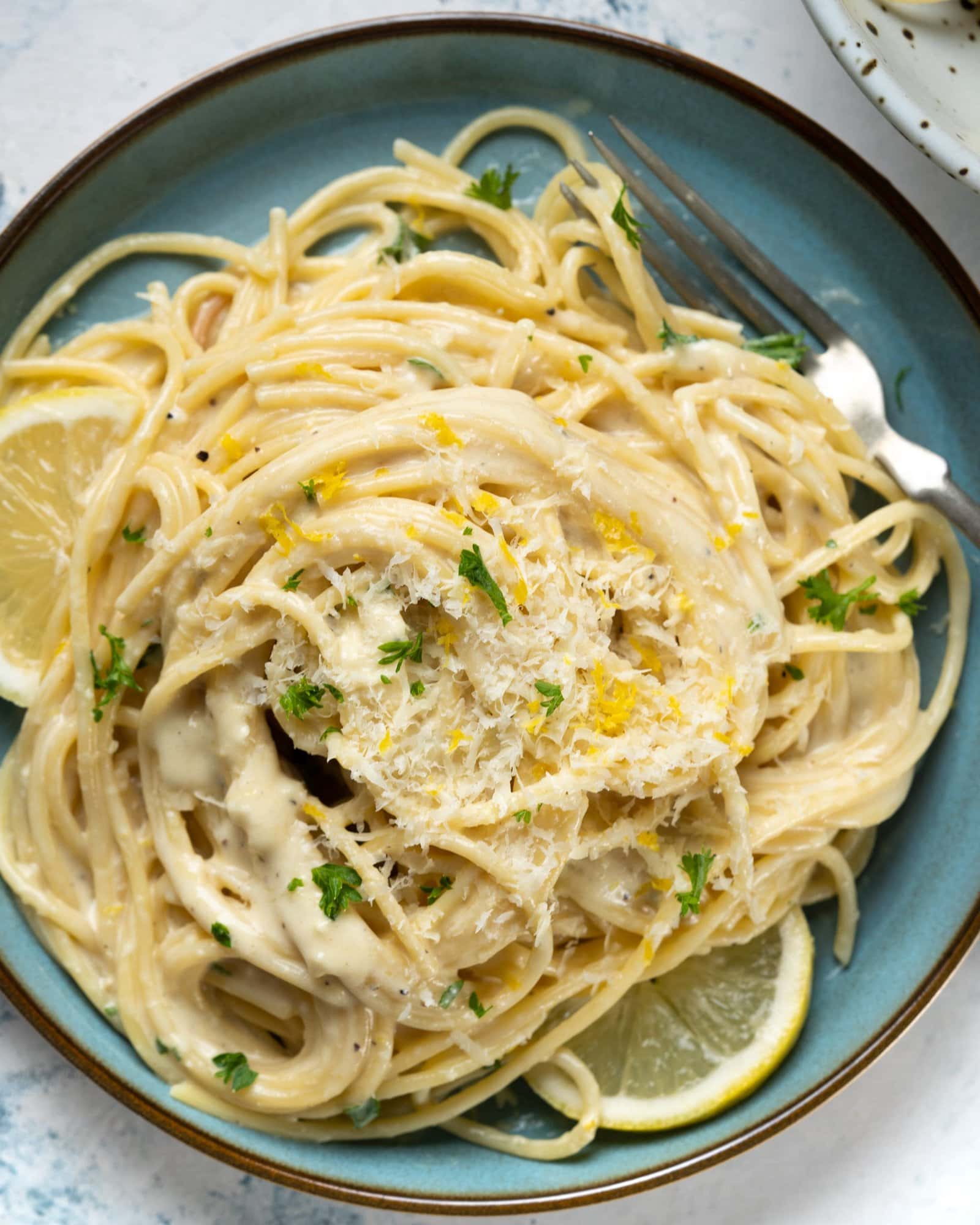 Ingredients
Dried Pasta - Used spaghetti here, but you may use any other form of pasta too. They would all work well in this recipe 🙂
Parmesan cheese - Parmesan is grated, and the crumble is sprinkled over the pasta after it is cooked and ready to serve.
Lemon juice - Besides the citrus flavor, juice adds a slight tartness to the otherwise creamy sauce.
Lemon zest - has a higher concentration of lemony flavor, and a little goes a long way.
Chicken Stock - to cook the pasta and form the base for the pasta sauce.
Heavy cream - adds creaminess and thickness to the sauce.
Minced garlic - a flavor bomb to elevate any dish.
Butter - the source of fat used to sauté the garlic.
Salt & Pepper - as per taste and your heat tolerance.
Parsley - chopped fine and sprinkled over the plated pasta.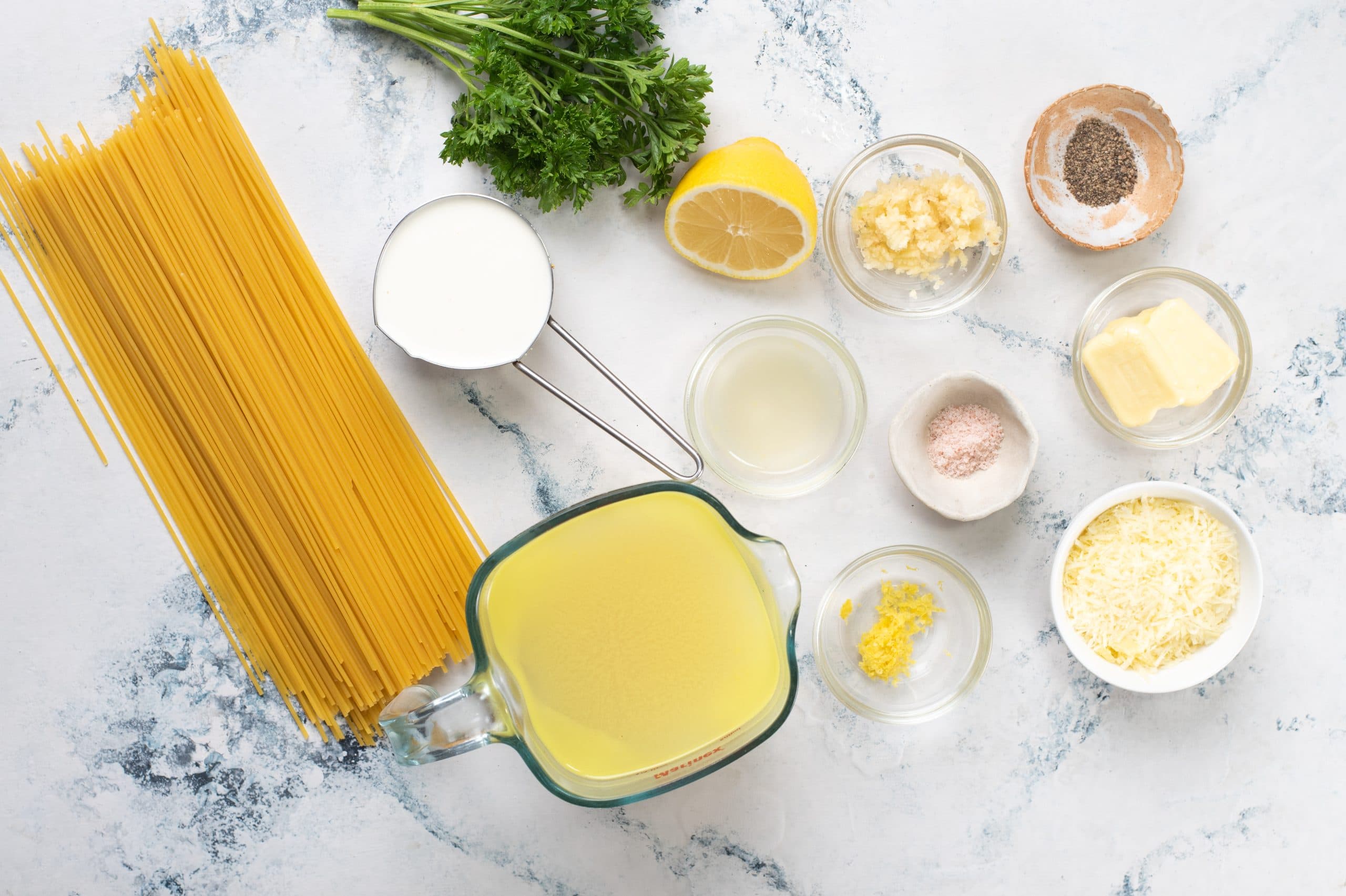 How to make
Flavor from butter and garlic - Place a one-pot or skillet on flame. Sauté garlic in heated butter for a minute.
Cook pasta in Chicken stock - Add stock to the pot/skillet. Allow it to boil, and put the pasta in. Follow the packet instructions for how long to cook the pasta.
Make a creamy sauce - Add cream, salt, and pepper to the pasta. Toss everything well and switch off the flame.
Add the rest - Add parmesan, lemon zest, and lemon juice to the resting pasta. Toss it again. Sprinkle chopped parsley on top and serve.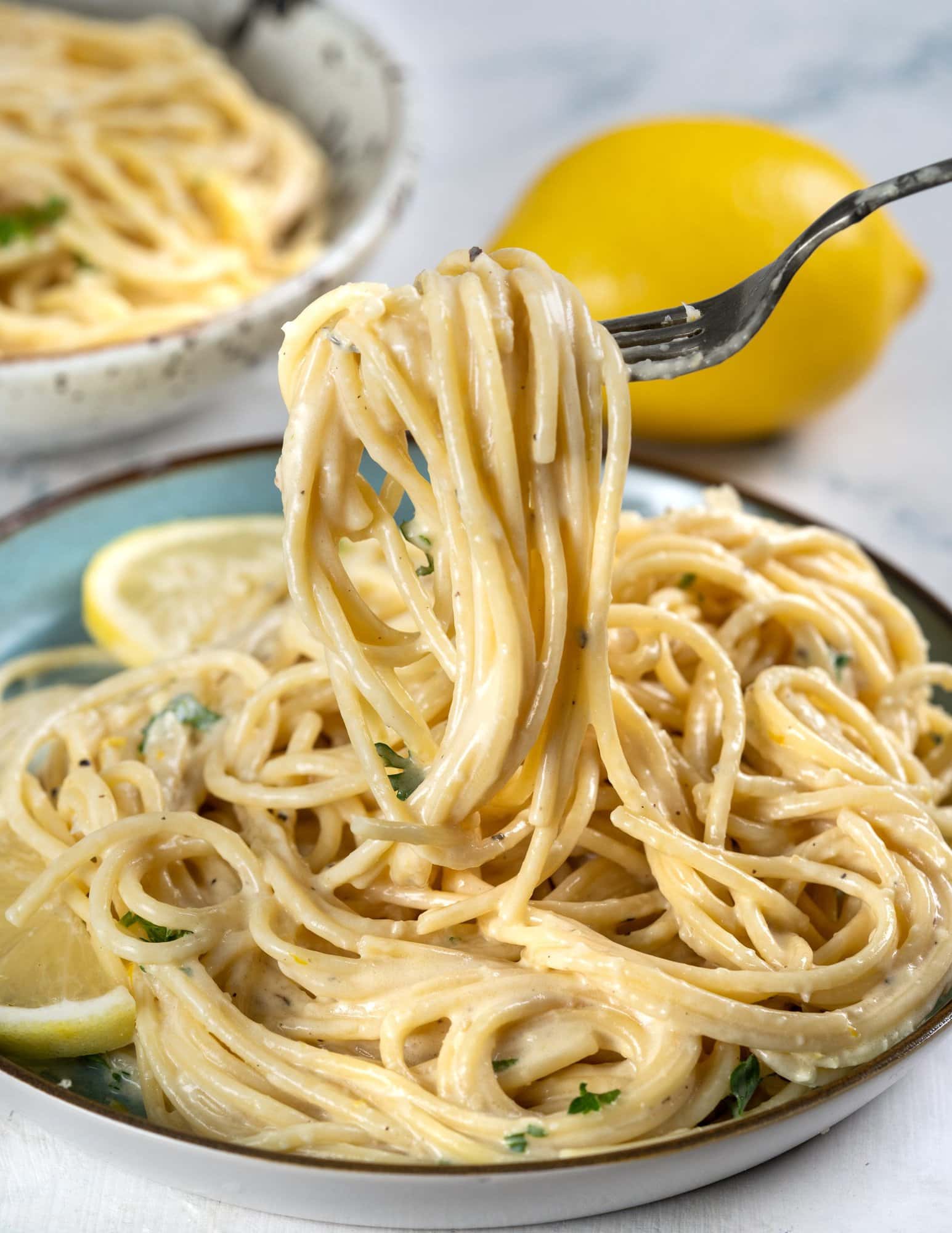 Store
You can refrigerate the past in an air-tight container or zip-lock bag for up to a week. Reheat it in the microwave for a minute.
You may reheat it in a pan/skillet too. Add a bit of leftover chicken stock to bring the sauce back alive, and heat it until you see bubbles in the sauce. Mix well and let the sauce thicken slightly.
Serve With
Pasta with a lemon-flavored creamy sauce is best served with protein dishes, fresh greens, or salads. The best protein dishes to pair with pasta are - Lemon & Thyme Roast Chicken, Roasted Harissa Chicken, Air Fryer Crispy Chicken Breast, or Chili Garlic Shrimp.
You can enjoy the dish as it is or pair it with some great side dishes.
Other Pasta Recipes
Bacon Ranch Chicken Pasta - This chicken pasta has a creamy, cheesy sauce and flavors from ranch seasoning and bacon.
Spicy Mushroom Chicken Pasta - - Pasta with mushroom and chicken in a rich garlicky tomato sauce is creamy and has a perfect hint of spice.
Chicken Parmesan Pasta - One pot dinner recipe with chicken parmesan and pasta.
Chicken Broccoli Pasta - Chicken and broccoli come together in this rich and cheesy garlicky parmesan sauce.
Tuna Pasta Bake - Canned tuna and pasta tossed in a creamy cheesy sauce and baked until bubbly.
Instant Pot Spicy Chicken Pasta - Chicken cooked in a spicy tomato sauce but made in an Instant Pot making it a one-pot dish.
Roasted Butternut Squash Pasta - Butternut Squash, onion, garlic, and herbs are roasted and blended to make a creamy pasta sauce. Top with crunchy breadcrumbs.
30 minutes Cherry Tomato Pasta - Classic Italian pasta made with intense flavors from cherry tomatoes. A variation with shrimp is in Cherry Tomato Pasta with Shrimp.
Pesto Pasta Salad - Salad recipe with bold flavors from fresh handmade pesto mixed with cherry tomatoes, rocket leaves, pine nuts, and bocconcini cheese. 
📖 Recipe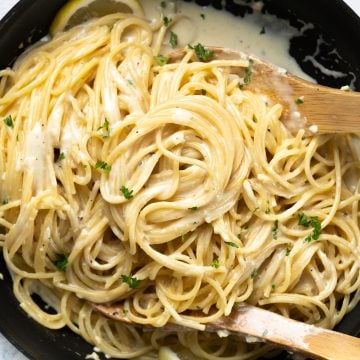 One pot Creamy Lemon Pasta
Making this lemon pasta is incredibly easy. You need only one pot/ skillet and 20 minutes.
Print
Pin
Rate
Ingredients
250

grams

dried pasta

(8 oz)

2

tablespoon

butter

1

tablespoon

minced garlic

3

cups

chicken stock

½

cup

heavy cream

2

tablespoon

fresh lemon juice

zest of a lemon

½

teaspon

pepper

⅓

cup

freshly grated parmesan

Parsley to garnish
Instructions
In a large skillet heat butter. Saute garlic for 30 seconds until it is aromatic.

Slowly add chicken stock. When the chicken stock just starts to boil add dried pasta to the skillet.

Reduce the heat a bit, so the chicken stock isn't boiling rapidly. Let the pasta cook until it is al dente.

Reduce the heat and add heavy cream, salt, and pepper. Toss everything well. Switch off the flame.

Add freshly grated parmesan, lemon zest, and lemon juice. Mix well.

Serve with sprinkle of chopped parsely.
Notes
Keep ½ cup of warm chicken stock handy. If the liquid in the pan has reduced but the pasta is not cooked, then add the remaining stock. 
This is a true one-pot recipe, as everything is done in a single pan. No multiple pans, so hassle-free cleaning.