Air Fryer Crispy Chicken Breast
This post may include affiliate links that earn us a small commission.
The crispy crust of the Air fryer chicken breast has juicy and delicious chicken underneath. Make this crusty side dish to go with any meal.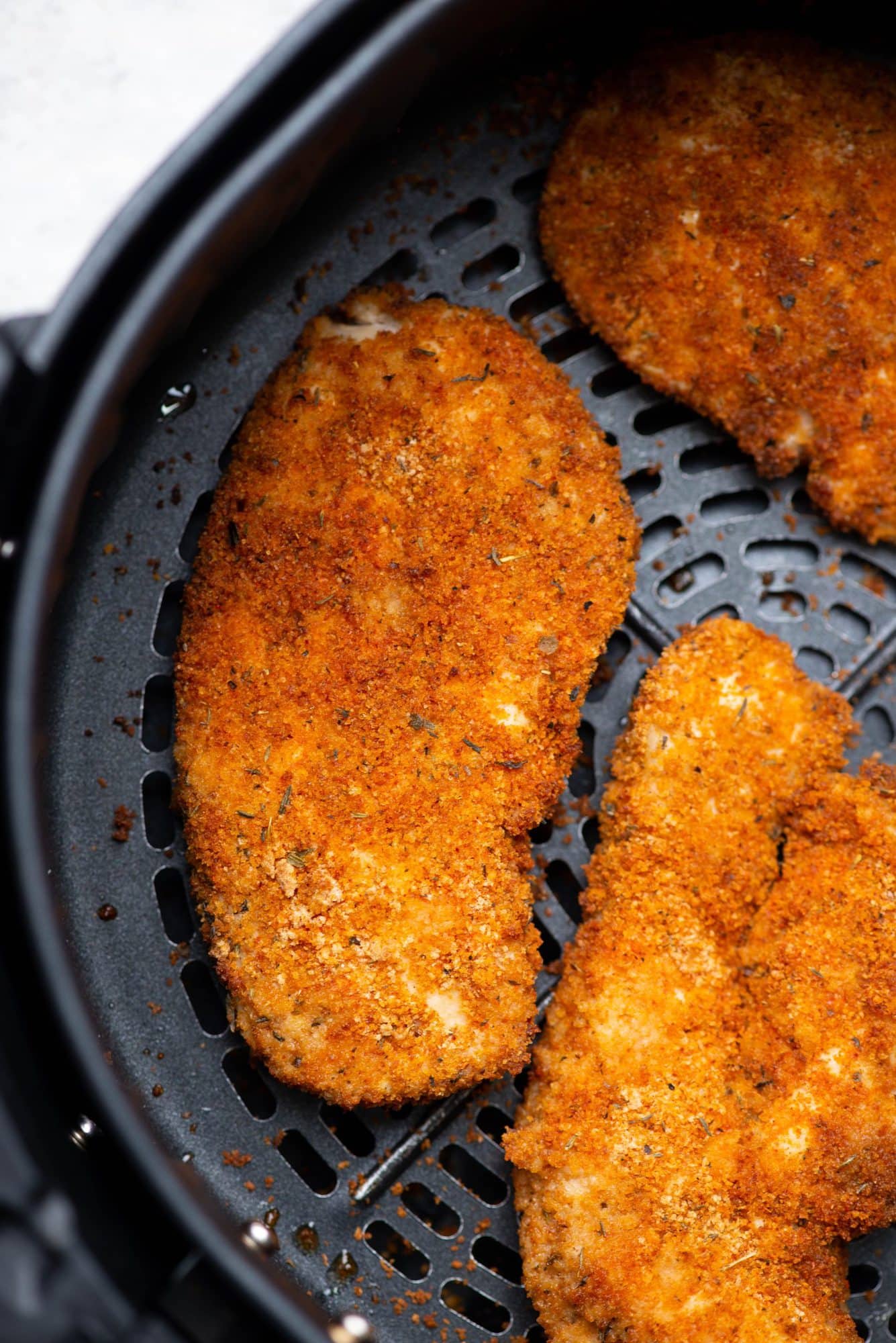 Want to have a nice crispy chicken breast with a golden crust on the outside and juicy chicken inside? Want to have it healthy and fast and fuss-free too? Just frying chicken breast in the air fryer helps you get all that.
Flavours In Your Inbox
Subscribe for recipes straight to your inbox
We have got some great Air fryer recipes combining deliciousness and convenience – Air Fryer Chicken Wings (3 Ways), Airfryer Roasted Broccoli and Dry Rubbed Air Fryer Chicken.
I am a fan of Air fryers. I love the convenience,, and to add to that; you can whip out healthy versions of most recipes in the air fryer. Air fryers are way better than deep fryers or deep frying in the skillet at home.
Frying chicken breast in an air fryer gives you crispy, juicy, and tasty chicken. Most recipes done in an air fryer require less oil than you would need in a pan. What about the oven? Chicken breast in the air fryer is much quicker.
For me, health and convenience win. If you can get more or less the same result in much less time and would not need as much oil, it's hardly a choice. The effort in making this recipe goes into breading the chicken properly. Once you have a tray of breaded chicken breast ready, it does take a dozen minutes.
Crispy Crust on Chicken Breast
Do you get the same level of crispiness in an air fryer? Yes, you can get almost the same. The difference is negligible and worth all the less effort.
How does the air fryer stake against the oven for chicken? First, no pre-heating is required in the air fryer, unlike in an oven. Frying in the air fryer takes much less time, about 12 minutes which is almost half of the time in the oven. So you see it is becoming a choice among busy moms for home dinners.
We have got some super tasty recipes with chicken breasts. For delicious chicken stir fry, check out the Thai Cashew Chicken Stir Fry. Make exciting stuffed dishes like Fajita Stuffed Chicken Breast, and Mushroom Spinach Stuffed Chicken Breast. Enjoy the soft and juiciness of chicken breasts in this Creamy Honey Mustard Chicken Tenders.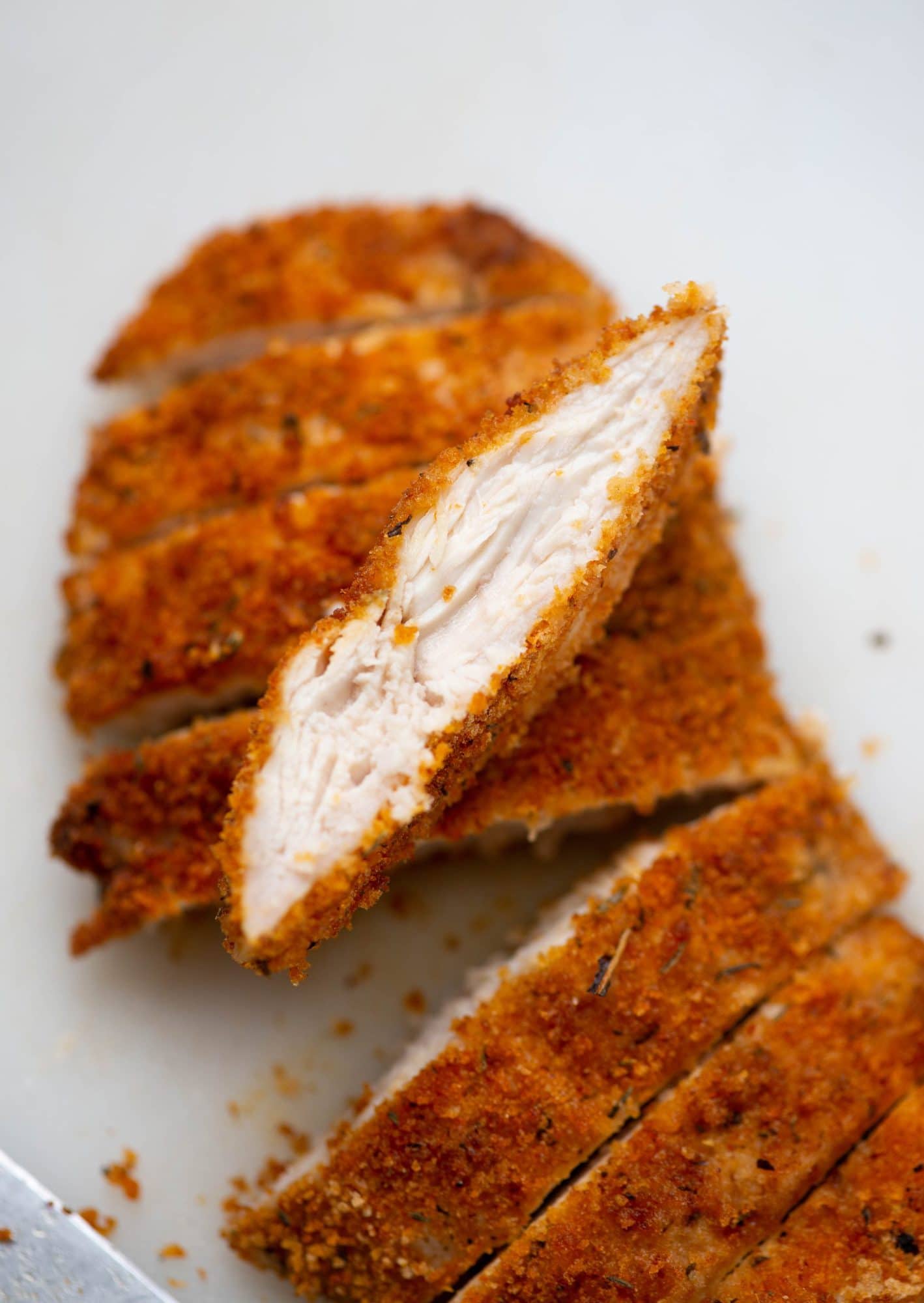 Ingredients
This recipe has two parts to prepare. One is prepping the bread coating, and other is rubbing the chicken breast.
Chicken breast – If the breasts are too thick, cut it laterally in the middle for thin slices, which cook faster and taste better. You will need to rub the breast slices with oil, salt, and pepper.
Oil – Any neutral oil like vegetable oil.
Salt & pepper
Bread Coating
Bread Crumb – Use fine bread crumbs and not Panko bread crumbs.
All-purpose Flour
Onion powder
Garlic powder
Dried thyme and dried basil
Chili powder or Paprika
Salt to taste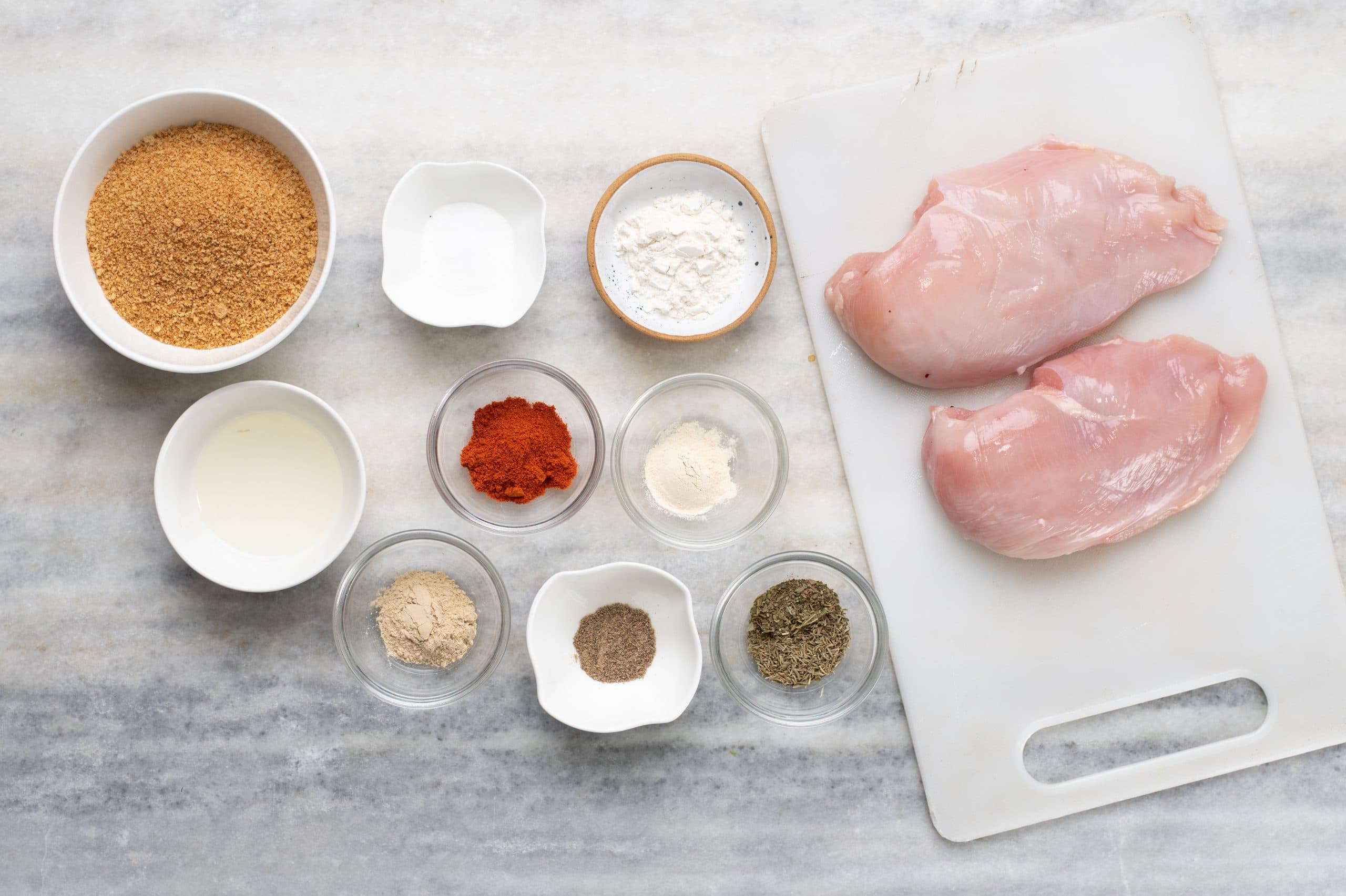 How to make
Chicken breast – Make a horizontal cut to slice it thinner for thick slices. If you find a piece with uneven thickness, pound the wide portion to make it even.
Mix oil, salt, and pepper, and rub the chicken breast until it coats well.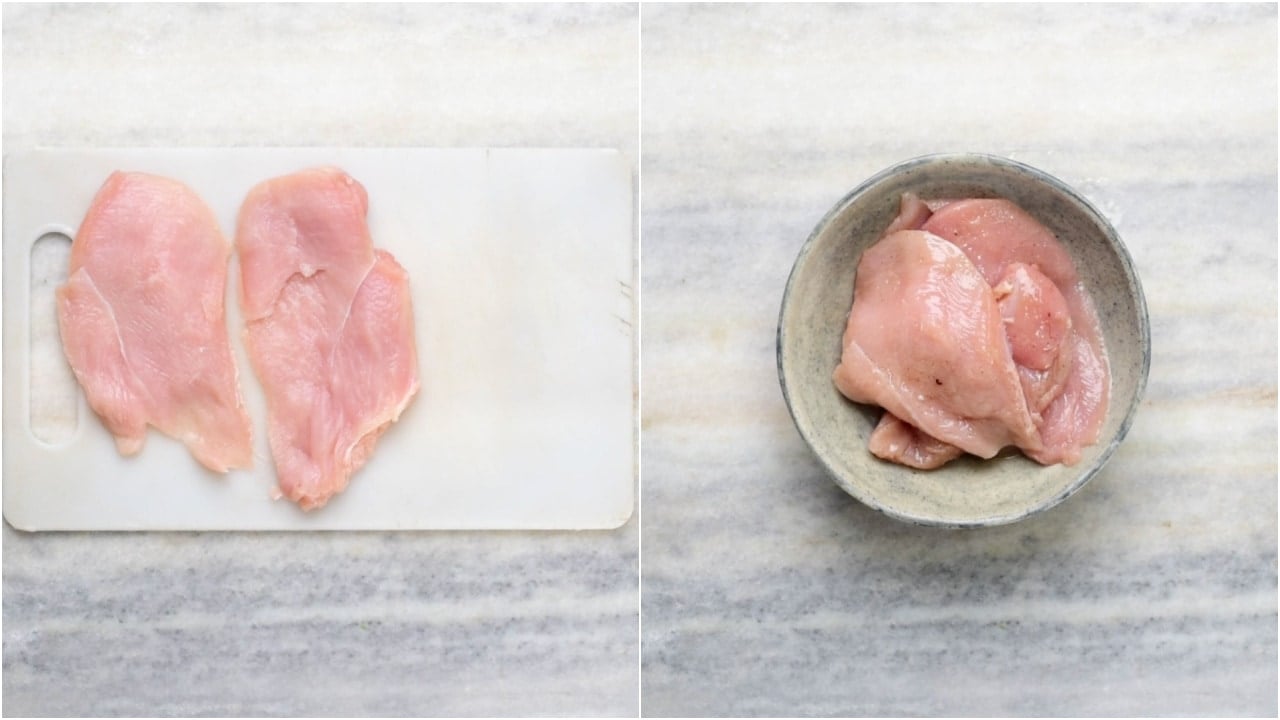 Bread the chicken – Mix all the ingredients for the breading in a bowl. Place the chicken slice on the mixture on one side. Press it to make sure the coat sticks evenly on the side. Flip and repeat it until the breading mixture sticks well and evenly.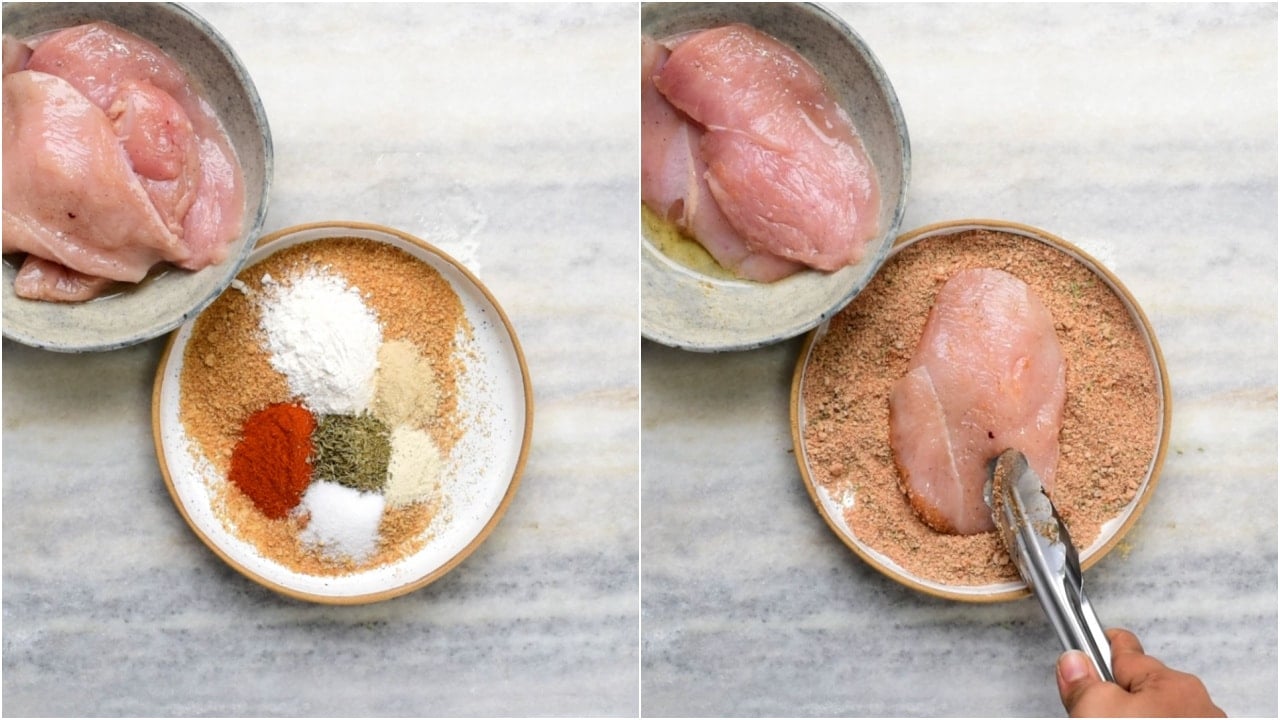 Air fryer – Place the breaded chicken slices in the air fryer spaced an inch apart. Cook the chicken breast in the air fryer at 200 °C / 392°F for 8 minutes, flip and cook for another 4 minutes.
Slice fried chicken – Take it out and slice them into nugget size.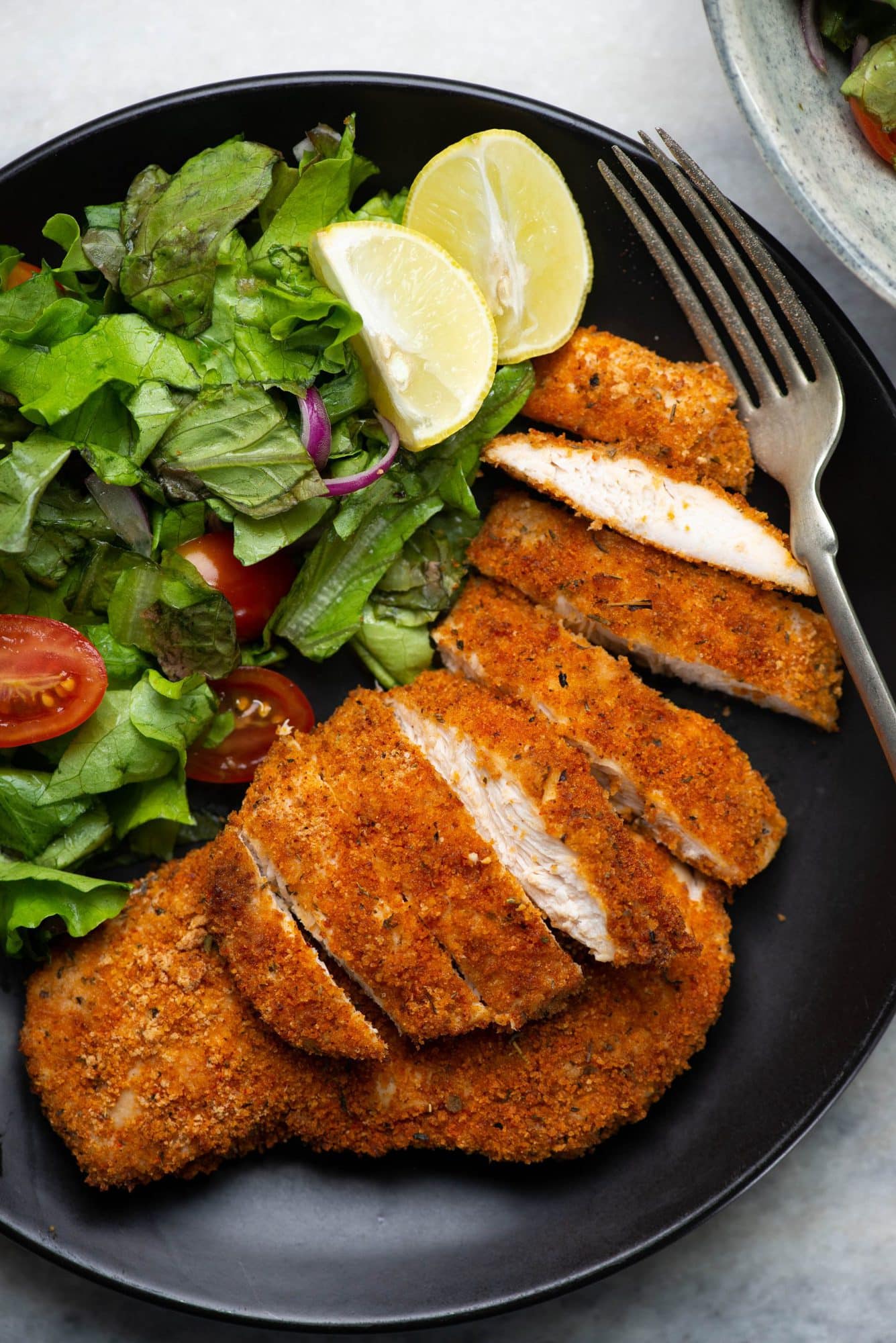 Important Tips
For this recipe, as we want a lightly breaded chicken breast and not too greasy, use regular breadcrumbs. You may buy it or make it at home.
Do not use panko breadcrumbs for this recipe. Panko breadcrumbs are great for other breading techniques with egg batter that helps in binding the crumbs to the chicken.
We do not use eggs in this recipe to keep it light. Oil is used instead. Panko breadcrumbs will not stick well with oil; therefore, use regular breadcrumbs.
You can brine the chicken breast to make it juicier. It also helps bring the entire breast piece to room/warm temperature. It makes for more consistent cooking throughout the slice.
Do not place the breaded chicken breasts too close. This may prevent the sides from being placed too close to cook correctly and stick.
After taking out the air-fried chicken, allow it to rest and cook for 5 minutes before you want to slice them.
Do not start cooking frozen chicken breast in the air fryer. It will not cook evenly, and the middle will end up raw. Let frozen chicken thaw, and if possible, brine the chicken.
Serve With
Serve it as a protein option for your meals. You may also have it with salads or other greens. You may also serve it with Veg pasta or other veg dishes.
Other chicken breast recipes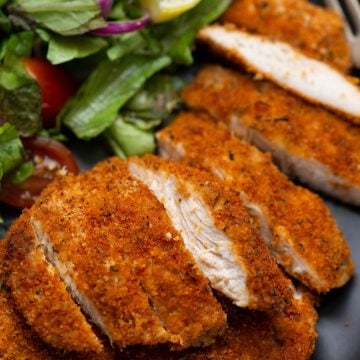 Crispy Chicken Breast in Air fryer
Boneless chicken breast fillets coated in a seasoned bread crumb mixture and air fried until crispy outside and moist on the inside. With just a teaspoon of oil, this crispy chicken breast tastes as good as fried chicken.
Ingredients
2 large Chicken Breast
1 tablespoon Oil
¼ teaspoon Salt
½ teaspoon Pepper
For bread coating
½ cup Fine Breadcrumb
1 tablespoon Flour
1 teaspoon Garlic Powder
½ teaspoon Onion Powder
½ teaspoon Dried Thyme
1 teaspoon Dried Basil
½ teaspoon Salt
½ teaspoon Chili powder or paprika
Instructions
Cut chicken breast into cutlets or fillets. Using a meat mallet or a rolling pin pound any thick part of the fillets to get even thickness.

Mix oil, salt, pepper. Coat chicken well with the mixture.

In another mixing bowl add breadcrumb, flour, and the rest of the spices.

Place one chicken cutlet on the breadcrumb mixture one at a time. Press gently so that the mixture sticks to the chicken. Flip and repeat the same.

Place coated chicken breast in the Airfryer inner tray, spaced a little apart.

Set temperature @ 200 °C / 390 °F. Cook for 8-9 minutes. Flip and cook for another 4 minutes.

Let it rest for 5 minutes, before slicing it.
Nutrition
Serving: 1serving | Calories: 226kcal | Carbohydrates: 12g | Protein: 26g | Fat: 7g | Saturated Fat: 1g | Polyunsaturated Fat: 2g | Monounsaturated Fat: 3g | Trans Fat: 1g | Cholesterol: 72mg | Sodium: 671mg | Potassium: 474mg | Fiber: 1g | Sugar: 1g | Vitamin A: 116IU | Vitamin C: 1mg | Calcium: 42mg | Iron: 2mg