This post may include affiliate links that earn us a small commission.
Tuna Pasta Salad is a perfect light meal in summer or for a barbeque potluck. Loaded with protein-rich Tuna, egg, tiny macaroni Pasta, peas tossed in a light yet creamy Mayonnaise, and Greek yogurt dressing.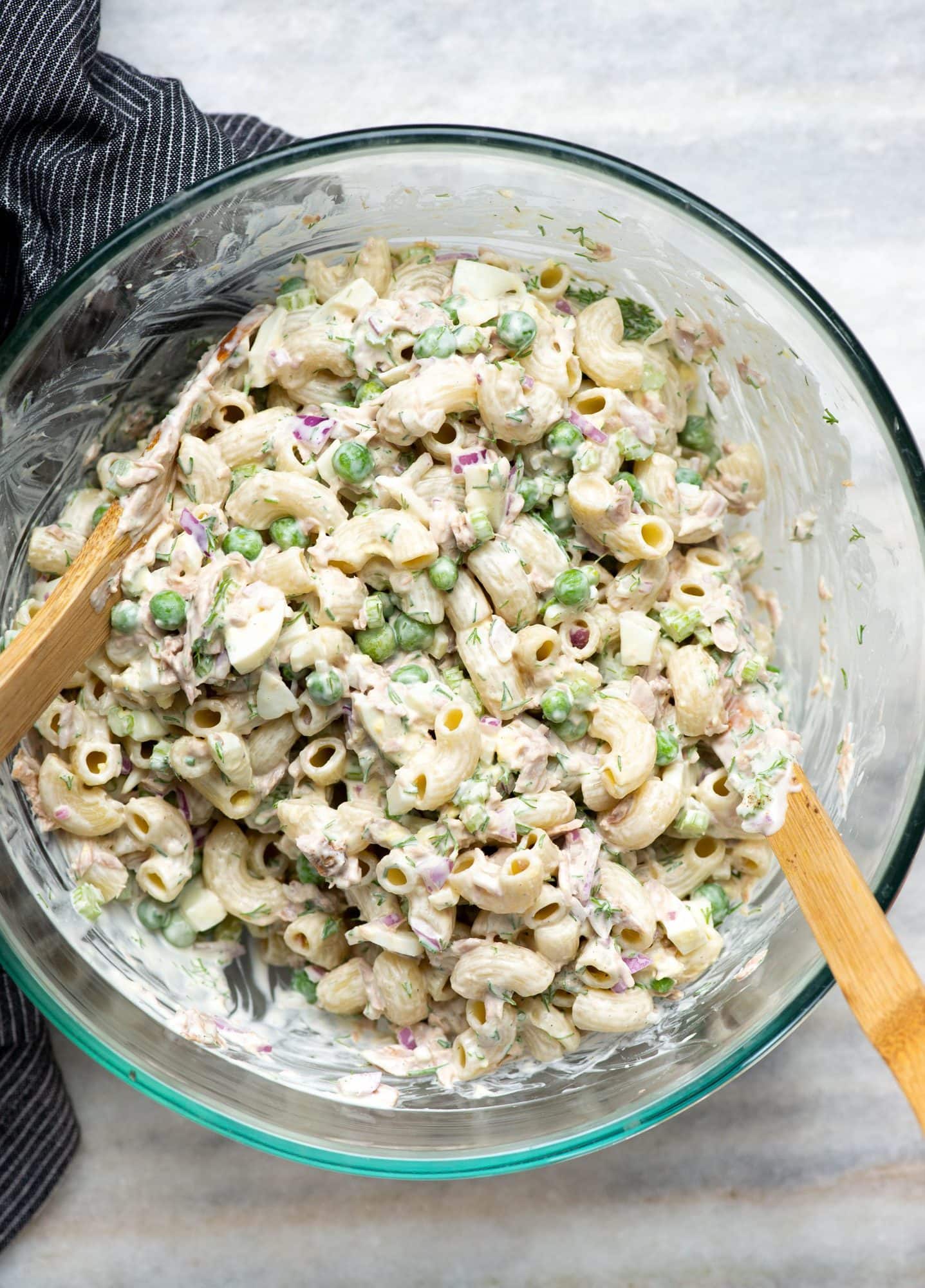 When the temperature rises, I always look forward to making meals that need very little or no cooking, with some veggies or herbs for freshness. This Tuna pasta salad is one such meal that is tasty, filling, and very easy to make. You can make it creamy or a lightened-up vinaigrette version like this Cold Tuna Salad.
Flavours In Your Inbox
Subscribe for recipes straight to your inbox
You can easily make a big batch for bbq parties or picnics without much effort. It makes great leftovers, too, so it's ideal for meal prep. The versatility and fulfilling nature of pasta salad recipes make them suitable as a side dish, a light meal, or a potluck. You are only limited by your imagination and can add various veggies and types of white meat or toss them with different dressings.
Classic Tuna Pasta Salad
Tuna Pasta Salad is a classic summer salad that is delicious and healthy at the same time. It is Loaded with tuna chunks ( protein powerhouse), eggs, peas, and fresh herbs.
While the eggs lend a tinge of richness, the tuna gives a savory and slightly saline flavor. The salad gets a boost of freshness from the peas and a soft taste from the macaroni pasta. The creamy mayo and Greek yogurt dressing provide a velvety and tangy finish to the salad, nicely binding everything together.
Over time, this salad has become an excellent way to incorporate canned tuna into a refreshing and easy-to-make meal. Over time, this salad has evolved and taken on different variations, showcasing a unique blend of flavors and ingredients.
Variations
The tuna pasta salad dressing is traditionally made with mayonnaise, making it a thick and creamy dressing. You can very well make that and enjoy it. I wanted a bit thinner yet creamier dressing, which is a popular tuna pasta salad recipe variation. This makes the salad dressing richer and has a more luscious texture.
For the creamier variation, I prefer half Greek yogurt instead of a completely Mayo-based dressing, which could be quite heavy. Chopped boiled egg also adds to the creaminess of the salad.
Another variation that requires it to serve cold and is preferred by many as a summer go-to salad is the Cold Tuna Pasta Salad.
Ingredients
Main components of the salad
Pasta– I have used macaroni here, but you can use short pasta of any shape, like shell or elbow pasta. Bite-sized pasta with other chopped veggies makes it easier to eat.
Tuna – Choose good-quality canned tuna that is packed in water. Avoid Tuna in oil, as it will make the salad too heavy on the palate.
Onion – Red onion chopped to add crunch and a savory taste.
Celery – Chopped celery adds a mild earthy flavor, complementing the saline tuna and soft pasta with some crunch.
Fresh Herb – Fresh dill leaves pair very well with this salad and screams summer all the way. You can use parsley along with dill or substitute dill entirely with parsley.
Peas – Peas for a burst of color and freshness. If using fresh peas, quickly blanch them in boiling water and plunge them into ice-cold water. If using frozen peas, add them to warm water and bring them to room temperature.
For the dressing
Mayonnaise – Choose a creamy and flavorful mayo for the dressing. You can use store-bought ones or make mayo yourself at home.
Greek yogurt – It adds tanginess and creaminess to the dressing. Use ones without any flavors or sweeteners.
Dijon mustard – Adds a depth of flavor to the dressing. Use amounts as per your taste.
Sugar – A touch of sugar helps balance the taste in the dressing but does not make it overly sweet. Taste the dressing and add as per your preference.
Lemon juice – It helps balance the creaminess while adding a refreshing and citrusy note.
Garlic powder – A powerful aromatic that adds savory notes to the dressing.
To Make Tuna Pasta salad
This no-cook recipe is perfect for a quick summer brunch or barbeque party. You can easily plan and store this.
Prepare the dressing
Start making the Creamy mayonnaise yogurt dressing. Mix all the ingredients for the dressing. You can refrigerate the dressing for a day or two. If using homemade Mayonnaise, don't keep the dressing for more than one day.
Keeping the dressing in the refrigerator for a couple of hours allows the flavors to develop.
Cook pasta aldente
Cooking pasta aldente means to cook it to be tender but firm. To do so, follow the package instructions regarding the time to allow it to boil. A seasoning tip – generously add salt to the water you use to boil the pasta for the noodles to gain some flavor, without which it will taste bland.
Drain and run under cold water to bring the pasta to room temperature and stop the cooking.
Tips – It is good to bring pasta to room temperature before adding raw veggies. Otherwise, the pasta's heat will cook the veggies and leave a weird taste.
Prep and chop
Boil eggs; using salted water until they are hard-boiled. Peel them and cut into small pieces and keep them aside.
Drain Tuna well; break big chunks of tuna into small pieces using a fork. If you have got fresh peas, great ! For frozen peas, thaw them to reach room temperature.
Dice onions, chop the celery, and keep them ready.
Assemble
Add the cooled pasta, boiled eggs, tuna chunks, peas, diced onions, and chopped celery in a large bowl.
Drizzle 3/4th of the dressing over the salad and toss everything. Preserve the rest or add now if required. Chill the salad in the fridge for the pasta to absorb the flavors from the dressing.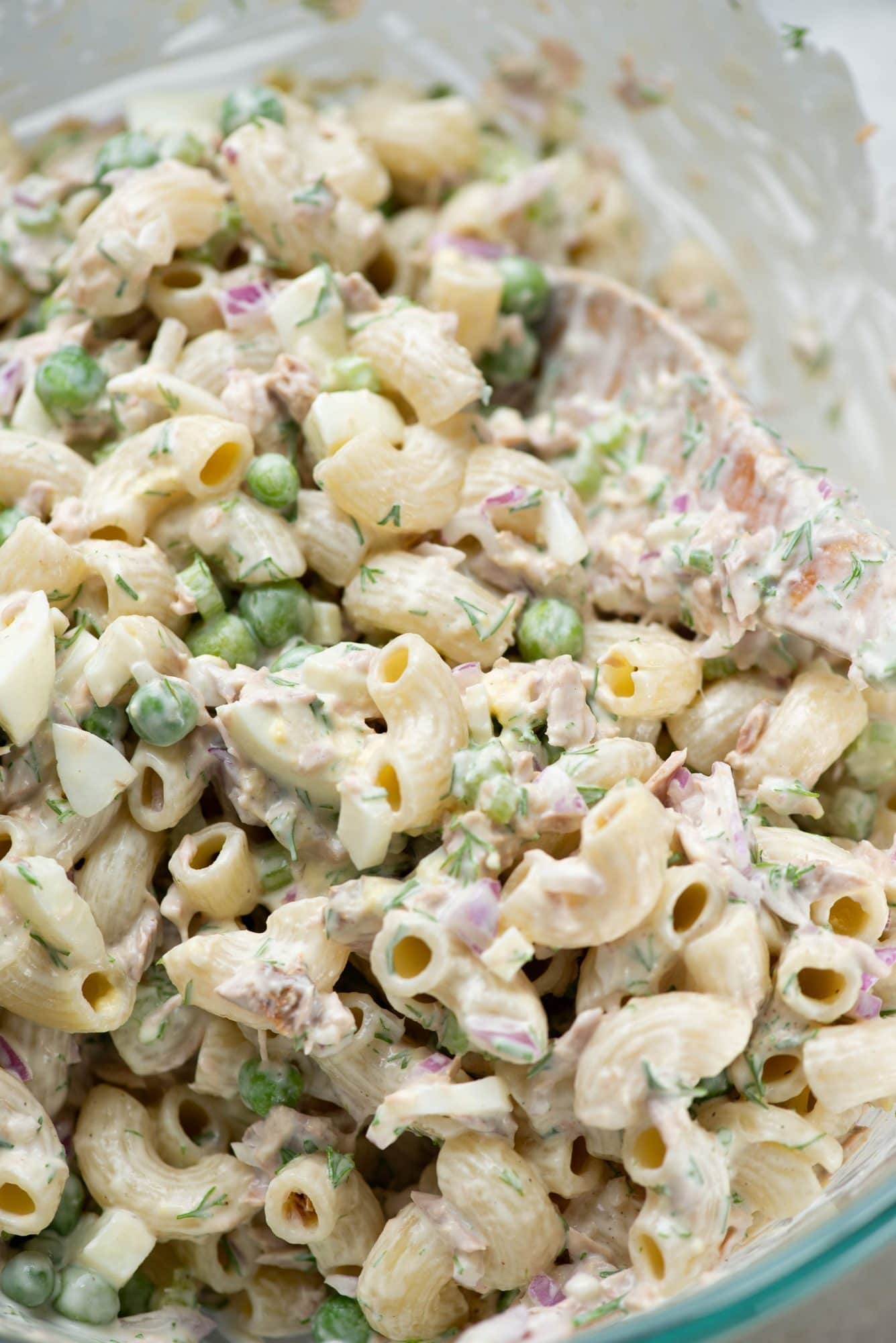 Tips for Making the Best Creamy Tuna Pasta Salad:
Use good-quality canned tuna packed in water or olive oil for the best taste.
Drain the tuna well to lose all the excess liquid so it does not make the salad watery.
Ensure the pasta and peas are cooked al dente to maintain their texture in the salad. Refer to the packet instructions to cook pasta properly.
Adjust the consistency of the dressing by changing the amount of mayo versus Greek yogurt depending on your preference for a thicker vs. thinner dressing. You can also increase lemon juice or a splash of water to make it lighter.
Season wisely by tasting the salad before you add salt since the tuna and mayo already contain salt.
Use pepper for some heat to balance all the creamy and sweet tastes in the dressing. Use amounts as per your taste.
Customize the salad with your favorite vegetables, herbs, or spices to make it uniquely yours. You can use bell pepper (for some crunch and spiciness), cucumbers, or pickles.
Serve chilled – Leave the salad in the refrigerator for at least 30 minutes to make it cool, and then serve. This time allows the pasta to absorb the flavors from the dressing.
How to Store the Leftovers
Keep your tuna pasta salad in a sealed container so it doesn't absorb the flavors of the other things in the refrigerator. And if taking it to a potluck, put ice packs in a cooler around it to keep it chilled!
If you are planning to make it ahead, mix everything and refrigerate. When mixed with the dressing, the veggies lose water and become soggy. Kept for long, even the pasta becomes soggy.
It is recommended to store the tossed salad ingredients, cooked pasta, and salad dressing separately in the refrigerator if you do not intend to consume them on the same day. This way, you can easily refrigerate it for up to 4 days and the dressing for up to a week.
Serve with
Have it as a light lunch or dinner while the pasta makes it fulfilling, or let this corn salad's fresh and vibrant flavors shine along with other mains.
More Summer Salad Recipes…
Roasted Corn Salad – Charring adds flavor to sweet corn and pairs well with a lemony, savory dressing.
Italian Chopped Salad – Authentic Italian salad with fresh greens, tomatoes, and onions tossed in a light vinaigrette.
Chinese Chicken Salad – Asian flavors from crispy noodles and chicken stir-fried in a sesame dressing.
Chicken Pasta Salad – Grilled chicken is tossed with pasta and veggies in a lemon-herb dressing.
Vegan Macaroni Salad – A creamy salad recipe with pasta and crisp vegetables.
Pesto Pasta Salad – Classic Italian salad made with homemade pesto tossed with pasta, veggies, and greens.
Easy and Zesty Quinoa Salad – Quinoa, vegetables, and feta cheese with an olive oil vinaigrette.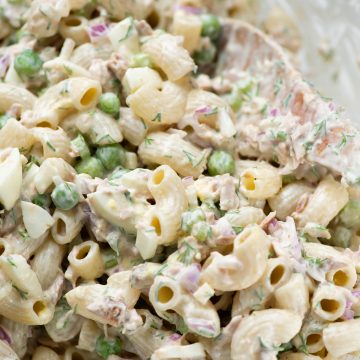 Creamy Tuna Pasta Salad
Elbow pasta, tuna, onion, peas, celery tossed in a creamy Mayo dressing. The dressing is lightened up with some greek yogurt. A perfect salad to serve at room temperature or cold.
Ingredients
450 grams Dried elbow pasta (16 oz)
3 can Tuna 4 oz can , in brine
4 Hard boiled egg
1 cup Frozen Peas
½ cup Chopped Onion
1 stalk Celery chopped
⅓ cup Chopped dill leaves
Dressing
¾ cup Mayo
½ cup Greek yogurt
1 teaspoon Dijon mustard
1 teaspoon Sugar
2 teaspoon Lemon Juice
¼ teaspoon Garlic Powder
Instructions
Cook dried pasta in salted water. Drain and run the pasta under the tap to stop it from cooking further.

To make the dressing, mix mayo, greek yogurt, mustard, sugar, lemon juice, and garlic powder. You can keep the dressing in the refrigerator for a couple of hours for the flavors to develop.

Drain tuna. Shred big tuna chunks using a fork or with hands.

If peas are frozen, then add peas to room temperature water to thaw them. Drain it.

In a big salad bowl, add cooled-down pasta, tuna, peas, chopped celery, onion roughly chopped hard-boiled eggs, and dill leaves.

Add 3/4th of the dressing to the bowl. Mix everything well. Add the reserved dressing if required.

If you wish you can refrigerate the salad for 2 hours for the flavours to develop and serve.
Notes
It is important to bring the cooked pasta to room temperature or lukewarm before adding the rest of the ingredients.
You can also add chopped red pepper, and chopped parsley.
Nutrition
Serving: 1serving | Calories: 637kcal | Carbohydrates: 63g | Protein: 34g | Fat: 27g | Saturated Fat: 5g | Polyunsaturated Fat: 14g | Monounsaturated Fat: 6g | Trans Fat: 1g | Cholesterol: 168mg | Sodium: 432mg | Potassium: 488mg | Fiber: 4g | Sugar: 6g | Vitamin A: 456IU | Vitamin C: 12mg | Calcium: 81mg | Iron: 3mg