This post may include affiliate links that earn us a small commission.
Chicken thighs are marinated in a zesty, bold marinade of cilantro, cumin, lime juice, and garlic, then grilled. With all the fresh flavors, this makes for a quick meal in summer or on any day for that matter.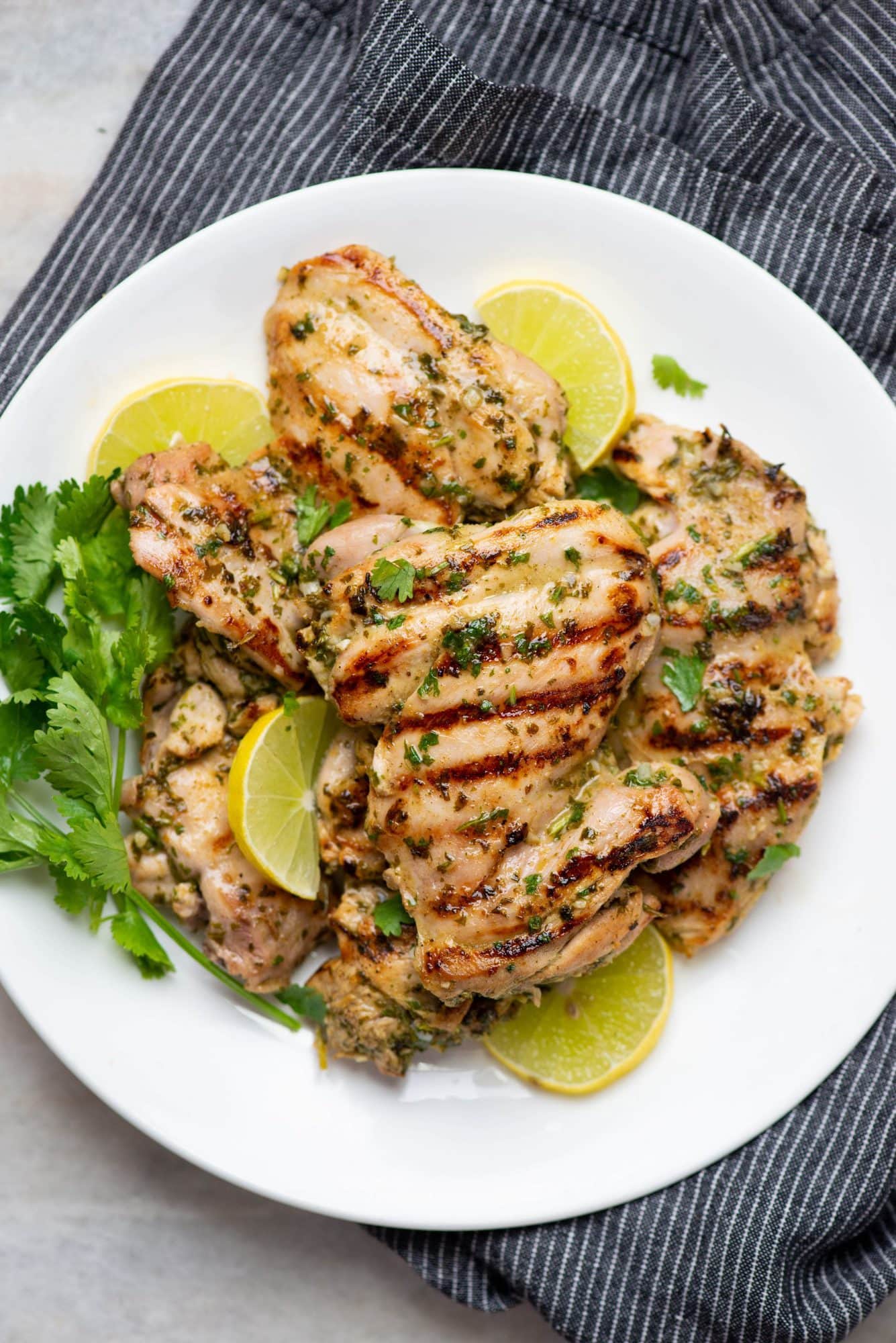 Cilantro Lime Chicken Thighs
Cilantro lime chicken is packed with all your favorite Mexican flavors. The garlicky Cilantro marinade takes your grilled chicken game to another level. While you can light up the grill for a summer barbeque party, cooking on a skillet or grill pan on the stovetop is much faster and easier.
Flavours In Your Inbox
Subscribe for recipes straight to your inbox
The chicken turns out to be tender and juicy because of the lime/lemon juice in the marinade. Fresh Cilantro leaves add a burst of freshness.
You can either serve it with cilantro lime rice or shred it use it tacos.
Can I use Chicken Breast Instead?
While I love to use bonless chicken thighs for this, you can also use chicken breast. Beucase of the marinade, even chicken breast remains juicy and tender. Make sure you cut chicken into thin cutlet / fillets. Using a meat mallet pound any thick part of the fillets, so that it cooks evenly. Chicken breast cooks quicker than chicken thighs, so keep a close eye or use an cooking thermometer to check until the internal temperature reaches 165 degree F.
Steps To Make Cilantro Lime Chicken
I am biased towards recipes which involves very less or no chopping. This recipe involves just two steps as part of preparation.
First step is to make the marinade. I prefere using a food processor, for making a chunky marinade. I love how all the ingridents in the marinade marries beautifully.
We are using Cilantro along with its stem because the stem is packed with intense flavour. Then add roughly chopped garlic to the processor.
Cumin is a spice widely used in Mexican cusine. And if you make Mexican food quite frequently, it would good idea to make a small batch of cumin powder in a coffee grinder. Slightly roast Cumin to release aromatic oil and let it cool down a bit. Then grind to a fine powder.
Zest lime and sqeueez the lime to get the required amount of juice. You might need 2 limes depending on their size.
Oil and Lime juice in the marinade acts as tenderiser. There is pepper for heat. Some times I add half a jalapeno for heat or chili powder. But its completely optional.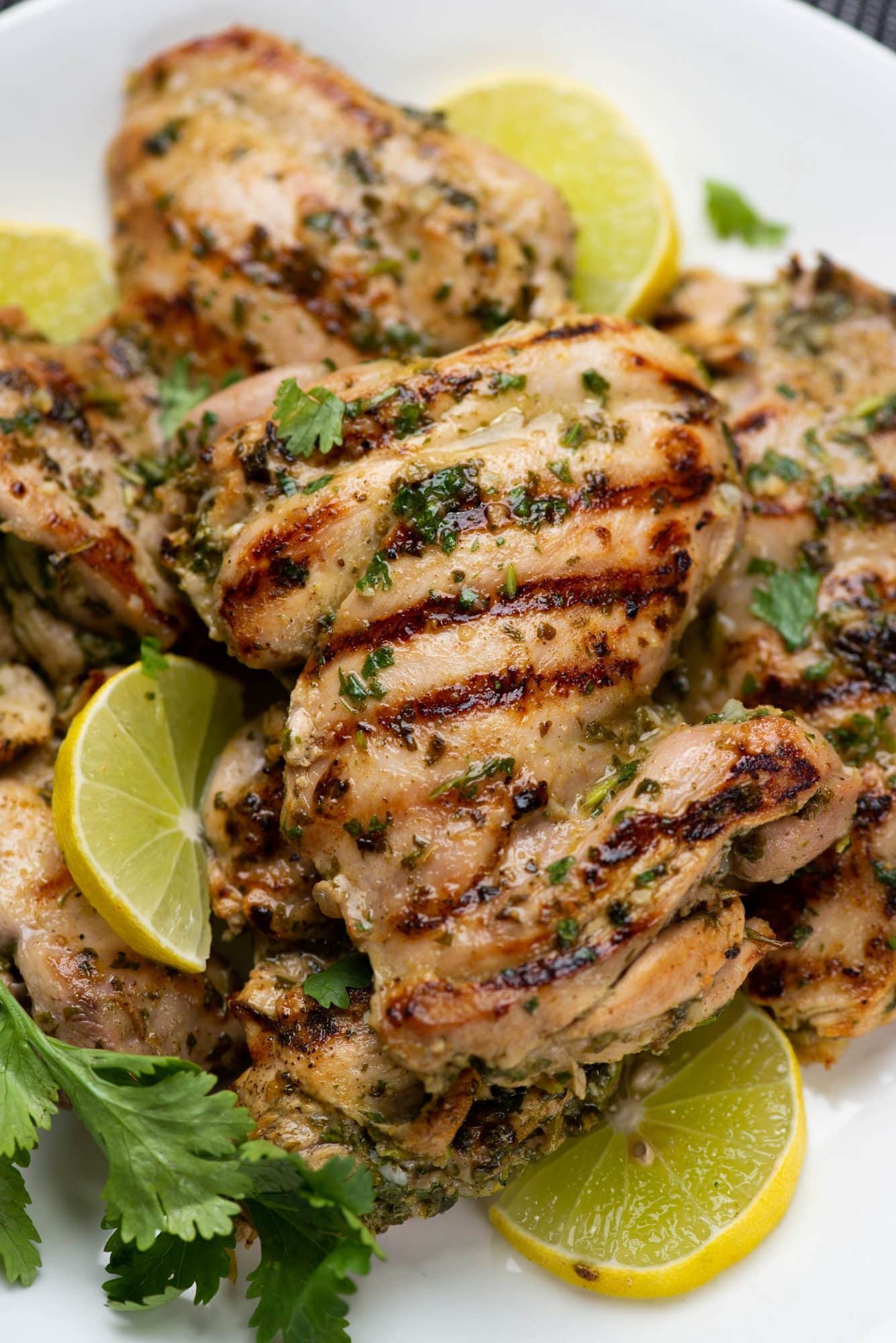 Serving and storing
Rice: Perfect to pair with rice or Cilantro Lime Rice.This recipe also has good pan drippings to top the rice with.
Taco: Cut chicken into thin stripes and use it as a filling for Tacos. Top it with sour cream, chopped Onion, more chopped cilantro and a good squeez of lime juice.
Salad: Make a hearty salad bowl for a quick summer lunch. Chopped romanian lettuce, onions, grilled cilantro lime chicken, avocado, may be some roasted corn
More Chicken Thigh Recipes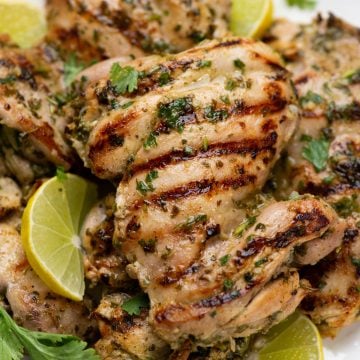 Cilantro lime chicken
Chicken thighs are marinated in a zesty, bold marinade of cilantro, cumin, lime juice, and garlic, then grilled. With all the fresh flavors, this makes for a quick meal in summer or on any day for that matter.
Ingredients
6 Boneless Chicken thighs
½ bunch Cilantro ref note 1
2-3 pods Garlic
2 tablespoon Olive oil
1 teaspoon Roasted Ground Cumin
2 tablespoon lime Juice
2 teaspoon lime zest
Salt and pepper to taste
Instructions
Add cilantro, garlic, cumin powder, lime zest, lime juice, oil, salt, and pepper to a food processor. Blend to make the marinade. The marinade doesn't need to be fine, a bit chunky is fine.

Place the chicken thighs in a shallow dish or a large zip-lock bag. Add the marinade and toss the chicken to coat well. Let the chicken marinate for 30 minutes or up to 6-8 hours.

When ready to cook, bring the chicken to room temperature ( if it has been refrigerated).

Heat a grill pan or Cast iron skillet. As the marinade has already oil in it, I have not added any oil to the skillet. If you wish slightly grease the pan with oil using a pastry brush.

Place chicken on the skillet a little apart (without overlapping). If the pan is too crowded, instead of a nice caramelized top, the chicken will start to steam.

Cook chicken undisturbed for 4-5 minutes on medium to high heat. Then flip and cook for another 3-4 minutes. (If you wish, brush a bit of marinade on the chicken before flipping it)

While serving garnish with more chopped cilantro and lime wedges.
Notes
1/2 bunch of cilantro leaves would be equal to 1-1.5 cups loosely packed chopped cilantro.
Roasted Cumin powder is more aromatic instead than regular cumin powder.
You could add 1/2 teaspoon of paprika for color. 
You can also add 1/2 teaspoon of honey to bring balance. 
Nutrition
Serving: 1serving