This post may include affiliate links that earn us a small commission.
One of the most popular chicken dishes from the southwestern state of Kerala in India. Chicken stew is just perfect as a hearty warm dinner or lunch. This Kerala-style chicken stew recipe has very well-balanced flavors with a creamy texture and is nutrient with the addition of veggies like carrot and beans. Chicken in this stew is just fall-of-the-bone tender and juicy.
My Kerala style chicken stew recipe
We have become fans of Kerala-style chicken stew since the first time we had it in a Malabar restaurant (Malabar is coastal Kerala). It is warm and comforting like a stew should be, is best had with Appam or Dosa. Have cooked it hundreds of times at home and this recipe is a culmination of all those experiences.
Flavours In Your Inbox
Subscribe for recipes straight to your inbox
It is creamy, rich, and mildly flavored with my spice blend with succulent chicken bone-in pieces. A chicken stew cooked Kerala style is had like a main course during lunch and dinner or many times for breakfast.
Chicken stew or also called 'ishtu' is more creamy and mildly spiced than the varied stews or 'Ishtoo' available in other parts of India. All are a more complex take on the English stew with flavors from whole or grounded spices. The base of Kerala ishtu also differs from the north Indian variants. It is based on coconut milk and coconut oil is the primary flavor driver compared to the base of onion and ghee.
Why is it so popular
Mild flavors in Kerala-style chicken stew come from whole spices like bay leaf and cinnamon stick and my spice blend is made of cardamom, cloves, peppercorn, and funnel. Peppercorn and green chili are added for flavor and a little heat. Mind you, this stew is supposed to be only mildly spicy.
Chicken stew is also a healthy dish as in addition to good fat in coconut milk and coconut oil, you can be versatile with veggies to add to the stew. Typical additions are carrot, bean, and potato. These would most likely be there in your pantry. A good way to add veggies to your diet and especially for children.
You can go versatile by adding cauliflower or green peas too. With such amazing flavors, these veggies just blend well and no one would complain. Many recipes recommend the use of cashew paste. I have not used them as they tend to make the stew more creamy and heavy. My recipe with the use of coconut milk and oil is heavy as it is.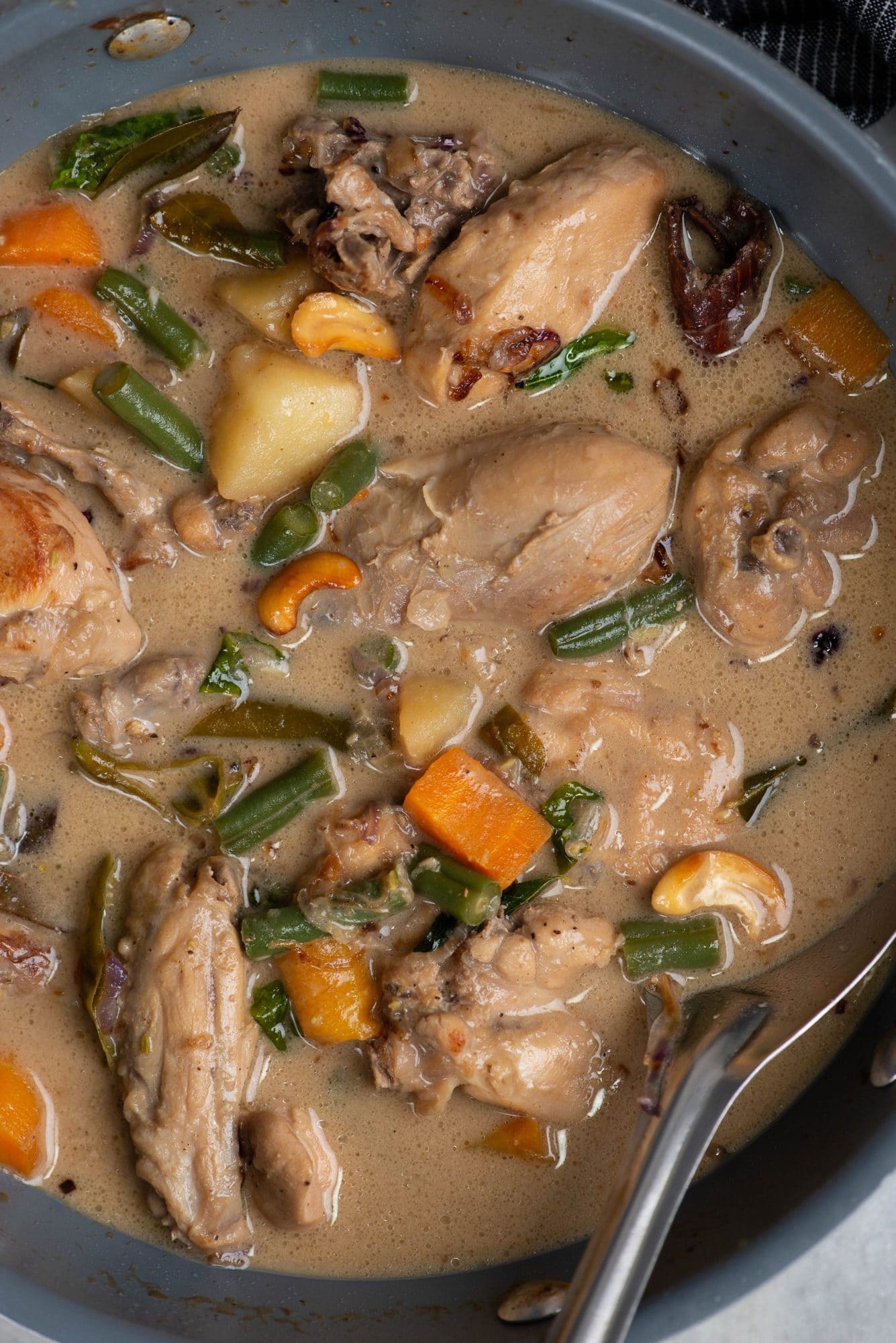 Ingredients
For Marination
You need three things for the marination – bone-in chicken pieces, salt, and lemon juice.
For spice blend
This style of chicken stew gets its flavors from my spice blend of the following spices
Cardamom
Cloves
Peppercorn
Fennel
For making the stew
Coconut Oil
Coconut milk (Both thin & thick)
Bay leaf and Cinnamon – Whole spices are used to flavor the stew and can be easily taken out while having the stew.
Onion – sliced and sauteed.
Garlic & Ginger – Crush these in a mortar.
Carrot – Cut into medium chunks.
Green beans – Cut into medium-sized cubes.
Green chili
Curry leaves – it is added twice while making the stew. Recommend getting fresh curry leaves and not dried ones.
For final tempering
Curry leaves again – Get fresh ones.
Sambar / Pearl Onion – Known as pearl onion or shallots, these are less pungent. In India, these are referred to as Sambar onions. They are smaller and slimmer bulbs than regular onions.
Cashew halves – Halves are preferred but full cashews are ok too.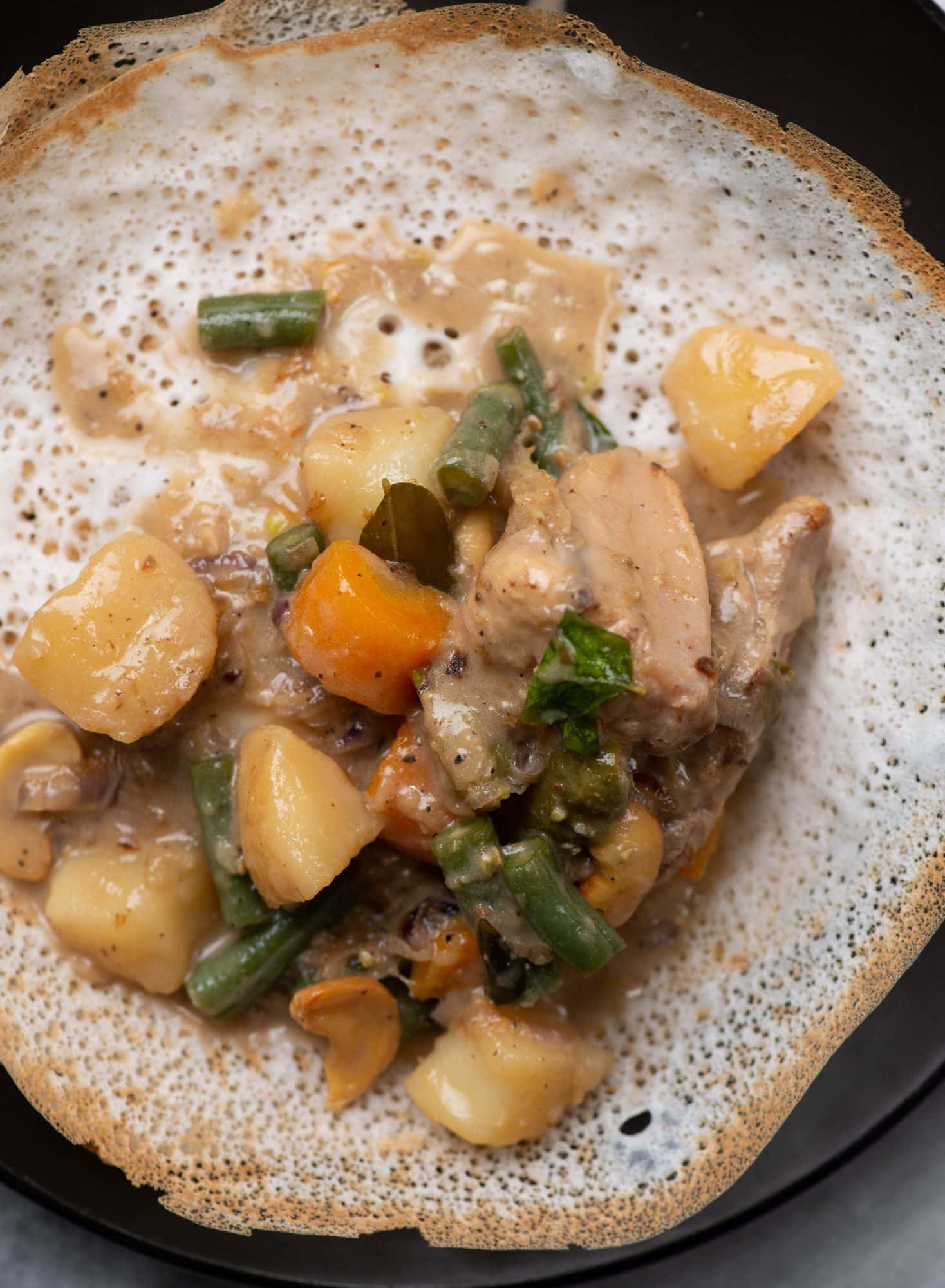 How to make Chicken stew in Kerala Style
Marinate Chicken
Add all bone-in chicken pieces to a bowl. Pour lemon juice and sprinkle salt over them. Rub them thoroughly so as to evenly coat the pieces with salt and juice.
Prepare the Spice blend
Roast the spices – cardamom, cloves, peppercorn, and fennel seeds in a pan over medium flame until they turn aromatic. This should take 30 seconds.
Place the roasted spices in a mortar and using the pestle, pound them until they appear coarse. Pounding using a mortar releases oil that adds flavor.
Also, use the mortar and pestle again to pound the ginger and garlic into a paste. Keep it aside.
Cook the stew
Over medium flame, add cinnamon, bay leaf, curry leaves, chili, and sliced onions. Sauté them until the onions turn a shade pink.
Add ginger-garlic paste and sauté again until the paste loses its raw smell.
It is time to add chicken pieces and potatoes. Potatoes shall get cooked along with the chicken. Wait to see if the color of the chicken turns white. The white color indicates that the chicken is cooked. Henceforth we just simmer the chicken for slow cooking.
Add the thin coconut milk and carrots and sprinkle salt. Mix everything well. Cover the pan with a lid. Allow it to simmer for up to 15 minutes on low heat.
Time to add the thick coconut milk and spice blend. Mix everything and the stew base turns brown. Add green beans next and close the lid again. Let it simmer for another 5 minutes.
Tempering and plate
In a separate pan, fry cashews in oil until they turn light brown. Keep them aside.
In the same pan, fry onions and curry leaves until the onions turn brown. This caramelizes the onions and makes them a bit sweet. Curry leaves fried in oil bring out the flavor in them and impart some to the fried onions too.
Now you need to add the tempered onions, curry leaves, and fried cashews on top of the pan as a garnish.
Serve the stew in a bowl along with your favorite bread, appam, or rice.
Tips
Use bone-in chicken pieces. You may get curry-cut chicken pieces and take the bone-in pieces from that. Bone-in pieces have more flavor and cook evenly. The bones release juices and water and that flavors the stew a lot.
Use crushed ginger and garlic rather than using ginger-garlic paste. It will have a huge difference in flavor.
The order of adding vegetables is important. Add the toughest veggies first so that it gets more team to cook and the softer veggies towards the end of the cook. You should add potatoes and carrots first and beans later as they quick faster.
Alternatively, you can steam the veggies separately and add them towards the end. This is one way to add veggies to the stew.
My recipe gets amazing flavors from slow-cooking the chicken. You will come across many recipes for cooking the stew on high heat. Let the stew simmer on a slow flame.
I have used thin coconut milk instead of water to simmer the chicken and veggies. It just adds more flavor and helps in forming a creamy base for the stew. You may use water instead if you cannot get thin coconut milk.
Store
You may cook the stew until the garnish part and store it in the refrigerator for up to 3 days. I would not suggest longer as it contains onions and garlic which do not stay fresh for long periods.
When you need to plate it, take it out from the refrigerator, and heat it for a minute. Fry the onions, curry leaves, and cashews used the garnish then and use them.
Serve With
Traditionally, Kerala-style chicken stew is served with other Kerala bread-like Appam and Idiyappam. This rice-based bread has a slightly sweeter taste. It is also had with Kerala parotta ( a paratha-like bread made with wheat flour in layers).
We have often had this stew with sourdough bread and it perfectly compliments the stew. You can scrape the gravy of the stew with pieces of bread. Also, it goes well with white, brown, or red rice (common rice in Kerala) and also Jeera rice.
Have it with your regular Indian bread like Roti or paratha and you will not complain. This flavorful stew just goes well with anything.
Other Popular Indian Curries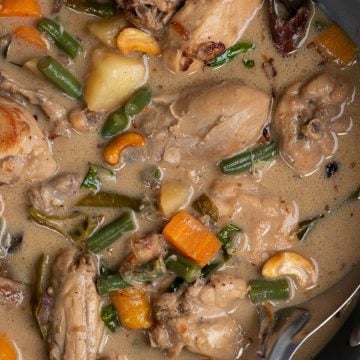 Kerala Chicken Stew
This Kerala-style chicken stew recipe has very well-balanced flavors with a creamy texture and is nutrient with the addition of veggies like carrot and beans. Chicken in this stew is just fall-of-the-bone tender and juicy.
Ingredients
For Marinating Chicken
500 grams Bone in Chicken pieces
2 teaspoon Fresh Lemon Juice
½ teaspoon Salt
For Chicken Stew
2 tablespoon Coconut Oil
1 Bay leaf
1 inch Cinnamon Stick
2-3 Green chili adjust as per taste
2 sprig Curry Leaf
2 medium Onion Thinly Sliced
5-6 large Garlic clove
½ inch Ginger
1 medium Potato cubed
1 large Carrot cut into chunks
10-12 Green beans Cut into 1 inch pieces
2 cup Thin Coconut Milk
1 cup Thick Coconut Milk
For Spice Blend
2-3 Green Cardamom
3 Cloves
½ teaspoon Black peppercorn
½ teaspoon Fennel
For Final Tempering
4-5 Sambar/Pearl Onion
Hand full of Curry Leaves
8-10 Cashew halves
Instructions
Marinate Chicken
Clean Chicken. Drain water from the chicken. Mix lemon juice and salt. Marinate for 20-30 minutes
Make Spice Blend
Roast cardamom, cloves, fennel, peppercorn until aromatic.(Don't let the spice burn)

Using a coffee grinder or mortar pestle make it into a fine powder. Keep aside.
Making Chicken Stew
Using a mortar and pestle, roughly crush ginger and garlic.

Add 2 tablespoon of Oil to a pan. Add bay leaf, cinnmon stick, green chilli and curry leaves. Cook it for 30 seconds.

Add sliced onion and cook until the onion has softened and starts to brown slightly. It should take roughly 7-8 minutes.

Add crushed ginger garlic. Cook it until the raw smell is gone, for about 1 minute.

Add marinated chicken, potatoes. Sear chicken on high heat for 2-3 minutes until chicken looks pale. You should see small brown patches here and there.

Next is add salt and thin coconut milk. Mix well. Add carrot. Cover and let it cook on low heat for 12-15 minutes.

Chicken would be tender and cooked fully by now. Pour in thick coconut milk, crushed spice mix. Throw in green beans. Cover and cook for another 10 minutes. Switch off the flame.
Final tempering
Meanwhile in anothe pan, heat coconut oil, fry cashew until golden brown. Remove, drain oil and keep it aside.

To the same pan, add sliced sambar onion. Saute it for a minute and then thorw in few curry leaves. Cook until the onion is light golden brown in colour. Add back the cashew. Mix everything agian.

Add tempering to the stew and give everything a good mix.
Notes
If using canned coconut milk, to make thin coconut milk mix 1 cup coconut milk with 1 cup water. 
You can steam carrots, and beans separately and add them towards the end 
You can also add cauliflower and green peas. 
If coconut oil is not your thing, substitute it with vegetable oil. But coconut oil gives a different flavor for sure. 
Freshly crushed ginger garlic paste works best here.  For some reason, I didn't like the taste when I used regular ginger garlic paste. 
 You can definitely make it in a pressure cooker,  but cooking chicken on low heat for 15 minutes makes a huge difference in flavor. 
You can add more black pepper while serving. 
Nutrition
Serving: 1serving | Calories: 328kcal | Carbohydrates: 18g | Protein: 10g | Fat: 24g | Saturated Fat: 17g | Polyunsaturated Fat: 2g | Monounsaturated Fat: 4g | Trans Fat: 1g | Cholesterol: 30mg | Sodium: 346mg | Potassium: 462mg | Fiber: 3g | Sugar: 3g | Vitamin A: 2130IU | Vitamin C: 16mg | Calcium: 44mg | Iron: 2mg