Slow Cooker Indian Lamb Curry is what you would need on a cold winter night. Lamb Cooked slowly in Indian Spices in a Slow cooker for 5-6 hours.This is the best ever lamb curry and I can vouch for that.
When you talk about lamb/mutton curry at home, this is the only curry that comes top on the list. It is kind of a ritual to have mutton curry on Sundays. A leisurely family meal followed by an afternoon siesta is our common Sunday routine. D is so obsessed with this mutton curry, that he never even allows me to experiment with any other variation. After years, I had surprised him with Junglee Maas(a Rajasthani dish)  on his birthday. So now there is a second mutton recipe that is part of the list. But we never get bored of this curry.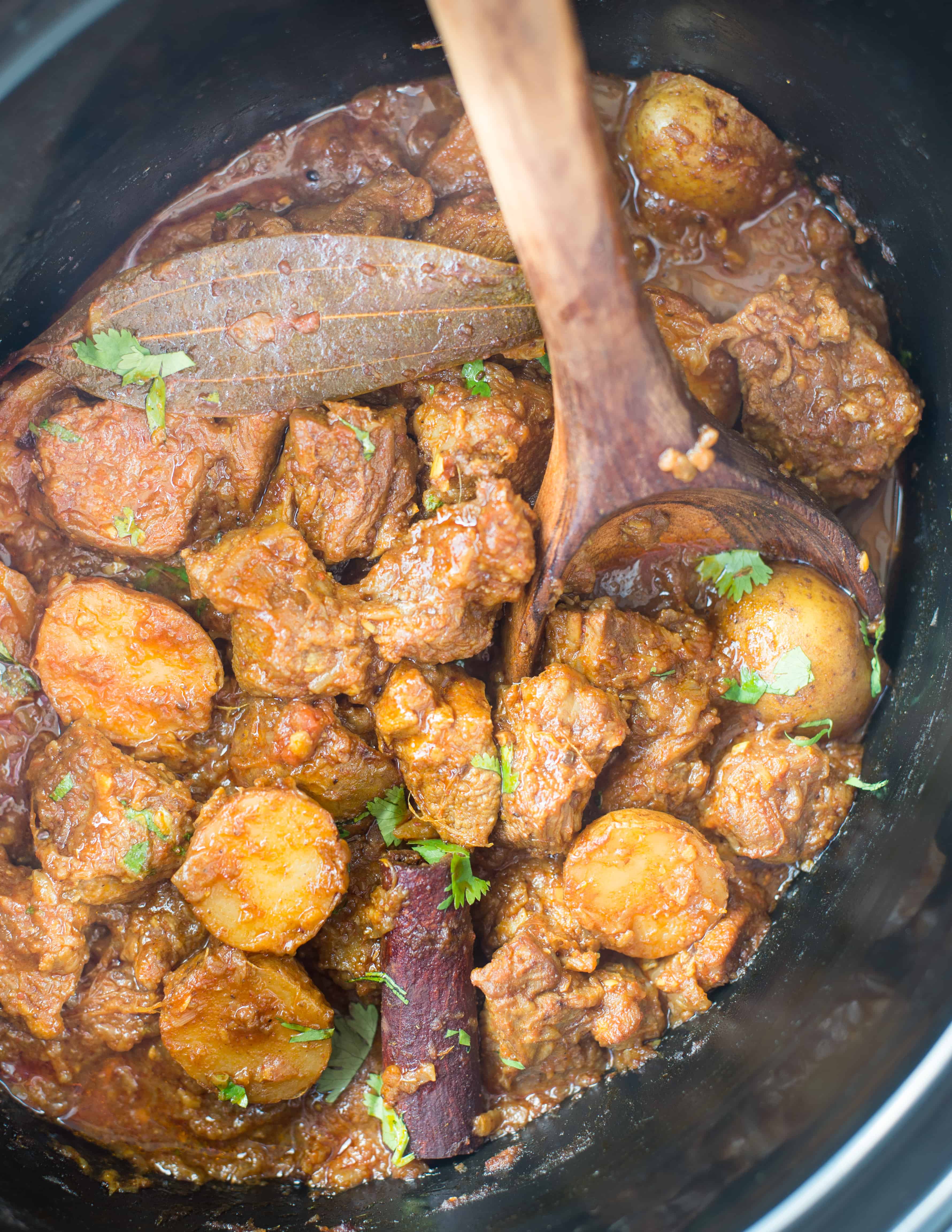 I wanted to share this recipe for quite a long time but somehow it didn't happen earlier. Today there is a special reason behind this post. I guess you might already have had an idea seeing the title. Yes!!!!!! I got my first Slow cooker. This particular gadget was there on my wishlist for quite a long time, I can say more than a year. But it was not easily available in India and on Amazon they were damn expensive. After a year-long wait, here it is.  Have read a lot of reviews,  asked friends and then settled on Russell Hobbs.
Seeing the product, D has a list of questions. He was wondering, how this can be used in Indian cooking? Here is Indis, a slow cooker is barely used or I can say not used at all. Obviously, D had never heard of this device before. So I started something like this "We can cook Lamb/Mutton curry slowly in this cooker". That's all, he didn't even bother to know what other ways the slow cooker can be used.
Slow Cooker Vs Conventional Method
This lamb curry if made on the stovetop needs almost 2 hours of slow cooking. You have to keep an eye most of the time to prevent it from burning. Even though it takes so long to cook, I never compromise on cooking time.No shortcuts for this particular curry at least.  When I made this in the slow cooker for the first time, I was really not sure on how would it come.  But let me tell you there is no difference at all, except the amount of water to be added rest everything is same.  The Slow cooker curry was as good and authentic as the regular one.  Plus point is after you put everything in the slow cooker, you can forget about it for another 4-5 hours. Going forward if it lamb curry, then it has to be in the Slow cooker.
I have lots of recipes to experiment and I am almost getting impatient to try them out. I will keep you updated on my experiments, especially Indian Recipes. For now, Let's go through the recipe.


Heat oil in a heavy bottom pan.

Add halved baby potatoes to the oil and fry for 5 minutes. Once the potato is slightly roasted, remove from oil with a slotted spoon. Keep aside.

To the same pan, in the remaining oil add whole spices. Let it become aromatic.

Add chopped onions. Cook onions till soft and starts to brown.

Add Ginger-Garlic paste. Cook untill the raw smell goes off.

Add blanched tomato. Cook till the Onion-Tomato mixture starts to come together.

Add all the spices. Cook the mixture till oil start to ooze from the sides.

Add Lamb pieces. Cook for 5 minutes on medium heat. This step is required to brown the meat a little bit befor putting in the slow cooker.

Then shift everything to the pre-heated slow cooker.

Cook on low heat for 4-5 hours or 2.5 - 3 hours on high temperature. Stir a couple of time in between.

If required add half - one cup of hot water for thinner gravy.

Garish with fresh coriander and serve with rice/naan/paratha .
I have used boneless lamb leg cubes in this recipe. You can definitely use any other cuts of your choice
 You might feel the amount of onion is too much, but this is what makes the curry thick and creamy. So I would not suggest reducing the quantity.
The whole spices in the final dish might be little annoying, to avoid the unpleasant experience you can remove the spice before adding the onions. The oil still would remain flavored.
 Blanching the tomatoes reduces the cooking time. You can put slightly slitted tomato in boiling water and cook for 10 minutes. Alternatively, make slits on the tomatoes and put in a deep microwave-safe bowl. Microwave on high for 2-3 minutes. Once cools down, discard the skin and chop. Reserve all the liquid while cutting.
 If you would like to proceed with the stove top method of cooking, then instead of shifting to slow cooker continue cooking in the same pan on low heat covered. You might require a little bit of more water.
 Pre-heat the slow cooker for 15-20 minutes on high.
The cooking time may vary depending on the lamb/mutton quality and kind of cut used. So adjust the cooking time accordingly.