This Low Carb Cabbage Chicken Taco Soup is light, healthy and perfect if you are on a weight loss journey. It is also a Keto friendly recipe. Just add Corn, Kidney beans and top it with nachos to make it more wholesome.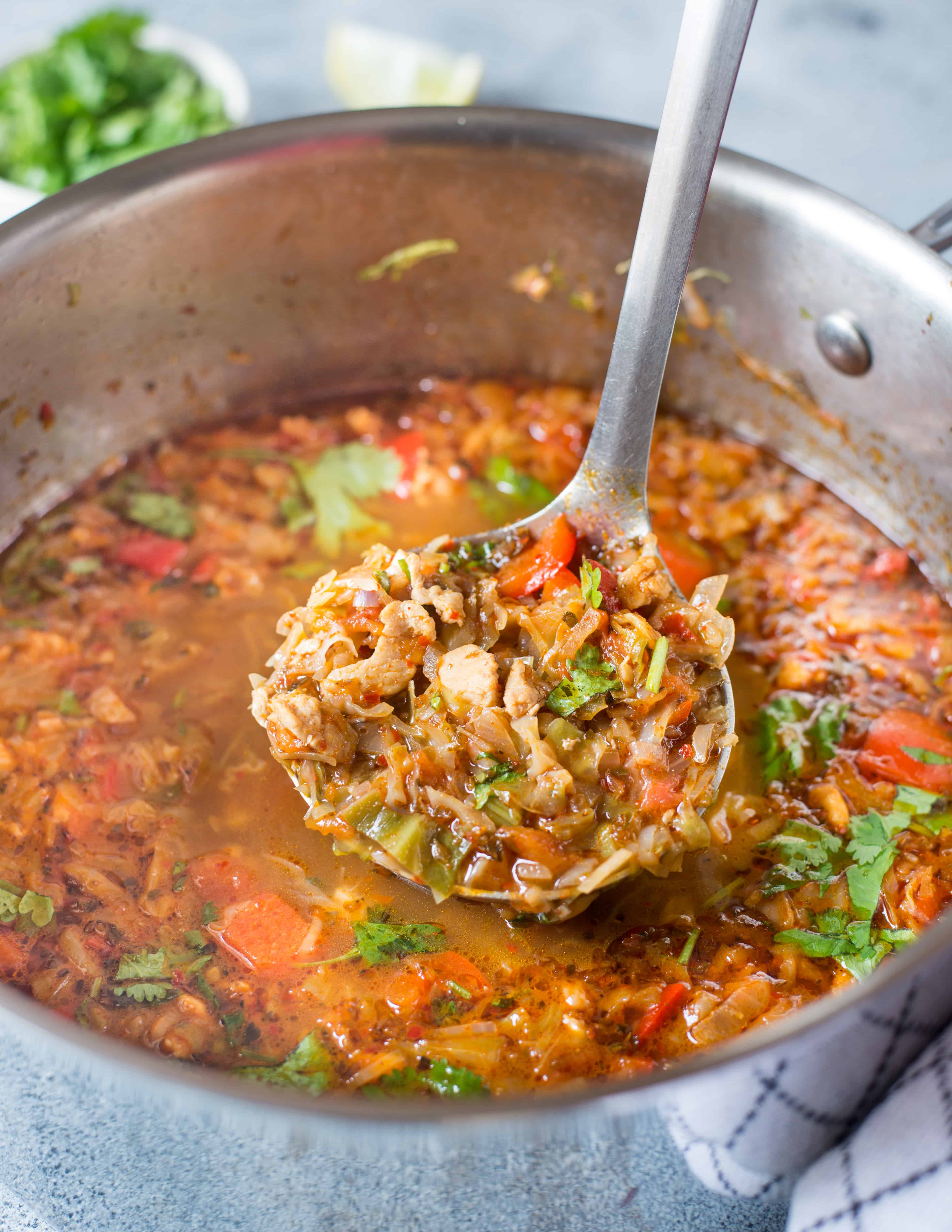 It is winter and soup appears on our dinner menu quite frequently. If you ask me, our all-time favorite is creamy Tomato soup with buttery crunchy croutons. The next comes on the list is Indo-Chinese Soups. But I do try out with different soups once in a while. This Cabbage Chicken Taco soup was our dinner a few days back. It was delicious and filling.
So I have been following a low carb diet. It was a tough call to make but I had to do something to keep myself fit and energetic. I had been following a Facebook group called SQUATS for months now. The transformations and positivity in the group inspired me a lot to take fitness seriously. Post-pregnancy most of the time, like many other, I had gained a lot of weight. Most of the time I was feeling low on energy most of the times.  Multitasking was taking a toll on me.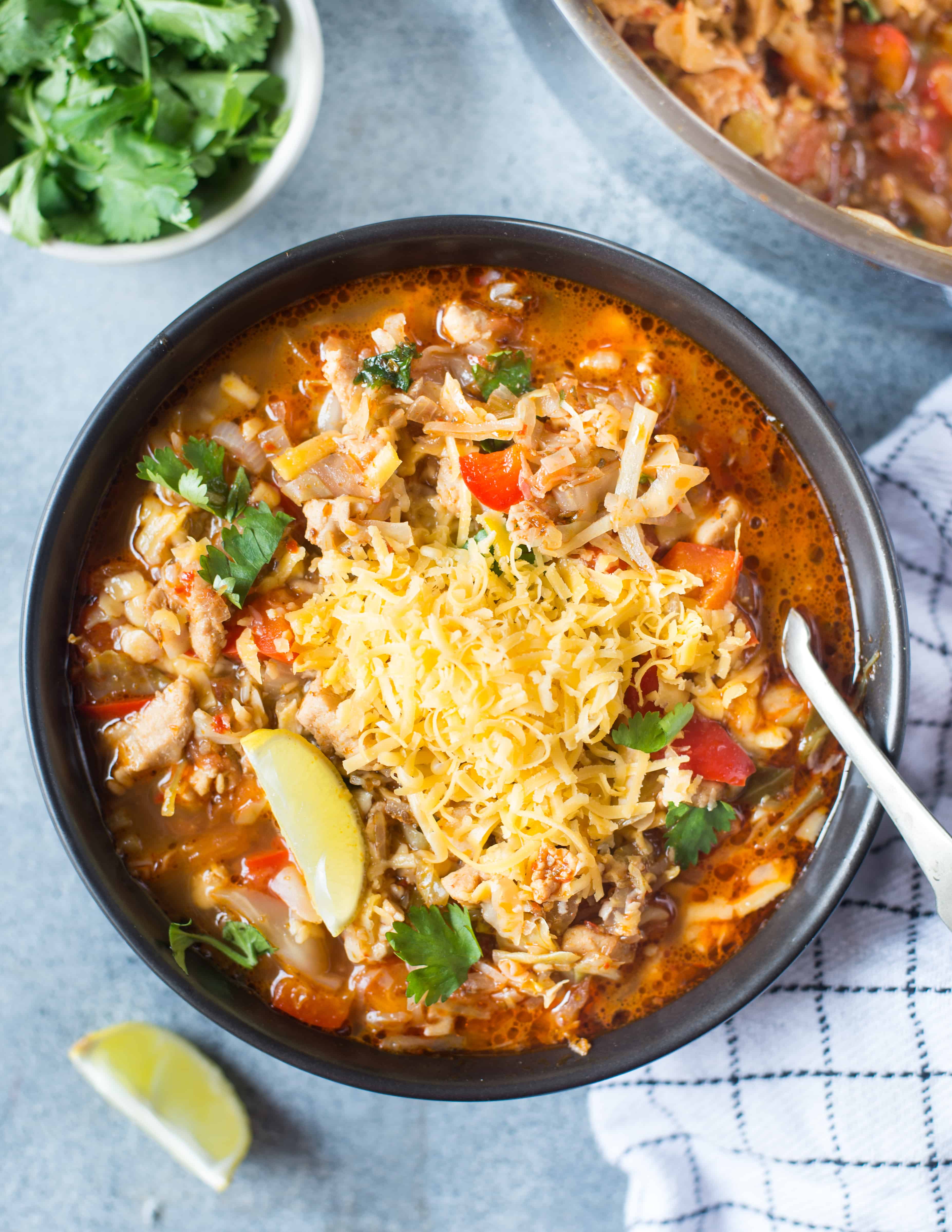 When you are in your early 30's and you don't feel good about your body, then there is definitely something wrong with it. I had made up my mind to do something for myself. It had to start with a workout schedule. I really love doing weights. It makes me feel happy and positive. After working out for few months, I started counting my calories and kept binge eating under control. And when you start seeing the result after putting so much of effort, it is really encouraging. I have lost around 13 pounds since March of this year.
Reducing my Carb intake, Increasing protein and keeping track of macros has helped me so far. I do have cheat meals frequently and quite inconsistent in my workout. But I have not given up. So If you have been procrastinating on starting a fitness regime, then now is the time. Your fitness and health should be your topmost priority.
So, I have told the reason for sharing a low carb recipe. But Hey!! even if you are not following low carb diet, you can give this recipe a try. Its delicious with flavourful Mexican spices.  You can add corn, kidney beans and top it with crushed nachos/Tortilla chips to make it more wholesome.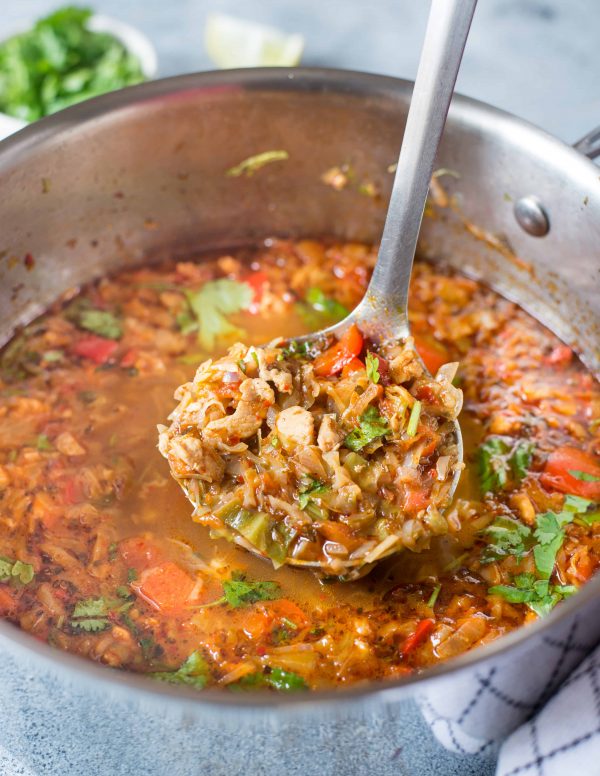 | | |
| --- | --- |
| | |
Heat oil in a pot. Add minced garlic. Saute till it starts to brown.

Add chopped onion. Fry till it is soft and transluscent.

Add chopped celery, followed by chicken chunks. Fry for one minute.

Add shredded cabbage. Cook for 2 minutes. The cabbage will start to soften.

Add chopped red bell pepper. Cook for 30 seconds.

Add Tomatoes. Mix everything well.

Add all the spices. Mix everyhing well. Cook for 2 minutes more.

Add Stock. Adjust seasoning. Bring the soup to a boil(cover the pan with a lid if desired)

Switch off the flame. Garnish with fresh coriander leaves, lemon wedges and top it with cheese while serving.
Chipotle chili powder gives a smokiness to the soup. You can substitute with smoked paprika or chili powder.
Adjust the heat as per your preference.
 You can also substitute the spices with readymade Taco seasoning. In that case, adjust the amount of garlic as taco Seasoning already has garlic.
Add warm stock to the soup.